Learn the vocabulary and definitions associated with the water cycle.
Became a Water Cycle Expert – Vocabulary + Definition Display
This resource of 24 vocabulary words and definitions in child-friendly language has been designed to enhance your students understanding and mastery of key terms related to the water cycle. This set of vocabulary cards offers an engaging and interactive way for students to learn and reinforce important scientific terminology. 
Water Cycle ward banks:
Evaporation, collection, surface water, groundwater, water vapor, water cycle, atmosphere, condensation, dam, man-made, ocean, precipitation, aquifer, reservoir, desalination, river, infiltration, lake, runoff, transpiration, water, solid, liquid, gas.
Vocabulary Activity Ideas
Here's a list of activities you can do with your students using this set of vocabulary. 
Vocabulary charades – students pick a word and must act out or mime the term to their classmates.

Vocabulary scavenger hunt – provide students with a definition or example of a part of the water cycle and encourage the students to find the matching word on the word wall.

Vocabulary quiz show – divide the class into teams and conduct a quiz show-style game where students compete to answer questions related to the water cycle vocabulary.

Vocabulary word art – have students choose a water cycle vocabulary word and create a visually appealing word art around that word.
Easily Prepare This Resource for Your Students
Use the dropdown icon on the Download button to choose between the PDF or Google Slides version of this resource.
Print on cardboard for added durability and longevity. Place all pieces in a folder or large envelope for easy access. 
---
This resource was created by Lindsey Phillips, a teacher in Michigan and Teach Starter Collaborator.
Don't stop there! We've got more activities and resources that cut down on lesson planning time: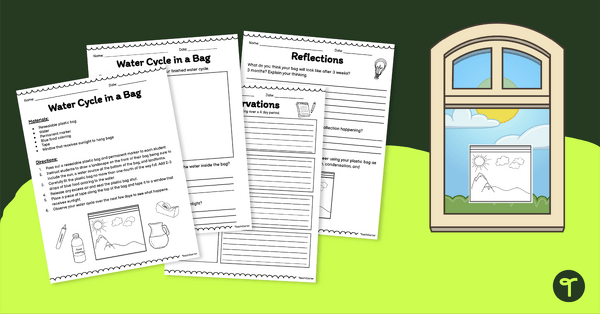 teaching resource
Create a water cycle in a bag, make observations, and answer discussion questions with this printable science activity.
teaching resource
Test knowledge about the water cycle with these fun and engaging task cards.
teaching resource
Display this set of simple, vibrant water cycle posters when learning about each water cycle step.