Strengthen your students' understanding of weathering, erosion, and deposition terms with a vocabulary word search.
Weathering, Erosion, Deposition – Oh My!
Weathering, erosion, and deposition are three important processes that shape the Earth's surface. Let's take a quick look at the differences between these three processes.
Weathering is the process by which rocks are broken down into smaller pieces by things like wind, water, and temperature changes. Weathering can happen naturally over time or be sped up by human activity.

Erosion is the process by which smaller pieces of rock and other materials are carried away by natural agents like wind, water, or ice.

Deposition is when eroded rocks and materials are deposited or dropped off in a new location.
If you are looking for a printable activity for your students to complete during your Earth Sciences unit, you have come to the right place! Teach Starter has created a word search where students must complete sentences with the correct vocabulary term before finding it in the word search puzzle.
An answer key is included with your download to make grading fast and easy!  
Easily Download & Print
Use the dropdown icon on the Download button to choose between the PDF or editable Google Slides version of this resource. 
Because this resource includes an answer sheet, we recommend you print one copy of the entire file. Then, make photocopies of the blank worksheet for students to complete. 
Turn this teaching resource into a sustainable activity by printing on cardstock and slipping it into a dry-erase sleeve. Students can record their answers with a whiteboard marker, then erase and reuse them. 
---
This resource was created by Brittany Kellogg, a teacher in Ohio and a Teach Starter Collaborator. 
Don't stop there! We've got more activities to shorten your lesson planning time: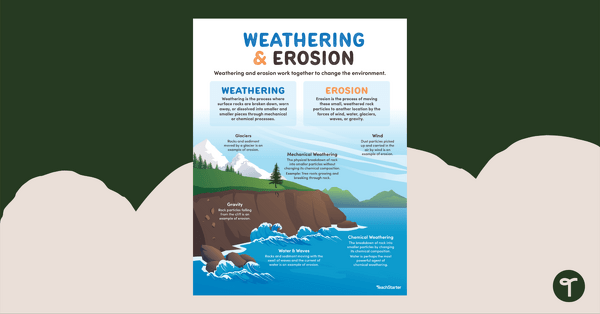 teaching resource
Learn how weathering and erosion can cause slow changes to Earth's surface with this printable poster.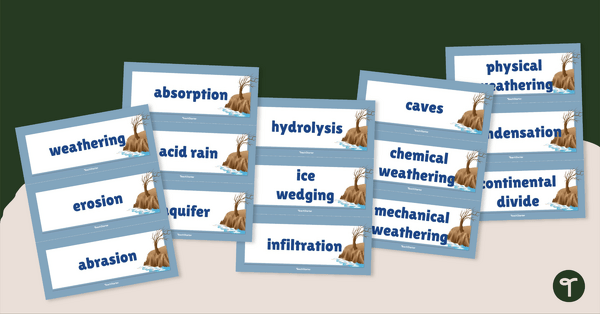 teaching resource
Expand your students' science vocabulary with a weathering and erosion word wall.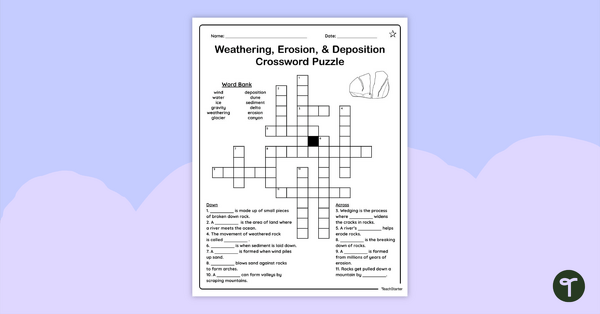 teaching resource
Review science vocabulary terms associated with weathering, erosion, and deposition with a crossword puzzle.