Conduct and organize Amanda Gorman facts and research with a printable or digital flipbook activity.
Who is Amanda Gorman? Biography Project Planning
Through this activity, students demonstrate an ability to write informative texts that examine a topic or historical figure and convey ideas and information.
Students will use their research skills to fill in all eight pages of the planner with information about Amanda Gorman's important life events, upbringing and education, struggles, and achievements.   
Once they have completed their research and writing, students will cut out each page and layer them to create a flipbook. 
Amanda Gorman Facts for Kids
Amanda Gorman is an American poet and activist who gained widespread recognition for her poetry, particularly her performance at the inauguration of President Joe Biden in 2021. Gorman is the youngest person to serve as the inaugural poet, and her poem "The Hill We Climb" received widespread praise for its powerful and inspiring message of unity, hope, and resilience.
As a young woman of color, Gorman has inspired many young girls around the world by demonstrating the power of art and activism to inspire change and bring about social justice. Through her poetry and her advocacy work, she has shown that it is possible to use one's voice and talents to make a difference in the world and that anyone, regardless of age or background, can be a leader and an agent of change.
Gorman's inspiring words and message of hope have resonated with people of all ages and backgrounds, and she has become a role model and an inspiration for many young girls around the world.
Scaffolding + Extension Tips 
Use this biography activity as an independent research task. Alternatively, provide the template to a team of students so they can share the research duties. 
In addition to Women's History Month (March), apply this research assignment in class or as homework for your lessons on:
International Women's Day

(March 8)

English Language Arts

History

Social Studies

Government

Biographical writing
Before You Download
Use the dropdown icon on the Download button to choose from the printable or digital version of this resource.
---
Don't stop there! Your women's history lesson plans wouldn't be complete without these activities and teaching resources too: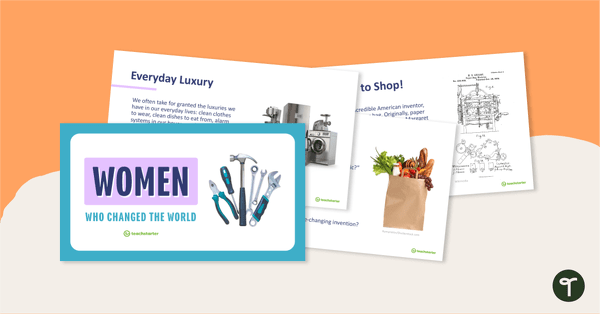 teaching resource
Teach about the most influential female inventors in history with this 15-slide instructional slide deck.
teaching resource
Research and record biographical information about 6 historical women and discuss the impacts of their contributions.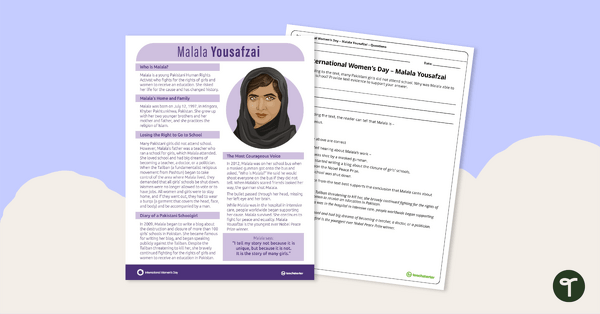 teaching resource
A comprehension task to use when learning about Malala Yousafzai.