Honor women in literature with our reading challenge for students to complete during Women's History Month.
Encourage Reading through Women's History Month
Distribute a card to each student so that they choose books that align with the various prompts. 
Students should list the names of their read books for each square to keep track of their reading progress. Books can only be used once per square to ensure students are reading a variety of stories!
Optional: Make it a competition by providing first, second, and third-place awards for students who complete the entire challenge before their peers.
Celebrate Women in Literature!
Black Beauty, by Anna Sewell
Little Women, by Louise May Alcott
Ramona and Beezus, by Beverly Cleary
A Wrinkle in Time, by Madeleine L'Engle
The House on Mango Street, by Sandra Cisneros
Nowadays, we take these timeless classics for granted. 
But it wasn't always common to see a female author on your bookshelf. To avoid prejudice, many women wrote under a male pseudonym—or anonymously—to get their stories published. 
Fortunately, more women have entered the publishing world over the last century, giving us the works above (and more) to help build our earliest connections with literature. 
Use this activity and all of the tools in our reading collection to inspire cherished memories of curling up with a book your students can connect with.
Women's History Month Activities for Kids to Bring Her Story to Life » 
How to Get More from this Activity
A team of dedicated, experienced educators created this resource for students to work on in your reading group or as a whole class. 
However, check out our suggestions for using this activity to reinforce your reading lessons in other ways too: 
🗃️ Head to the Library
Library time allows students to explore the vast collection of reading materials at their fingertips. Students will also use their alphabetizing skills and locate books using the Dewey Decimal System. 
📝 Crowd Source a Word Wall
Provide students with index cards. Students will flip through one of their books, find vocabulary words in the text they don't know and write them on their cards. Compile the submissions and create a word wall that displays the new vocabulary words and definitions. Revisit the words at the end of the week with your students to assess what they've learned.  
Before You Download
Use the dropdown icon on the Download button to choose between the PDF or Google Slides version of this resource.
---
Help your students find and talk about books with these reading activities and teaching resources: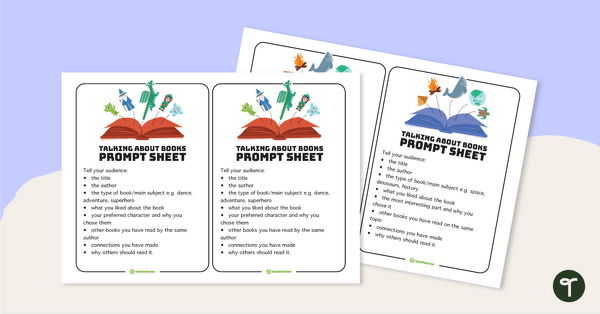 teaching resource
Prompts for students to use when orally discussing books.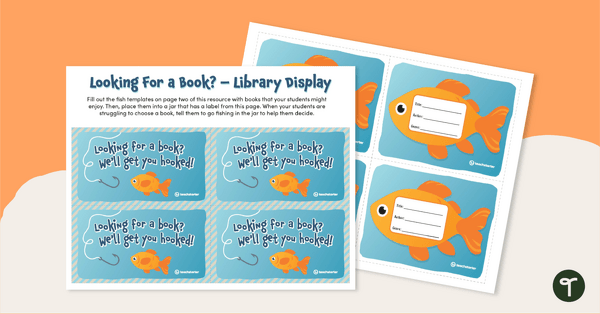 teaching resource
Help your students choose a book with this classroom library display.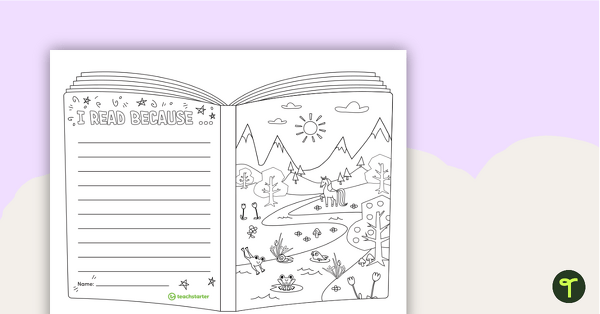 teaching resource
A template for students to write about why they love to read.