From the RÅSKOG rolling utility cart to that wooden LUSTIGT spinner, IKEA is full of inexpensive supplies teachers love … and who among us doesn't love a good IKEA hack?  The brilliance of IKEA hacks lies in the creativity, affordability, and the sheer do-ability of these ideas.
IKEA Hacks for Teachers
In the true spirit of making your life easier and bringing some creative buzz to your classroom, we rounded up some brilliant IKEA hacks that will make classroom set-up so much easier, and help keep the cost of outfitting your classroom down. Are you ready to get shopping? 
Let's do this!
---
IKEA LUSTIGT Spinner Wheel Templates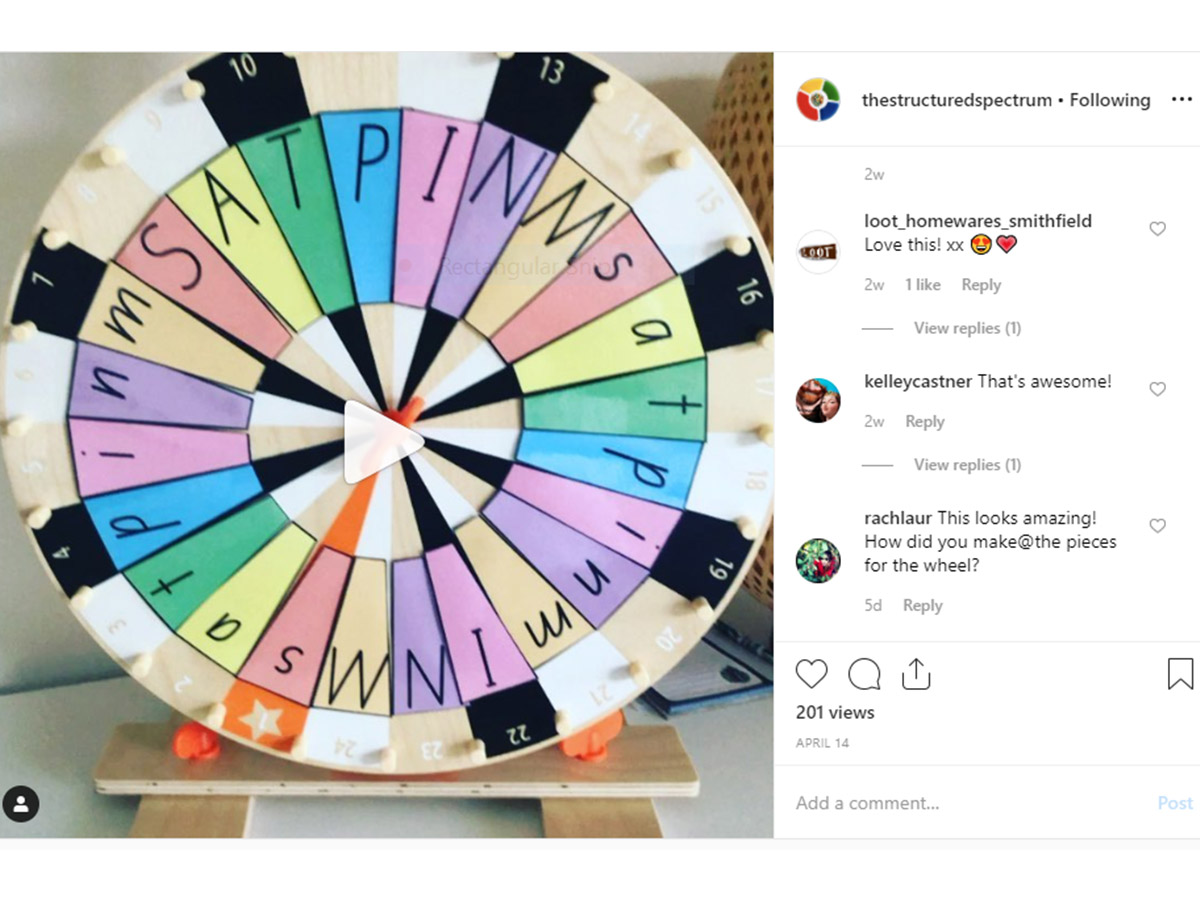 The IKEA LUSTIGT wheel isn't just fun to spin. It's got a whole lot of learning that can be packed into the play. Miss Izzy of @thestructuredspectrum shared her fun phonics game with us, and you could even attach name labels to create a random name generator! 
We've made Classroom Spinner Templates for the IKEA Spinning Wheel.  Take a look…
As you can see, they all have a similar layout with a variety of content ranging from phonics to mathematics and even active brain breaks!
---
Sit Spots
Sit spots are great for classroom management and great teaching tools too. They can be used to clearly and colorfully mark where you expect students to sit or stand. Also, sit spots can be used as floor games.
The only problem is that they can be expensive. So I've found the perfect IKEA hack to create cheap and cheerful sit spots on a budget — these $1.99 PANNÅ Place Mats. They are an ideal size (15 inches) and have a non-slip grip on most floors.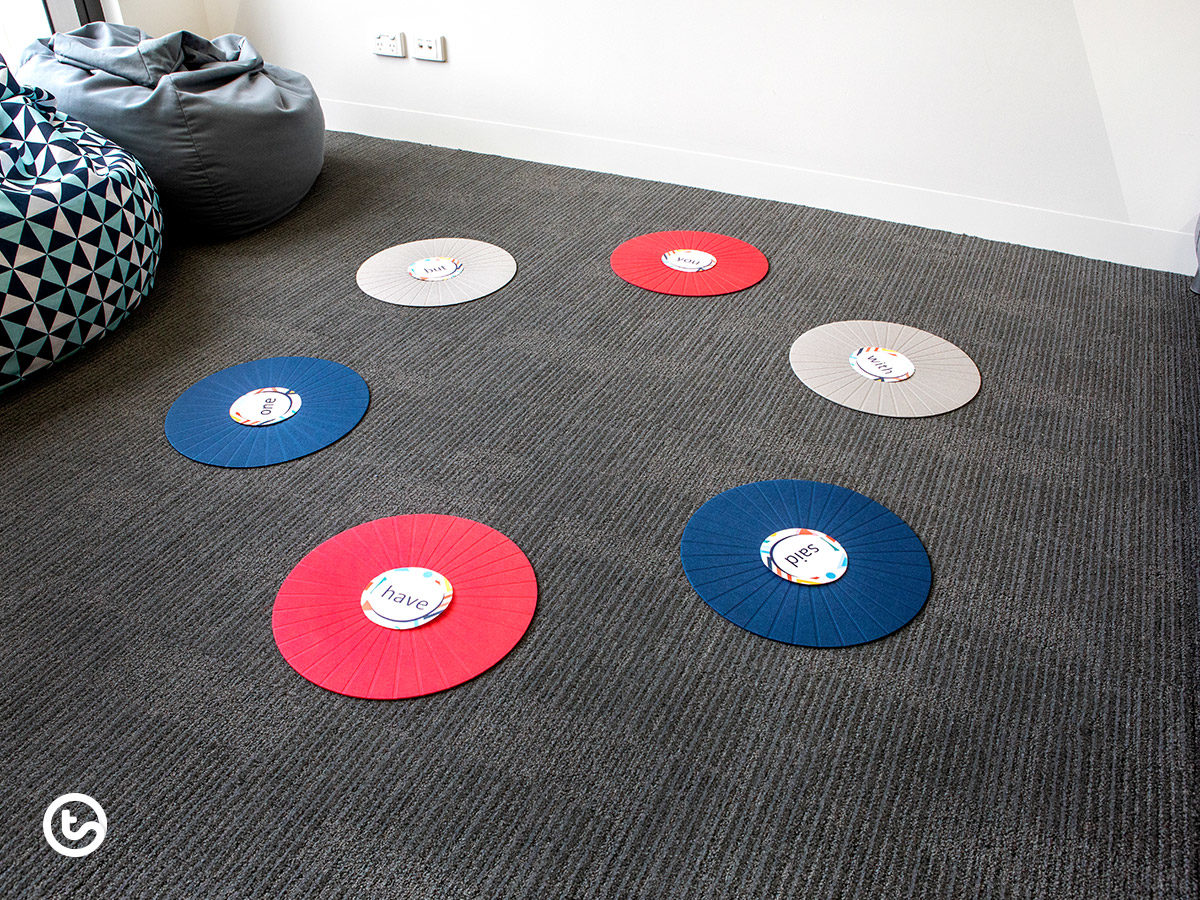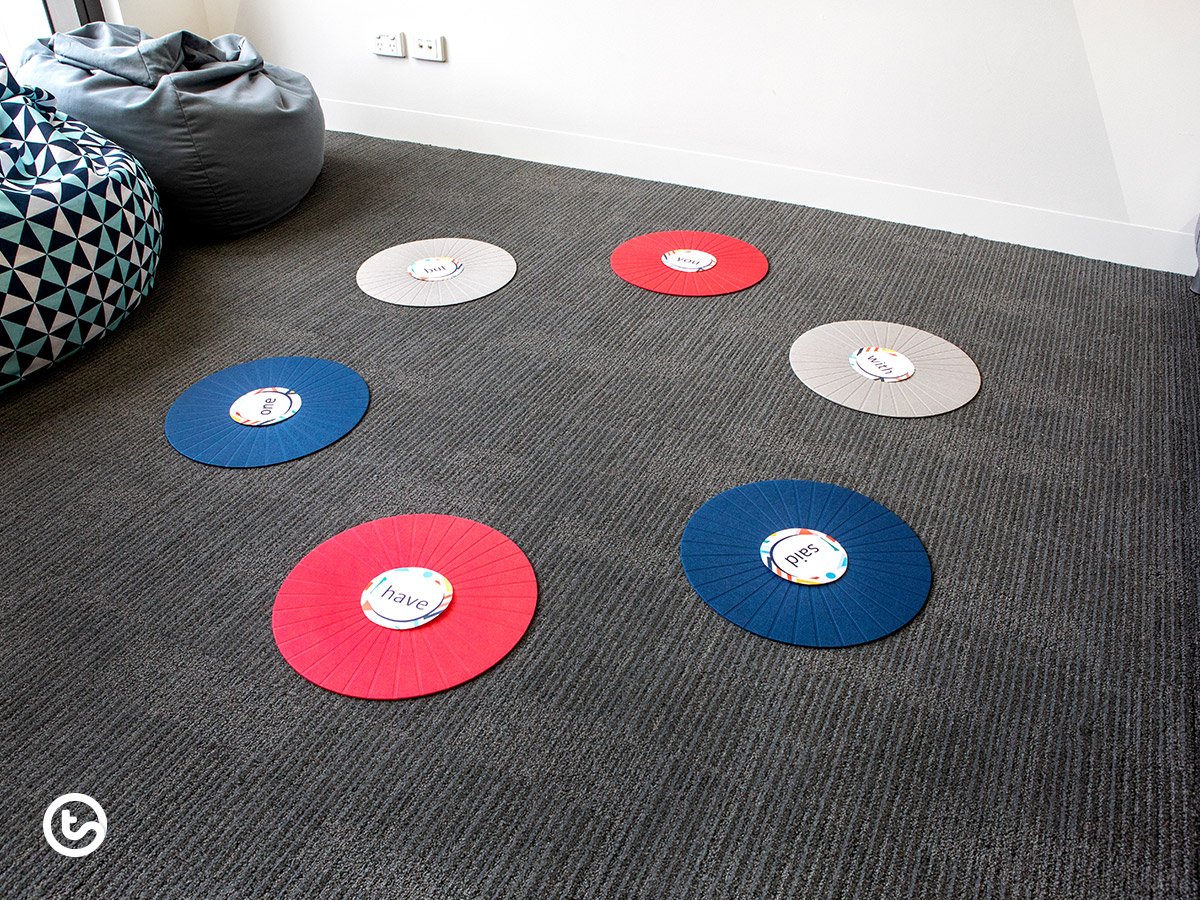 I love to help students increase word fluency by adding sight word circles to the sit spots. Use your sight word circles on sit spots to play floor games! For example hopscotch or bean bag toss games.
It's easy to make the sight word circles with our editable Geometric Boho – Star Student Badges (enlarged). Simply, attach them with mounting putty so that you can mix them up and move them around!
---
IKEA Rolling Cart Hacks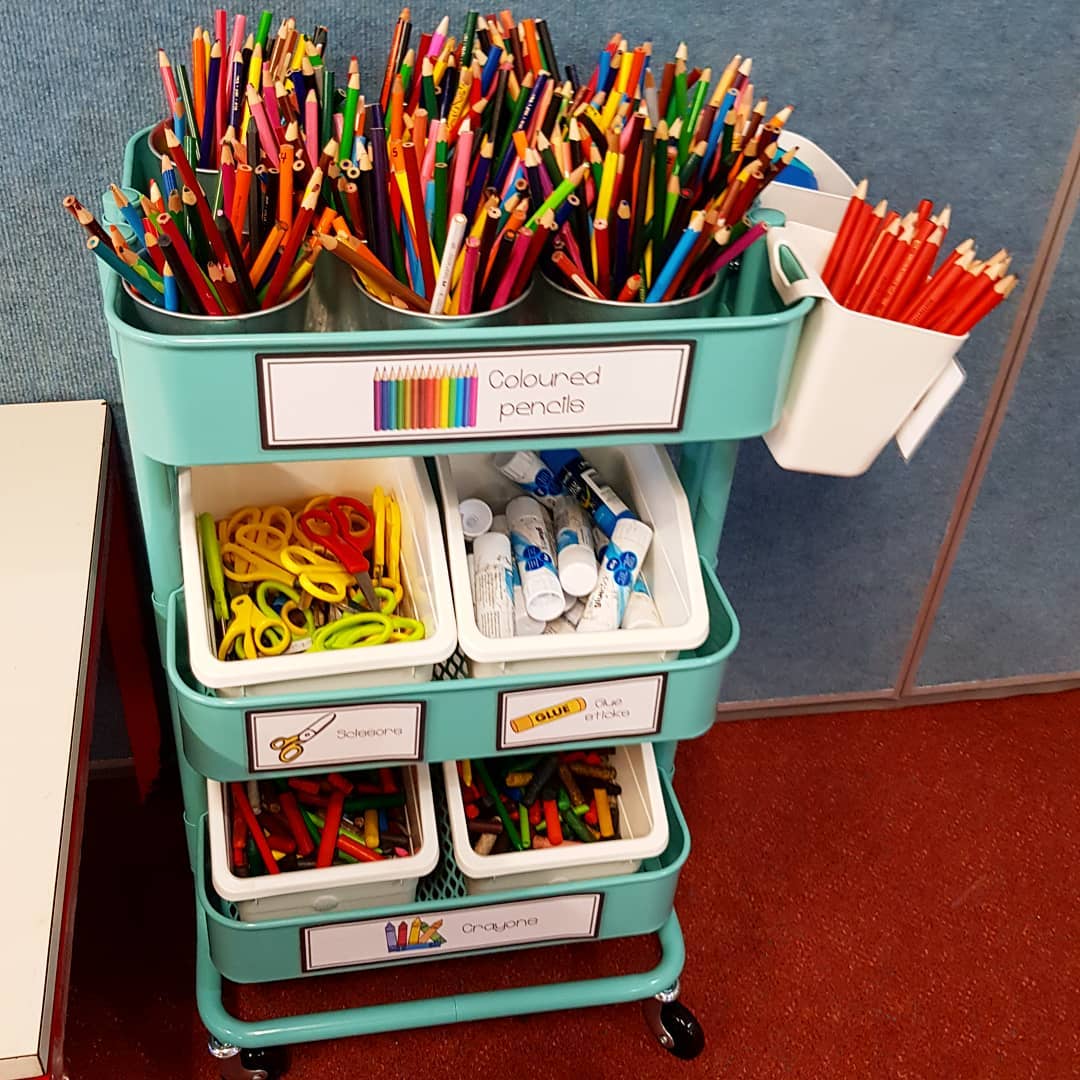 The infamous IKEA RÅSKOG rolling cart is another IKEA hack with countless versions, and we love this trick from @misswclassroom. This utility cart is the perfect height for little kiddos and a great storage solution for school supplies. It's the perfect accessory for any makerspace, literacy and math centers, or creative corner.
Top tip: Establish a student helper system to keep the classroom craft tray tidy.
For more information on the power of giving your students responsibility in the classroom, read my blog Sharing Responsibility in the Classroom | Classroom Jobs.
---
IKEA Hacks – Flexible Seating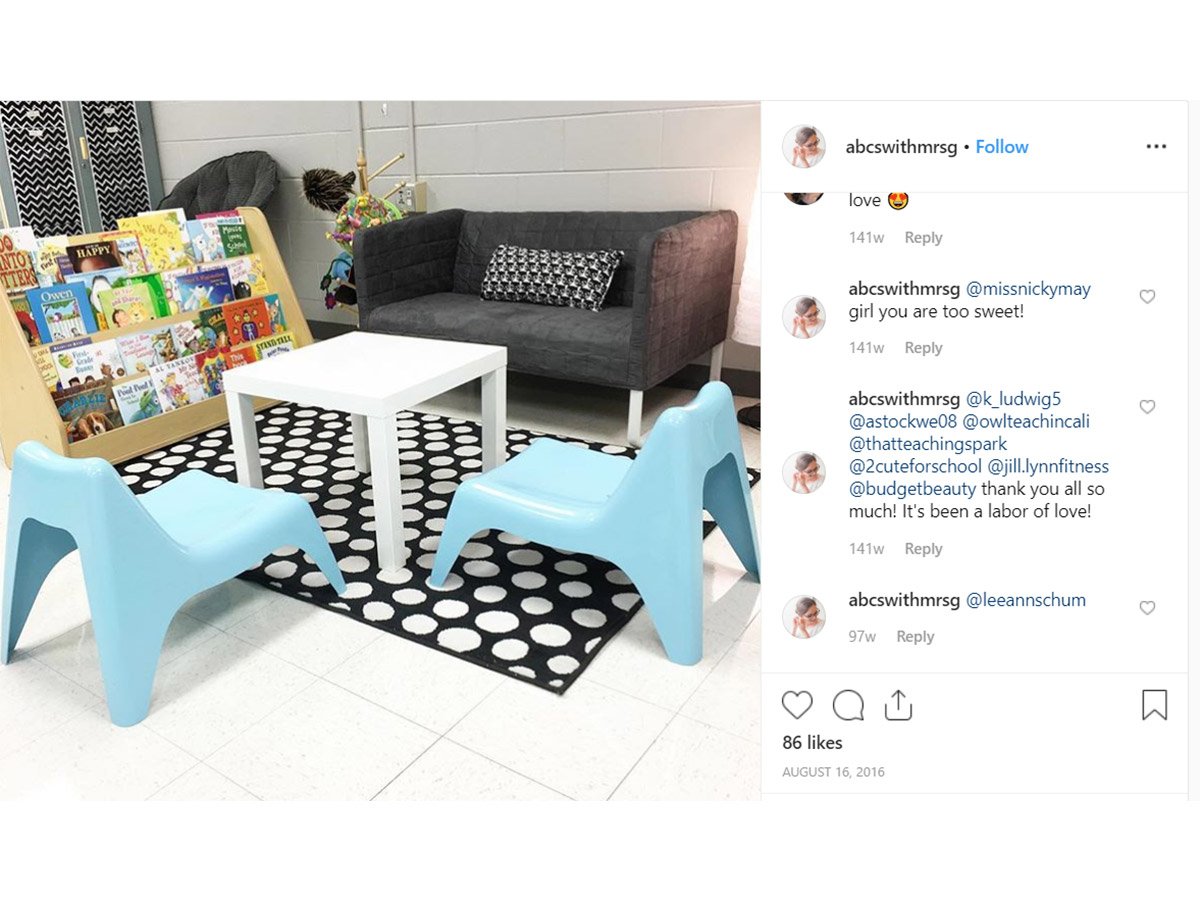 Kids love having flexible options for seating. @abcswithmrsg has done a great job of creating a reading corner with different seating options by using the IKEA BUNSÖ Children's easy chair.
---
IKEA Hacks – Book Display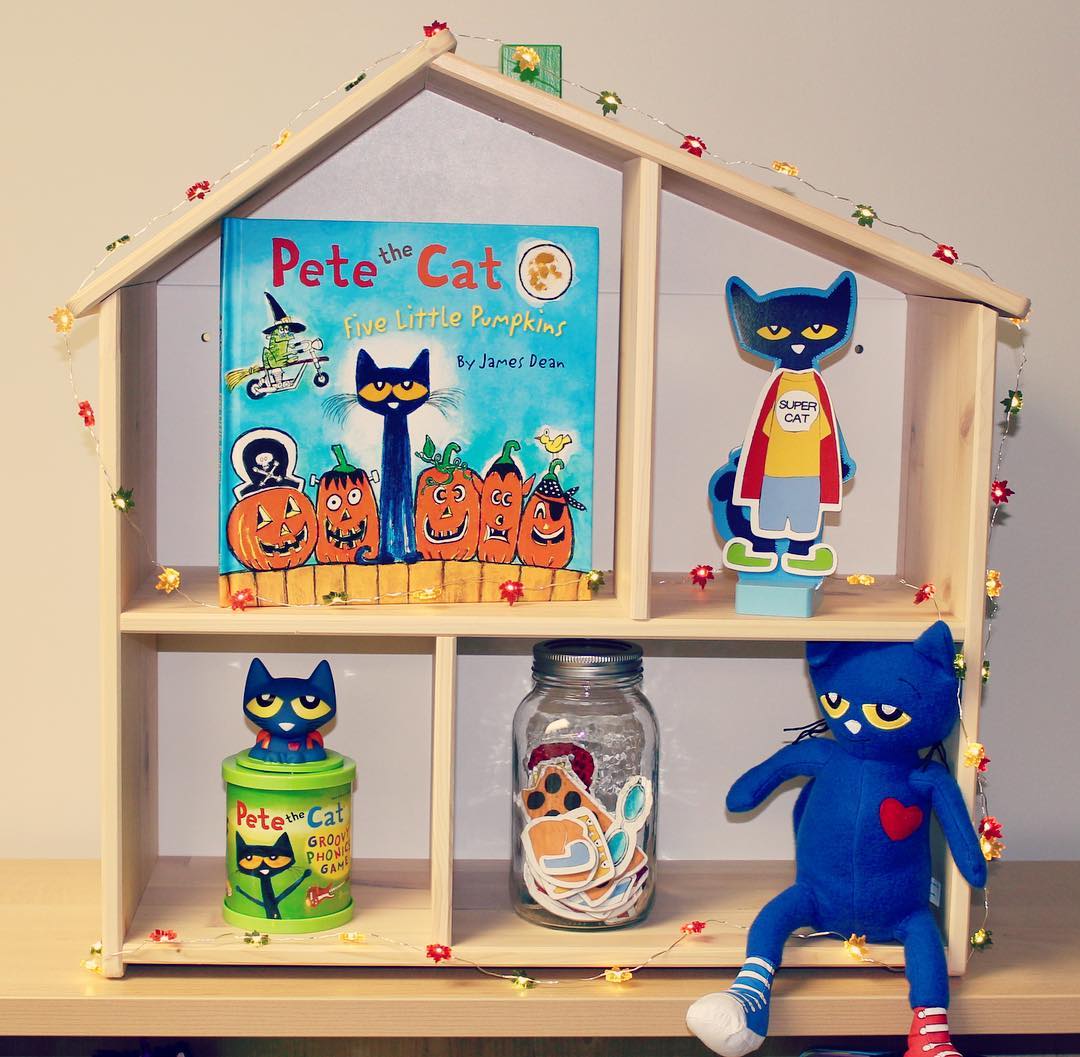 When it comes to IKEA hacks for the classroom, it's not just about being practical and organized. Sometimes, it's about bringing something homey to the classroom, adding some warmth, and inspiring imaginations!
I love this FLISAT Doll's house/wall shelf (and have one in my daughter's bedroom). I hadn't considered using it in the classroom before I spotted this from @thealchemicalclassroom! What a brilliant idea to add props and figures to the display to inspire reading and writing. IKEA Hacks are the best.
---
IKEA Dice Mats
Are you tired of the sound of rolling dice? If you are then this IKEA hack could be the answer. These cheap and cheerful PANNÅ Place Mats are ideal to use as dice mats.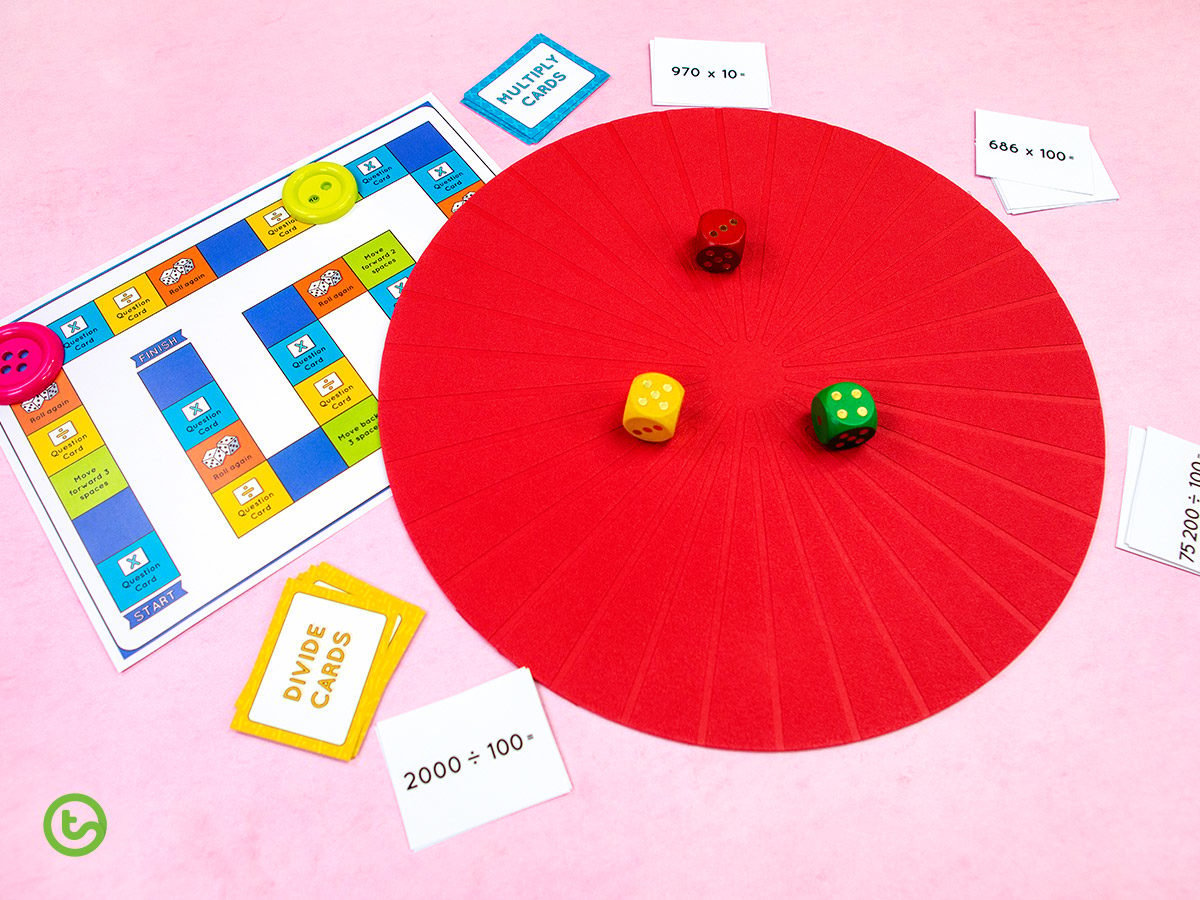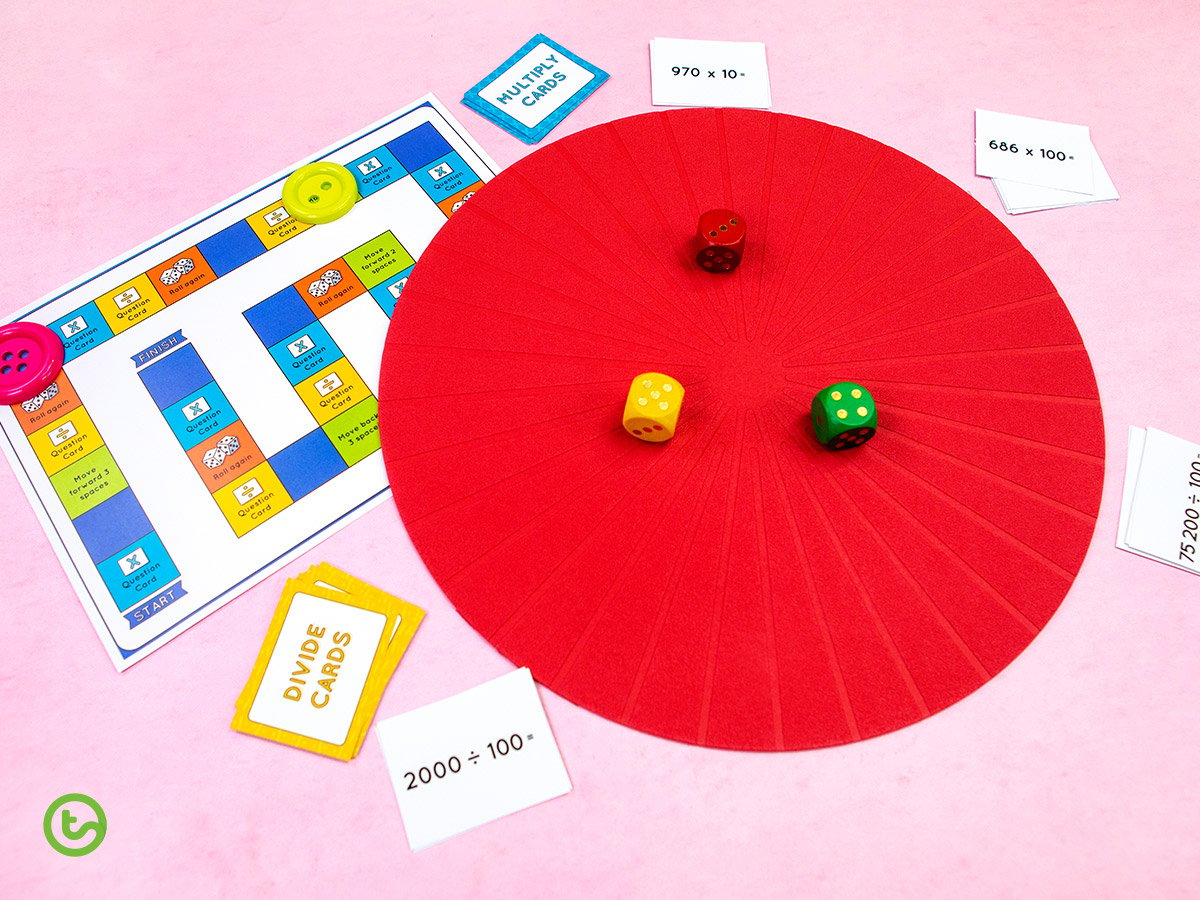 At the bargain price of $1.99 you may be able to purchase enough for a small group of students or even a whole class. Oh, and don't forget to take a look at this popular Multiply It or Divide It! Board Game suitable or upper years students. It's perfect for maths rotations.
You could even use these placemats to teach fractions or angles!
---
 IKEA Hacks – Parent Communication Board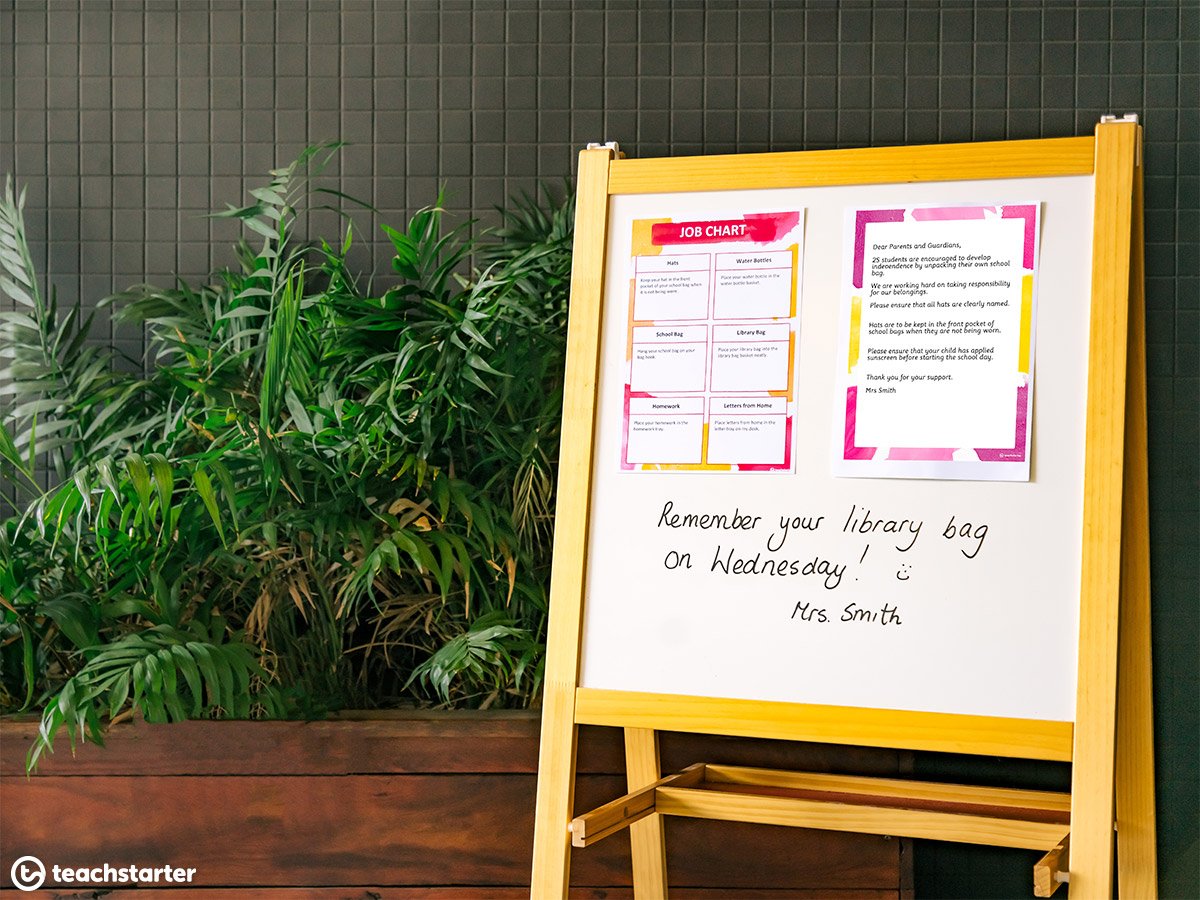 This MÅLA Easel makes for a perfect notice board to use on open house and parent-teacher conference nights to share information with parents. You can also use them as notice boards to remind your students about upcoming events and things they need to keep in mind.
---
IKEA Hack: Flying Dart Game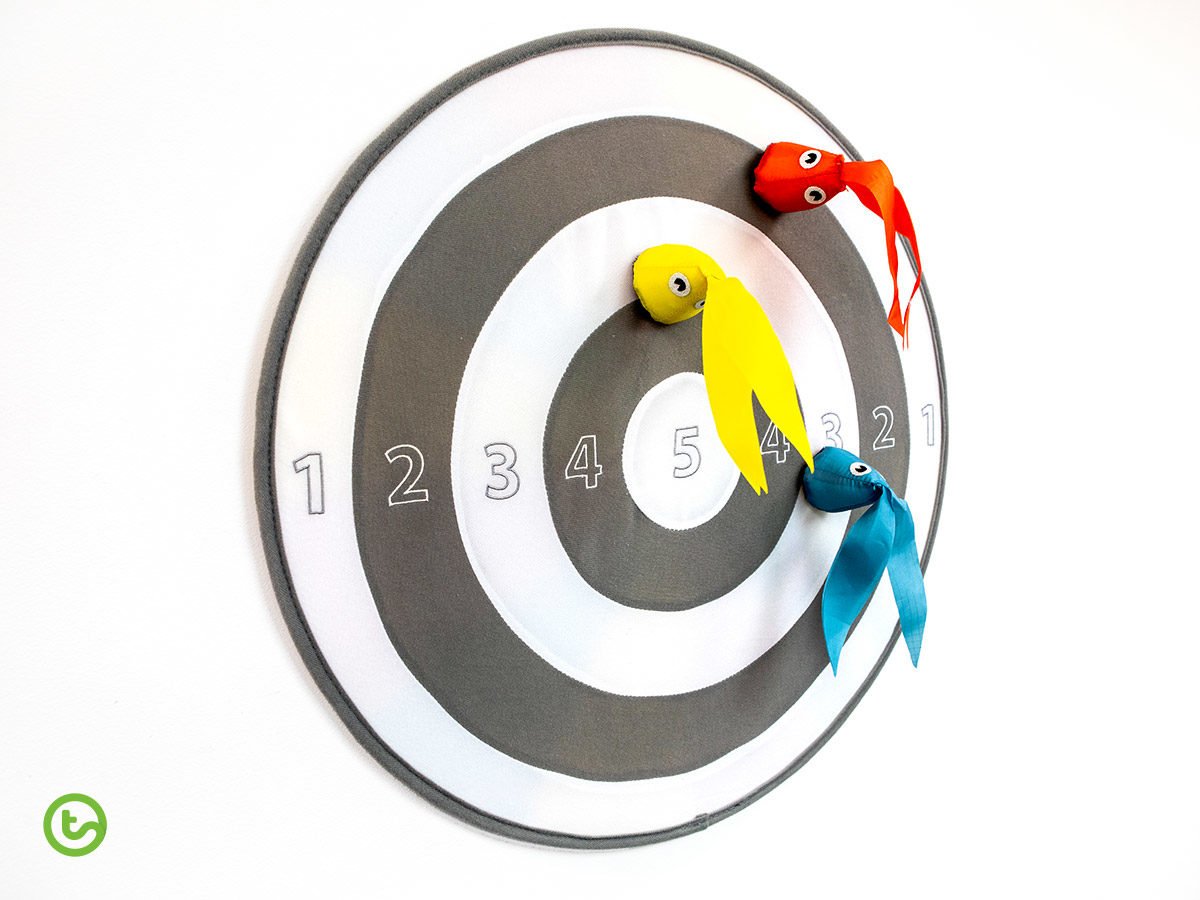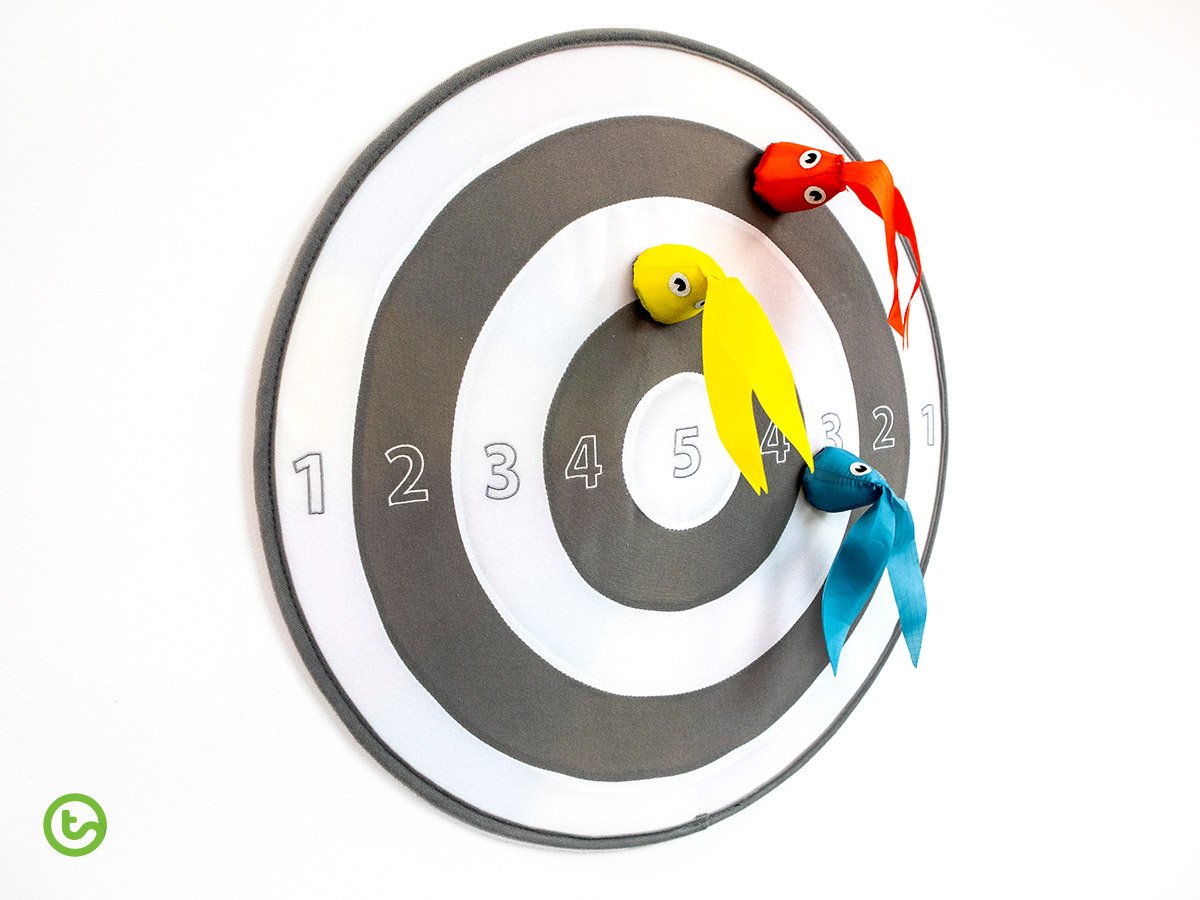 This super cool LUSTIGT Dart game can be used as the ultimate IKEA hack for teachers. The game includes a reversible dartboard so that you can use it to teach colors and numbers. Also included in the game are six cute figures that have a touch-and-close fastening on top. So they can be thrown easily and will stick to the board.
There are limitless variations of the Flying Dart Game! For example, it's perfect for learning number bonds to ten in the early grades. For upper elementary, it's great for teaching place value.
To use this game to teach place value, download our 3-Digit Roll It, Make It, Expand It! – Place Value Worksheet. Encourage your students to:
throw the figures to generate a 3 digit number.

construct the number using base ten blocks.

expand the number to show the value of the digits.
---
IKEA Book Display — Health Station
Need a place to store all that hand sanitizer? This practical and portable book display IKEA hack can be used to create a health station that your students will love to use!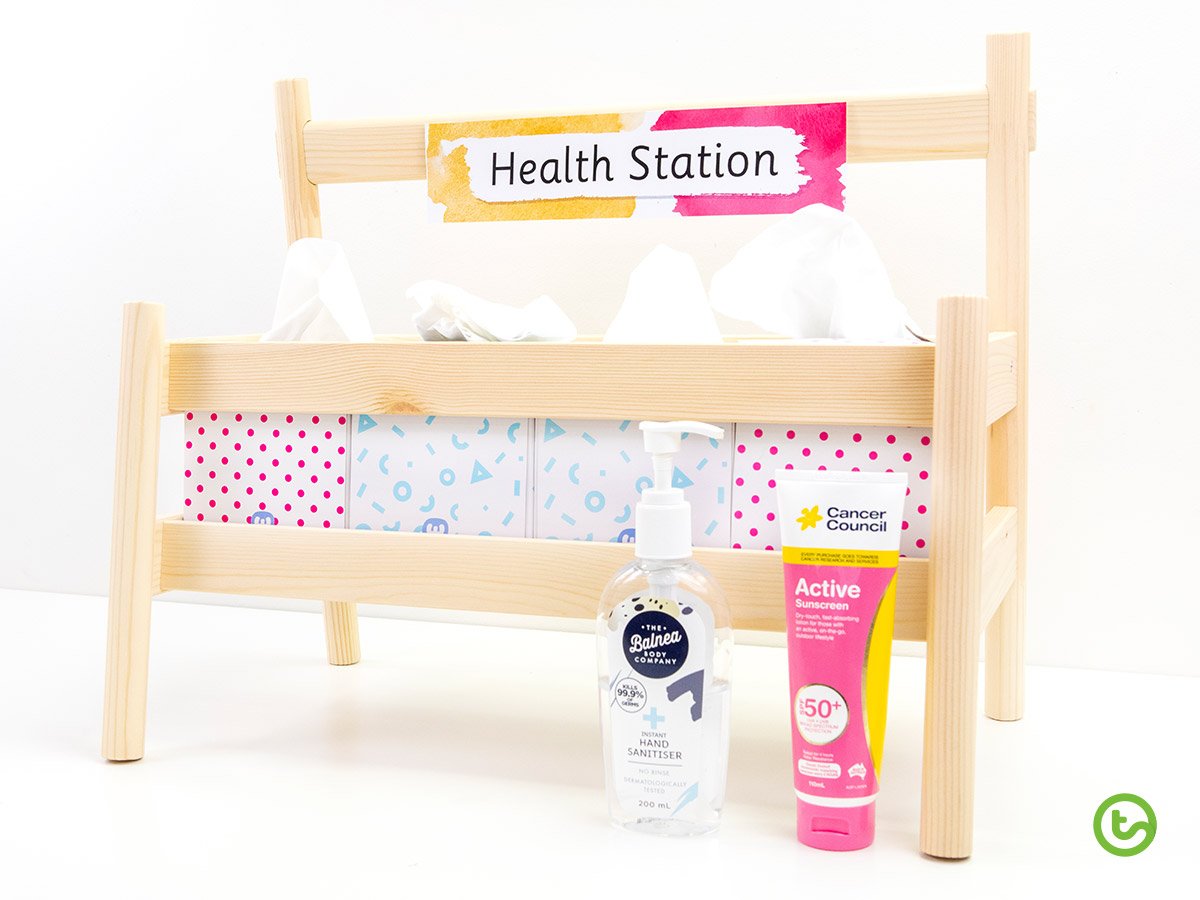 This neat FLISAT Book display allows your students to reach tissues, hand sanitizer and sunscreen. It's lightweight and the perfect size to place in the reading corner. In fact, you could put it just about anywhere as a gentle reminder to up levels of personal hygiene.
There are lots of other ways that this book display can be used. For example, it can be used as a:
Math rotation toolbox

Teacher desk organizer

Portable grading box.
Share your IKEA hacks on Instagram with us — tag @teachstarter_us or use hashtag #teachstarterus.