Book Week is very quickly approaching and if you're looking for a one stop shop for Book Week activity ideas that you can use in your classroom, or school library – you've come to the right place! The CBCA Book Week theme for  2022 is – Dreaming with Eyes Open. A wonderful theme that celebrates the beauty of diving into a wonderful book.
---
Book Week Ideas for the Classroom
Many of the printable templates we have available for this year's Book Week go perfectly with one of the books that are shortlisted on the CBCA Shortlist – 2022. Some of our favourites from this list include:
Once your class has read one of the beautiful children's books from the shortlist (or any book for that matter), have them complete an Australian animal-themed book report. This download comes with two options so it will suit a range of ages.
 
Just for a little bit of fun, why not have students cut and assemble one of these awesome Decorative Reading Glasses to rock during Book Week!

Book Week Display Idea
Why not use the paper reading glasses above as a photo prop on dress up day. Students can wear their glasses and have their photo taken. Print the photo out and stick it on the My Book Week Character Template and display this in your classroom, the school library or even at the school administration area.
Let your students' imaginations run wild during Book Week with this super cool narrative story template! Students can dream up their ideal story – with no limits! They draw a picture of their setting in one side of the glasses and their characters in the other. They can then briefly describe what is going to happen in their story in the text box.
Alternatively, older students, can write their full story on a larger piece of paper but still stick that to the bottom of their glasses!

Storytelling is a sacred tradition shared by the First Nations people of Australia. Encourage your students to explore a Dreaming story that comes from your area's Country. Invite a traditional custodian of the land on which your school resides to share a Dreamtime story with your class. Students can complete the template after listening to the story.
Encourage your students to share their thoughts behind the meaning of the stories and how they connect to Country.

These absolutely beautifully designed printable bookmarks mixed with mindfulness colouring are the perfect activity to do with all ages!

Book Week Display Ideas
Many of the templates above would work beautifully as a Book Week display. Download and print our Dreaming With Eyes Open Display Banner to finish off your Book Week display.

Check out these beautifully designed posters to add to your Book Week display: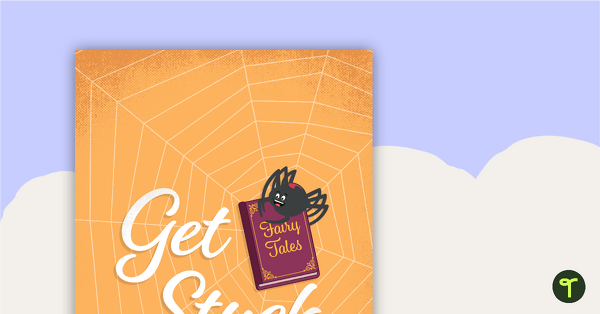 teaching resource
A superhero-themed poster for the classroom.
teaching resource
A beautifully designed poster to display in your classroom reading corner.
Looking for some inspiration for your Book Week costume? Check out our blog – Book Week Costume Ideas for Teachers.
Don't forget to check out our Book Week Resource Collection for more creative ways to celebrate Book Week this year!