Heading back to school? Sometimes decorating the classroom just isn't enough … you've got to decorate the door to your classroom too! Classroom door decorations are definitely windows to the kind of learning environment that's hiding on the inside, and we've pulled together some fresh classroom door decorating ideas to kick-start the school year.
What Will I Need to Create A Classroom Door Display?
Before you get started creating your gorgeous new classroom door display, you'll need to gather a few key pieces of equipment!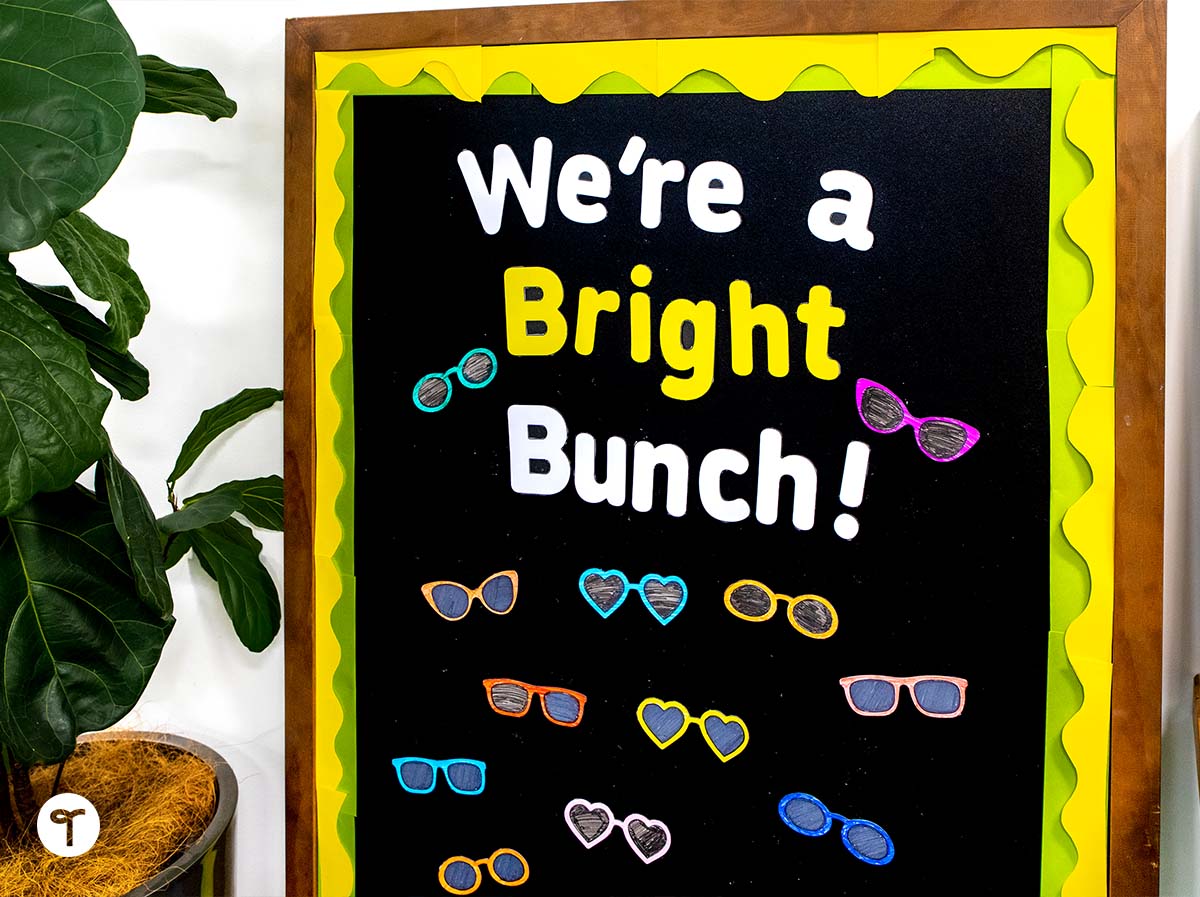 Why Should I Create a Classroom Door Decoration?
The classroom door is the first thing your students will see when they come to your classroom on their first day! Creating a beautiful, enticing classroom door display will help your students to feel at home from the very beginning. Collaborative door displays (where the students contribute elements to create a group masterpiece) encourage kids to share key information about themselves and get to know their classmates.
Welcoming Classroom Door Decorating Ideas
For welcome back-to-school classroom door ideas that will wrap your new students up in a warm hug from the moment they reach your classroom, we've done the planning for you.
The members of our teacher team have been in your shoes, and we know that decorating your classroom door can take a while. That's why we've put together ideas that can last throughout the year!
Be a Rainbow in Someone Else's Cloud Classroom Door
Decorating your classroom door is a lot of work, and you may be up for doing that kind of work a few times throughout the year … but if you're not, then opt for something that will last the whole year through!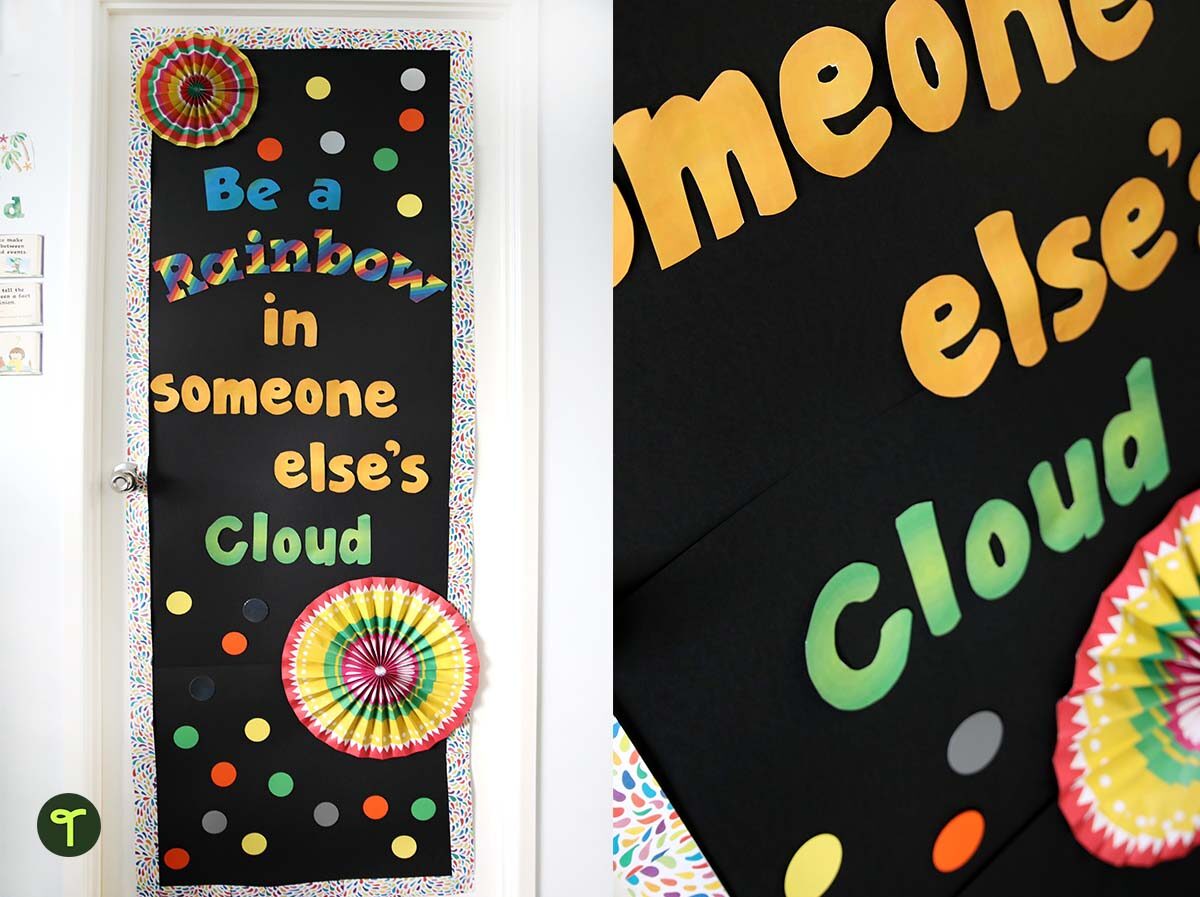 This rainbow-themed classroom will work for any classroom for the whole year, no matter what theme or topic you are learning about. This quote from Dr. Maya Angelou is a wonderful reminder to your students about being kind and the power of that kindness, especially when fellow students are having a rough day.
To make this rainbow-themed classroom door, we used
Black bulletin board background paper
Colourful party decorations
Coloured cardboard (cut into circles)
We All Fit In Door Display
Use your classroom door decoration to set the tone for the school year ahead, and let students know it is going to be one colourful year! We used our We Fit Together door display pack for these retro vibes!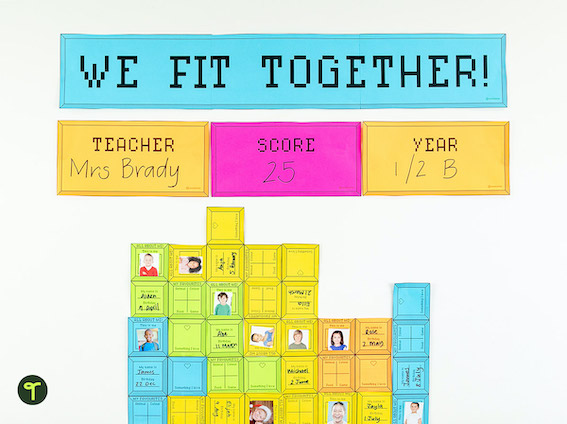 If you're welcoming students back to school with this door, you may want to extend the rainbow theme throughout the room! Grab rainbow acts of kindness resources to start the year off on a bright foot:
teaching resource
A set of rainbow watercolour themed vocabulary word wall cards.
How to Decorate a Tired-Looking Classroom Door
Teachers are incredibly resourceful by nature, but often our blank canvas (our room) leaves much to be desired! If your classroom facilities are a little tired, explore options like adding a fresh coat of paint to your classroom door for an instant lift. This quick and easy fix will provide a fresh backdrop for your new door display.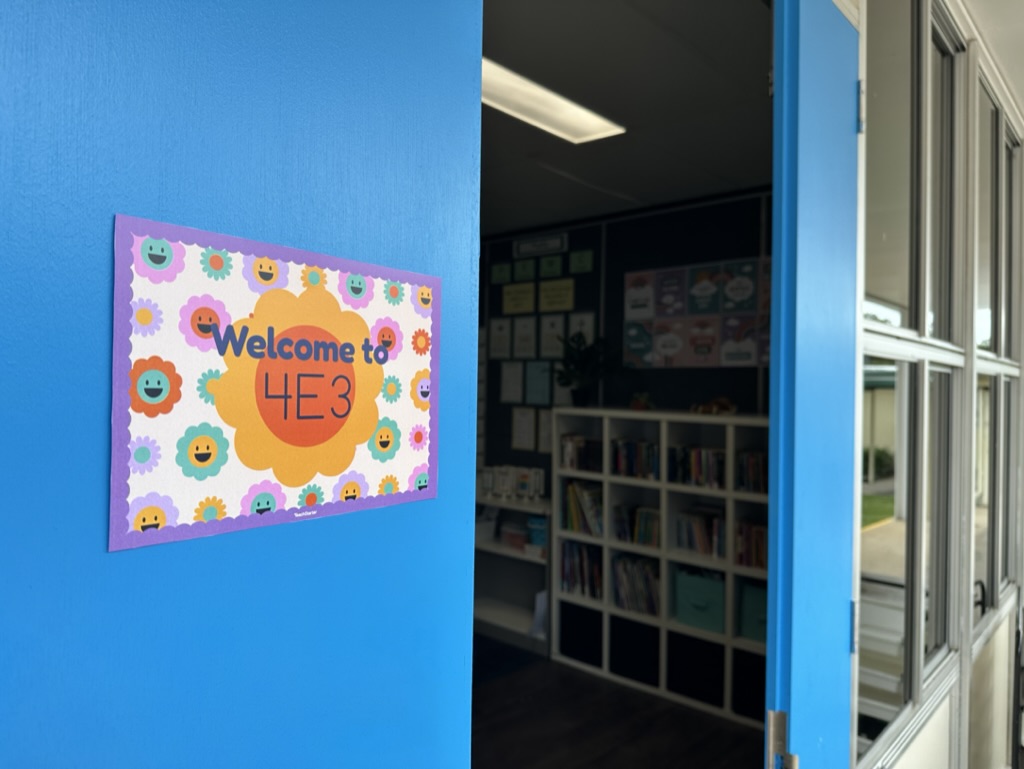 Brisbane teacher Jacqui has a standard 1970s classroom, and she's jazzed it right up with this beautiful blue door and our Groovy Flowers Welcome Sign. When you're working with a retro classroom, a retro vibe for your decor theme is a perfect match!
Browse more of our Groovy Flowers Classroom Theme Pack elements here: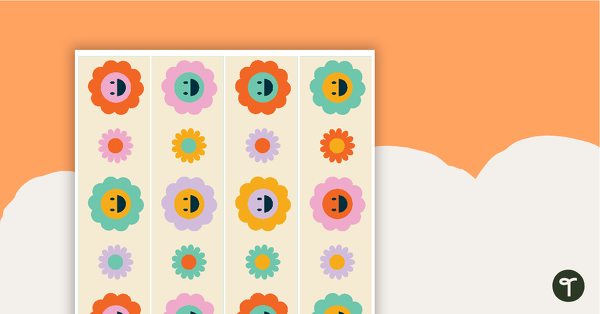 teaching resource
A set of flower-themed border trimmers to decorate your whiteboard, corkboard or windows.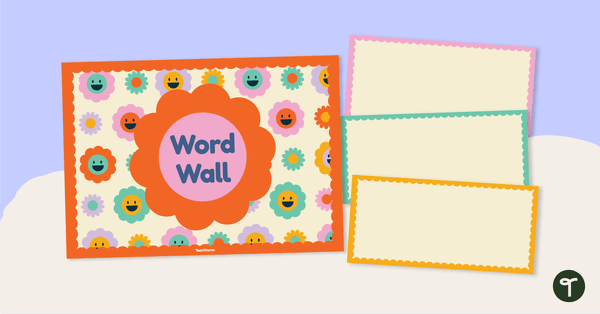 teaching resource
Create a generic word wall with this groovy flowers inspired design.
teaching resource
A set of flower-themed cut out decorations.
Ideas for Early Years Classroom Doors
Look Who's Blooming!
Teaching a foundation year? Welcome students back to school this year with this classroom door idea: Look Who's Blooming in Kindergarten/Prep/Reception!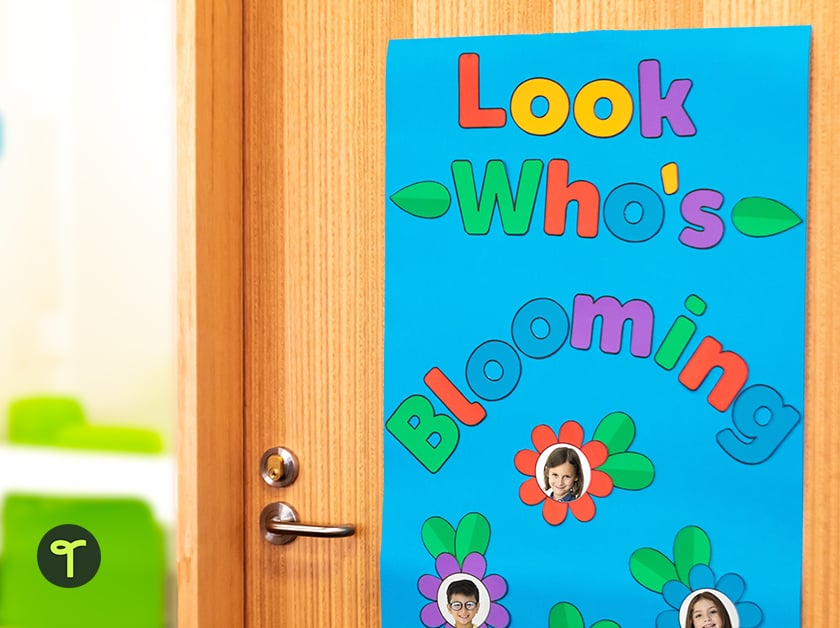 Not only will this classroom door work just as easily in spring as it does in the autumn when you welcome students on the first day of school, but we've put together a printable classroom door kit featuring the letters and flowers, so all you need to do is print, add your students' photos, and post on your door. Easy, peasy,  lemon squeezy!
Let Your Superheroes Soar
Looking to inspire your students to be the heroes you know they can be this school year? We combined our Superhero Themed Classroom Reward System and Door Display together for a classroom door idea that lets students know the sky is the limit when it comes to success in your class!
We particularly like this door idea because by including your students' names on the door they instantly feel welcomed into their new learning space.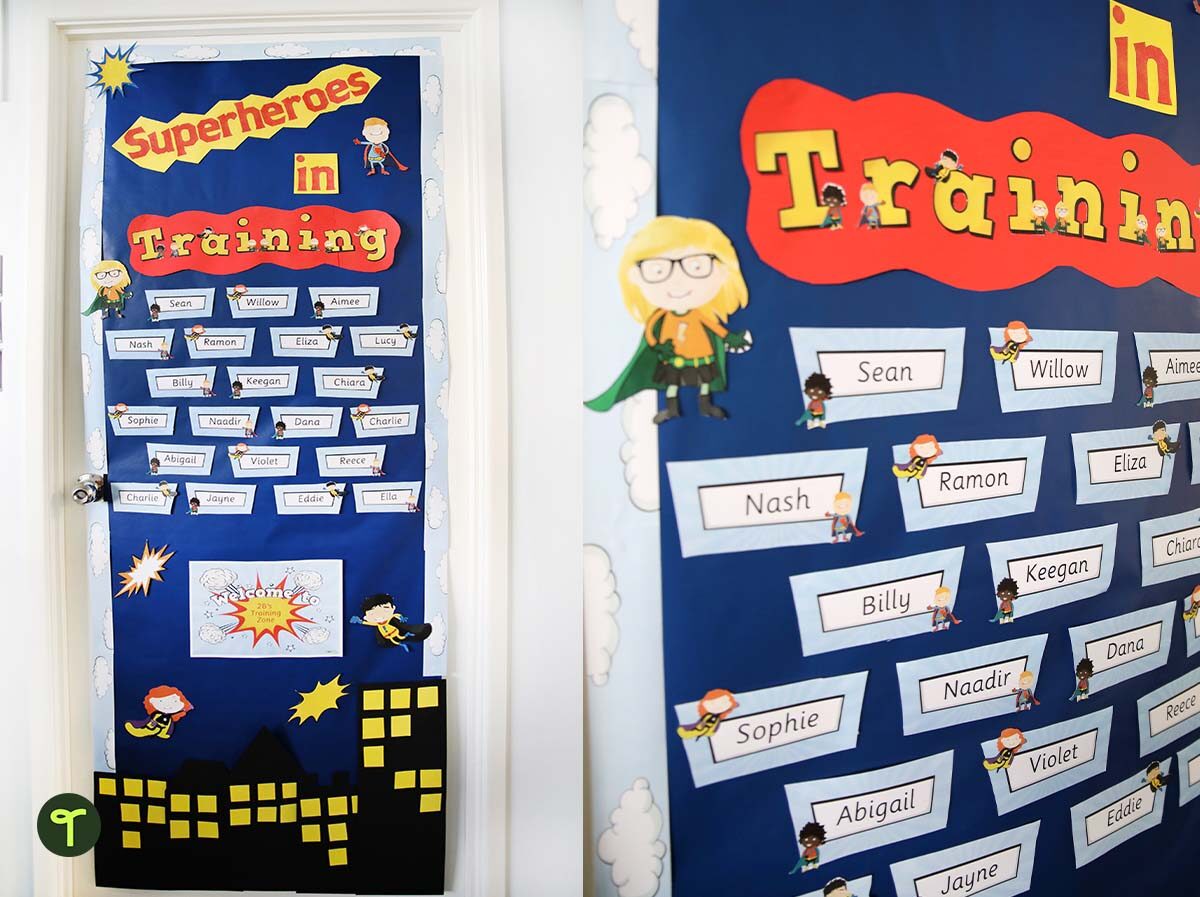 The Sky's the Limit – Space-Themed Classroom Door
Our Astronaut Template looks phenomenal on a black background. The inspirational title of 'The Sky's The Limit' on this astronaut classroom door decoration sets up your students to reach for the stars! What's not to love about that?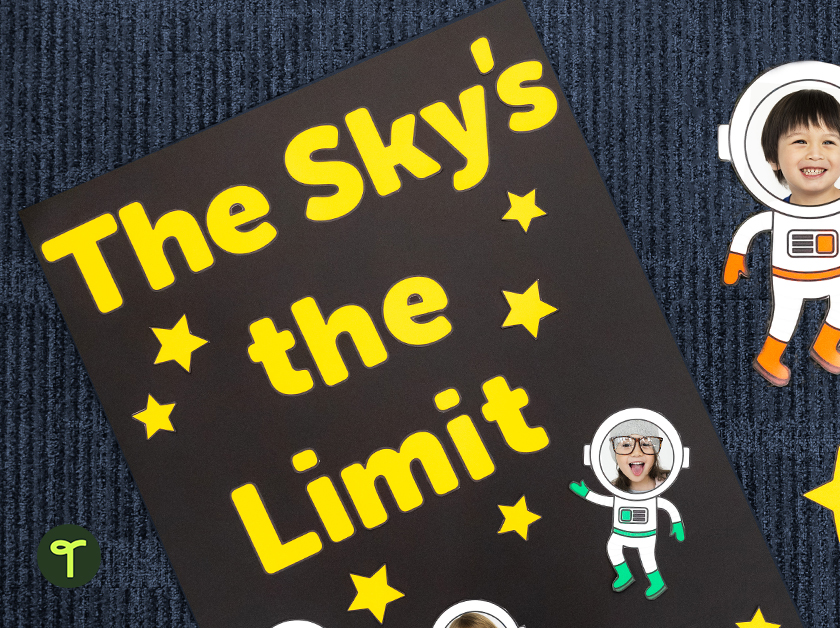 We Soar to Great Heights – Hot Air Balloon Classroom Door
These cute hot air balloon templates are easy to cut out, and with a bit of string, you can add a little craftiness to this door display. This is a bright classroom door decorating idea that looks super uplifting (see what we did there?) on a nice blue background.
You can add a photo of each of your students between the basket and the balloon, to make it look like they are travelling in a hot air balloon. Alternatively, you can put in the students' names as we have done in the below image.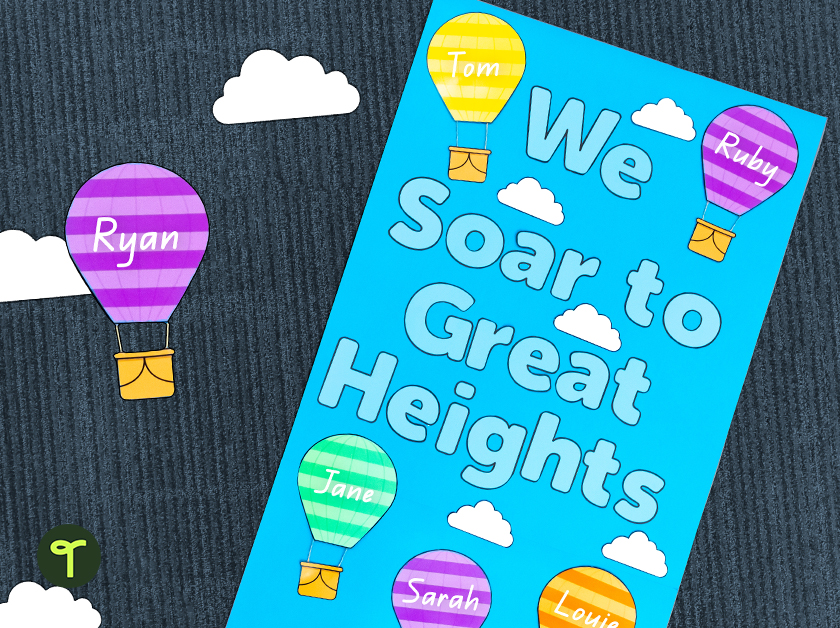 Gear Up for a Great Year – Robot-Themed Classroom Door
This robot-inspired classroom door decoration looks incredible on a black background. Start your students off on the right foot with these cute robots with their names, or better yet, their faces in the robots' heads.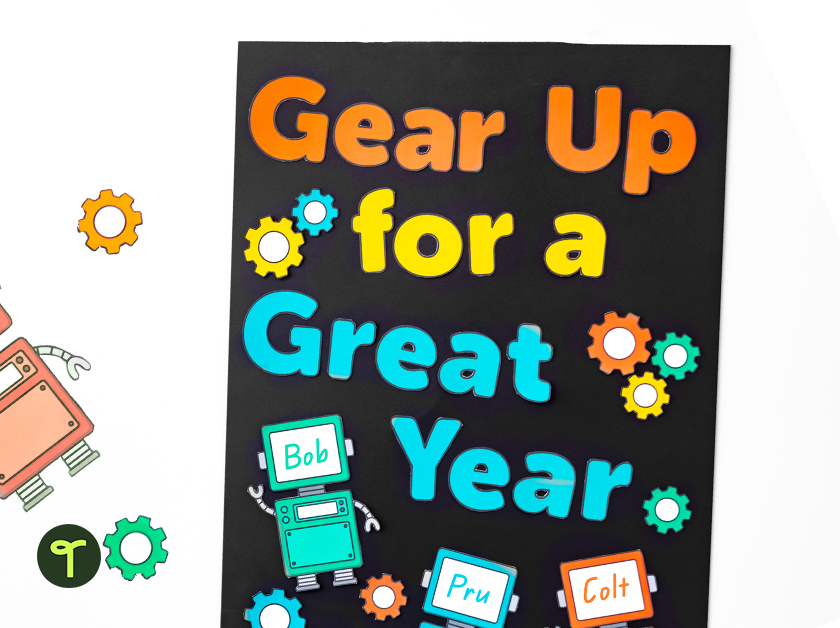 Each door decorating kit is available in black and white so you can save on color ink by printing the letters on colored paper and directing your students to decorate their own robot, hot air balloon, flower, or astronaut. Having contributed to their classroom door decorations themselves, students will feel more buy-in!
Here's a snapshot of how we created some of these door ideas: