Can you feel it? That moment when you unearth something so amazing that it's worth its weight in gold!
Ladies and gentlemen, we are proud to introduce our Gold Rush Unit Plan for Grade 5!
Written by our talented resource producer Royce, this unit plan has everything you need to teach your students about the Australian Gold Rush.
This Australian Gold Rush unit investigates the historical discovery of Australia's Gold Rush period, from the mid-to-late 1800s. Ideas featured in this unit include the discovery of gold, mining lifestyle, wealth and success, social consequences, and how these shaped the Australia we live in today.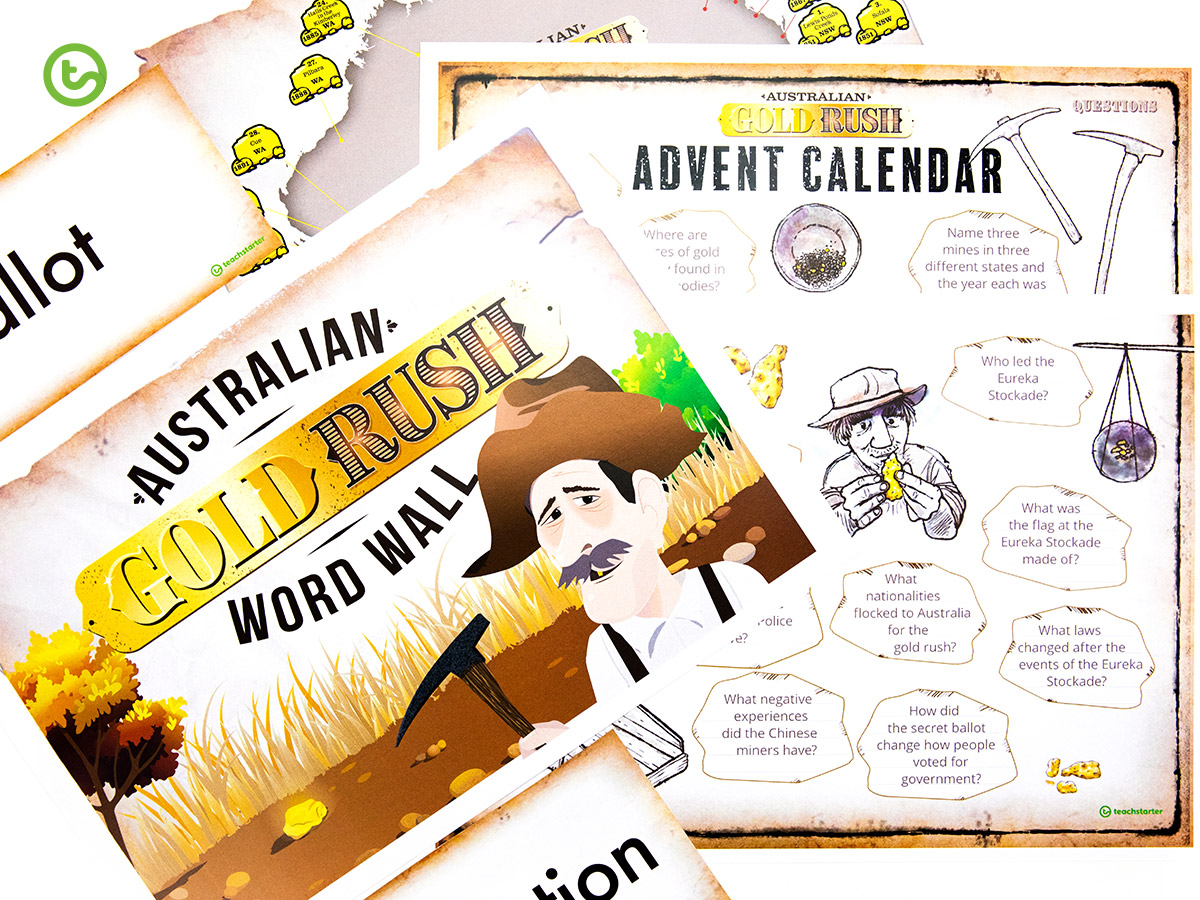 This unit plan was created in response to dozens of requests by YOU, our amazing teachers. If you wish to request a resource that you can't find on our website, it's easy! Simply visit the Request a Resource widget and tell us what you need.
---
What's in the Australian Gold Rush Unit Plan?
Consisting of 9 x 60-minute lessons, this curriculum-aligned unit plan gives students the opportunity to:
learn about gold as a mineral, why it is sought after, and how it became a valuable currency
use mapping skills to track the discovery of gold across Australia and learn how those discoveries formed and changed Australia's cities and landscapes
learn what it was like to live as a miner on the goldfields
learn how events during the gold rush influenced Australian laws, taxes, equality and voting rights, and how they shaped our current democracy
consider the lives and roles of Australian Aboriginal peoples during the gold rush
learn about the influence different cultures had on Australia, the challenges newcomers faced, and how they made Australia what it is today
learn about the Eureka Stockade and how it affected life for miners and changed Australia's political outlook.
There's nothing mine-or about that!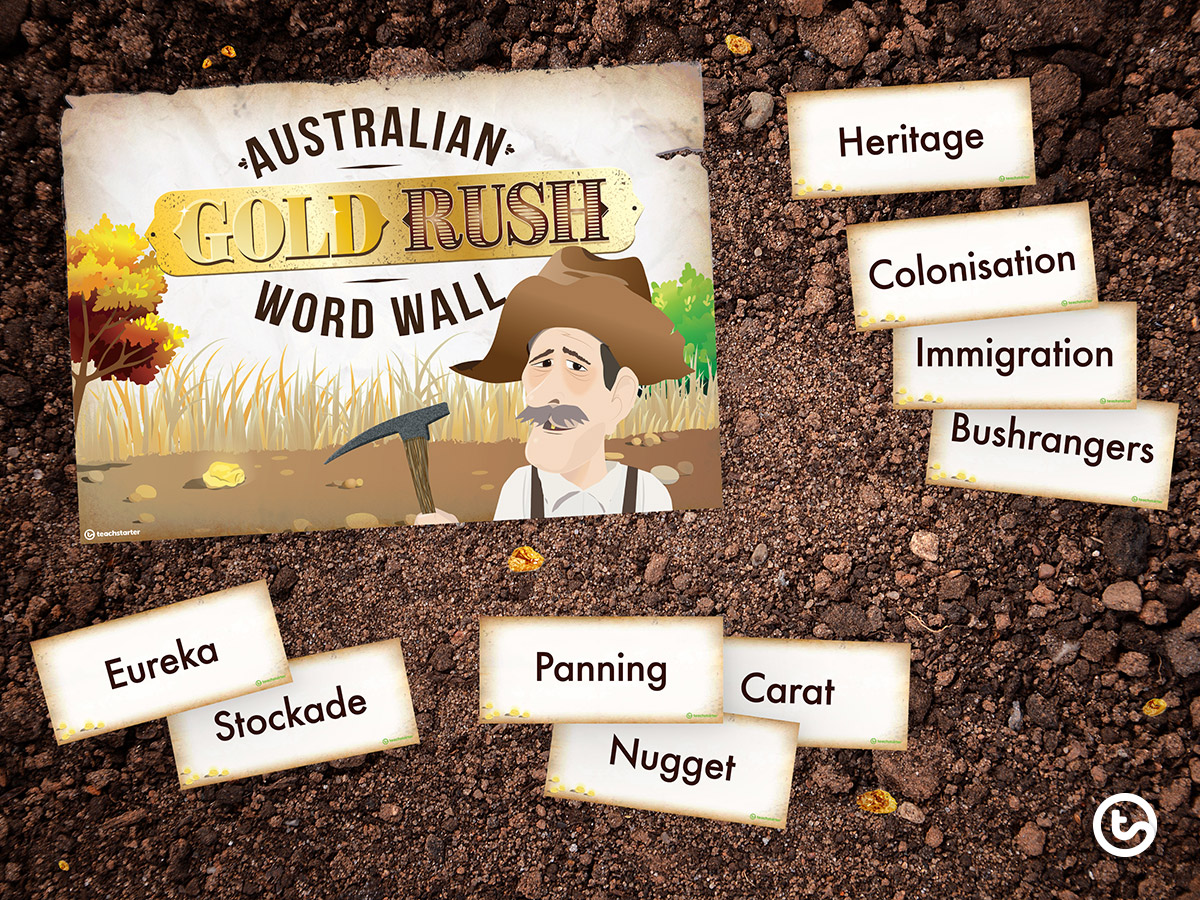 This unit has it all – lesson plans, teaching presentations, student activities, and classroom displays, as well as assessment tools!
Each engaging resource in this unit plan will immerse your students in the life and times of the Australian goldfields during the 1800s.
Check out just a small selection of what the Gold Rush Unit Plan has on offer: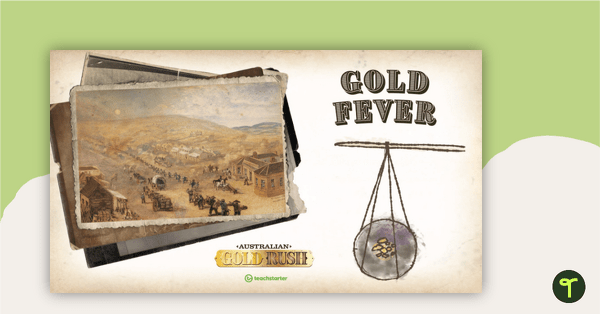 teaching resource
A teaching presentation that explores the origins of the Australian Gold Rush.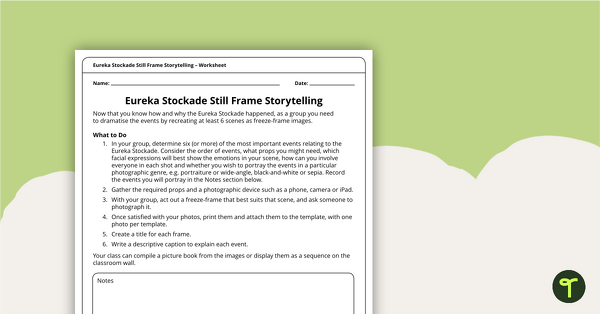 teaching resource
A worksheet that enables students to design and share a story using still frame images.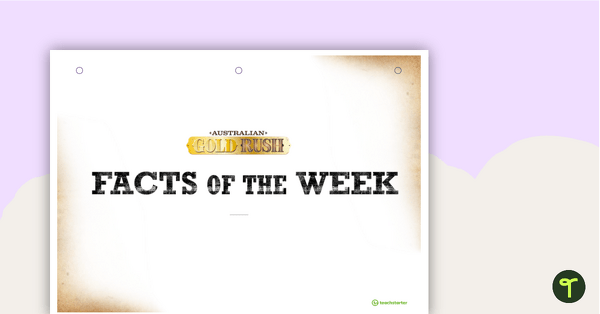 teaching resource
A flip book designed to integrate interesting facts about Australian history into a unit of learning.
teaching resource
A fun mapping activity for students to pinpoint gold finds and gold rush locations between 1851 to 1893 on a map of Australia.
---
Digging Deeper
The Australian History Pop Quiz Teaching Presentation sparks students' interest and accesses their prior knowledge. Then, the fun begins!
Without a doubt, if you dig deeper into the lesson plans in this unit, you will unearth some amazing finds.
This plan is full of engaging lesson content, like Lesson 3: Gold Fever – Kick Starting the Australian Gold Rush. This lesson will introduce your class to the exciting method of panning for gold!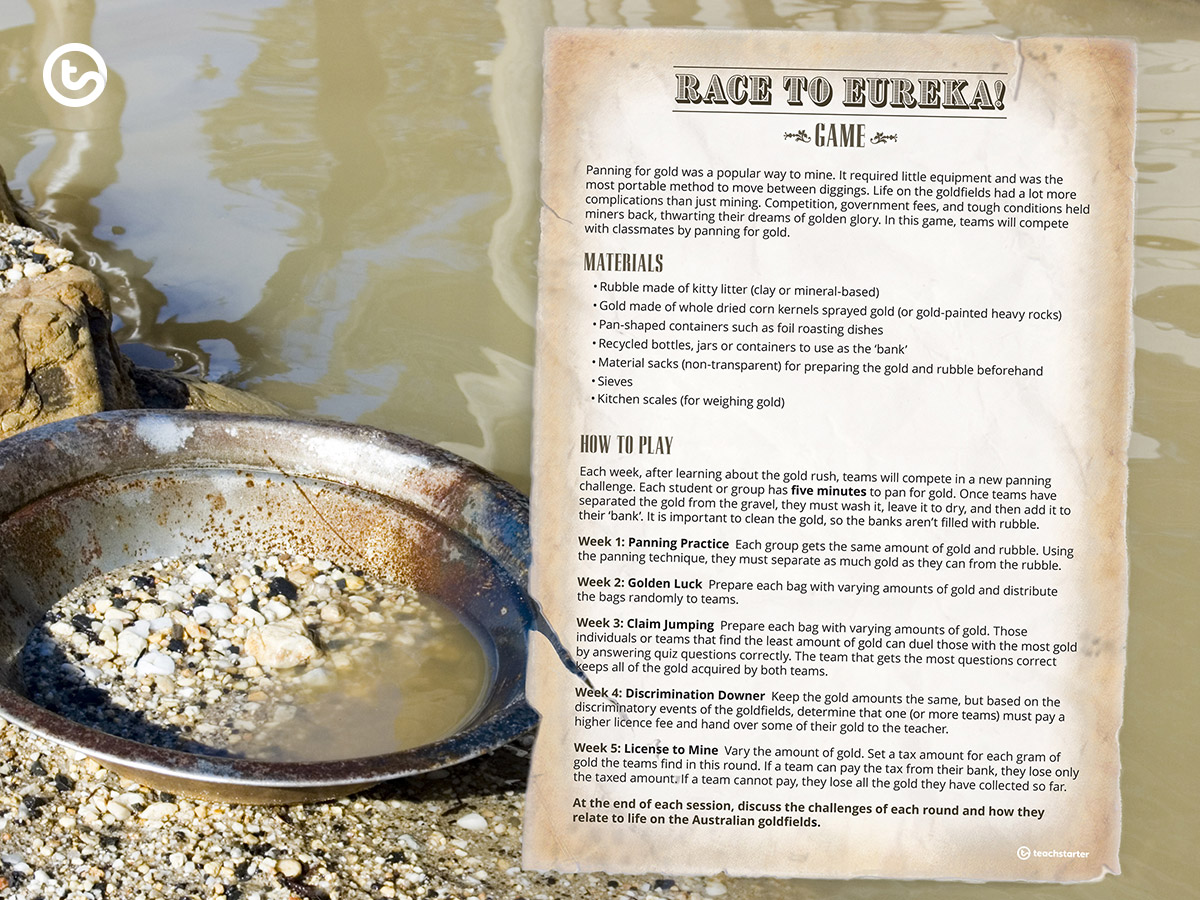 In addition to this, the panning for gold activity asks students to think a little more deeply. How might Indigenous peoples have felt with these conditions? How were conditions different for colonists and chinese immigrants?
Each week will feature a pan for gold, alongside other engaging lesson content. As the unit progresses, students will experience panning for gold with the same allowances and restrictions imposed on different groups during the Gold Rush. Once the tension has built and their knowledge has been strengthened, your students are introduced to the events of the Eureka Stockade.
In line with this, our Australian Gold Rush: Eureka Stockade – Teaching Presentation provides your students with the essential information to connect to their experiences.
This is the perfect activity for building historical empathy! And empathy, of course, is the key to helping students engage in the history curriculum.
---
Striking Gold
The culminating assessment piece in this unit plan is the perfect activity to bring your students' knowledge and understanding together.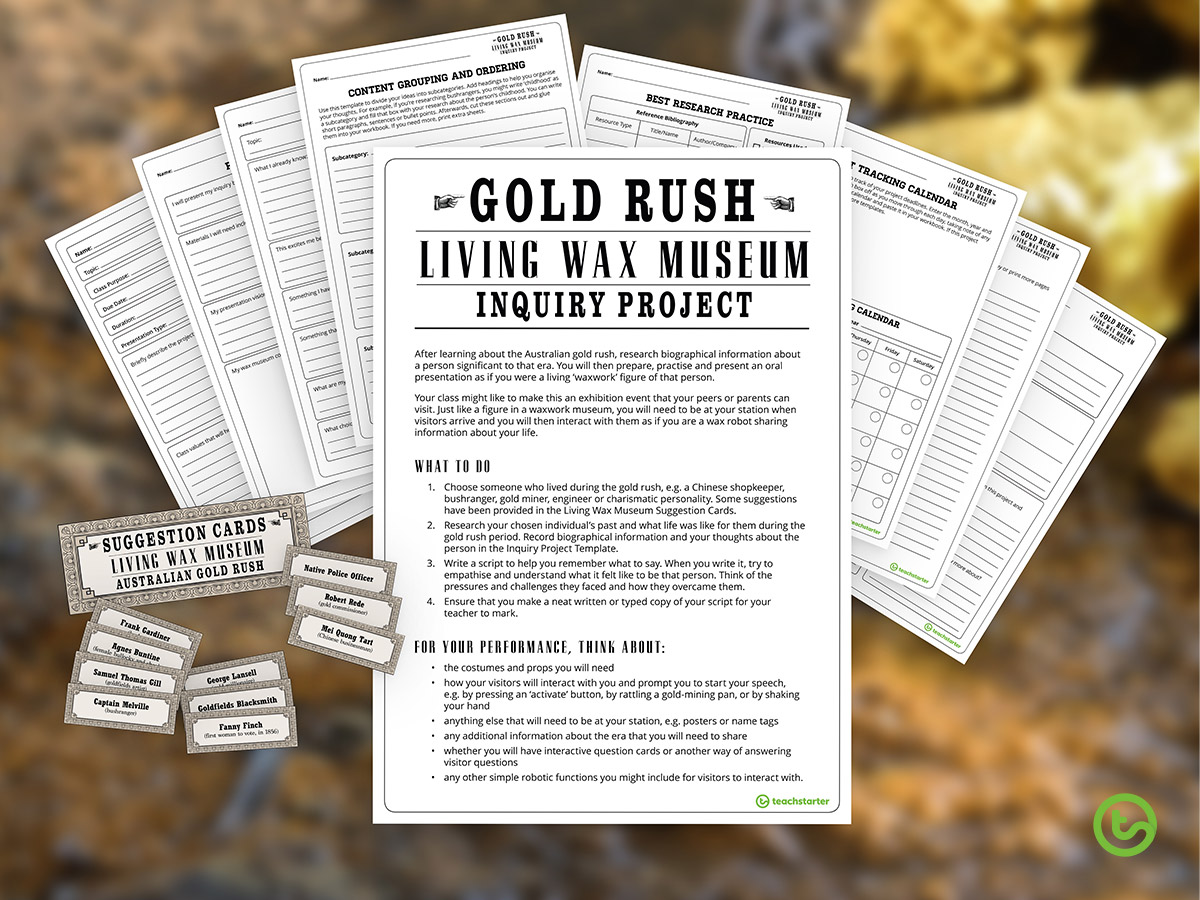 Turn your classroom into a 'living wax museum'! Researching a character from the Australian Gold Rush, students will present their findings by taking part in the Australian Gold Rush: Living Wax Museum – Project.
But wait, it's not just an oral presentation! This assessment piece gives your students the opportunity to demonstrate their understanding on more than just pencil and paper – in character!
Your students can choose characters from a range of suggestion cards, such as Peter Lalor or Agnes Buntine. Alternatively, they can come up with their own notable characters to represent.
This project would make a great class exhibition that fellow students, teachers, school staff and even parents could visit and interact with. Students can make it even more authentic by dressing up and creating stations that viewers can interact with. The creative possibilities are endless!
---
Download the Gold Rush Unit Plan and immerse yourself in Gold Fever!