With Father's Day just on the horizon (Sunday, 3 September), now is the perfect time to start thinking about Father's Day gift ideas for your primary class to make. Encourage your students to unlock their artistic sides and make crafty keepsakes and Dad-worthy practical gifts straight from the heart.
The Teach Starter teacher team has put their creative hats on and come up with our favourite Father's Day gift and card ideas to help spark inspiration – from a personalised shopping bag to an exploding gift box to Father's Day card ideas fit for centre spot on the fridge.
We know that not every student has a Dad at home — some may live with a single mum, some with two mums, some have a stepdad and some live with grandparents or other carers. With that in mind, we've ensured that each gift and card idea can be adapted so every child is included.
So, crack out the craft supplies, and dive in!
Easy DIY Father's Day Gift Ideas for Kids
Create a Memory or Activity Jar
Creating a memory jar is an easy, inexpensive Father's Day gift idea that Dad or other special person in your student's life will cherish forever. It is also a fantastic opportunity for your students to practise writing sentences and building their vocabulary.
Alternatively, kids could fill the jar with adventures and activities they would love to experience with their special person such as going bowling or visiting the museum, and make it a tradition to pick an activity from the jar each week or month.
Materials:
Recycled glass jars (clean pasta jars would be perfect!)
Coloured or plain paper
Craft materials (ribbon, collage pieces, labels)
Pencils or crayons
Scissors
Instructions:
Print out handwriting lines on pages of coloured paper, and hand them out to students.
Encourage students to write their favourite memories or future adventures with Dad on each line, practising using their best handwriting.
When they've finished writing out the lines, students can cut out each sentence and carefully fold the paper.
Get students to personalise the jars with craft materials — they could even stick or tie a message around the jar.
Fill individual jars with each student's notes, screw the lid on, and they're ready to take home!
Write a Letter or Poem
Encourage your students to write from the heart to craft a letter or poem to gift to Dad. While crafting personalised letters, your class can practise sentence structure or poetic techniques such as alliteration.
Want to take it a step further? Crack out the art and craft supplies and plain envelopes and let students decorate the letter and envelope to add an extra personalised touch – win, win!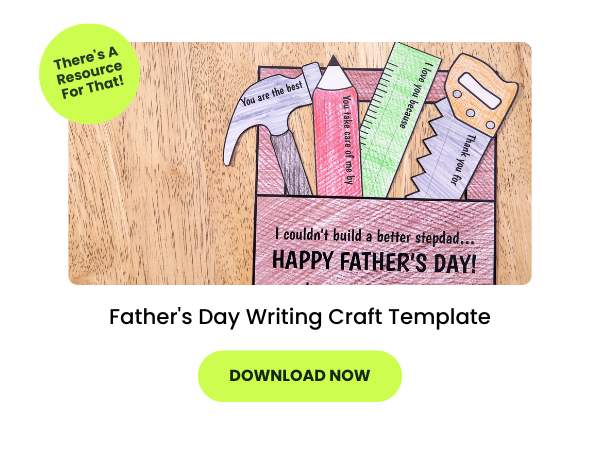 Paint a Plant or Herb Pot
Incorporate some of your science standards into your Father's Day gift creation with a planting activity! Although bringing home flower pots is often reserved for mums on Mother's Day, there's no reason Dads can't be treated to something special from the garden with a seedling in a pot painted by their favourite little person.
This Father's Day gift idea is easy to make for green thumb Dads. You'll need some plain pots and acrylic paint for kids to get started.
Use the activity to teach your class about different types of plants and herbs before allowing students to choose some greenery to fill the pot ready to take home for Dad.
Alternative Idea — Teach students about the plant life cycle by planting beans for Dad! Use this fun mini greenhouse template to make Dad his own greenhouse.
Make Father's Day Bookmarks
Reading together is a special bonding experience for families — and there's plenty of research that shows children who see their parents reading are more like to be readers themselves!
Remind your students that reading is something Dad, Pop and other special father figures in their lives also like to do … for fun … by creating special bookmarks that he can use again and again.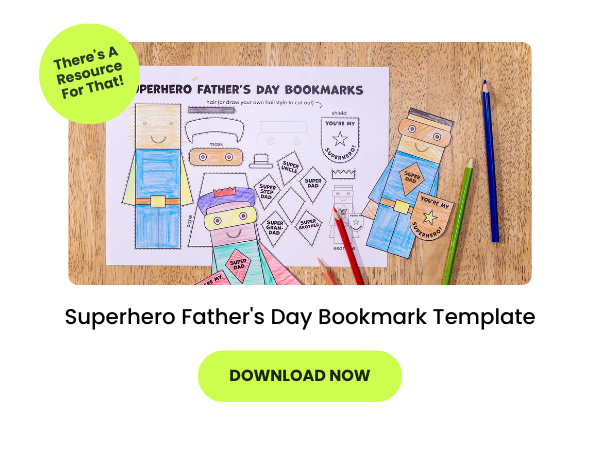 Decorate a Reusable Shopping Bag
Explore sustainability with this Father's Day gift idea!
Your little crafters can create a tote bag that Dad will never forget to take to the grocery store. As well as being a super handy Father's Day gift, it offers the the opportunity to teach your students about plastic pollution and sustainable alternatives that we can incorporate into our daily lives, such as reusable shopping bags.
Materials:
Canvas tote bags
Fabric paints or fabric markers
Art smock or old painting clothes
Cardboard backing
Instructions:
Provide each student with a plain tote bag, and place the cardboard backing inside the bag. This will ensure the design doesn't leak through to the back.
Let your students get creative with fabric paints or markers to ensure the bag is washable. You could give your students some prompts to help with their design, such as thinking about Dad's favourite sport, hobbies or food.
Put the bags aside to dry flat before wrapping them up to send home.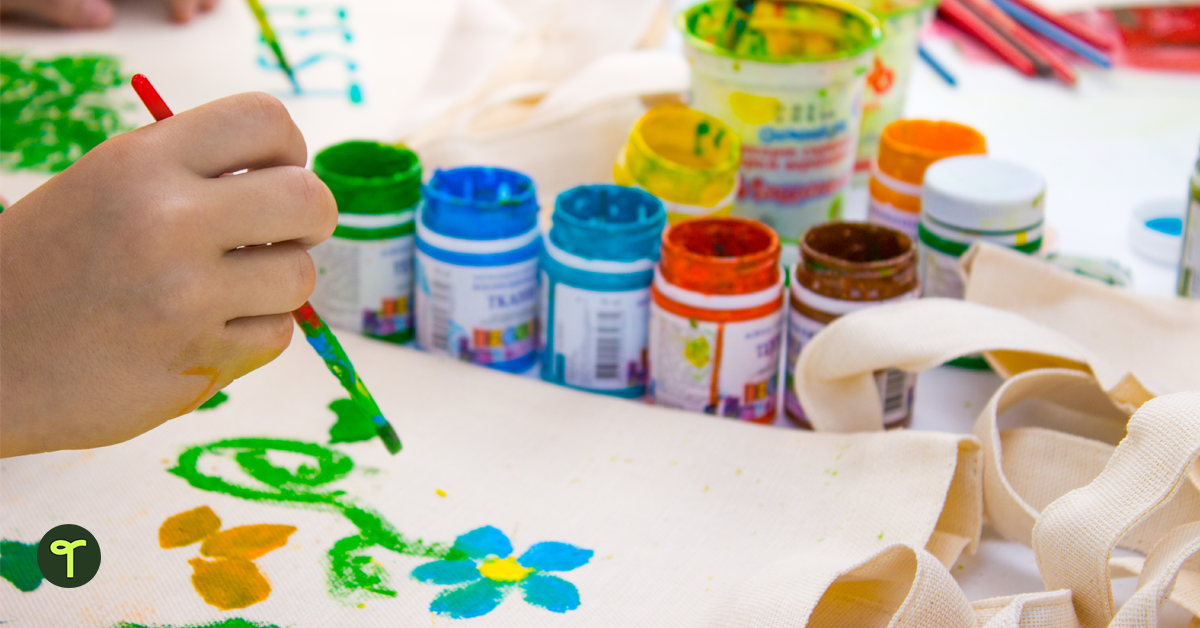 Create Portraits and Frame Them
You can never go wrong with a hand-painted portrait of Dad for Father's Day, and it's a perfect way for kids to explore their creative sides.
Once students have completed their portraits, add one of these printable frames, and you have a perfect present for the day!
Make Dad an Exploding Gift Box
This cute exploding gift box idea can be created in the classroom with students of most ages and gives them a chance to practise their fine motor skills, measuring with a ruler, writing, and more as they make something special for Father's Day.
We've got full instructions on how to build an exploding gift box for Mother's Day here, which you can replicate for Dad using our Father's Day Decorative Square Templates.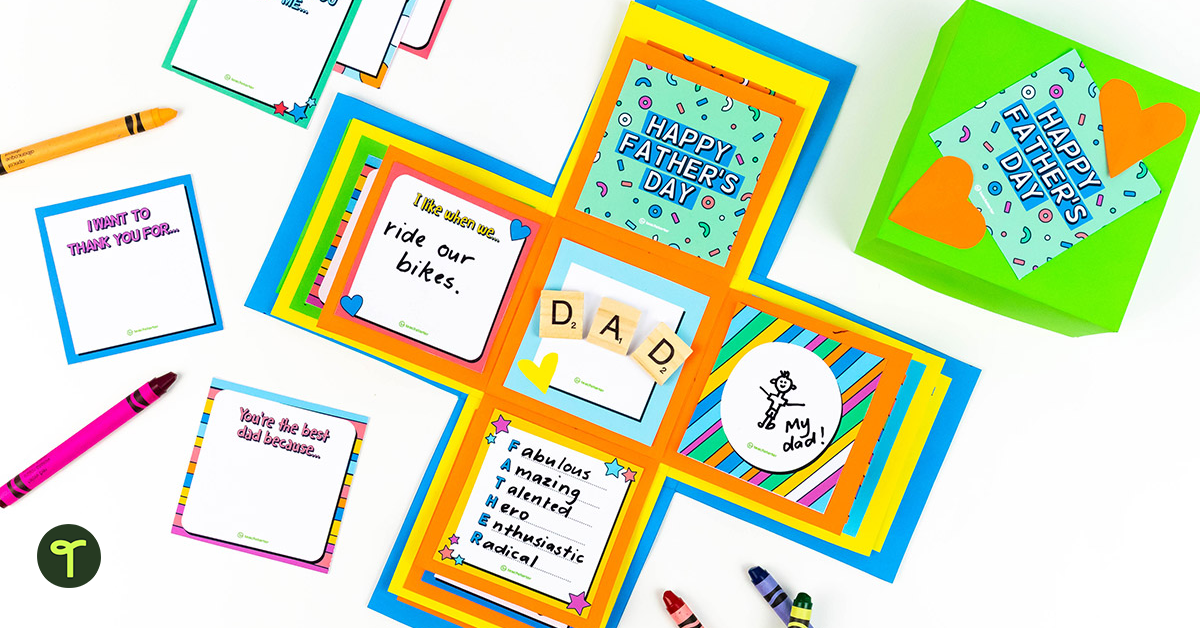 Personalise a T-Shirt With Fabric Paint
You can encourage your class to unleash their inner artists and create a T-shirt for their father figure to wear proudly. If you're looking for message ideas, here are some classics to help get your class started:
'World's Best Dad!'
'Father's Day 2023'
'I love you, Dad!'
'#1 Dad!'
'My Dad Rocks!'
Materials:
Plain white T-shirts
Fabric paints or fabric markers
Paintbrushes
Art smock or old painting clothes
Cardboard backing
Instructions:
After giving a shirt to each student, place the cardboard backing inside the shirt. This will ensure the design doesn't leak through to the back.
Remind your class to wear protective smocks so that their uniforms don't turn into a piece of art!
Let these kids crate their designs using fabric paint or markers so the design doesn't come off in the wash.
Once finished, leave the shirts to dry before folding and wrapping them to take home.
Make DIY Father's Day Wrapping Paper
Ditch the store-bought wrapping paper and get your class to make their own to wrap their crafty presents in. Kids can experiment with different painting tools to create a design or theme for their father figure. You probably have all you need in the classroom!
Materials:
Roll of butchers paper or craft paper
A selection of painting tools (sponges, paintbrushes, leaves for transferring, stencils, patterns etc.)
Acrylic or poster paint
An art smock or old painting clothes
Instructions:
Cut the paper into equal sheets big enough to wrap their gifts.
Give each student a sheet and access to paints and various tools.
Once finished, let the wrapping paper dry for students to wrap their presents.
Crafty DIY Father's Day Card Ideas
While you've got the art and craft supplies out, why not get your class to make DIY Father's Day cards to take home too? Handmade cards add an extra special touch to any present and are a beautiful keepsake to look back on. Read on to find some of our favourite Father's Day card ideas!
I Love You to Pieces Card
A teacher-favourite download, the I Love You to Pieces template is a lovely card idea for any father figure. Either print the template on coloured or plain paper and allow kids to get crafty by gluing tissue paper pieces within the heart. Then, have your class write a message inside the card expressing their gratitude.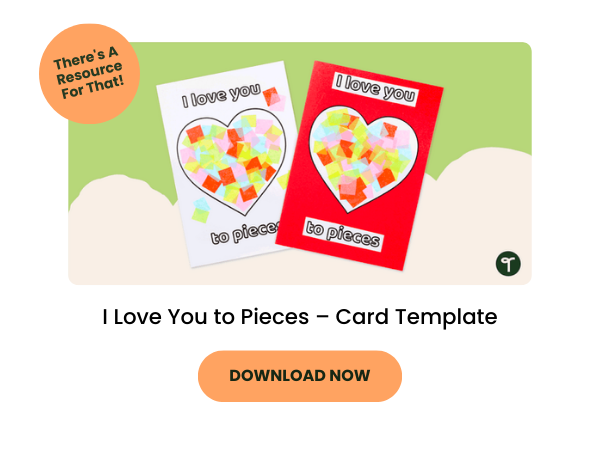 Love Heart Waterfall Card
This nifty love heart waterfall card allows students to write a special message that appears on the hearts when the recipient pulls on the bottom tab. They can write a single note on each heart or use the pull tab's cascading effect to reveal one word at a time.
Watch the video below to see how to assemble it: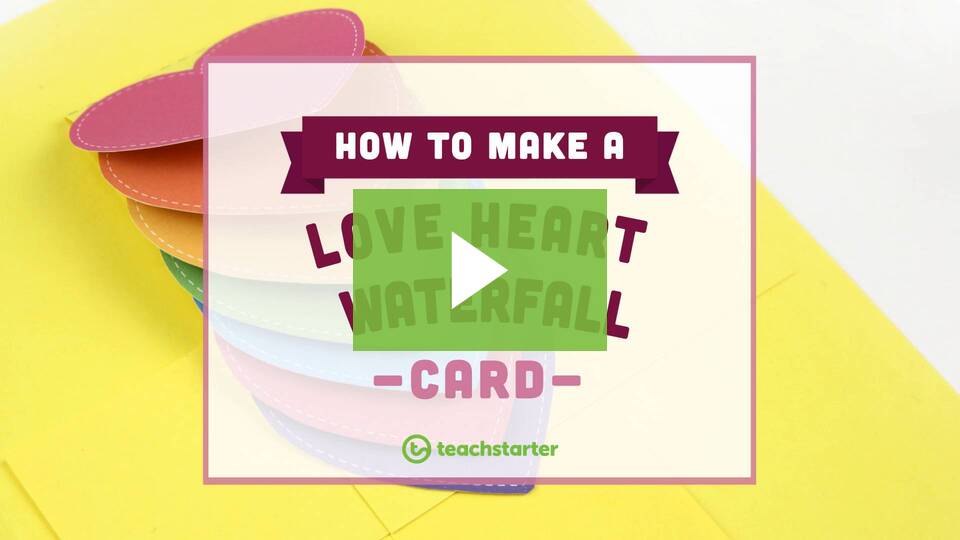 Exploding Pop-up Card
What's better than a 2D card? One that pops out! Your students can surprise Dad with our fun Father's Day Exploding Pop-up Card, which doubles as a classroom craft.
Here's how to put it together:
Colour the decorations and explosion template.
Cut along the straight line to separate the template from the decorations.
Fold the template according to the instructions.
Snip around the outside of the template to make the explosion more explodey.
Stick the template to the inside of a folded piece of A5 card.
Add a message inside the card — to bring your writing standards into the activity, why not challenge students to write a limerick or haiku?
Glue the decorations to the inside and outside of the card.
Mindful Colouring Card
Students can show off their excellent colouring skills with the mindful colouring Father's Day card. While this card looks beautiful, it's also a perfect activity for getting your class to wind down.

Father's Day Tie Template
When a rectangular card doesn't make the cut, make a tie! Perfect for upper year primary students, this Father's Day Tie activity can practise their writing skills using the template prompts. After cutting out the tie, students can write a special message to their dad or special father figure and decorate the front. Then, they cut out the second tie and finish off the following sentence starters:
My dad loves it when…
My dad is unique because…
My dad should get an award for…
My dad makes me laugh when he…
This download comes with different options for kids to gift to their Step Dad, Uncle, Brother, Granddad, Grandpa, and a blank template to write their own.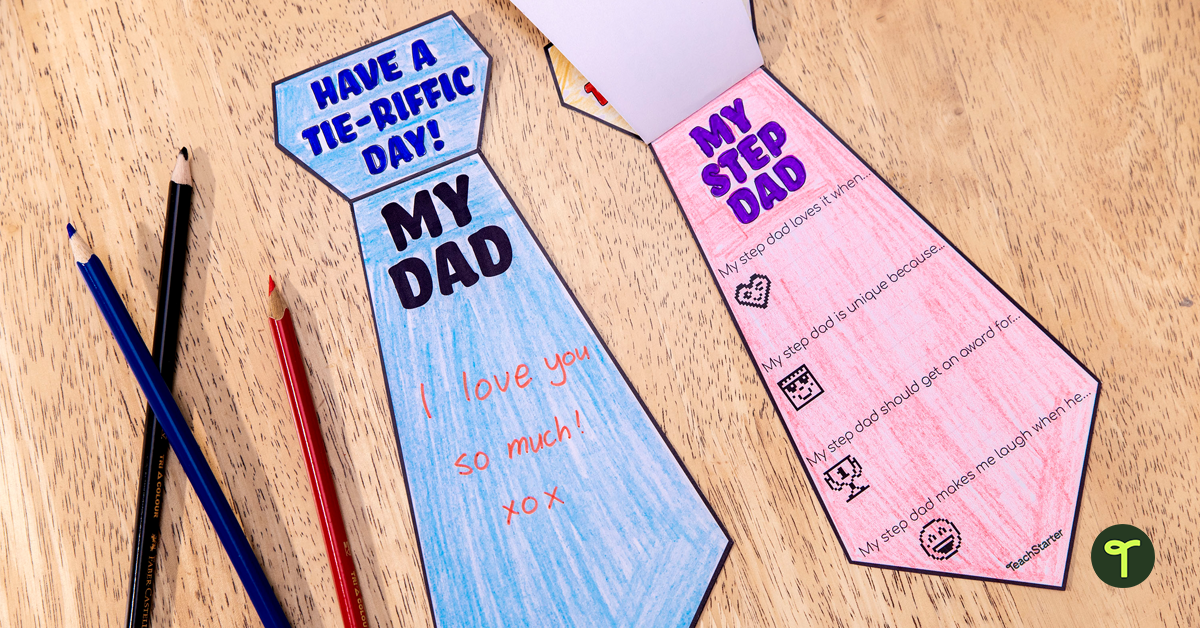 'Mine' Dad Father's Day Activity
This fun template game-themed template will have your students turn their dads or another special person in their lives into a gaming character! While helping kids explore their creativity, this is another excellent activity for building writing skills through the use of sentence prompts.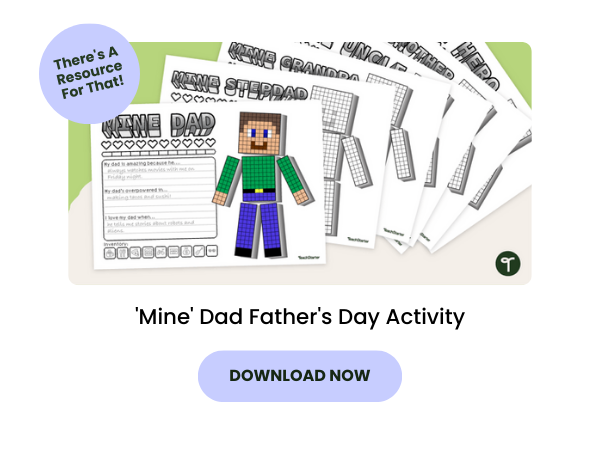 Looking for more resources for Father's Day? Discover our Father's Day collection full of printables, worksheets and crafts.