"I Have, Who Has?" games are such a fun way for students to practice skills and consolidate knowledge. The premise is a simple one. Each game contains a set of cards with an answer and a question. The person with the starter card asks their "who has…" question. The student with the correct answer says "I have!" and then asks the "who has…" question that is on their card. Students continue this question and answer pattern until the last person reads out "finished".
Classroom games aren't just for fun. Even when they might appear that way on the surface! We all know how much easier learning is when we are having fun, which is what makes educational games such an important part of every teacher's toolkit.
Recently, the Teach Starter team spent a fortnight in our own "Classroom Games Bonanza"! During these two weeks we created 35 brand new classroom games to add to our already extensive collection.
That said, "I Have, Who Has?" games are definitely among the most popular in our collection of printable classroom games!
---
Place Value Games
Ready to download, print and go are these four different place value "I Have, Who Has?" games.
I Have, Who Has? Place Value Games:
[resource:542972][resource:577444][resource:413938][resource:413968]
---
Whole Class Literacy and Numeracy Skills Games
You can also download a complementary and supplementary angles game, as well as a fraction, decimal and percentage equivalence game.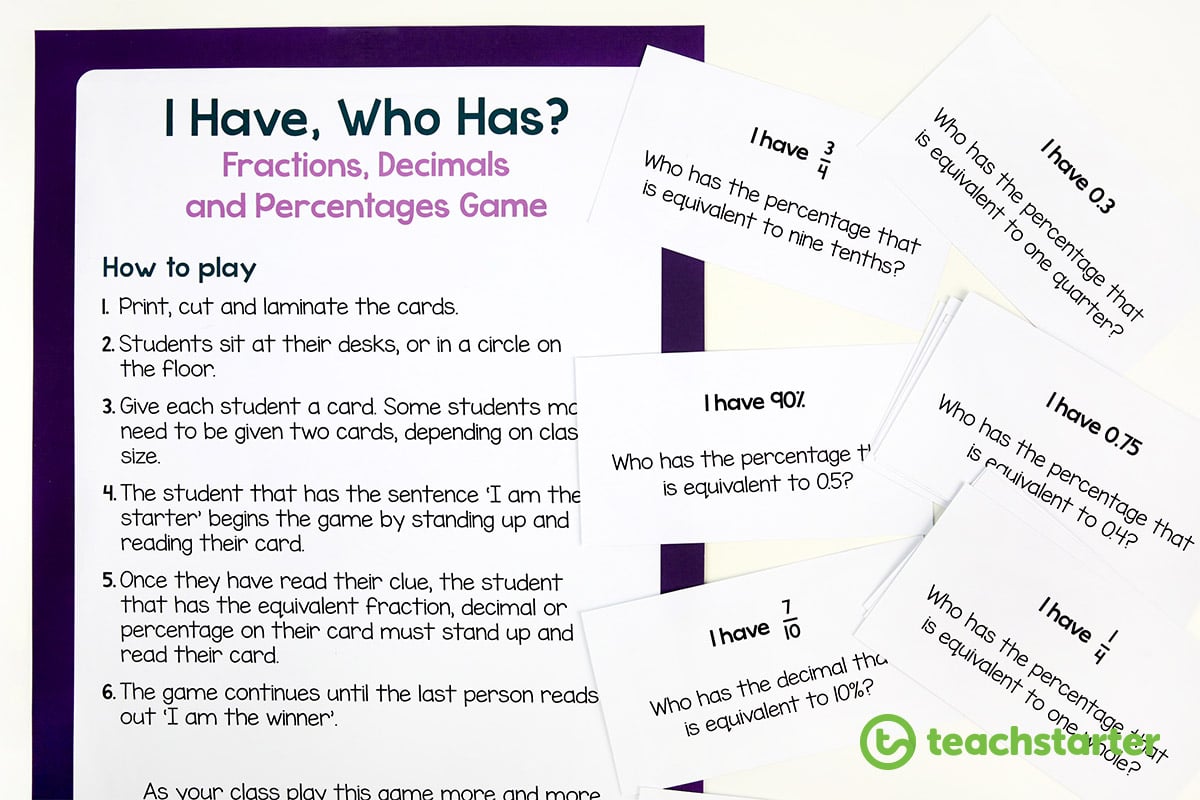 As an example of how the "I Have, Who Has?" game can be used as a literacy activity, take a look at the I Have, Who Has? Homophones Game and the I Have, Who Has? Fact and Opinion Game.
[resource:355504][resource:54318][resource:23627][resource:22149]
---
Editable "I Have, Who Has?" Game Template
Perhaps the most excellent of all of our "I Have, Who Has?" games is the editable template! This editable Microsoft Word document allows you to create your own custom version of an "I Have, Who Has?" game that is connected to content your students are learning and suited to their level.

We created a collective noun version of "I Have, Who Has?" quickly and easily! All you need is a list of questions and answers that for your students to answer.
---