If you're searching for classroom activities to celebrate Friendship Day (also known as the International Day of Friendship), then you've struck gold! Friendship Day is an excellent opportunity to weave social emotional learning into lesson planning and help students build positive friendships, and this event is a good way to build your classroom environment.
The Teach Starter teacher team has formulated a tonne of creative and curriculum-aligned activities for you to celebrate Friendship Day with your class here in Australia. Read on to find fun yet educational ideas to equip students with lifelong skills this International Friendship Day.
What Is Friendship Day?
Run by the United Nations, International Day of Friendship recognises and celebrates the power of friendship to inspire peace and unite communities worldwide. The event encourages governments, international organisations, schools and other civil society groups to run activities and initiatives to promote dialogue, mutual understanding and reconciliation among people, cultures and countries.
Friendship Day is also the perfect opportunity for kids to learn about the importance of friendship and camaraderie in the classroom and beyond.
When Is Friendship Day 2023?
Did you know? Friendship Day is a relatively new event. It was formalised in 2011 as a globally recognised day of celebration celebrated around the world and right here in Australia.
Since then, the event has been held each year in July to unite communities and individuals. In 2023, International Friendship Day falls on Sunday, 30 July, but it can be included in your lesson plans throughout the week before or after the day!
Friendship Day Activities to Inspire Kids
Are you looking for some fun activities to inspire your students to be good friends? Let's dig into some of our favourites, perfect for the day or simply adding into an SEL lesson.
Create a Kindness Chain to Hang in the Classroom
A wonderful way to get your students involved in Friendship Day is to create a compliment chain and uplift their peers. To get started, cut up strips of coloured paper, and give them to each student to write something positive about another classmate.
Once finished, get your class to link the strips of paper together to form a chain you can hang up in the classroom as a lovely reminder for each student.
Make a Collaborative Piece of Artwork With Your Class
Celebrate Friendship Day by getting out the paints and paintbrushes for an afternoon of collaborative fun. This is an excellent opportunity to bring your students together and create a collaborative artwork representing their friendship as a class while they practise their cooperation skills.
The collaborative artwork could be a hand painting — with each class member using a different coloured paint to make their mark on the piece.
You could also create a black-and-white outline of their class photo or a word bubble of all their names, then transfer it onto a large piece of heavy-duty paper or canvas before dividing the artwork into equal rectangles to give to each student. Students would then colour in their rectangle with art mediums of their choice. Once finished, all the individual rectangles can be puzzled back together to create a unique pixelated-style artwork to hang in the classroom.
After the group activity, the class can discuss how they each contributed to the art project and highlight how working together can make something bigger and better than working alone.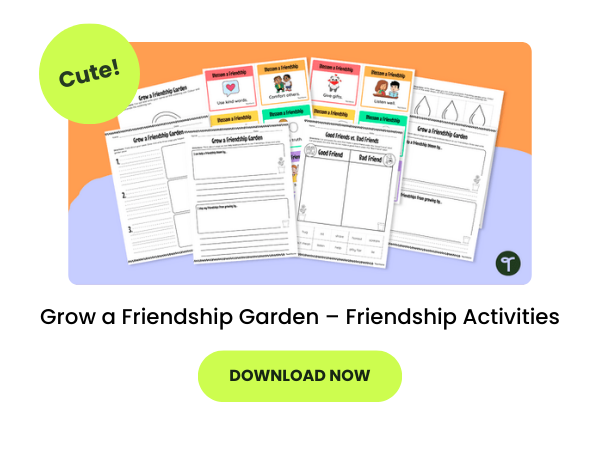 Teach Your Students About Friendship With a Writing Prompt
As part of your lesson plans for Friendship Day, why not get your students to reflect on what friendship means to them? Our Friendship Writing Prompt set is a great resource to help your students develop positive relationships with their peers. There are two versions, one set with primary writing lines and one with intermediate writing lines. The prompts include:
I am a good friend when …
Three ways I can be a good friend …
I show I care when …
These are my friends … We like to …
Get your students to read each writing prompt and write their own responses, along with drawing pictures to support their reflections. Once finished, encourage students to share their prompts with the rest of the class and learn from each other.
Read Books About Friendship
Exploring friendship and friendship traits through the pages of a popular storybook is something you can do on Friendship Day or any other time, so you might want to bookmark this list of great friendship books for primary teachers!
Prep/Foundation Level
The Rainbow Fish by Marcus Pfister
You Are My Friend: The Story of Mister Rogers and His Neighborhood by Aimee Reid
Should I Share My Ice Cream? by Mo Willems
The Giving Tree by Shel Silverstein
Llama Llama Time to Share by Anna Dewdney
Year 1/Year 2
How to Be a Friend: A Guide to Making Friends and Keeping Them by Laurie Krasny Brown and Marc Brown
The Lion and the Mouse by Jerry Pinkney
Enemy Pie by Derek Munson
The Invisible Boy by Trudy Ludwig
My Friend Rabbit by Eric Rohmann
Year 3/Year 4
Charlotte's Web by E.B. White
Wonder by R.J. Palacio
The One and Only Ivan by Katherine Applegate
Because of Winn-Dixie by Kate DiCamillo
The Hundred Dresses by Eleanor Estes
Year 5/Year 6
Bridge to Terabithia by Katherine Paterson
Matilda by Roald Dahl
A Wrinkle in Time by Madeleine L'Engle
Holes by Louis Sachar
Make a Printable Friendship Book
To make lasting friendships, kids need to learn how to be a supportive pal and identify positive traits in others. Social stories can help with this!
This How to Be a Good Friend Mini Book is an excellent social story designed to help kids learn skills such as taking turns, sharing with others and being honest by reading and completing the activities.
As part of your social and emotional learning discussions, you can use this mini-book to guide small groups or whole class discussions about the power of positive friendships.
Create a Friendship Tree for the Classroom
To celebrate the event, why not build a friendship tree with your class to display in the classroom? You can make handprint templates to represent leaves, which students can use crafty materials to decorate and write their names on. While constructing the tree, explain how branching out to form friendships is something they can do inside the classroom and beyond, with each leaf symbolising their unity.
Teach your students about different social cues with this printable poster and worksheet.
Get Crafty by Making Friendship Bracelets
Friendship bracelets have been around for years and are a fun activity to celebrate friendship with one another! You can make friendship bracelets out of a number of crafty materials found in most classrooms, such as beads, ribbon or colourful string. Once students have made their bracelets, they can exchange them with their classmates to symbolise their friendship and serve as a keepsake for the year.
Engage Your Class With the Wrinkled Heart Activity
The Wrinkled Heart activity is a popular activity in primary school classrooms to show the negative social, emotional and health impacts of bullying on kids.

After completing the activity with your class, the wrinkled hearts can be turned into a poster or wall display and placed around empowering Friendship Day quotes and reminders.
Inspire Kids With Friendship Day Quotes
Keep the power of friendship top-of-mind for your students by scattering inspiring Friendship Day quotes around the classroom. Quotes are a great teaching tool and a brief reminder of the importance of friendship, and there are many ways to incorporate quotes in your classroom!
You could ask your class to create a magazine cut-out poster where kids cut out letters from old books, magazines or newspapers to spell out their favourite quote about friendship. This is a fun activity for students to practise spelling and constructing words and fine motor skills.
Another easy way to use friendship quotes in the classroom is to write a different one on the whiteboard each morning as a visual reminder for kids throughout the school day. We've included 10 of our favourite Friendship Day quotes to get you started!
'There is nothing I would not do for those who are really my friends.' — Jane Austen
'Many people will walk in and out of your life, but only true friends leave footprints in your heart.'— Eleanor Roosevelt
'My best friend is the one who brings out the best in me.' — Henry Ford
'A good friend is like a four-leaf clover: hard to find and lucky to have.' — Irish proverb
'A friend is someone who gives you total freedom to be yourself.' — Jim Morrison
'A friend in need is a friend indeed." — Latin proverb
'Truly great friends are hard to find, difficult to leave, and impossible to forget.' — Helen Keller
'Things are never quite scary when you've got a best friend.' — Bill Watterson
'We didn't realise we were making memories; we just knew we were having fun.' – A.A. Milne
'A true friend is the greatest of all blessings.' – Francois de La Rochefoucauld
Looking for more Friendship Day activities? Check our jam-packed Friendship activities collection full of worksheets, printables and crafts to support social and emotional lesson planning.