If you're looking for quick and easy Valentine's Day craft activities to do with your students on February 14… look no further. These gorgeous templates and craft ideas are cheap and easy yet effective. We've also included some Valentine's Day activities that are both educational and fun!
All you need is love…
Before we get into the fun activities, here are some interesting facts you may or may not wish to share with your students:
The day is named after Saint Valentine from Rome.
The oldest known Valentine's card is on display at the British Museum in London. It dates back to the 1400s.
Over 1 billion Valentine's Day cards are sent worldwide every year!
Teachers receive the most Valentine's cards! (My favourite fact!)
Ok, enough about that. Here are three quick, easy and effective Valentine's Day craft activities for the classroom!
---
Fun Valentine's Day Crafts and Activities for Kids
Set the Tone
Valentine's Day is typically about romantic love — something that really has no place in a classroom. Instead, use Valentine's Day as a springboard to talk about "loving" your neighbour, friendship, and general kindness. Random Acts of Kindness Day is February 17 this year.
Create an Acrostic Poem
This is a great way to have your students work on vocabulary and spelling all at the same time! To extend students' learning, why not have them choose one of the words and write a fun acrostic poem? Or offer up an acrostic poem template for students to complete based on the word "love" Download this acrostic template today.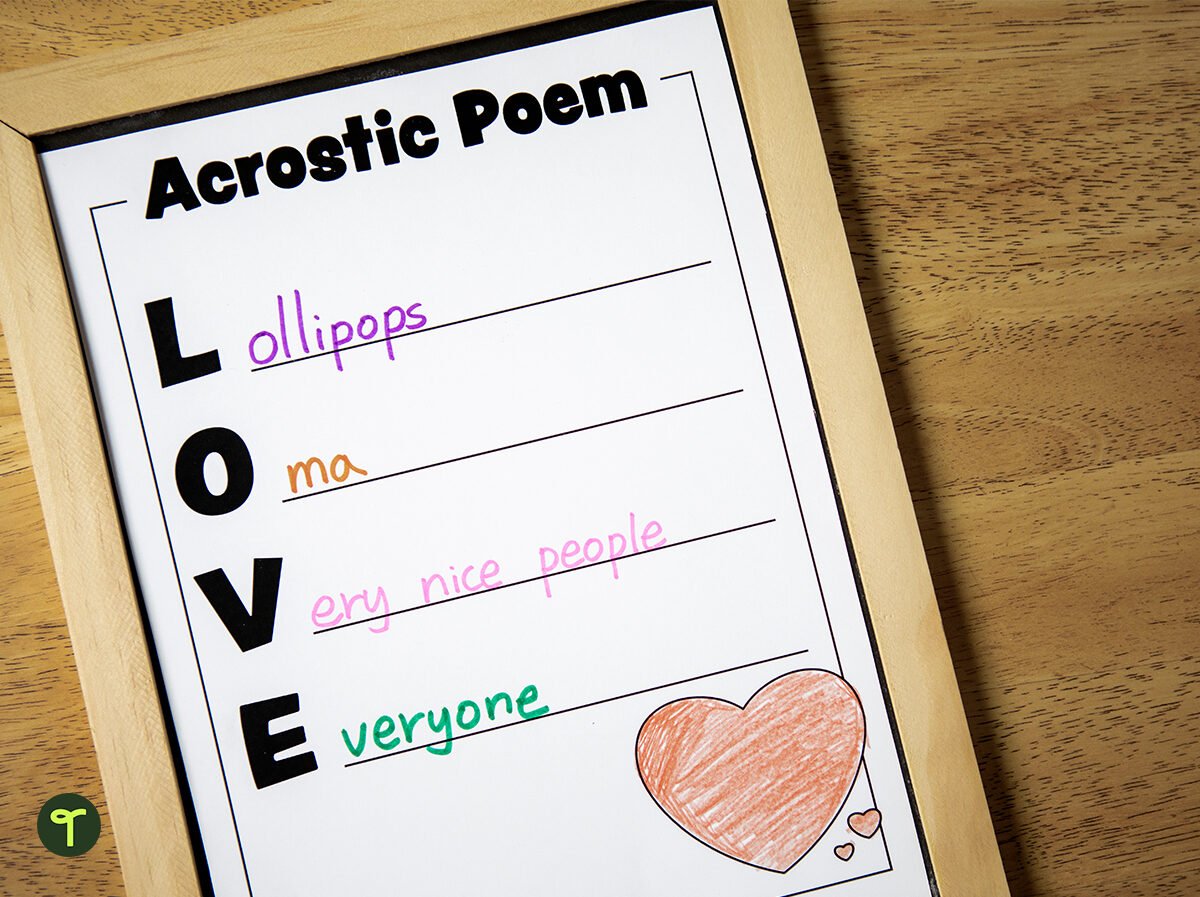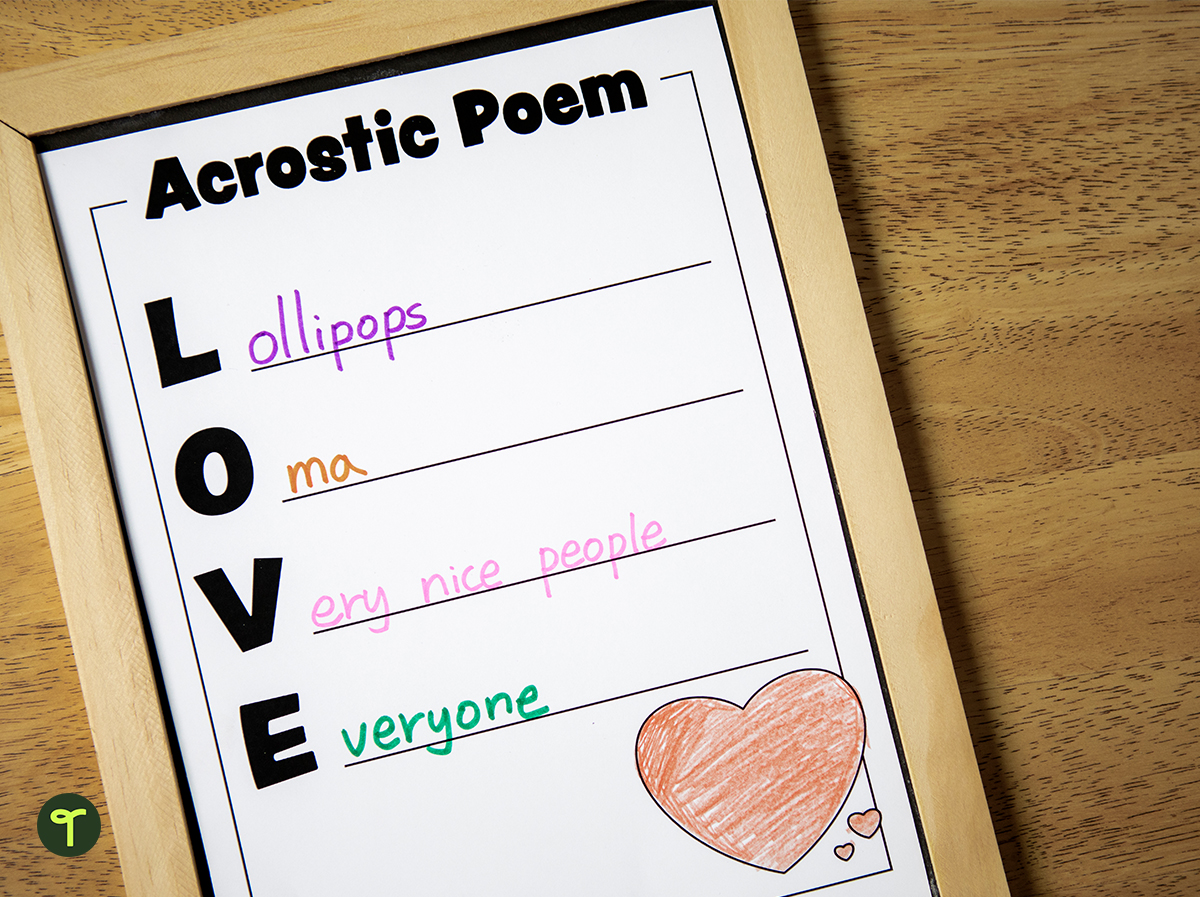 Complete a Flip Book About Love
This template is perfect for students to use around Valentine's Day to think about all the things they love! Cut each page to size (a dotted line indicates where to cut on each page). Fasten the pages in order under the title with staples.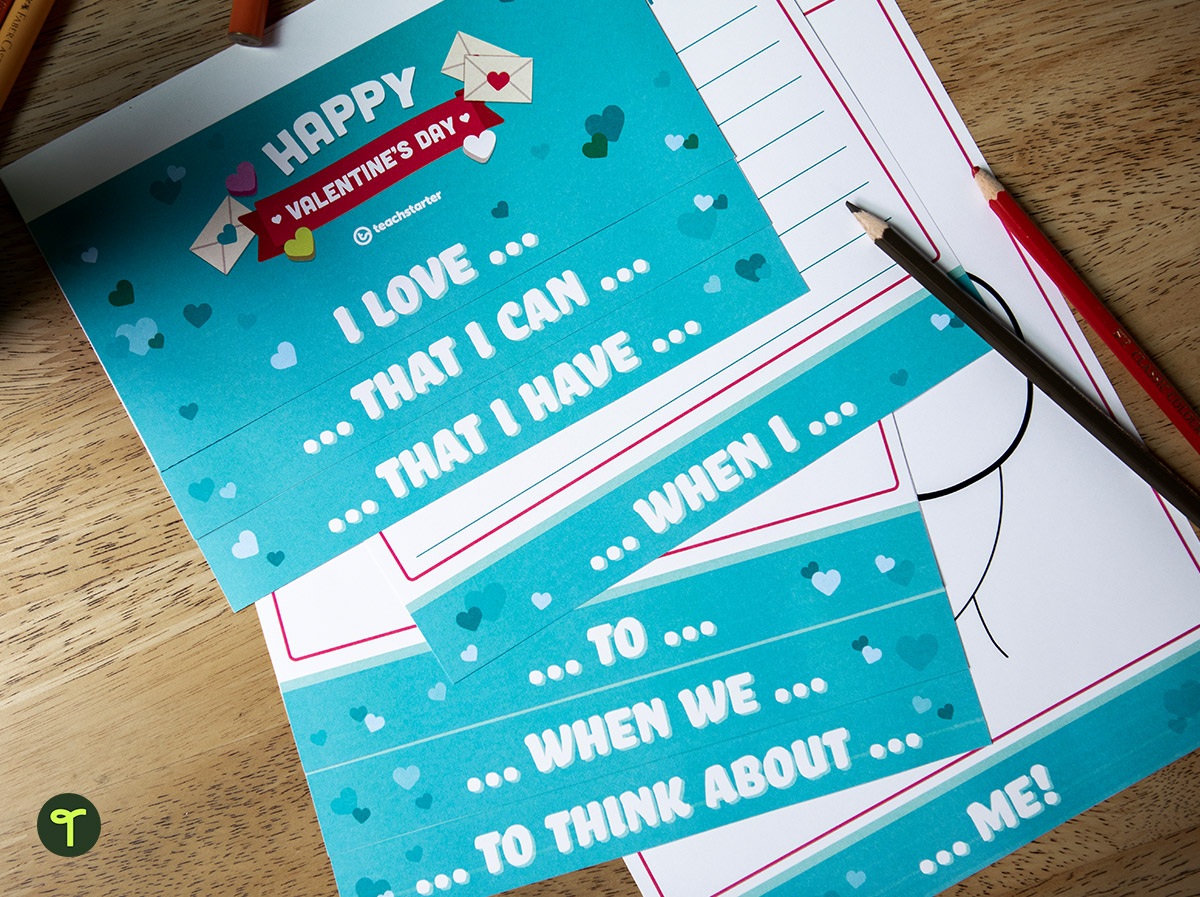 Create a CUTE Gift Bag
Bee a Deer and use these templates as a fun craft activity to complete with your students leading up to Valentine's Day.
Download these super adorable Valentines Gift Bag templates and create a cute gift bag or even turn them into a Valentine's Card.

Make Love Heart Waterfall Card
If you've got a bit of time up your sleeves – this gorgeous love heart waterfall card is the perfect activity. Have your students create one of these cards for someone special in their lives.

Learn Fun Facts About Valentine's Day
Did you know that Mr. Richard Cadbury was the first person to create chocolates specifically for Valentine's Day? Or that chocolate dates back to the Mayans and the Aztecs?
Watch this fact-filled video and ask your students to create a fact page all about the day! Use either our 'Facts About…' Template or 10 Fun Facts Template to showcase what they learned about the holiday.
Or why not have your students read how other cultures around the world celebrate Valentine's Day and answer a set of comprehension questions when they are done?
Conversation Heart Activities
Conversation hearts have been a Valentine's Day staple since 1866, and while the messages on these delicious treats might have changed over the last century and a half, their popularity definitely hasn't. For most of us, it's just not Valentine's Day without them. So why not bring these fun treats into the classroom for your students to enjoy with paper conversation hearts?
Here are five easy activities using conversation hearts that we think your students would love to do in the weeks leading up to Valentine's Day!
1. Alphabetical Order
Putting words in alphabetical order can be tricky for many of our students, so why not have them practice using these fun treats? Print off a set of our Conversation Hearts on cardstock and cut them out. Use them as an activity during literacy rotations.
2. Rhyming Words
Rhyming words are an important foundational language skill for students to understand. This activity is an easy and fun way to help your students notice and work with sounds within words.
Have them choose a conversation heart randomly and list as many rhyming words for the word or phrase that appears on their heart.
4. Sentence Writing
Do you have reluctant writers in your classroom? This activity is sure to get them writing! Have your students choose a conversation heart randomly and write a silly sentence that includes the word or phrase that they chose. For your intermediate students, specify which type of sentence they must write – simple, compound, or complex! For an added layer of fun, why not give them a die and tell them odd numbers are compound sentences and even numbers are complex sentences. Then have them roll with each heart to determine which type of sentence they write.
Only have a few minutes left of class? Randomly draw a conversation heart and write an elaborate sentence as a whole class. Keep a running record of the word count for each of your sentences and make it a class competition. Your students will be begging to play in no time!
We also have some fantastic teaching resources that will help explain and reinforce the different types of sentences to your students.
Heart Maths
Add a Valentine's Day twist to your math lessons! Practice subitising with a heart numbers game, review multiplication facts, or cover addition facts for the holiday with a heart template.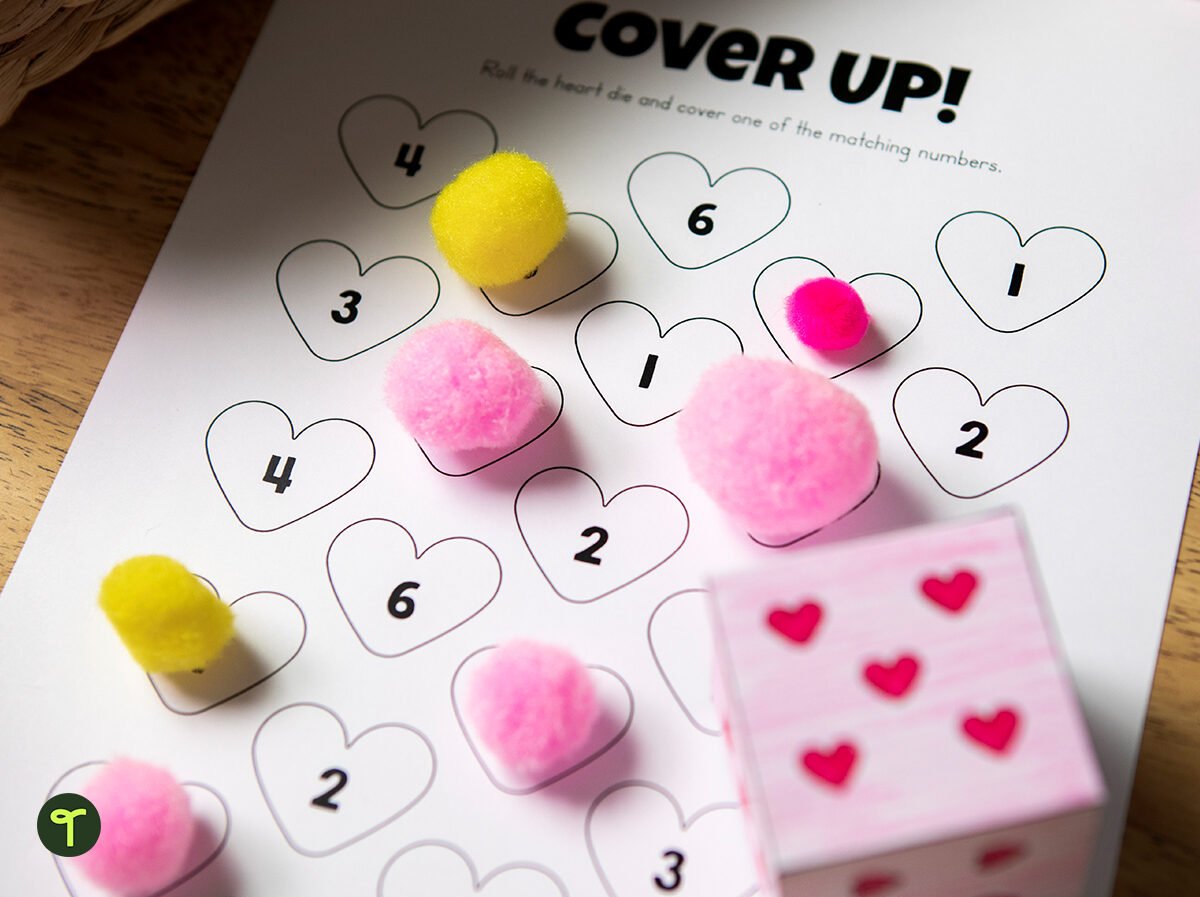 Or use our holiday hundred charts to reveal a mystery picture!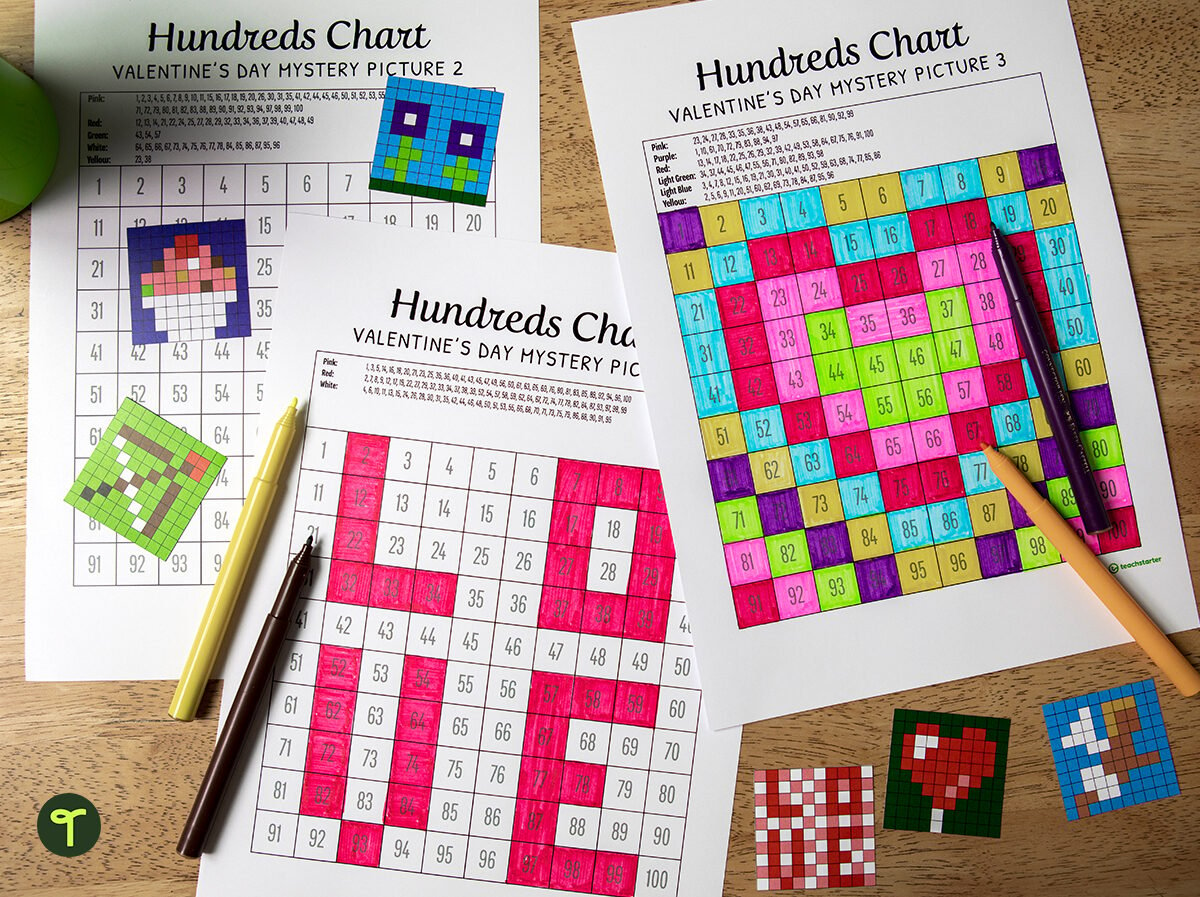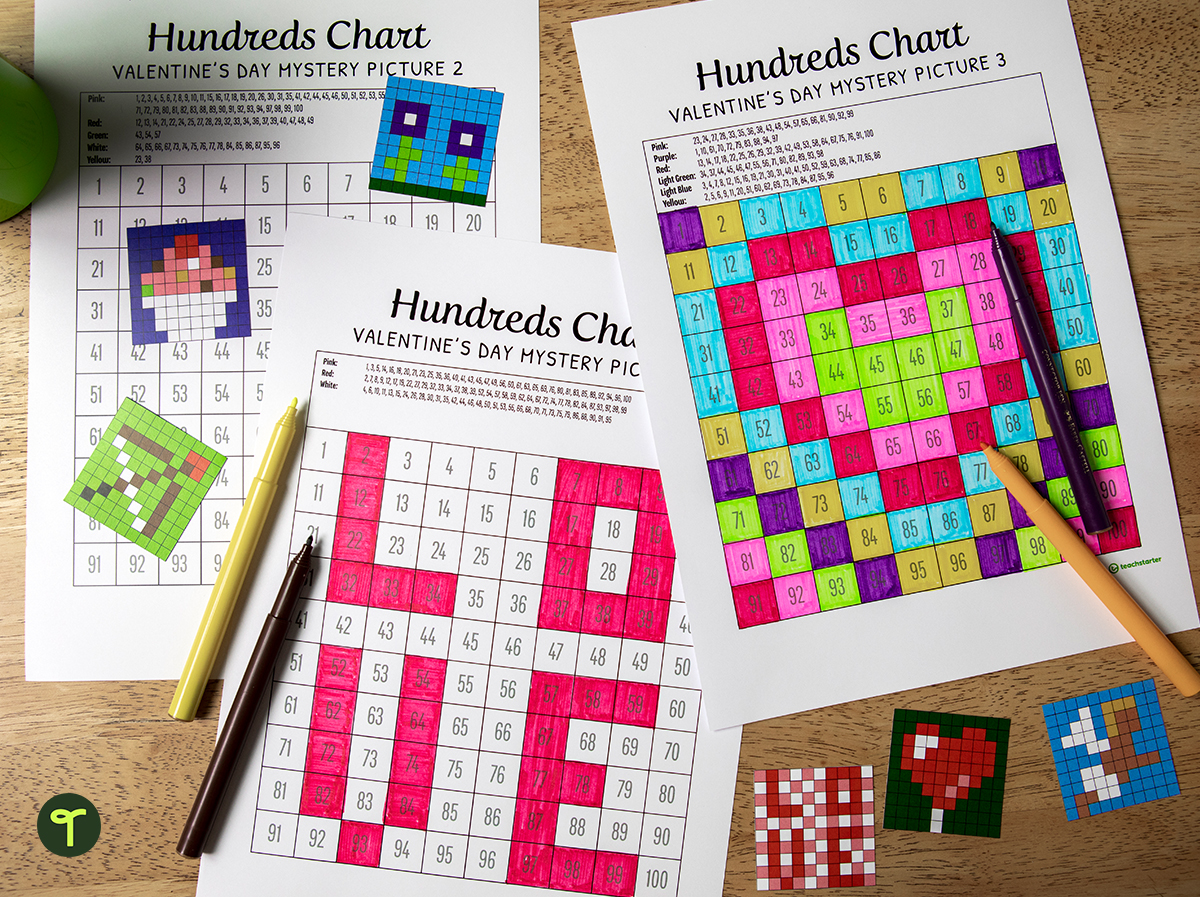 Share the Love – Gratitude Wall
Start Valentine's Day with a grateful heart. Use the day as inspiration for your students to pour their hearts out with gratitude-filled hearts for their classmates.
Why not ask your students to think about something they're grateful for that another student has done?
"I loved it when Sarah helped me with reading last week!"
Ask each student to write one thing they're grateful for on a heart from our Share the Love – Gratitude Love Heart template and display them on your wall with our Start Each Day With a Grateful Heart – Gratitude Quote Poster.
Compliment Box
Who doesn't love being complimented? An unexpected compliment can make even the cloudiest days seem sunny, and setting up a compliment box in the classroom for Valentine's Day can take the place of card exchanges this year.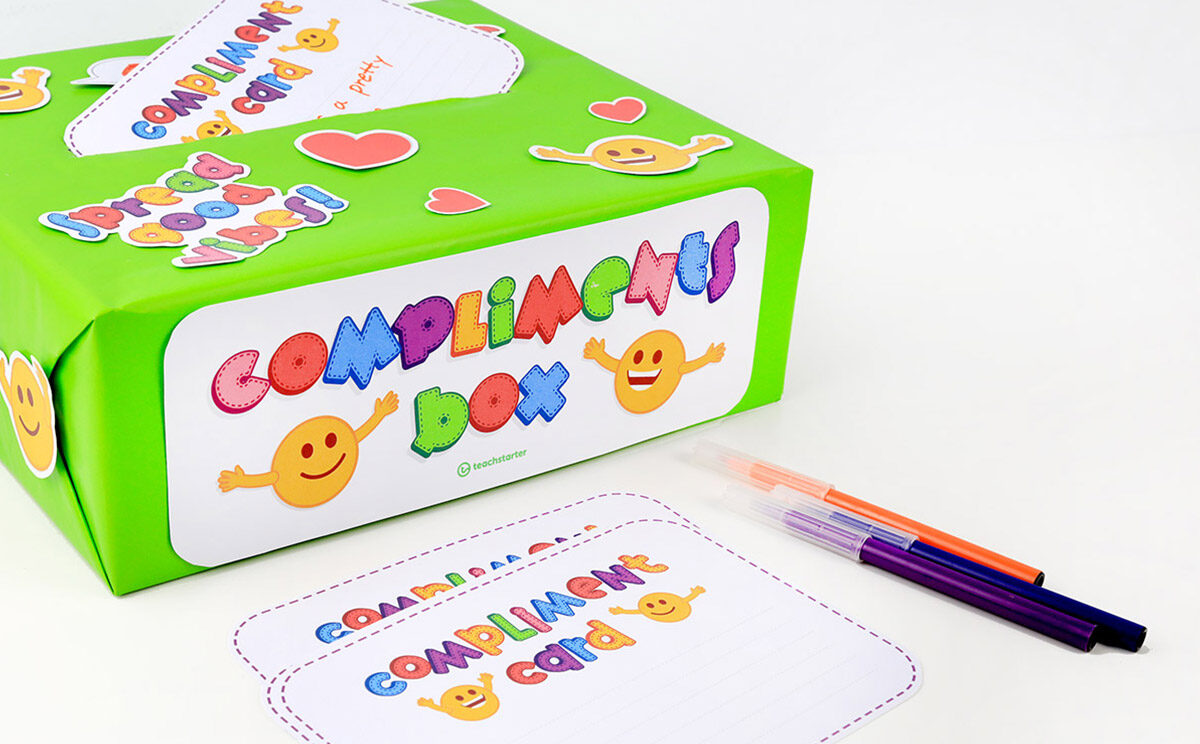 Why not put together a Compliments Box with our Compliment Box Decorations and Compliment Cards? Your students will love the opportunity to anonymously give their friends a smile with a kind word. Read them at the end of the day and see their faces shine!
Make a Card
A list of Valentine's Day activities for primary school kids just wouldn't be complete without including a card activity! Download this I Love You to Pieces Template for an afternoon of fun crafting with your students.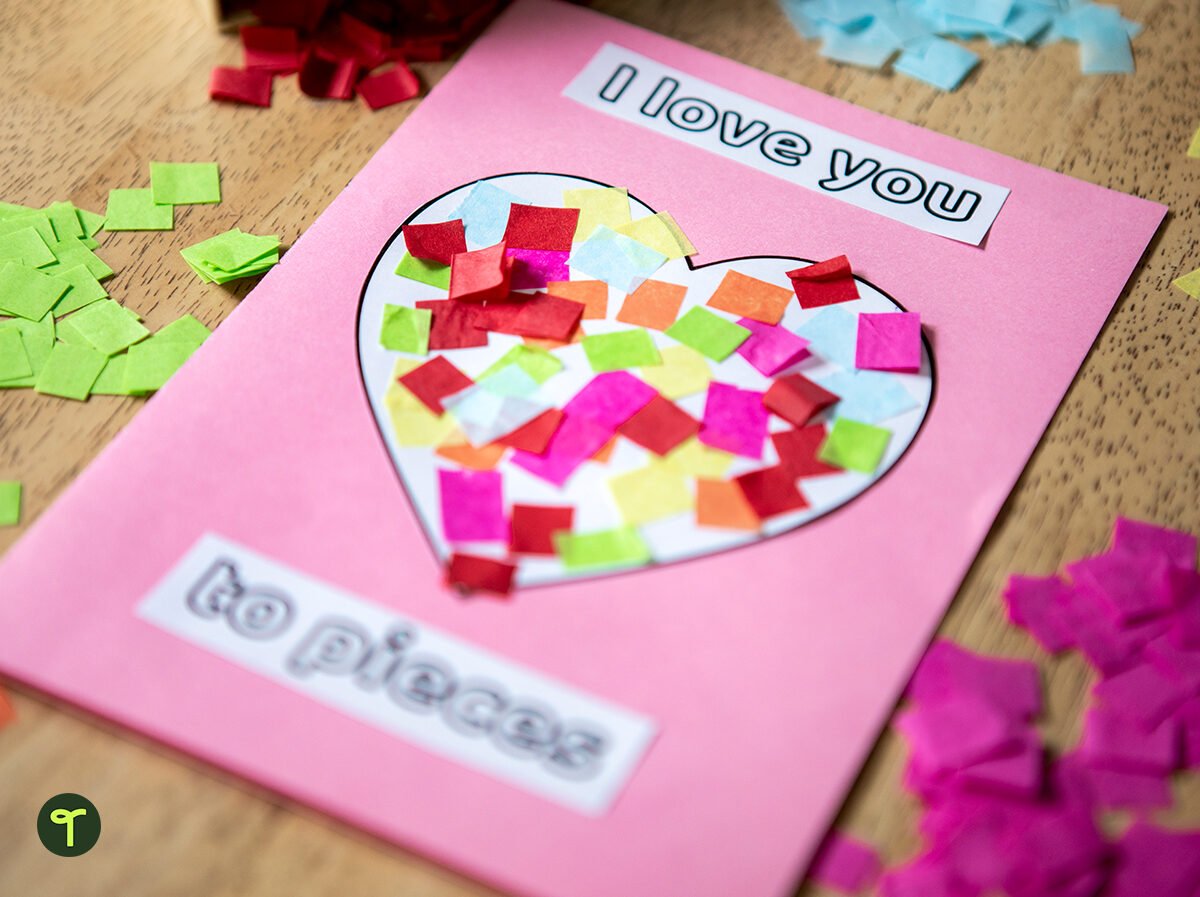 Tell Your Librarian You Love Them
Have you heard that February 14th is also Library Lovers' Day? That's right! Use the day as an opportunity to show your school librarian how much they mean to you! Our Why We Love the Library Heart Template is a heartfelt Valentine's Day activity that will encourage students to talk about what they love about their school library.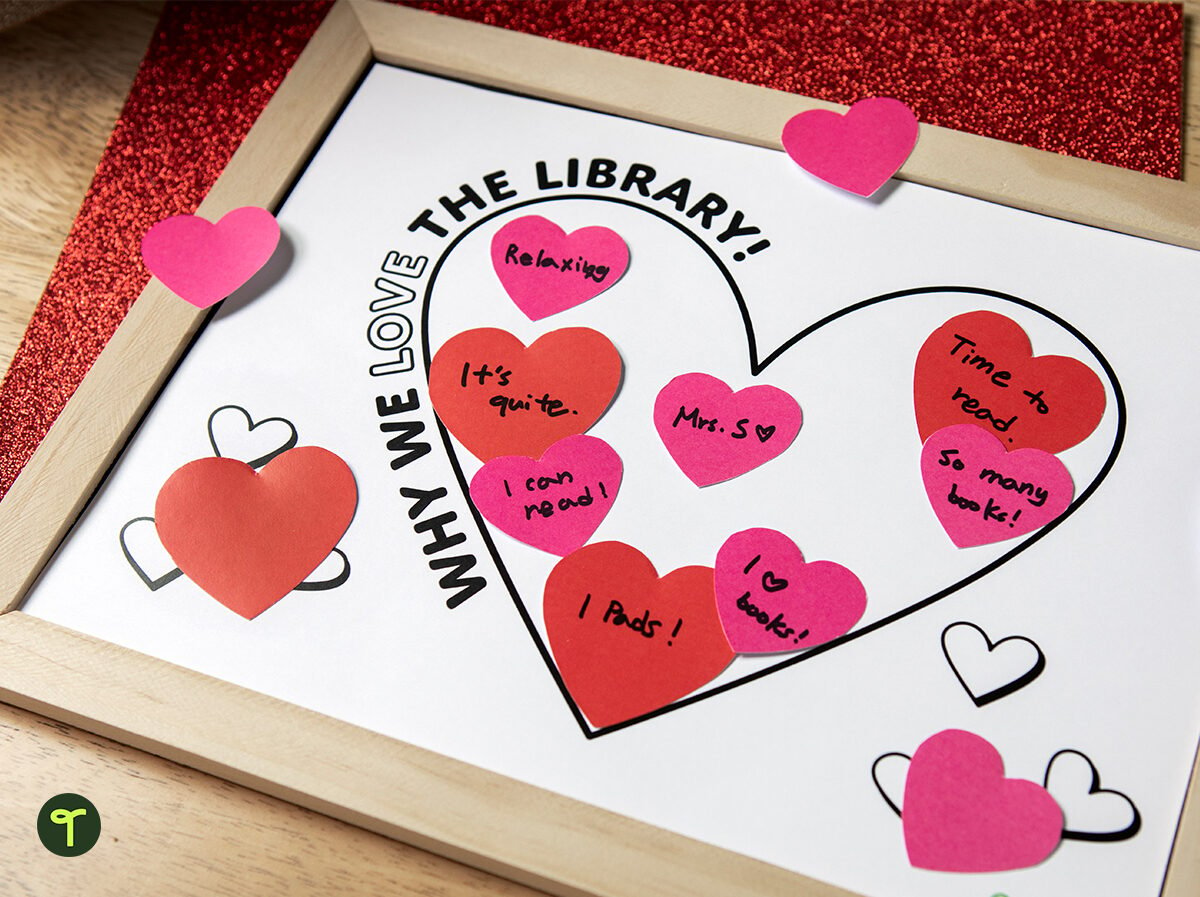 Make a Valentine's Day Bag
Why not have your students make a cute Valentine's Bag to collect valentines from their classmates this year? They are easy to make and so cute to look at!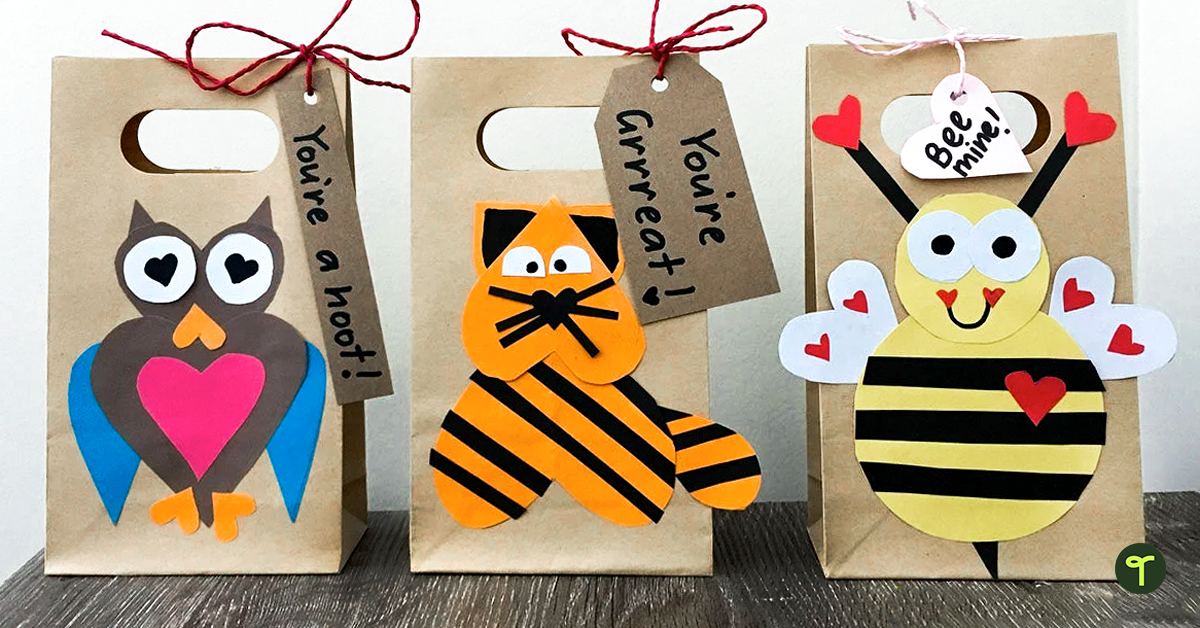 Love Yourself Love-Heart Chain
Sometimes it can be more difficult to think about what we love about ourselves. Promoting self-care and respect for oneself is one of the best lessons a teacher can give a child.
Ask your students to write what they love about themselves and their abilities and create these beautifully positive Love-Heart chains to display in the classroom!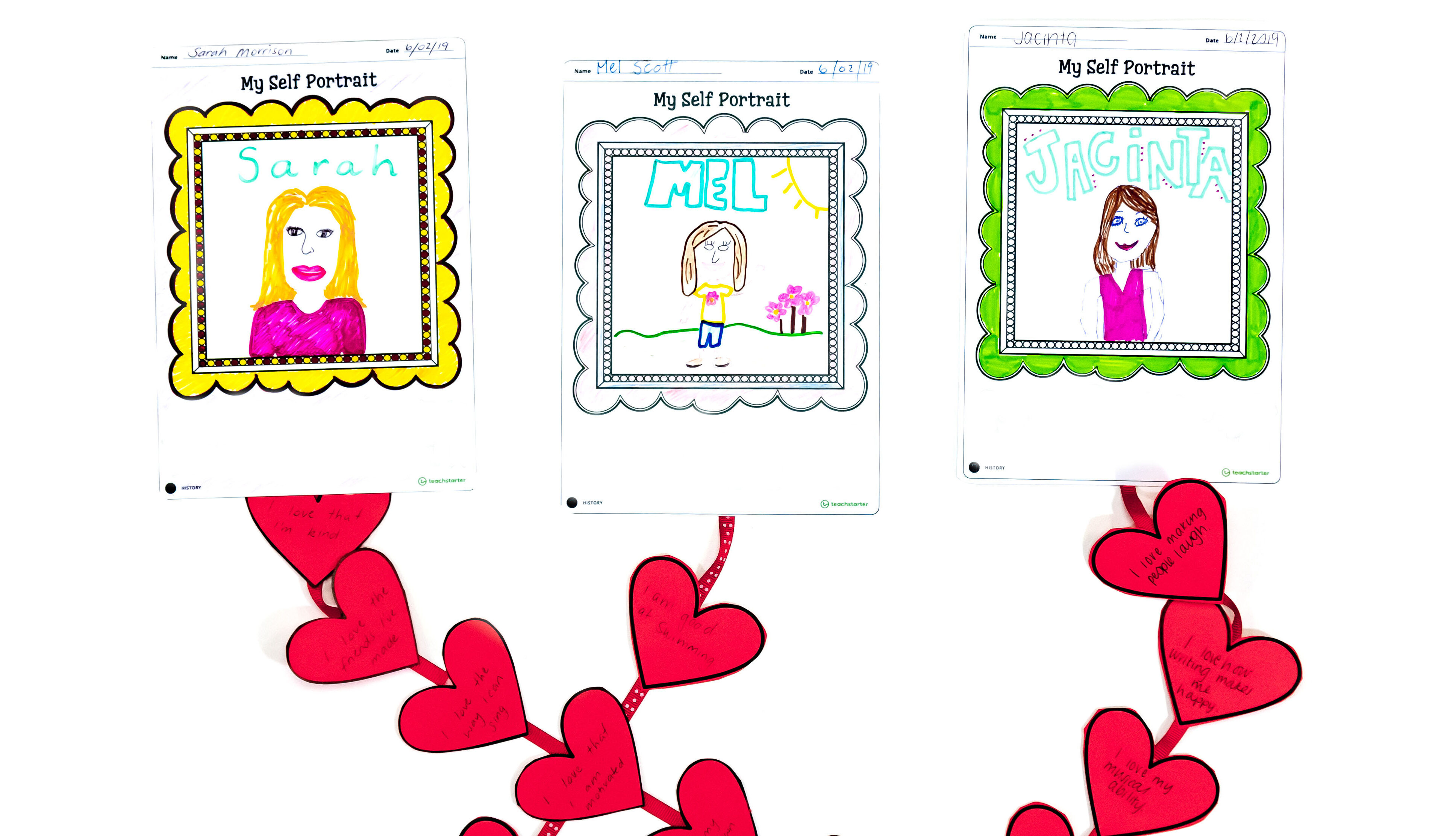 I used the Self Portrait Worksheet and the love hearts from the second page of our Why We Love The Library Heart Template!