Twenty editing worksheets for spelling, grammar and punctuation.
Use these spelling, grammar and punctuation worksheets when learning about editing a piece of text.
This teaching resource includes twenty pieces of text, with twenty errors in each.
Both literary and factual texts are provided. Pieces of text include:
Great Barrier Reef
Great Wall of China
MP3 Players and Your Hearing
The Solar System
Soccer
Dreaming
Why Our Bodies Need Water
Bees
Thunderstorms
Cathy Freeman
Deep-Sea Diving
Professor Fizz's Potion
Beth's Birthday
Brad's Bath
The Treehouse
Mia's Magic Moment
Bruno's Big Adventure
One Little Seed.
Each text has a sheet with editing marks already provided, as well as a sheet with space to add your class's specific editing marks. Also provided are answers sheets and extra paper to write on.
Looking for more? Take a look at Epic Editing below!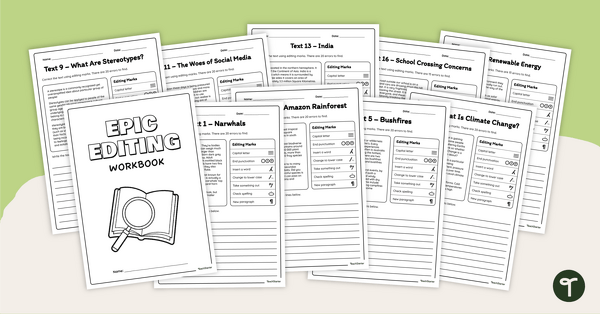 teaching resource
An editing workbook for upper primary students containing 20 topical texts.