Teach students the meaning of resilience with these beautifully designed resilience posters for your primary school classroom.
Teach Students How to Be Resilient
Resilience is a word that primary teachers like to throw around! You might hear a teacher say, "Show some resilience!" or "You are going to need to learn to be more resilient!" The question is… Do our students actually understand what the word 'resilience' means?
Essentially, resilience is the ability to bounce back and try again when things don't go as planned. To help your students remember this key life skill, we've created a definition poster in an athletics theme, accompanied by a list of key strategies that your students can use when trying to channel resilience in their own lives. We've called this list, 'The Run-Down on Resilience.'
The list of resilience strategies included on the second poster includes: 
I understand that achieving goals isn't meant to be easy and that setbacks can happen.

I know there are some things in life that I can't control, but I can control how I respond to the situations I find myself in.

When setbacks happen, I see them as an opportunity to learn something new, or as a chance to try something in a different way.

If I'm feeling disheartened by a setback, I take a moment to recognise and be grateful for all the positive things in my life.

I know that I don't have to do it all alone. If I need support, I call on the special people in my life to motivate and encourage me.

If something hasn't worked out the way I planned, I reassure myself that I have the ability to achieve my goals.
This resource is available as a full-colour or black-and-white PDF. If you have limited colour printing available at your school, we recommend printing the black-and-white posters on coloured paper. You may even wish to enlarge the posters so that they really pop when placed on your classroom bulletin board!
Multiple Uses for These Resilience Posters
While these resilience posters will look amazing as a social-emotional learning display on your classroom bulletin board, there are other ways you might like to use this versatile resource in the classroom.
The black-and-white version of this resource could make a great insert in your students' homework books. This way, your students always have a copy of the strategies close at hand when they need a reminder about how to be resilient in their daily lives. They might even like to choose the three strategies that speak to them the most as their "Top 3". They could highlight or colour these so that they really stand out.
The colour poster could become a regular reference point when it comes to your students' daily reflections on their learning. At the end of each school day, you might like to encourage students to identify a resilience strategy that they used during the course of the school day. The more and more our students engage in these kinds of conversions, the more aware they will become of the power that resilience can have when it comes to facing life's challenges!
Resilience is a valuable skill for students to develop, as it equips them to navigate challenges and setbacks effectively. Providing a list of resilience strategies can be a powerful tool to guide students in building and strengthening this important skill.
Download These Resilience Posters for Your Classroom
Use the Download button to access either the full-colour or the black-and-white PDF.
Print and display on your classroom bulletin board, then refer to the display whenever your students need a reminder of the definition of resilience!
Explore More Resources to Foster Grit
Has this resource piqued your interest in our activities on resilience and perseverance? Click below for more teacher-created resources to use in your classroom!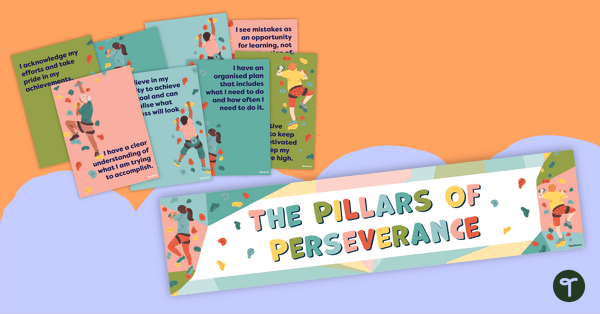 teaching resource
Teach students the definition of perseverance with this beautifully designed classroom display based on a rock climbing theme.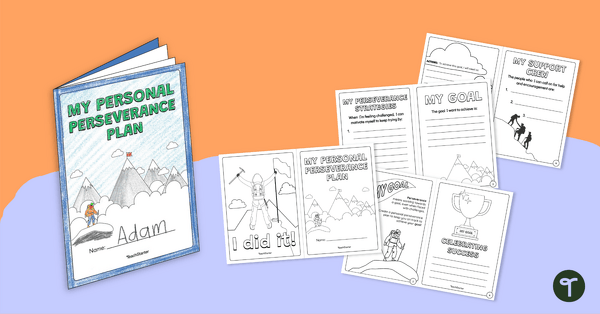 teaching resource
Teach your students perseverance strategies with this printable mini-book perfect for primary students!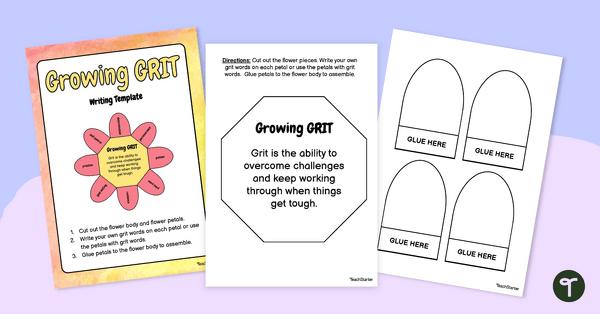 teaching resource
Encourage students to think about what grit is as well as words that describe grit with this craft template.