As the end of the school year glistens like a mirage on the horizon for teachers, many classrooms are beginning to shimmer with the familiar sight of… glitter!
It's beginning to look a lot like Christmas.
Which means.. it's Christmas craft time! And whether you're on Team Sparkle or a firm believer that 'less is more' (and none is best) when it comes to glitter, we have everything you need to make your students' final weeks of school festive and fun!
Our Christmas crafts are all teacher-created and approved, so your students will still be learning until the last day of term. Download our teaching resources for instant use!
There's no need to purchase expensive kits or craft packs because you've probably got everything you need already in your supply store room.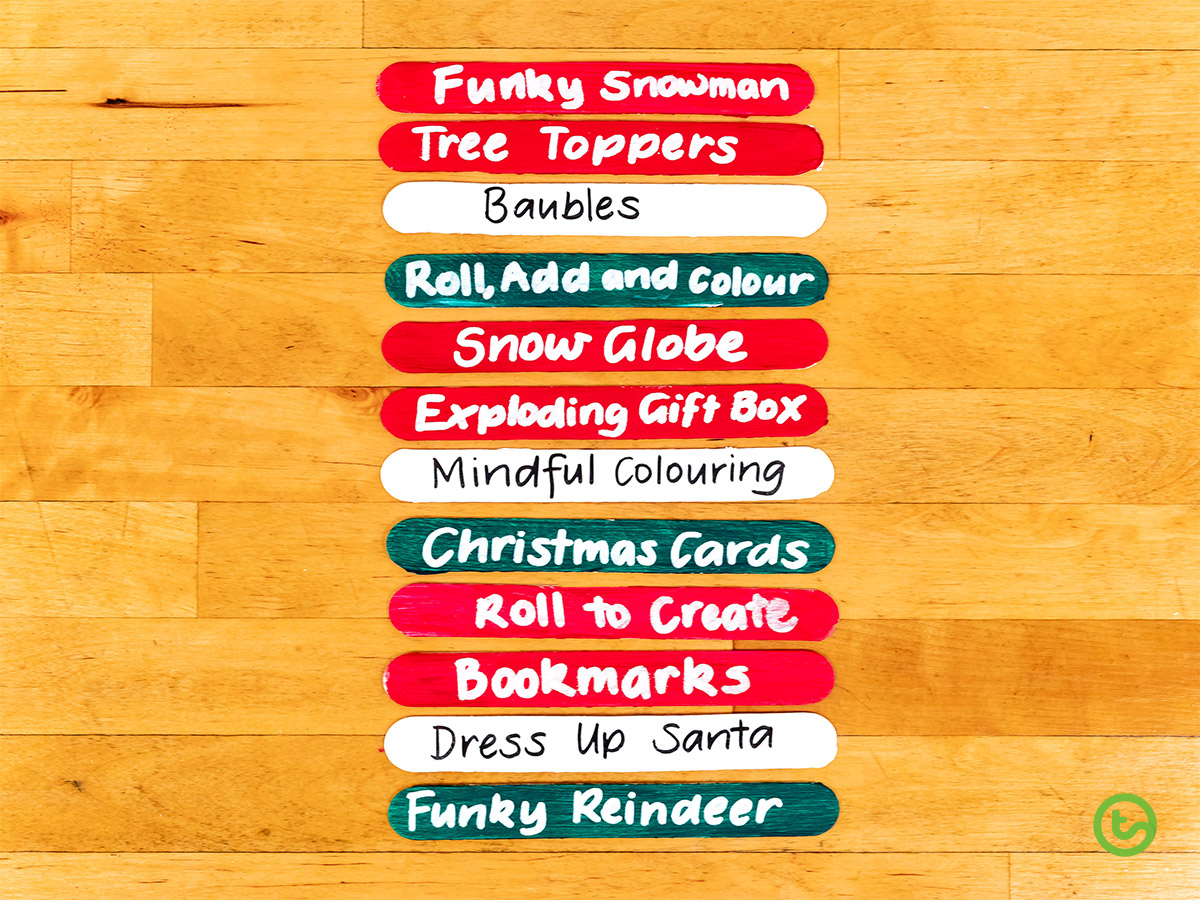 The Christmas Craft Bucket List is a novel way to prepare, store and select activities.
Each day, ask a student helper to draw a stick out of the bucket and SURPRISE your class with exciting new Christmas crafts each day!
Christmas Bauble Craft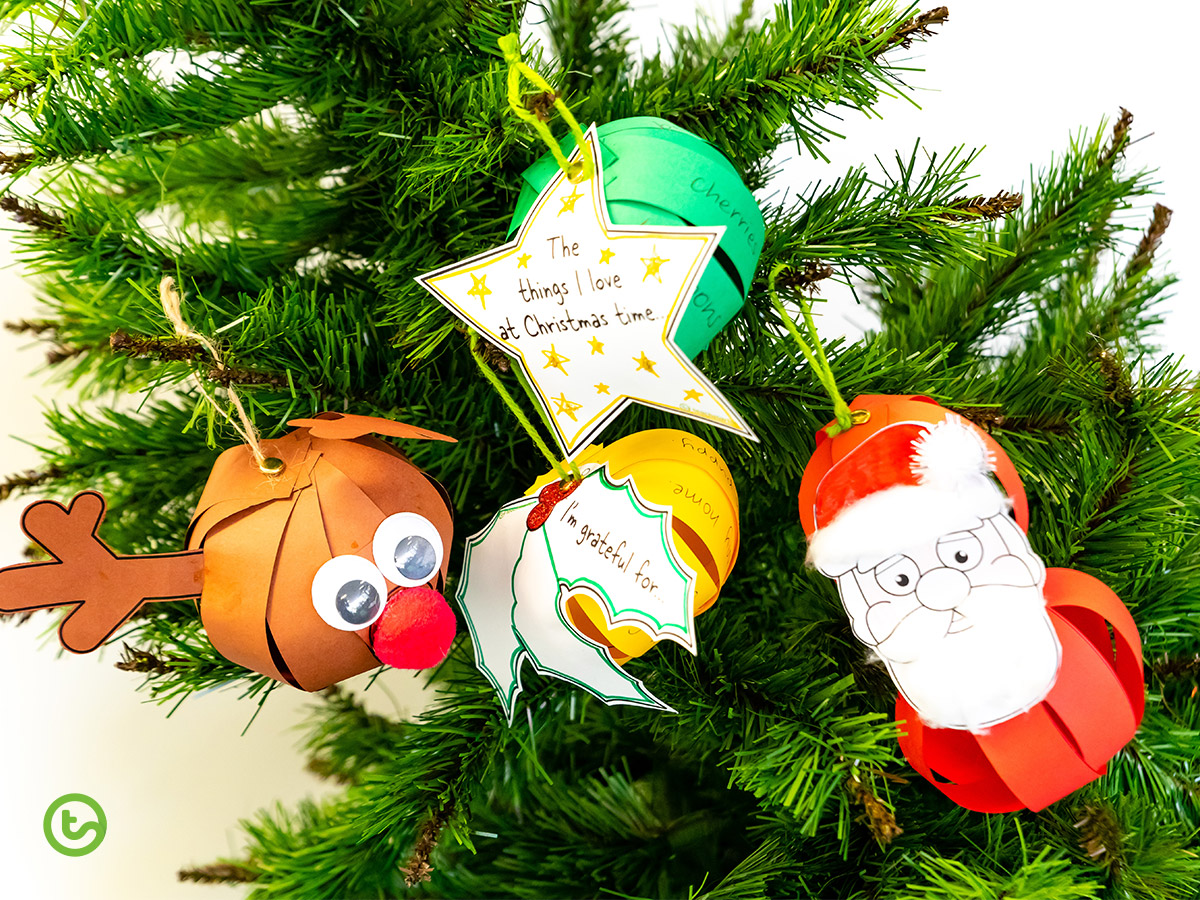 Our Christmas Bauble Templates are brand new teaching resources ready for you to download!
Before your students create the bauble, you may like to get them to decorate the strips of paper by either writing things they are grateful for or things they love about Christmas.
How to create the bauble:
Students cut out the strips of paper.
Once all of the strips have been cut out, students stack the strips of paper on top of one another and use a hole punch to create a hole on the small cross at each end of the paper strips.
Then, they use a split pin through each of the holes to keep the strips of paper together.
Gently fan out the paper to create a sphere shape.
Students cut out the holly or star depending on what they have written on the strips and attach it to the top of the bauble with ribbon.
We also have a great Santa Bauble Template and Reindeer Bauble Template available!
Roll to Create Christmas Edition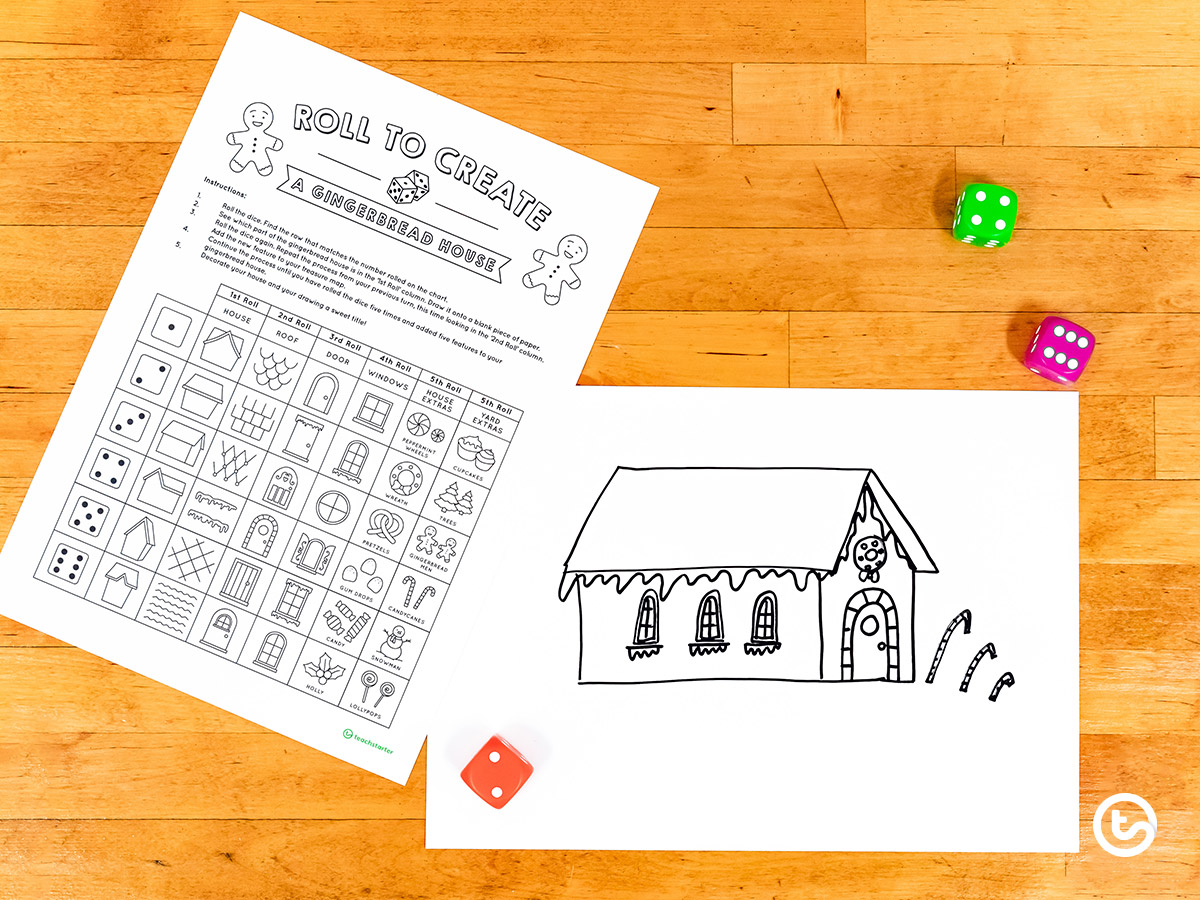 I had a LOT of fun playing this drawing game whilst making the video up above! If your students love to draw, our new Roll to Create Gingerbread House will be right up their alley.
Whilst not technically a Christmas Craft, this activity is still fun and festive and can be played time and again with different results.
If this activity is a hit with your students, try our new Roll to Create a Christmas Story next!
Exploding Gift Box Christmas Craft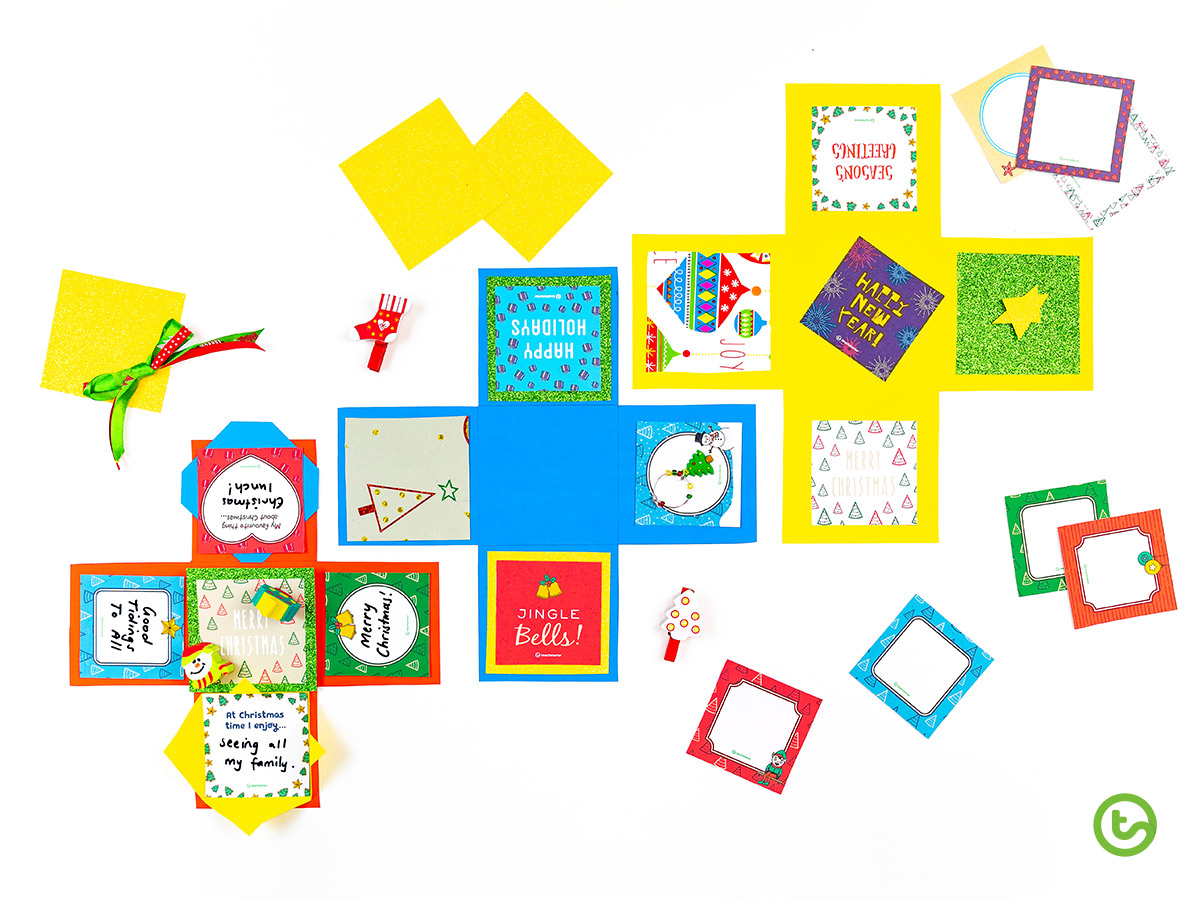 Still looking for the ultimate Christmas craft of 2018? This one will knock your pantyhose off!
You ll just need to download and print out our Christmas Decorative Square Templates and head to our fabulous Christmas Exploding Gift Box blog for full instructions and a great how-to video!
Funky Snowman Christmas Craft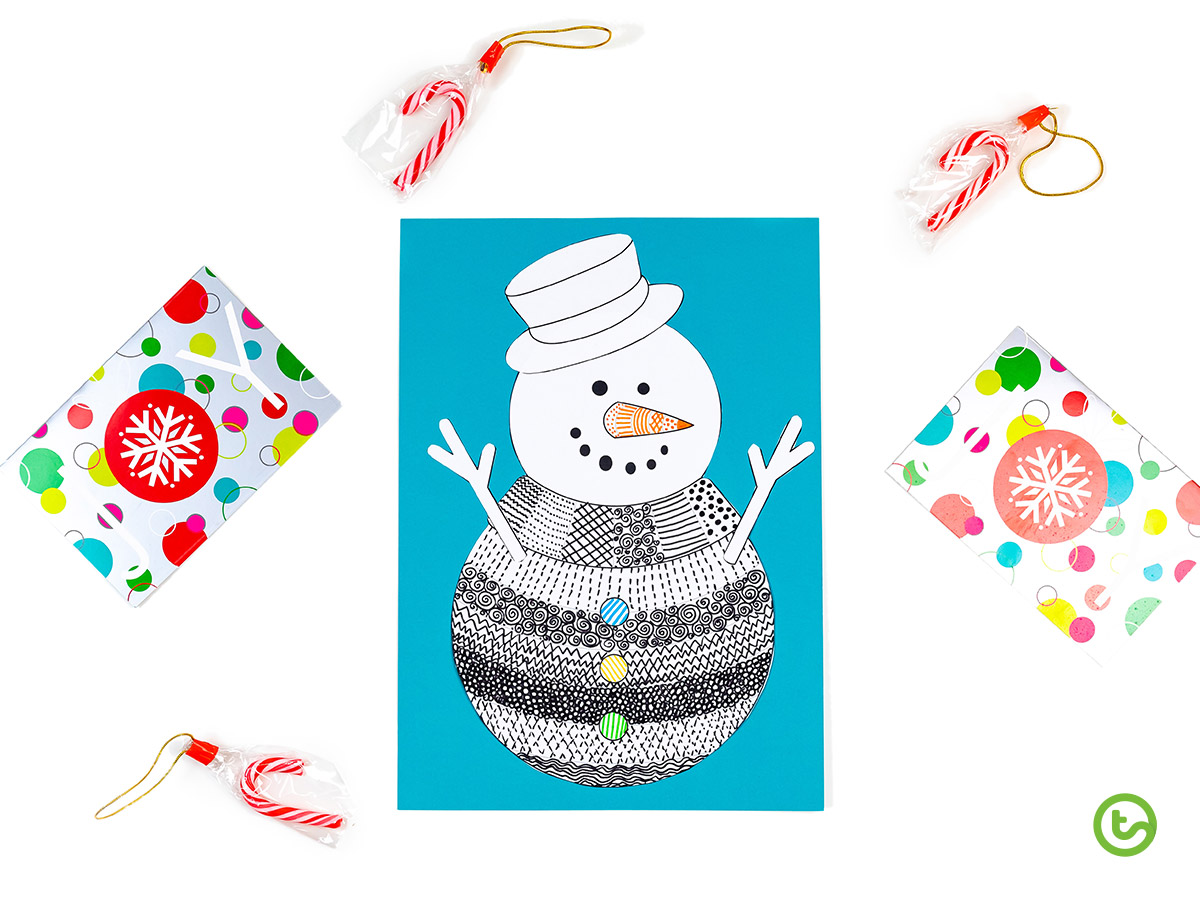 After last year's Funky Reindeer Christmas Craft trended with teachers everywhere, we've just released our brand new version of this awesome artwork template!
Heres how to do it:
Download our Funky Snowman Craft Template and print it on white paper.
Trace the outline of the snowman with a black marker.
Choose either straight lines in each section or different patterns. I would suggest lead pencil first and then when the artist is happy, they can go over their lines with a thin black felt tip marker.
Then, colour in the snowman's arms and Christmas hat. The brighter the better!
Cut out the arms, hat and snowman.
Glue the snowman onto coloured card.
Then, glue the other pieces over the top.
Display and admire!
Corner Bookmarks Christmas Craft

These little Christmas cuties are so adorable that your students will probably want to make the whole set. Download your new Christmas Corner Bookmark Templates, grab some pens, pencils, crayons or watercolours and you're good to go!
Mindful Colouring for Christmas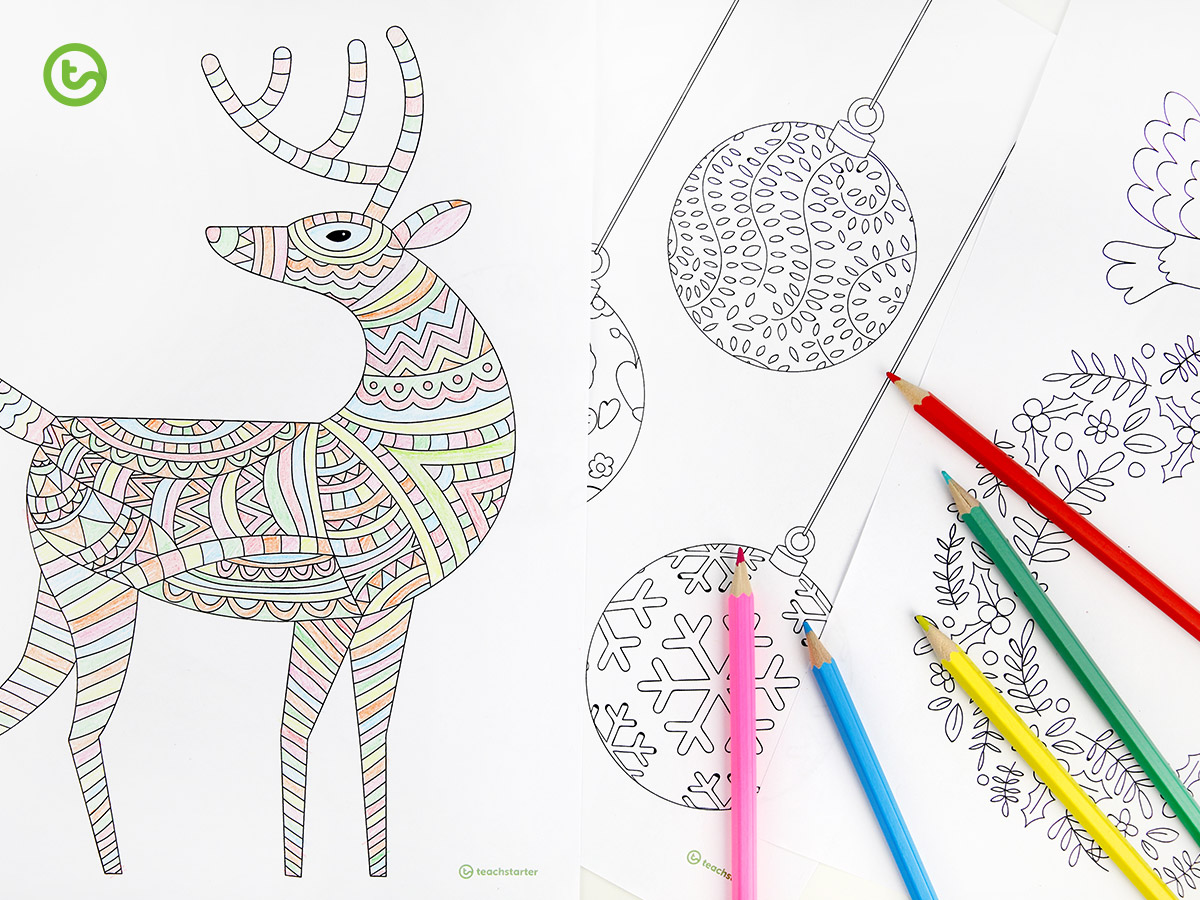 Hold the glitter! Not all Christmas craft activities need to be sparkly and vibrant.
These fantastic new Christmas Tree Mindful Colouring Sheets have already been extremely popular. Use them in the classroom in the busy lead up to Christmas to help your students reflect, relax and be mindful.
Read more about why it's important to encourage our students time to practice mindfulness in the busy lead up to the new year.
Roll, Add and Colour
Always a favourite, our Roll, Add and Colour Sheets combine mathematics with colouring in!
Our brand new Christmas-themed sheets are sure to be a huge hit with your students:
Christmas Tree Toppers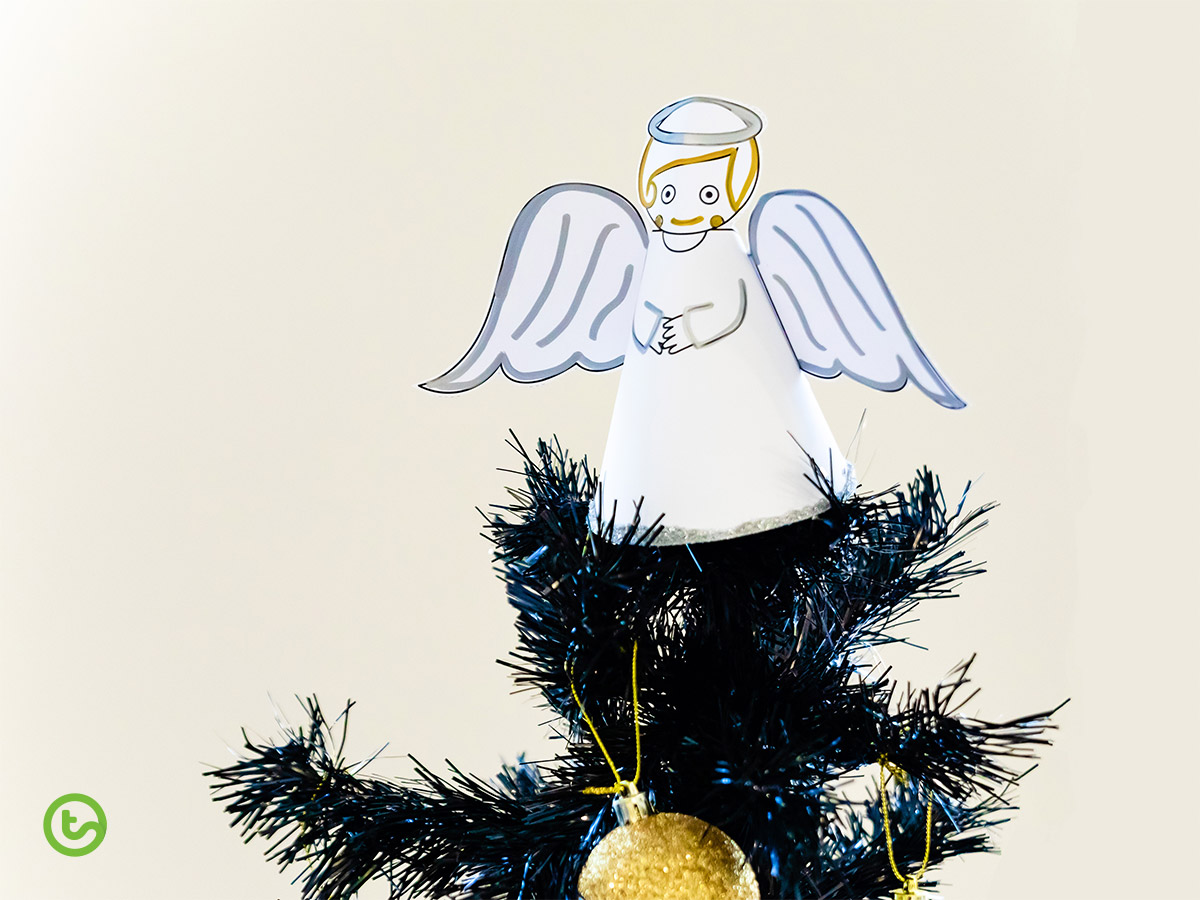 Perfect for a gift for students to take home to their families, our Christmas Tree Topper Craft is loads of fun. Read our blog on Christmas Tree Toppers for inspiration on how to decorate these downloadable templates.
Elfie Selfies!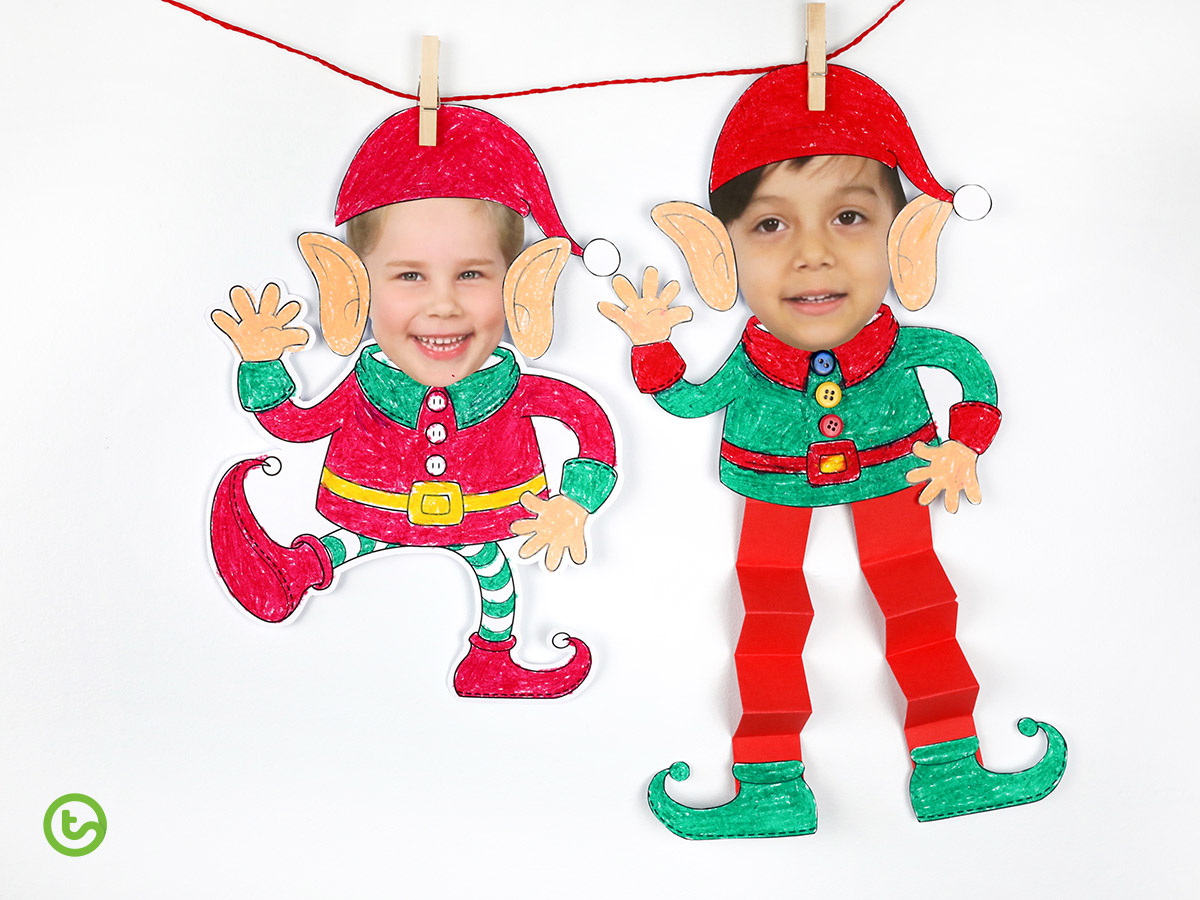 Another big favourite here at Teach Starter is the original and best Elfie Selfie! Turn your students into mischievous elves with a click of a camera and some creative paper craft!
These make an exceptionally festive Christmas classroom door display. Take a look at our fabulous blog packed with plenty of ideas for decorating your door, including Elfie Selfies!
Most Loved Christmas Craft: Funky Reindeer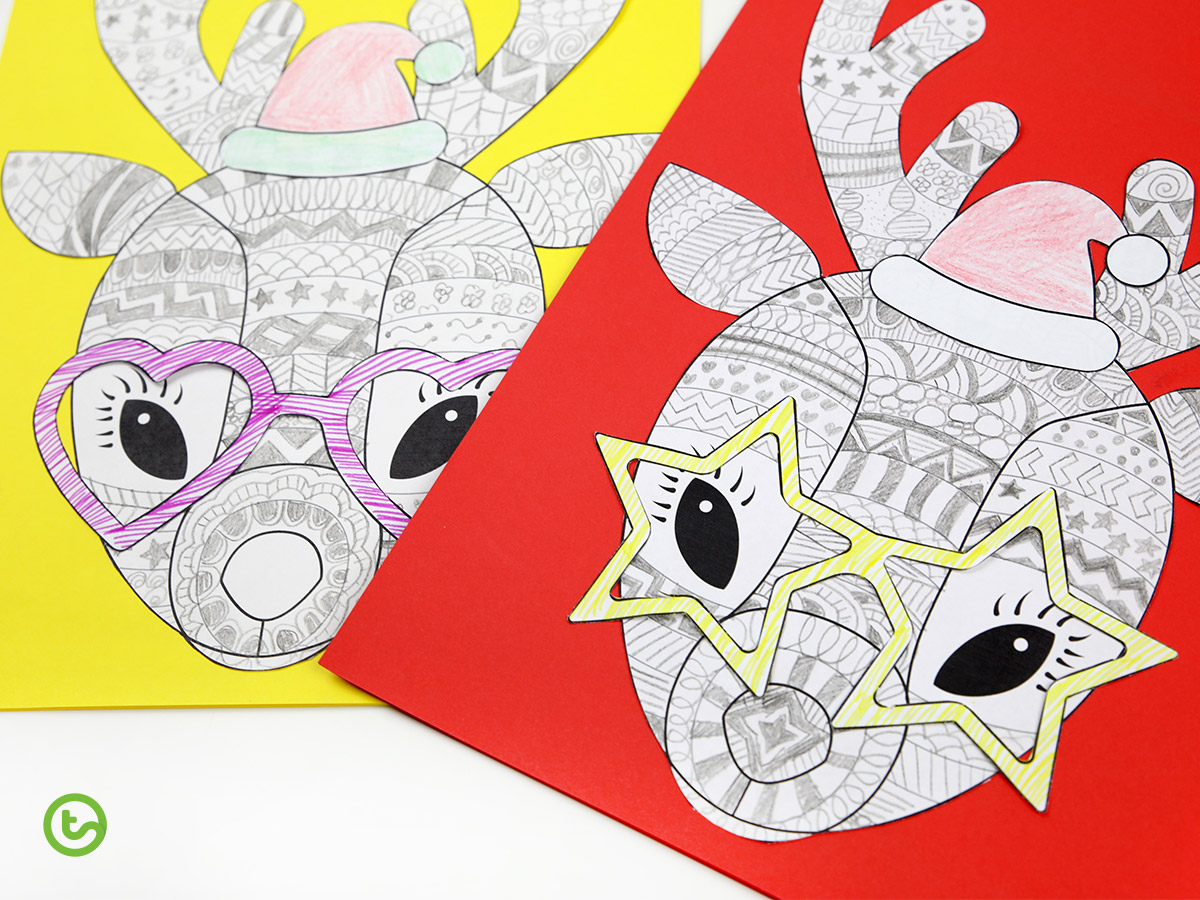 Possibly our most loved Christmas craft to date, our Funky Reindeer posters dominated social media last Christmas! Would you believe this great teaching resource has been downloaded almost 40 000 times!? These guys look amazing when displayed – but we don't have to tell you guys that!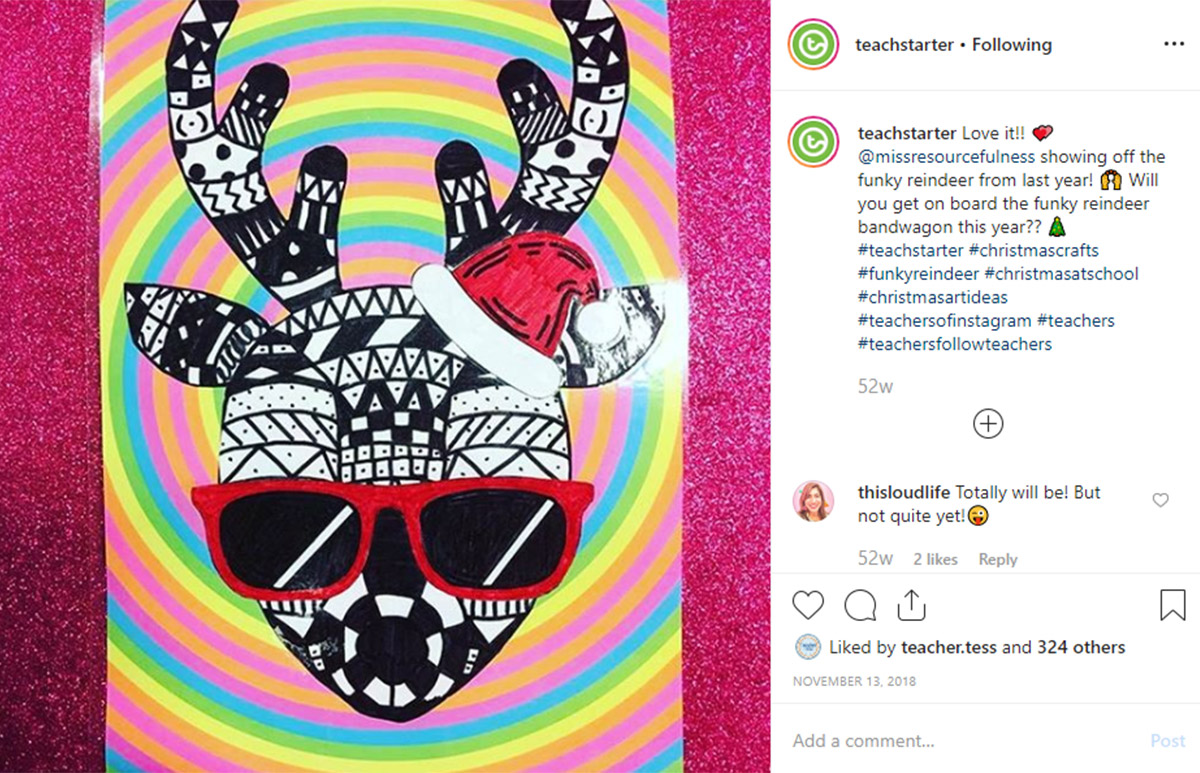 Christmas Snow Globe
Grab our Christmas Snow Globe Craft Images and watch this incredible video to make this gorgeous craft with your class.
Pop Up Christmas Cards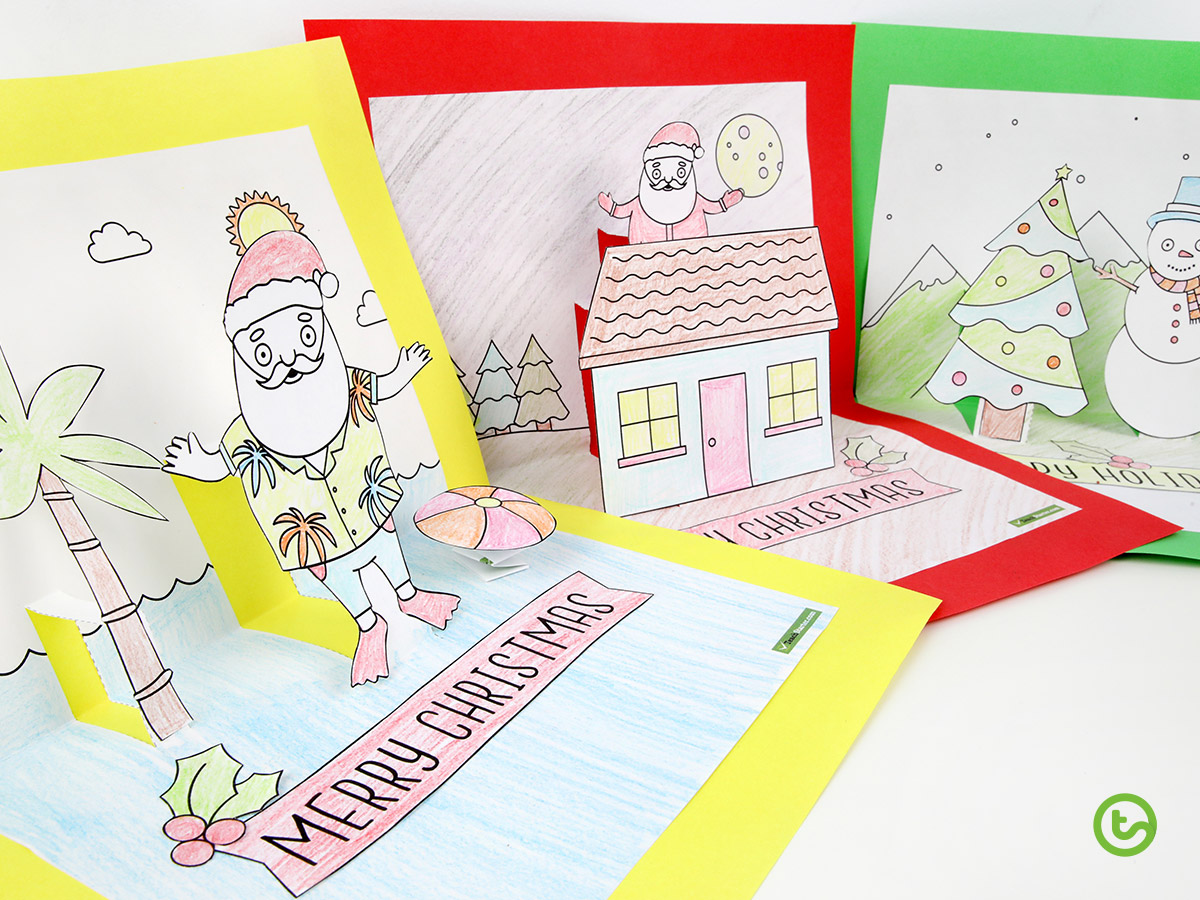 Kids LOVE pop-ups! Our Christmas pop up cards have been a huge hit in the past with both teachers and students! All you'll need is our Christmas Pop Up Card Template, some coloured card, pencils and glue!
Non-Christmas End of Year Activity Alternatives
If you have some students who don't observe Christmas or participate in Christmas celebrations, you may wish to download and use some of our lovely teaching resources with a summery, fun vibe for the end of the year:
We hope you love our easy Christmas craft and activity ideas, and enjoy this wonderful time of the year with your students!
#teachstarterchristmas on the socials to be featured!