Do you need Christmas drawing activities to add to your teacher toolkit? Whether you're looking for a holiday-themed directed drawing activity or an independent art project for kids, drawing Christmas favorites in the classroom is a perfect task for a classroom party before the winter break!
And if you're looking for a simple gift students can make in the classroom to take home to their parents or guardians, a drawing made by your students for the holidays is about as simple — but still meaningful — as it gets.
With that in mind, the teachers of the Teach Starter team have compiled this list of some of our favorite Christmas drawing activities for kids, including some videos that you'll want to bookmark, plus a few holiday books that you can pair with each activity!
Christmas Drawing Activities for Kids
Drawing Santa Claus
Santa Claus is the star of the show for many kids on Christmas, so we need to start things off with the jolly old guy from the North Pole! Introduce students to the various names that Santa goes by around the world, from Weihnachtsmann in Germany to Papa Noel in France, then move on to any of these fun Santa drawing activities:
Watch a directed drawing activity video that walks students through the steps of drawing Santa's whole body.
Design Santa's sleigh while studying various shapes with a geometry drawing activity.
Practice grid drawing Santa and other holiday characters, including a Christmas tree!
Ugly Christmas Sweaters
Christmas sweaters have been around since the 1950s, when they were first called Jingle Bell Sweaters. These days, it's tradition to wear an ugly sweater to family festivities in many parts of the country.
Are you discussing holiday traditions with your class? Why not add a drawing element? Students can use a blank sweater template to draw their favorite holiday tradition to share with their classmates. Put the sweaters together on your bulletin board to celebrate the unique stories of each child.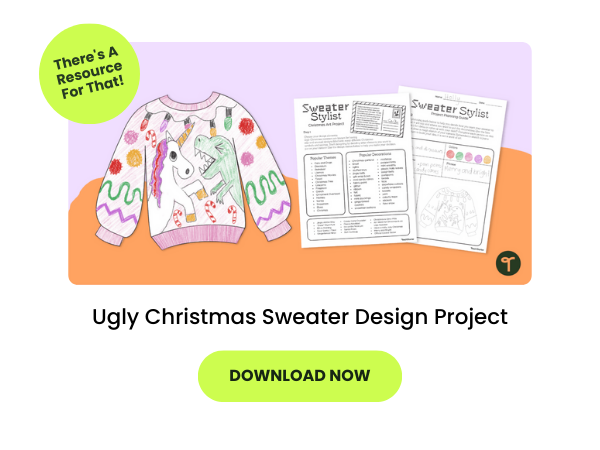 Reindeer Drawing Activities
This drawing activity comes straight from the Arctic, where reindeer run the tundra and pull Santa's sleigh, of course.
Read the silly kid-favorite book How to Catch a Reindeer by Alice Walstead, then have your students follow along with this simple how to draw a reindeer video to create their own magical creature.
Students can then write a paragraph describing how they caught their own reindeer!
Looking for an easy gift you can send home with younger students for winter break? Print out these fun reindeer guided drawing worksheets, and pair them with small bags of reindeer food (oats and glitter) for students to take home on the last day of the school year.
How to Draw a Snowman
Do you wanna … draw … a snowman? This free directed drawing activity video will walk your students through the process of creating their own Frosty creation.
Pair this snowman directed drawing activity with a fun (and free!) procedural activity: How to Make a Snowman.
Gingerbread Drawing Activity
The Gingerbread Man is the perfect fairy tale to explore during the holiday season. The tale of the little cookie who taunts a fox as he runs inspires countless writing activities, from practicing "how to" writing with paragraphs about the best way to catch the impish gingerbread man to persuasive essays written in the form of letters from a student to the gingerbread man, persuading him to stop running.
Why not add a drawing element to your lesson plan? Have students decorate their own gingerbread people to hang on your bulletin board!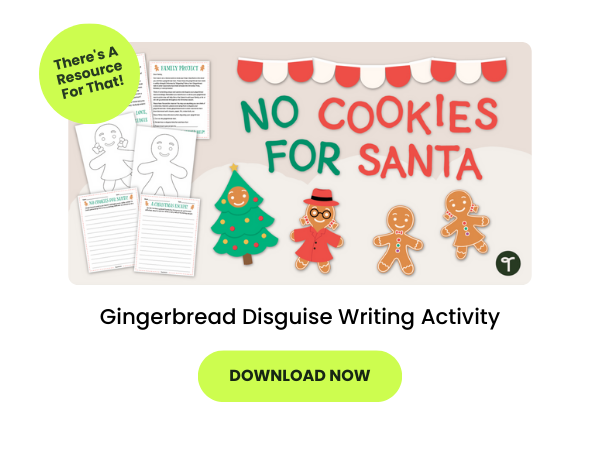 Christmas Elf Drawing Activities
Elves may spend most of their time behind the scenes in Santa's workshop, but these holiday creatures can come front and center for some fun drawing activities in the classroom! Try any of these activities from our teacher team:
Play a how to draw an elf directed drawing video.
Bring out the dice for a roll and draw an elf activity.
Looking for more Christmas-themed activities for the classroom? Explore printable worksheets, digital games, and more from teachers around the country!