If you're reading this, something tells us it's either raining or about to snow … again. This means your class has indoor recess, and your prep period has just gone up in smoke. What are you going to do about it? You could pop in a movie (another showing of Moana, kids?), or maybe you want to try some indoor recess games that will give your students a bit of learning on top of that fun?
What Do You Do for Indoor Recess Games?
Let's talk about recess for a second. When they're outside and running around the playground, it feels easy to buy into the latest science that says kids need unstructured play. It helps kids develop confidence, increase focus, get active, socialize, and learn to better manage feelings and emotions.
Get the whole grade in one room, on the other hand, and that is easier said than done. Structure is inevitable in inclement weather when you've got 100 kids in indoor recess. But that doesn't mean play and the benefits it brings has to go out the window. There are plenty of indoor recess games and activities that can supply students with an active alternative that gives their brains and bodies a break from the rigor of traditional hind-end-in-seat academic learning.
Teach Starter Teacher Tip: Steal these active games for brain break times! 
What Are Some Fun Recess Games?
Let's look at some active games that can be played inside — whether it's in your classroom, the gymnasium, the cafeteria, or wherever your students have been slated to spend their indoor recess period. We've got options for kindergarten games all the way up through middle school!
Play Chicken Evolution
You can break students up into groups to play rock, paper, scissors, but why not change things up? The Chicken Evolution Game is a twist on the old Rochambeau favorite that turns your kids from chickens into supreme beings — ahem, metaphorically that is! Designed to get kids active while also helping them build their social skills, it's a perfect pick for indoor recess in small spaces.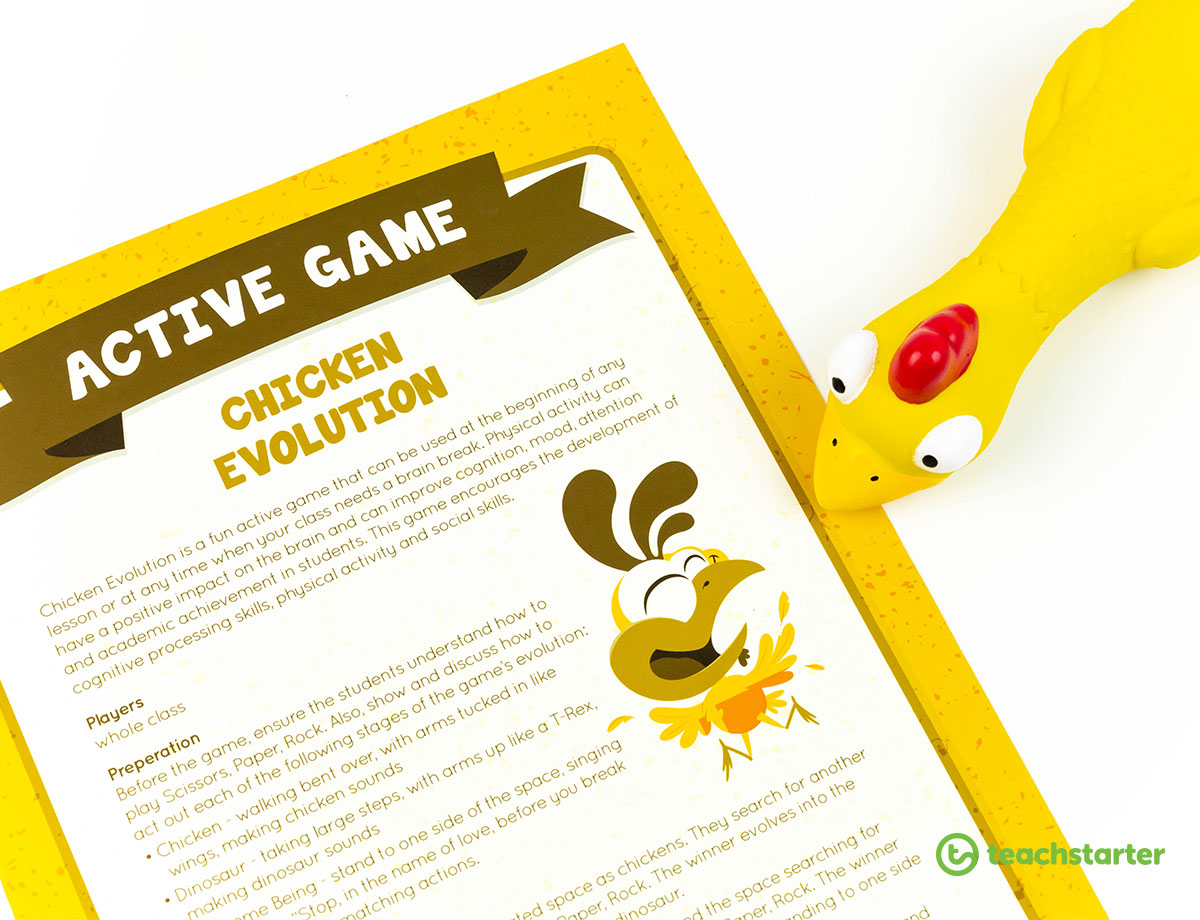 Practice Quick-Thinking Games
Set your students up in groups, and assign each group a letter of the alphabet. Challenge the groups to come up with as many words that start with that letter as possible. You can keep the game general or make it more challenging by writing categories on your whiteboard such as "animals" or "something you would find in a school."
They'll practice vocabulary without realizing it … and have fun doing it!
Zip Zap Zoom
Designed for the whole class to get involved, Zip Zap Zoom! is an indoor recess game that will help your students improve their concentration and listening skills. Set your students up in a circle, and start someone off with an imaginary "ball of energy," then have that student hand it off to another student. Students can change the direction of 'energy' by saying 'zip' for a clockwise direction, 'zap' for a counterclockwise direction, or 'zoom' to send the energy across the circle. Increase the pace of the game for extra excitement!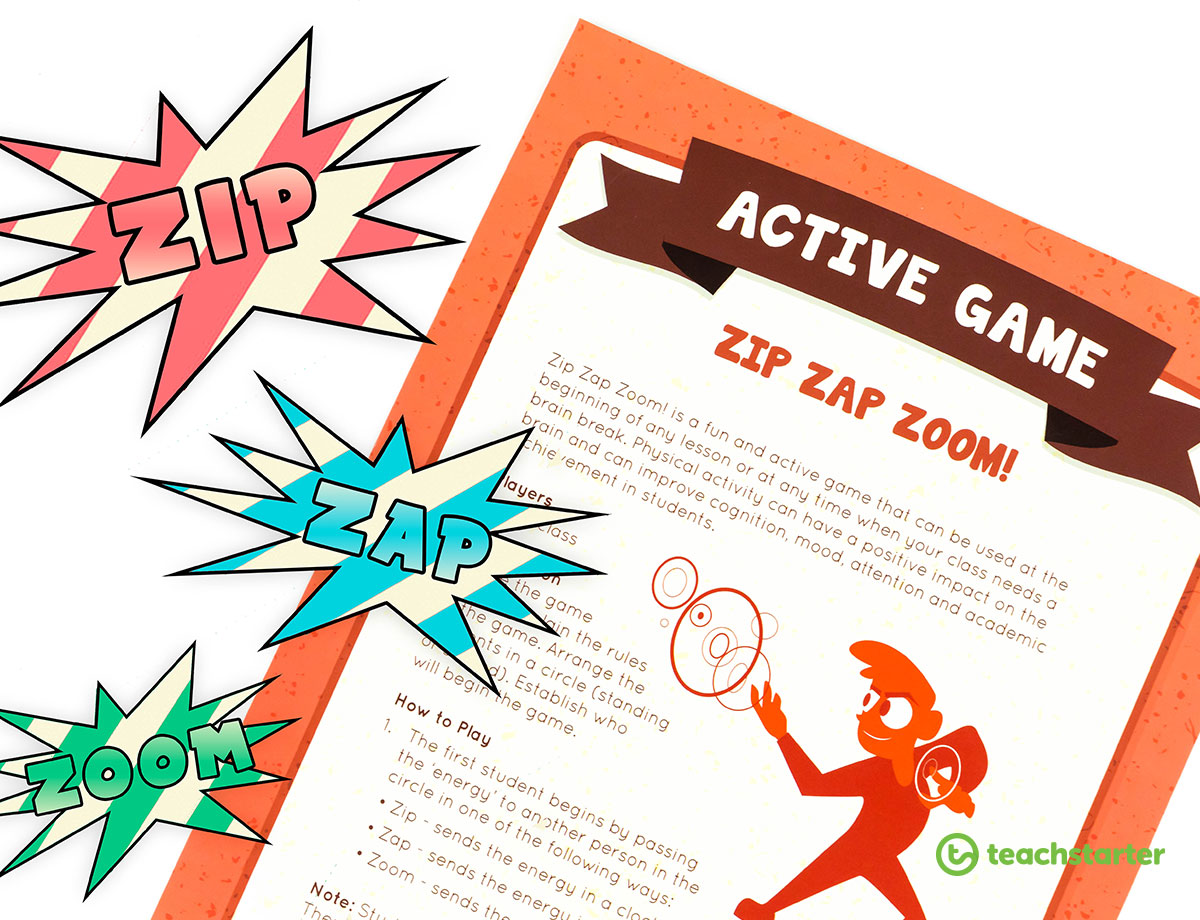 Make Up One Word Stories
Get the entire class together to create a story, but it has to be done improv-style rather than written out! You can start things off with one word, and then assign a student to add the next word, going around in a circle as students spout off one word at a time. Set a timer, then assign one student to mark the words down on your whiteboard so the whole thing can be read off at the end. Giggles are sure to ensue!
Fortune Teller
A perfect inside recess activity for pairs or small groups! Print out copies of our free fortune teller template, and have your students tell each other's fortunes. Also called a cootie catcher in parts of the US, you can fill in the templates before printing with fun "fortunes," make it more academic with concept review, or instruct your students to get creative. We've also created a few pre-made options for those busy days when you just don't have time to make your own!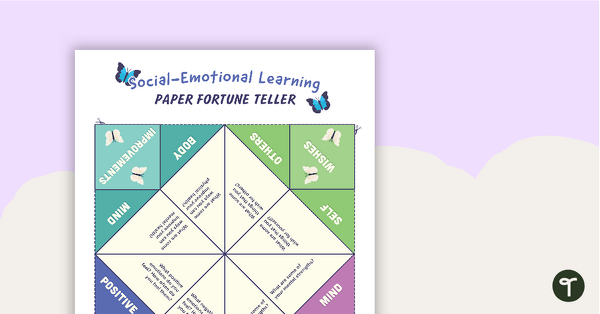 teaching resource
A paper fortune teller template for students to use during social-emotional learning.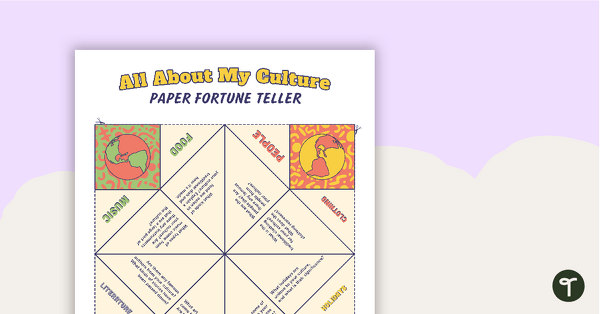 teaching resource
A paper fortune teller template for students to learn about the different cultures in their classroom.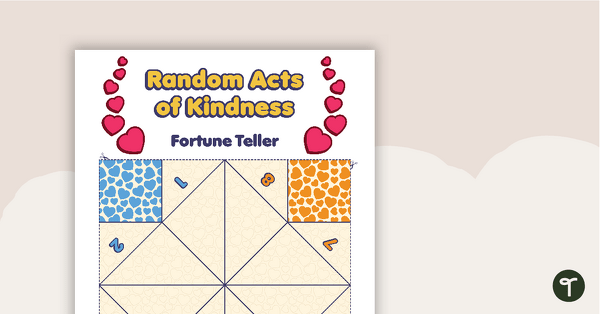 teaching resource
Choosing random acts of kindness couldn't be more fun than with this paper fortune teller template!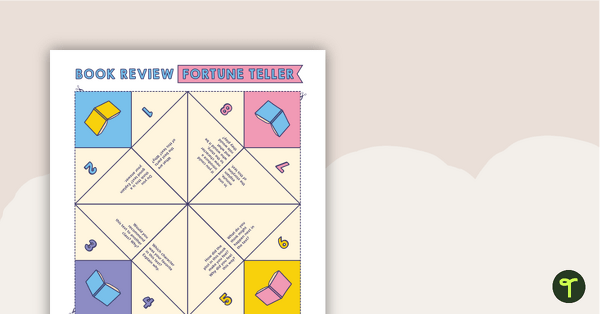 teaching resource
A fun paper fortune teller template to help your students to review a book or narrative text.
Play Hot Potato — With a Twist 
This is a good indoor recess game that involves ball play but can be done in smaller spaces like your own classroom. It's a way to make students think and sneak in a little practice of possessive pronouns. The game is played by passing a potato (well, a ball!) around a circle BUT students have to introduce themselves by saying "My name is …" and then before passing the ball along to another classmate in the circle, they must say "Your name is …" See where we're going with the pronoun practice?
Set a timer (you can use your phone), and allow your kids to pass along that hot potato. The person who is holding the ball (potato) when the timer goes off is out.
Challenge Students to Make Their Own Game
Print a blank board game template, set your students off into groups, and challenge them to come up with their own board games! This will test their critical thinking and problem solving skills, and you might just end up with some new games for future days when it's too rainy or snowy for students to spend their recess in the great outdoors. Grab one of the printable game board templates here!
Play Bob Ball
The name may be strange, but once your students get the hang of Bob Ball they'll be begging for more! This game is perfect if you've got the gymnasium or cafeteria to yourselves for indoor recess.
Bob Ball gives students a chance to practice their throwing skills. It requires students to catch and throw the ball to increasingly large distances.
This is a great way to build student confidence and skill in throwing.
But watch out! Students need to be speedy in order to not get hit. (Get the directions, here in our ball-handling drill game cards).
Break Out Some New Board Games
Don't think you can possibly handle one more day with the kids battling over that Trouble popper? Freshen up the inside recess staple with some brand new board games! Grab your manipulatives or mini erasers to use as your pieces, and the kids will have plenty to do. Here are a few fresh favorites to try: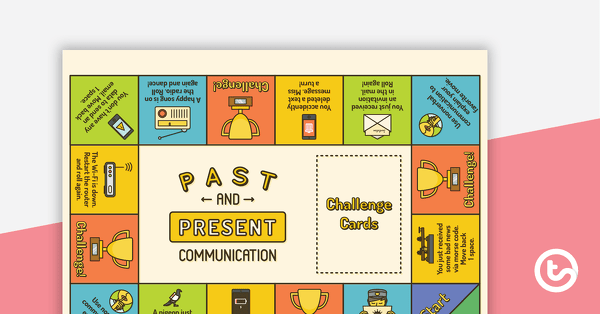 teaching resource
A fun and engaging board game to reinforce students' understanding of past and present communication devices.
teaching resource
A fun, hands-on board game to play in groups when learning to solve subtraction equations that require regrouping.
resource pack
A set of 6 phonics games played in pairs to assist students in learning different vowel and consonant digraphs in words.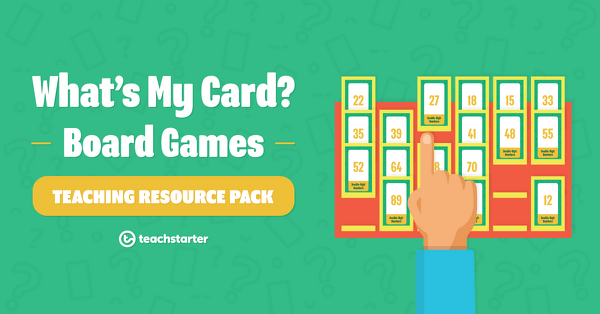 resource pack
A collection of templates to be used in the Guess Who? Board Game.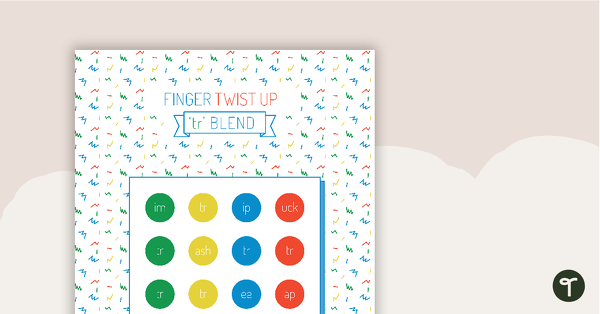 teaching resource
A fun, engaging board game to consolidate students' understanding of blends and sounds.
Play Tunnel Ball
Tunnel Ball is the fastest of the ball drills in our ball drill cards, and it's another game that can be done in indoor recess if you have a decent amount of space to get kids up and moving.
The front and end players are engaged in this game – the middle players just need to make sure they stay out of the way.
Don't worry, they'll get their chance!
For an even more action-packed game, ask the students to zigzag their standing position. Each student can catch the ball and roll it between their legs to the next player!
Change Out Your Card Games
Another great indoor recess game that's pretty standard is handing your students decks of cards and allowing them to play in pairs of small groups. Change things up with fresh cards like these fun famous artist cards that can be used to play Memory, Go Fish, or Snap … while they're getting an introduction to Mondrian, Degas, and their pals.
Fish for Place Value
Ahem, no one ever said that we couldn't use indoor recess to brush up on math skills! Fishing for place value is a fun, hands-on activity that's perfect for younger kids. Don't worry … there is no water involved.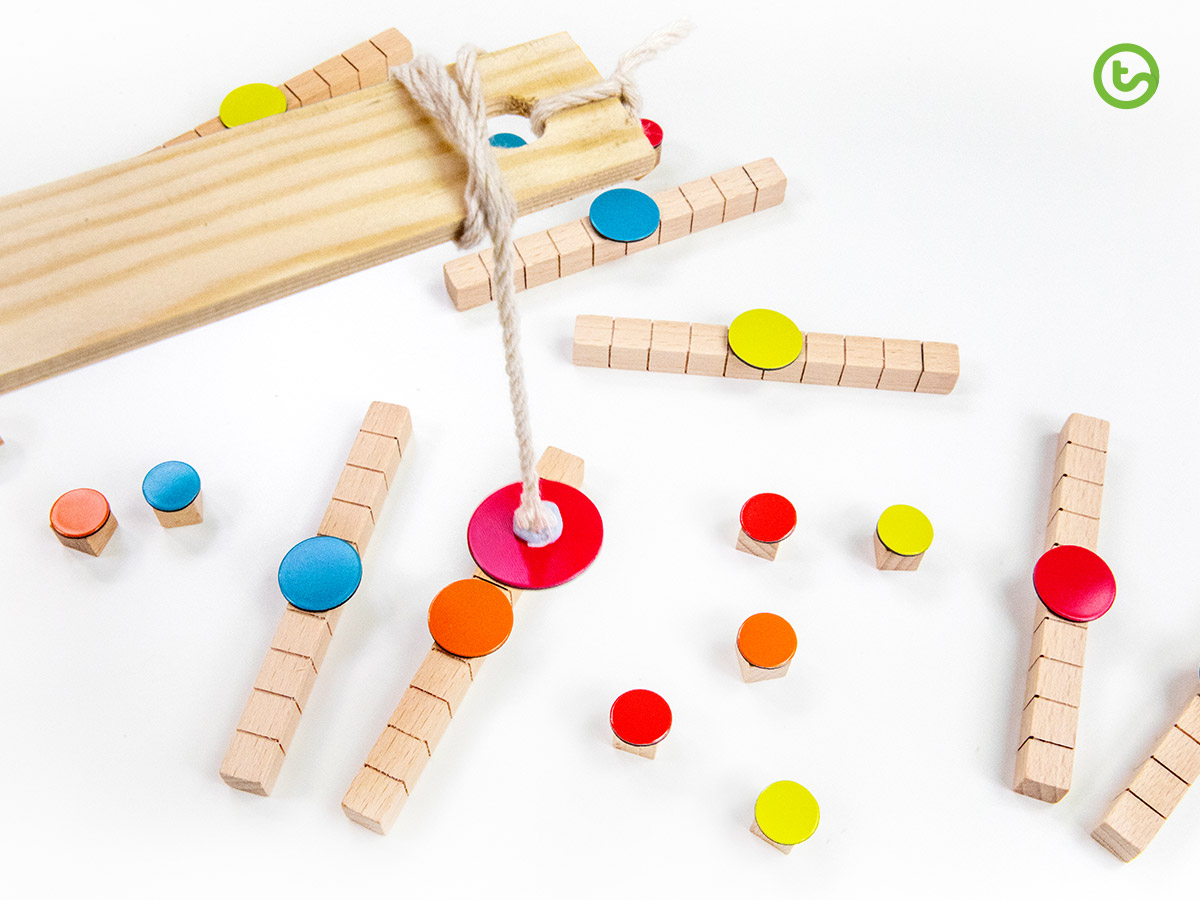 This simple game is engaging, effective, and easy to set up. To get started you need:
Base-10 blocks
small and strong magnets
mounting putty and string
a suitable fishing rod – (I used a ruler)
timer (optional).
To create this place value game, attach magnets to the Base-10 blocks. Next, attach a piece of string to your fishing rod and a strong magnet to the end of the string.
How to Play
Encourage your students to fish for as many Base-10 blocks as possible in 1 minute.
Ask students to use their knowledge of place value to calculate the total value of their catch!
Banner image via shutterstock/GagliardiPhotography