The closer we get to the end of the school year, the more Christmas games and holiday games come in handy in the classroom. We get it. The kids are ready for that winter break, and you are too. And you want to send them off for a happy holiday season!
We pulled together some of our favorite holiday games to play in the classroom — great for your holiday party, for those last few days before the break when half the class is already out, or even just to give those fast finishers something fun (and educational) to do with a holiday theme!
Best Christmas Games for Kids
Jingle Bell Toss
This holiday game has a mathematical twist that makes it fun AND educational!
How to Play:
Students will be playing this game in groups. Set up a set of paper cups with values written inside of them for each group. The values can be as simple as single-digit numbers (for younger students) or as complex as mixed fractions (for those wanting a challenge!).
Place a piece of painter's tape a specific distance from each set of cups. Give each student in each group a jingle bell to play with. Students will take turns throwing their jingle bell into a cup. Once everyone has had a turn, add up the numbers that have a jingle bell inside. The group with the highest total is the winner!
Equipment:
jingle bells (enough for each student to have 1)
a set of 10 cups with a value written inside
---
Holiday Bingo
Who doesn't love Bingo?
Grab our free blank Bingo card template for easy creation!
Draw a Holiday Picture
This is a drawing challenge with a fun catch! Students' drawings can look a bit abstract at the best of times… but what if they were drawing without looking at what they were doing?
How to play:
Give each student a paper plate and a pencil. Instruct the students to place the paper plate on their heads! This becomes their canvas. Give your students a drawing challenge for them to draw onto the paper plate while it's up top – no peeking!
Ideas for what to draw can be incredibly simple – you don't want to make it too difficult! Why not ask students to draw a snowman or a cup of hot cocoa? The best/most accurate picture is the winner! You can even call in a third party, such as a teacher from another classroom, to judge.
Equipment:
one paper plate per student
one pencil per student
We've used our editable Desk Name Tags – Holiday to make some hilarious suggestions!
Pin the Tail on Rudolph
We're big believers that simple is always best, and what can be simpler than taking a traditional party game and making it holiday-themed? You can pin the nose on Rudolph with this fun Christmas game template!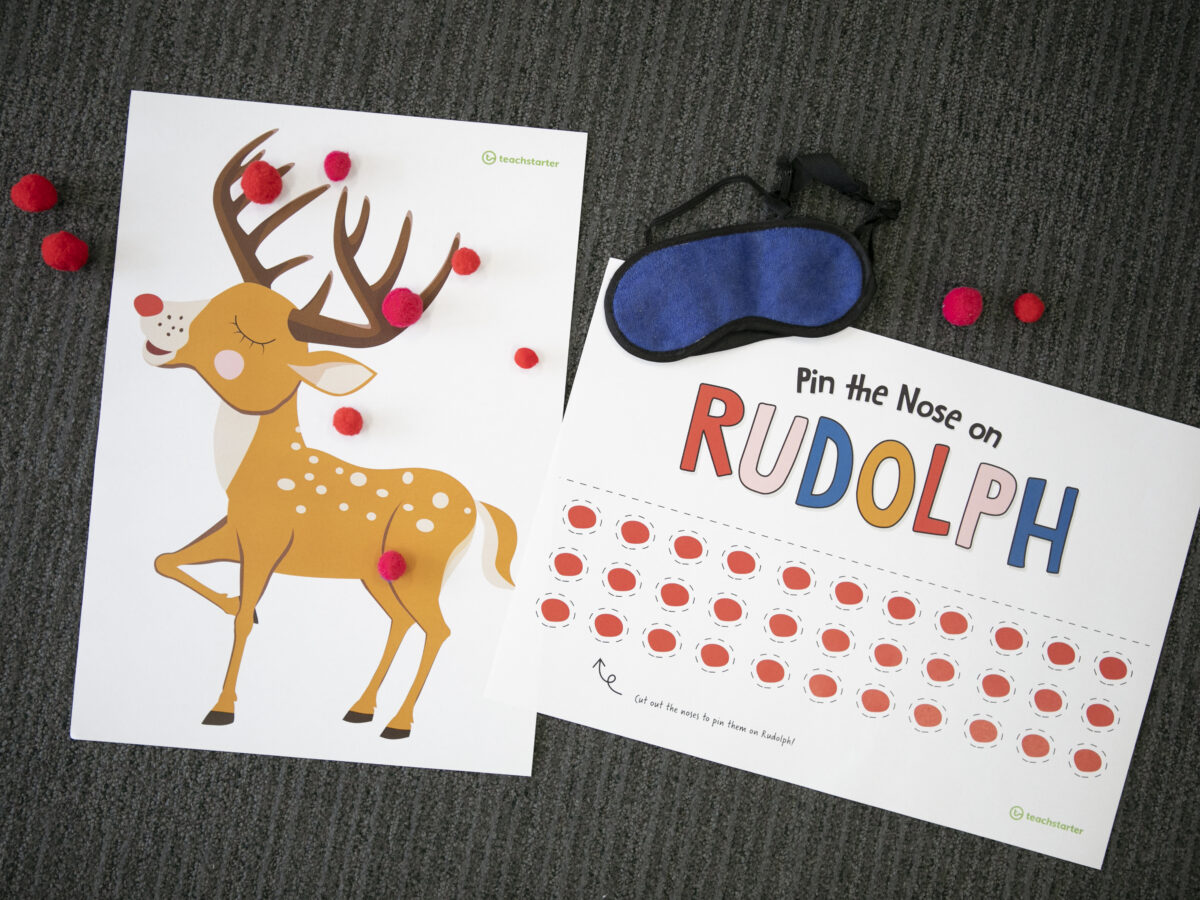 Save Santa's Workshop!
Love escape rooms? We've created an escape room that's perfect for the holidays! Your students will have the chance to collaborate to work their way through the wrapping room, candy cane chutes, and more festively fun spots in Santa's Workshop in this clue-based adventure. Get the Santa's Workshop Escape Room PowerPoint here!
Holiday Code Crackers
Keep the chaos of a holiday party under control with group games that are challenging and fun! The Holiday Code Cracker: Middle Years – Whole Class Game includes an introductory poem, six puzzle activities, and a final riddle. Students work in groups to solve each puzzle to reveal six numerals. Next, students combine the digits and work out their order to open a combination lock.
Take a look at the first puzzle – the Christmas Tree Wheel! What is the mystery numeral?
Other activities include:
Rudolph's Present Predicament
Trifle Tower
Cryptic Chatterbox
Vacation Treasure Hunt
Party Light Chaos
Holiday Hooray! Final Riddle
Try the full array of holiday and Christmas code crackers!
teaching resource
A whole-class code cracker activity.
teaching resource
A whole class, holiday-themed game where students work together to find a secret code.
teaching resource
A whole class, holiday-themed game where students work together to find a secret code.
Winter Games for Kids
Want some games that are purely winter-themed for a more inclusive classroom celebration before winter break? Give these winter games a try!
Snowball Bowling
This game can be played inside or outside the classroom! This simple take on ten-pin bowling has a fun holiday twist.
How to play:
Put students into groups of 4 or 5. Allocate a 'laneway', a set of skittles, and a 'bowling ball' to each group. You can make your laneways by drawing chalk lines on a sidewalk, placing skipping ropes longways on the ground, or using tape on the carpet!
Your students now take turns to bowl the ball down the laneway towards their skittles. For each skittle they knock down, they receive a point. The person who has the most points at the end of 3 rounds of bowling is the winner!
Equipment:
8-10 skittles per group. Repurpose something quick and easy, such as empty water bottles with a little Christmas ribbon tied around them, or go all out and paint some 'snowman' themed tin cans or paper cups! It's a great idea to ask your class to bring in clean tin cans to decorate for the day leading up to the games so that it's a whole class effort.
One 'bowling ball' per group – something white, such as a large pair of white socks rolled into a ball.
Snowman Name Game
This is silly fun at its absolute best! Use our free snowman naming template to help your kiddos find their snowman name using their initials and the month they were born!
Frostbitten Fireplace and Snuggly Icicle have a nice ring, don't you think?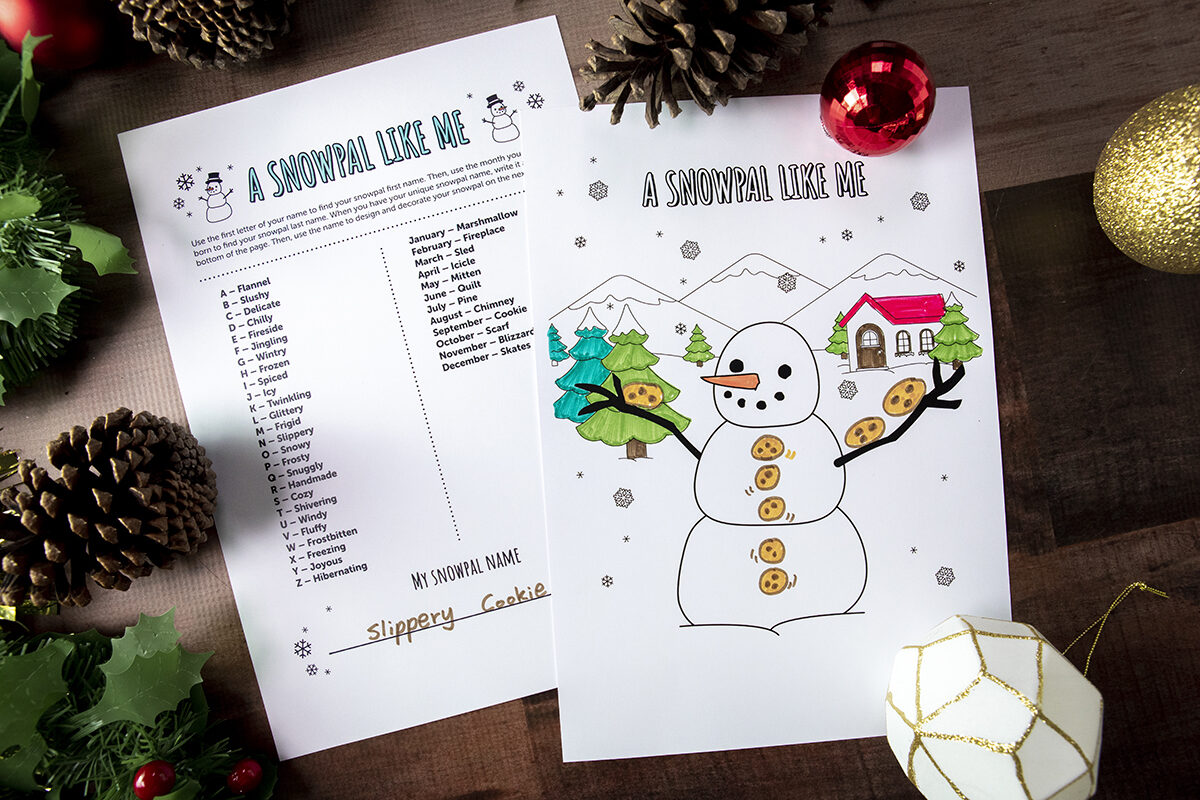 Disappearing Snowman
This is a fun — and secular — holiday game for the classroom that's educational to boot! A twist on the old classic "hangman" that's a lot more kid-friendly (more on the issues with hangman here), kids practice guessing and spelling words in this interactive PowerPoint … but instead of a stick figure hanging from a noose (shudder), you have a fun and friendly snowman with accessories that disappear when kids make the wrong guess. Set it up on a computer for kids to play alone or project on your whiteboard for the whole class!
And there's more where that came from …
teaching resource
Introduce winter vocabulary words with our picture & word card headbands game.
teaching resource
Try to find the Snowman in this set of 54 Slapjack game cards.
teaching resource
Celebrate everyone's favorite winter friend with this set of 20 snowman bingo game boards and picture cards.
teaching resource
Build a seasonally-inspired vocabulary with this set of 28 winter picture dominoes.
teaching resource
Introduce winter vocabulary words with our picture & word card headbands game.