If there's one thing just about every child loves, it's celebrating their birthday. Something as simple as a classroom birthday display or a teacher sharing birthday wishes for a student can really make a kid's day. 
Looking for some classroom birthday ideas and classroom birthday displays that will absolutely blow your students away? We did a deep dive into all things birthday, and we've come up with some seriously fun ways to wish your students a happy birthday!
Classroom Birthday Display Ideas
Setting up a classroom birthday display is a relatively easy way to make sure every child in your class feels a little birthday love, and there's a bonus: Set up a display at the beginning of the year, and you don't have to do much more than switch out names and dates every month. The general birthday display can stay up all year long, meaning one corner of the room pretty much takes care of itself. Winning!
We also know how much time decorating a classroom can take — we're all teachers here at Teach Starter — so we've made it extra easy. Each of these birthday displays comes with its own downloadable, printable birthday display resources!
Oh, and if creating full birthday displays is a little too time-consuming for you, then scroll to the bottom of this post … we've got you covered with some awesome, ready-to-print birthday charts, birthday certificates, and even a birthday lightbox display!
---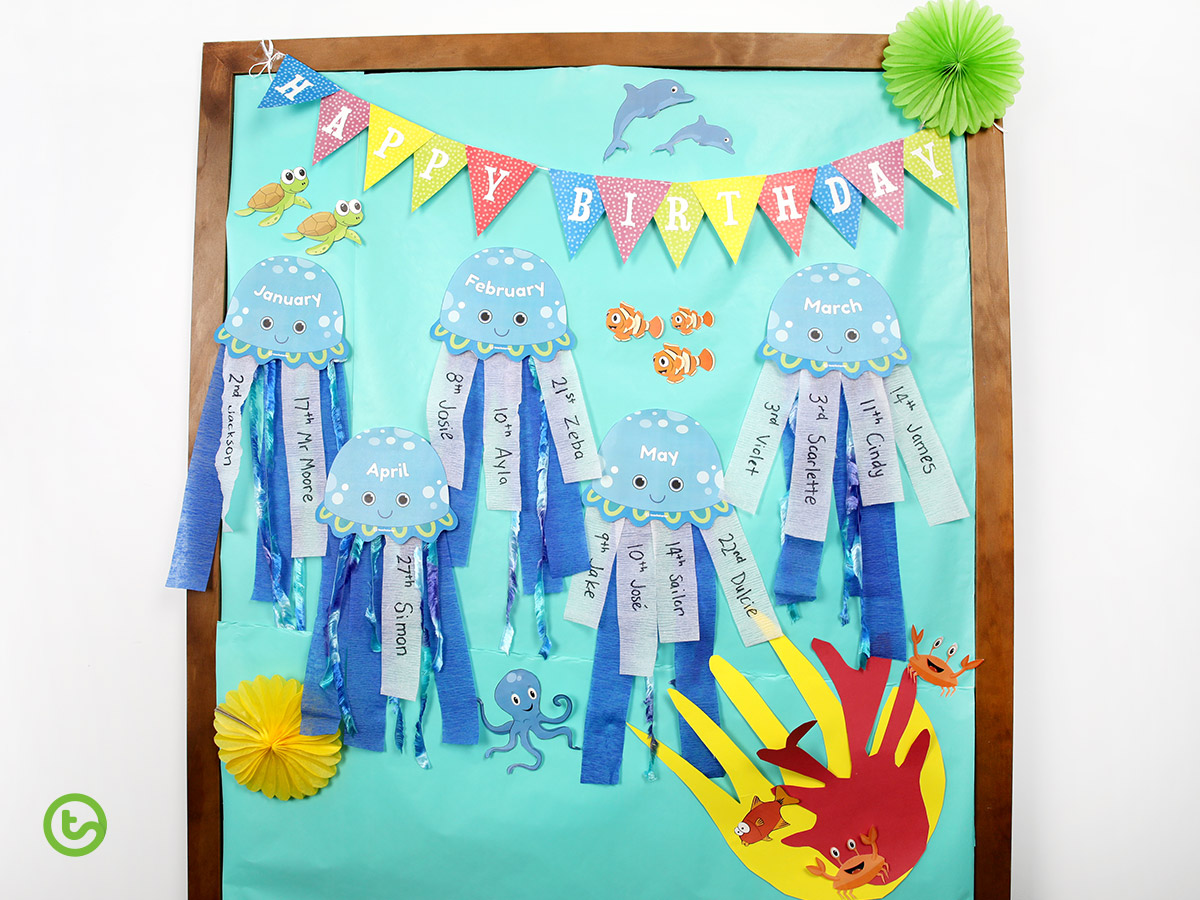 This Under the Sea themed birthday wall idea is o-fish-ally awesome. A twist on the Jellyfish Classroom Display, each month is displayed on the body of a jellyfish, and you can attach each student's birthday as a tentacle hanging below.
To create this "Under the Sea" birthday bulletin board we used:
aqua colored wrapping paper

Jellyfish Birthday Display Template

(which includes jellyfish, rainbow Happy Birthday pennant banner, and sea animal cut out decorations)

white and dark blue crepe paper streamers

a ball of fancy yarn

colored cardboard to create the coral

yellow and green party decorations.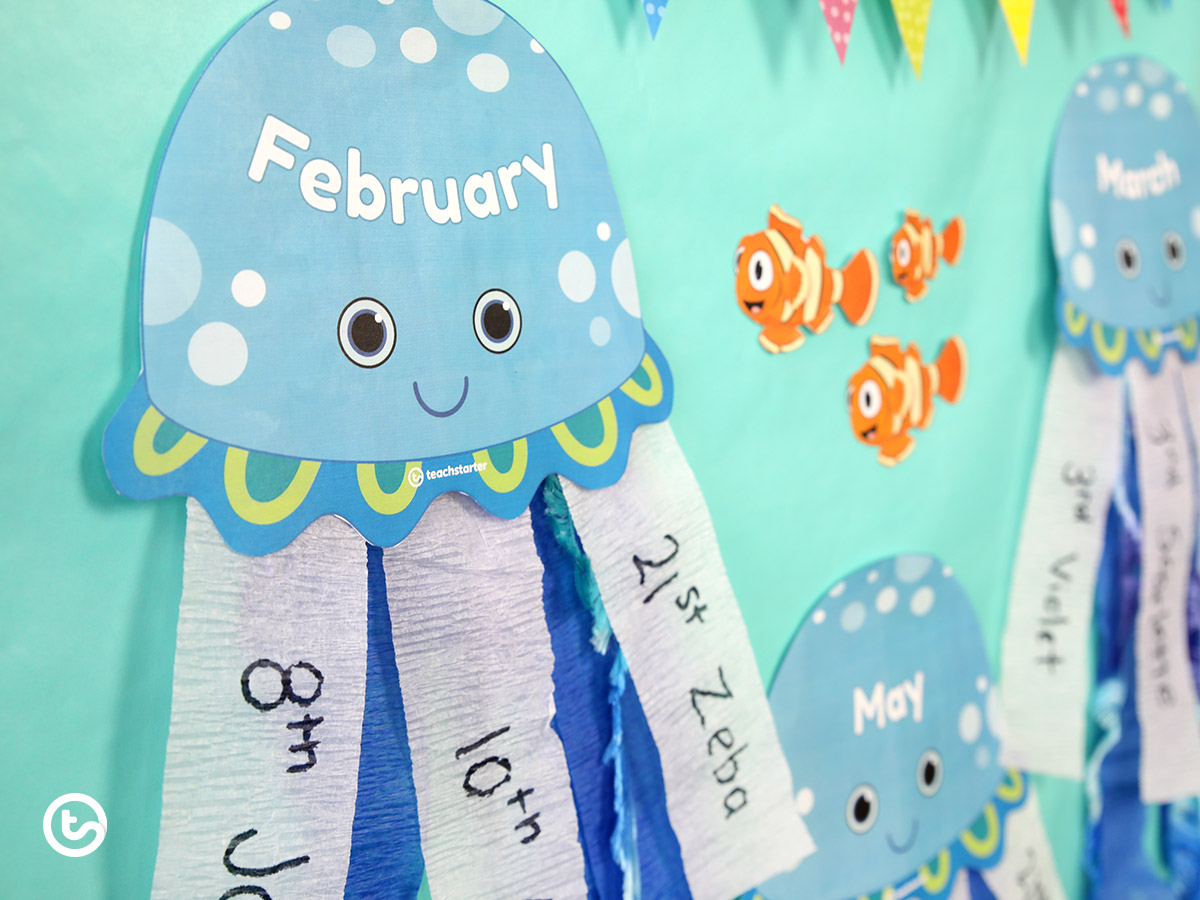 Tips for Longevity
Use heavy cardstock for the pennant banner, the jellyfish 'month' bodies and the sea animal cut out decorations.

Attach the birthday tentacles using mounting putty or double-sided tape (which can then be removed at the end of the year).

When you take down your display, the main templates can be reused for the next year (or passed on to another teacher who loved this birthday board idea!)
Printing Tips
The printable Jellyfish Birthday Display template includes pennant banners that fit one to a page. Depending on the size of your board you will need to print the banner at a different size.
To create this portrait-orientated "Under the Sea" birthday display we printed the banners 6 pages per page.

For a landscape-orientated display print the banners 2-4 pages per page.
To create jellyfish and cut out decorations the same size as our example, print the relevant pages at full size.
---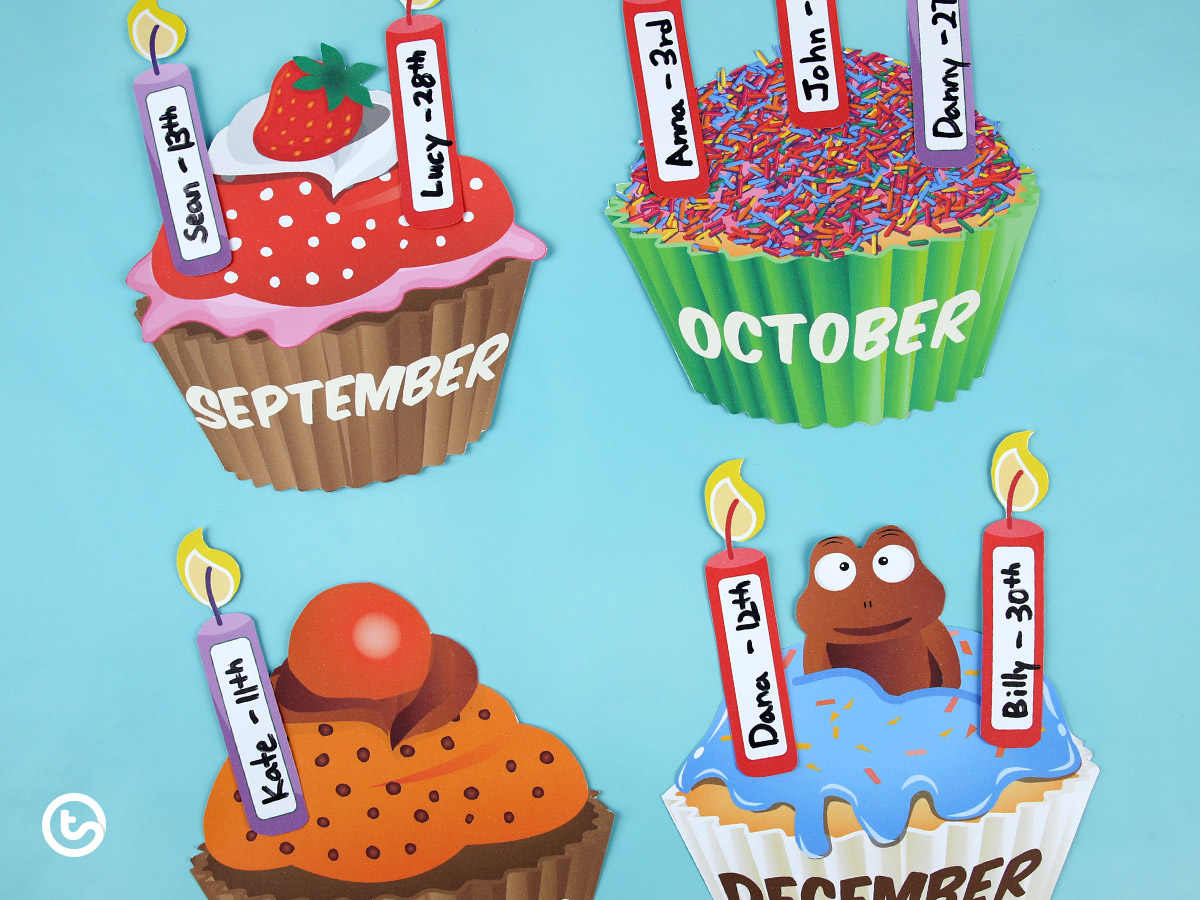 This tasty printable cupcake birthday display is one of the most popular in our collection of birthday-themed teacher resources! To create a cupcake birthday bulletin display you'll need:
a blank wall or bulletin board

colored wrapping paper to make a background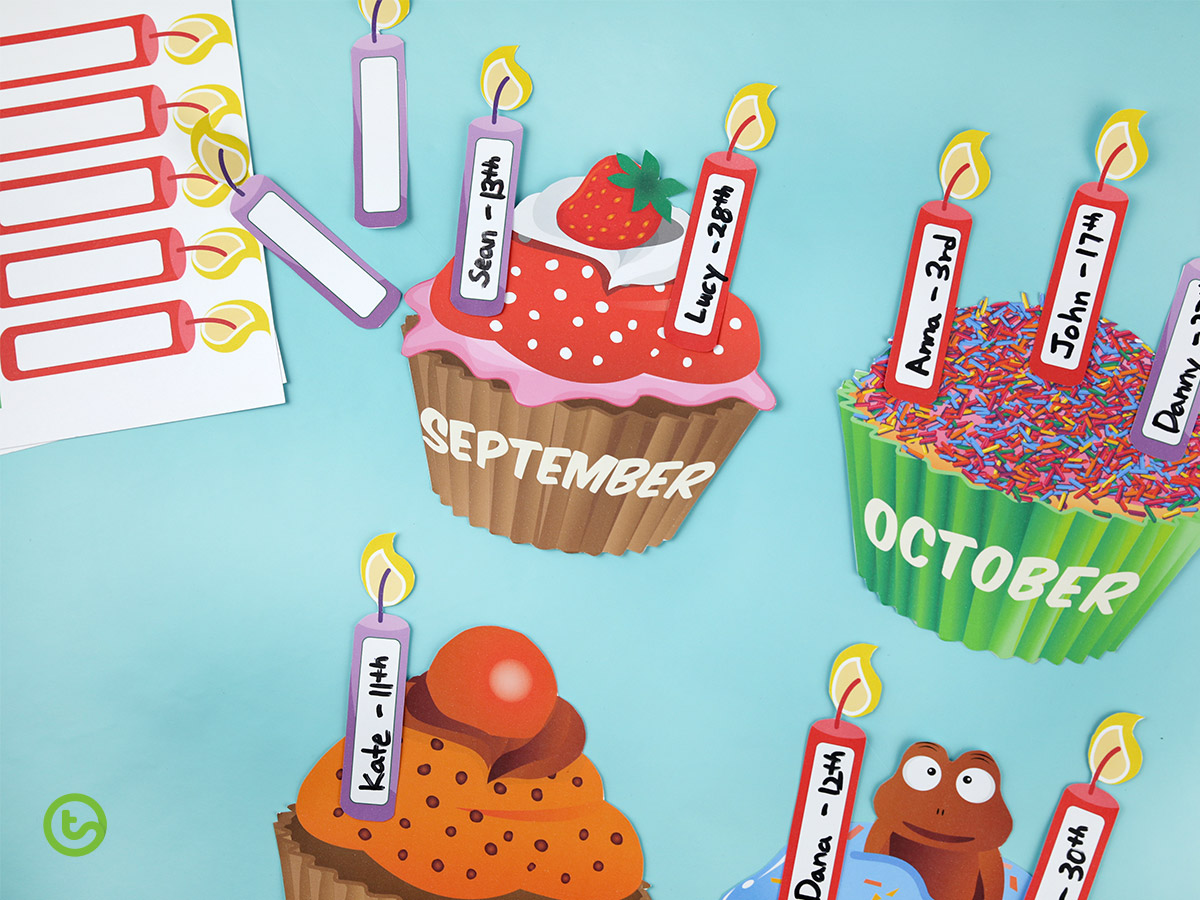 Printing Tips
This downloadable Cupcakes Birthday Display prints one cupcake per page. When the candle pages are printed at full size they are the correct proportions for the cupcakes.
To make a smaller cupcake birthday wall, reduce both the cupcake pages and the candle pages by the same size.
.
---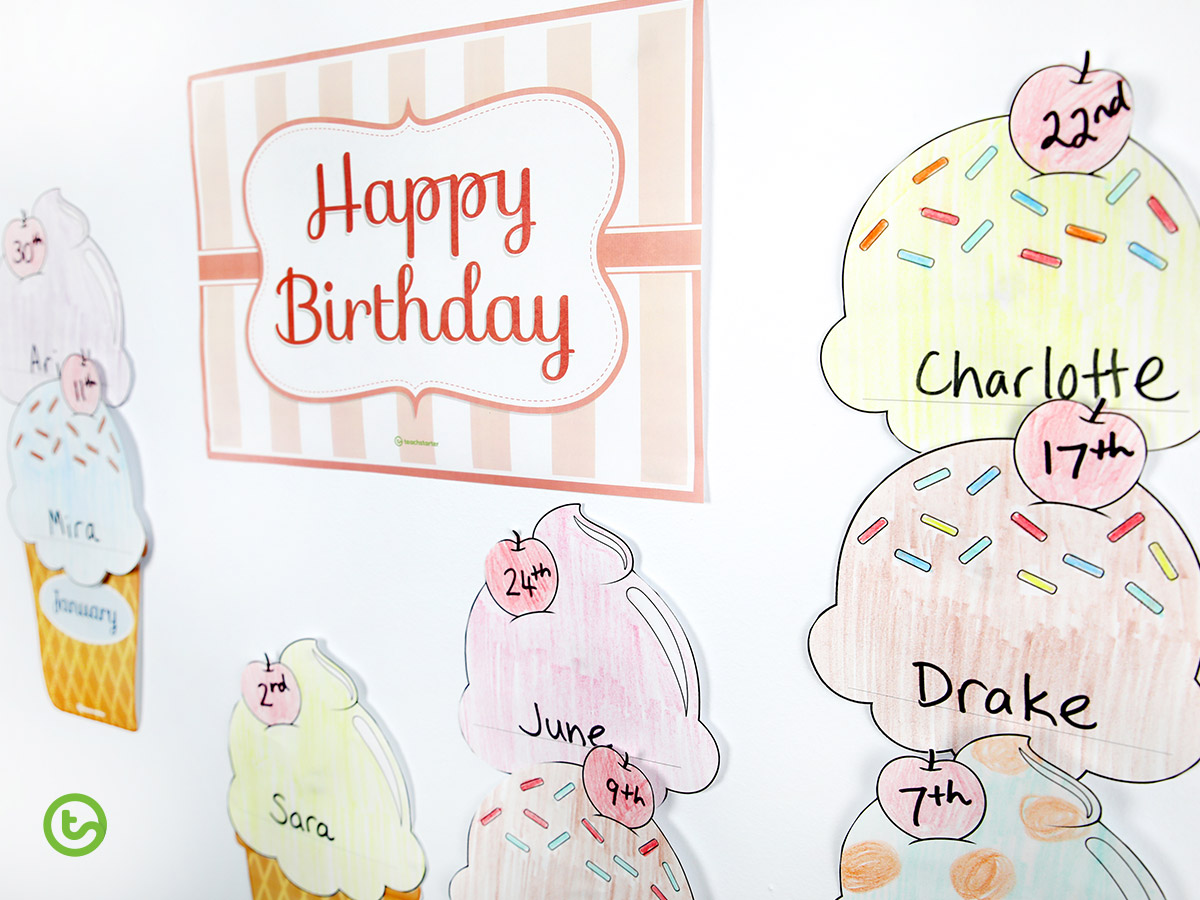 We all love a good birthday cupcake display, however, this sweet ice cream birthday wall idea takes celebratory dessert displays to the next level!
Every month of the year is printed out on a waffle ice cream cone, while students each get a blank ice cream scoop on which they can write their name, write the date of their birthday (we love putting these in the cherries!), and then decorate however they'd like to.
To create this ice cream themed birthday wall we used:
That's it! The only thing you need for this display is some space on a bulletin board or wall, a pair of scissors, some mounting putty, and this one, printable file!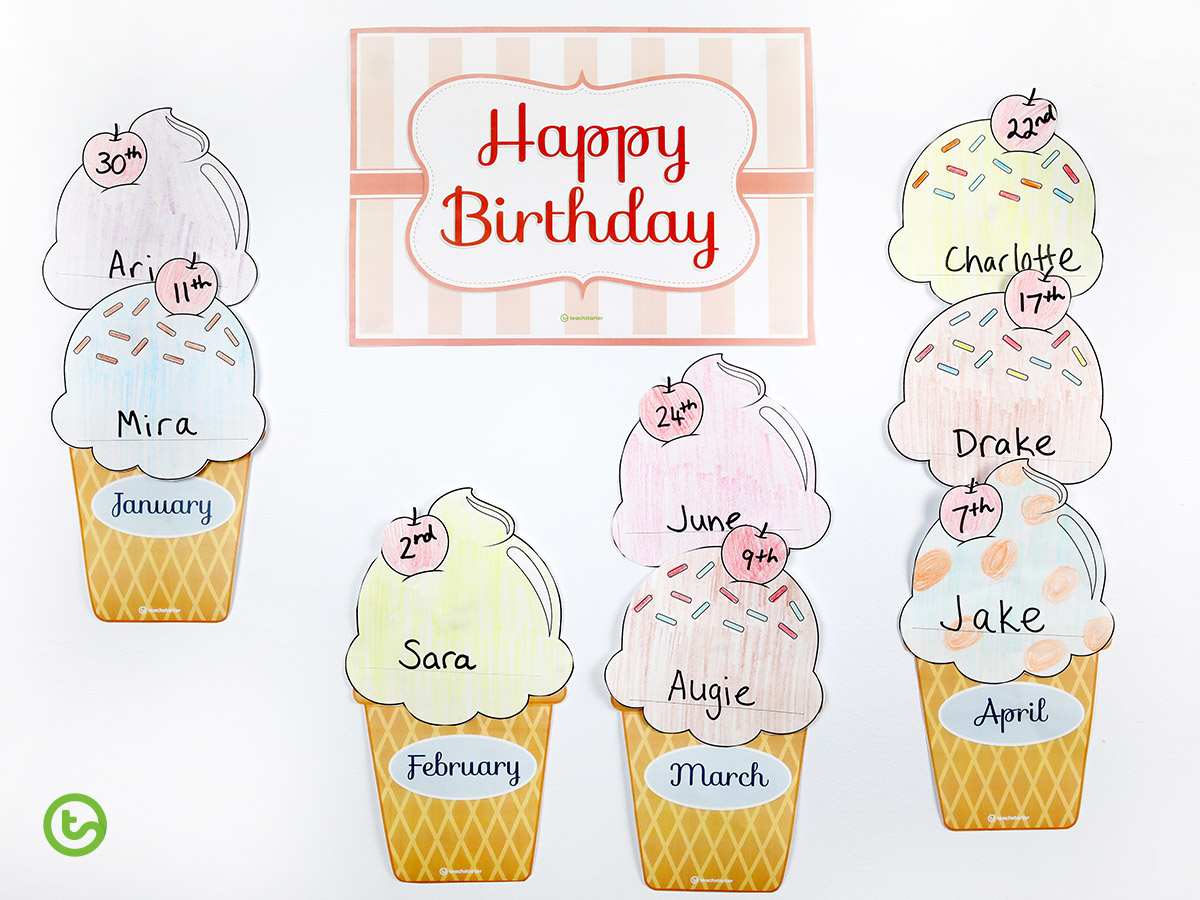 Printing Tip
To create this sample display we printed all pages of the Ice Cream Birthday Display Template at full size. If you'd like to create a smaller display, make sure you print both the cones and the scoops at the same reduced size so the proportions remain the same!
---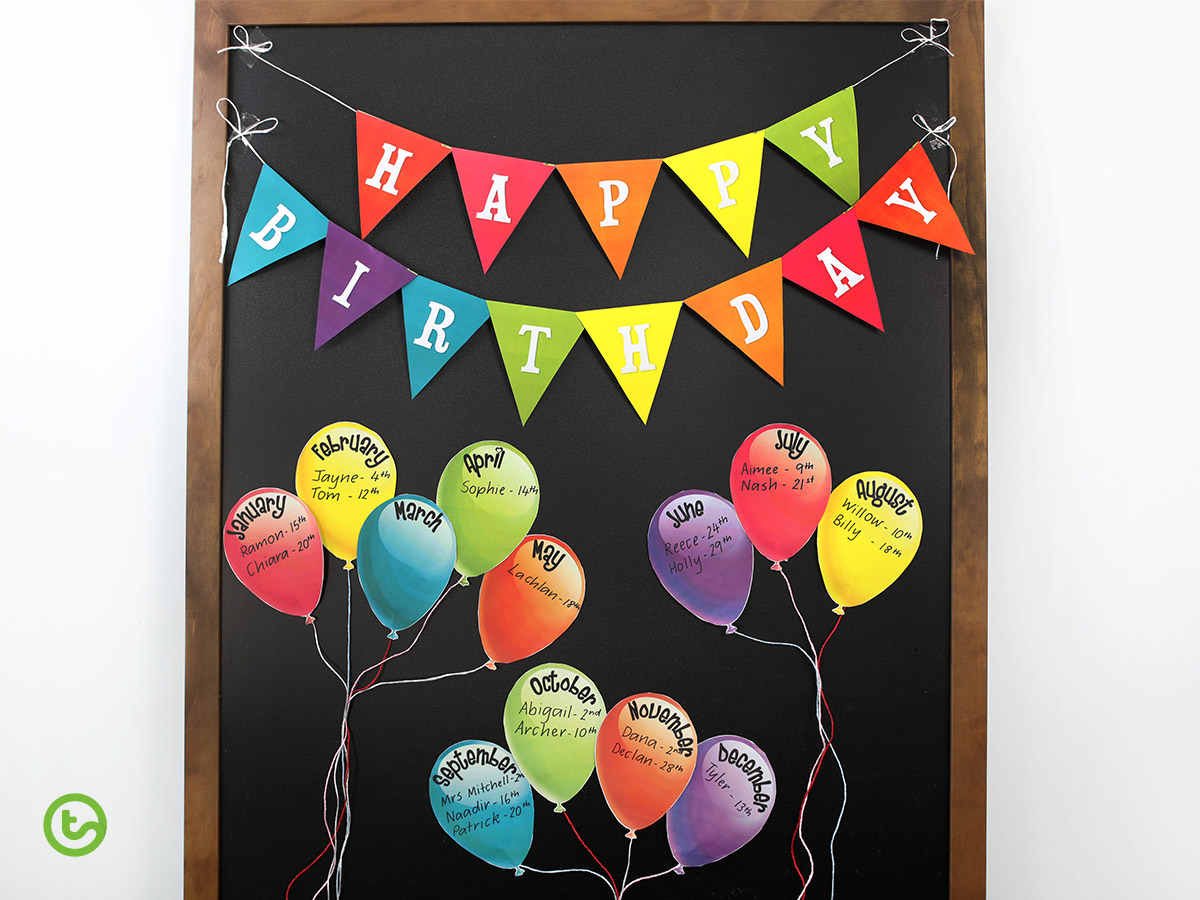 Hands up if you love rainbows!? Well, this super easy

classroom birthday wall idea

is for you! Sticking with an obvious birthday theme, this printable Balloon Birthday Chart is another fun classroom display.

To create this birthday bulletin board we used:

A black display board (though you could use large sheets of black chart paper)

Different colored string
Printing Tips
To create this sample display we printed all pages of the Balloon Birthday Template and the Rainbow Happy Birthday Pennant Banner two pages per page.
If you'd like to create a larger, landscape-orientated display you may like to try printing the balloons at full size and hanging the banner across one string.
To create a smaller display, make sure you print both the balloons at a reduced size so the proportions don't seem too out of whack.
---
If you love a good pop of color in your classroom but the idea of cutting a series of decorations for a new display isn't your idea of a good time, then a beautifully designed Birthday Chart is for you!
Browse the Birthdays collection to find the chart design that you like the best.
Enlarge the chart to a larger size and laminate it.
Use a dry-erase marker to write in your students' and your own birthday dates for the year.
Wipe clean at the end of the year and re-use!

---
Other Ways to Celebrate Student Birthdays
Lightbox Birthday Display
Not sure you want to take up a whole wall with birthday to make things a little more special for the birthday child with their own special birthday wish? 
Pull that lightbox out of the closet & use a happy birthday insert to light up your student's face with a smile!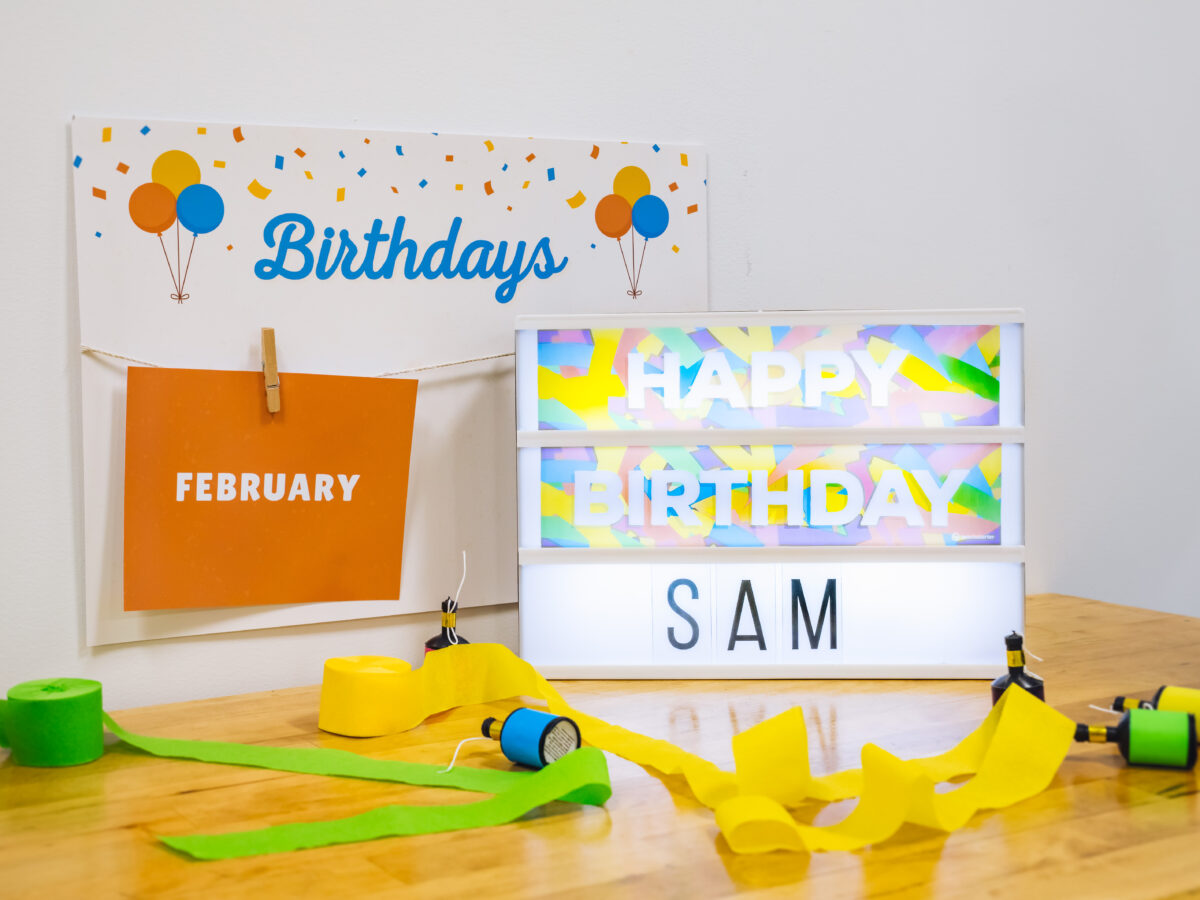 Birthday Certificates
You can also print out a birthday certificate to show your best birthday wishes for each student. This is a perfect way to ensure they have something to bring home to commemorate the day!  
Have you used a Teach Starter birthday display idea in your classroom?
Share on social media @teachstarter_us. We would love to see it!