Are you taking the time to add birthday celebrations this term? Setting up a creative birthday classroom dispaly doesn't need to take hours. We know that at the beginning of the school year teachers spend a lot of time preparing their classrooms, and that classroom birthday wall can feel like just another thing on your long list of chores.
Don't worry! The teacher team at Teach Starter spent time creating some amazing birthday display ideas to save you time and to make your students' special days extra special this school year. Feel free to borrow any of our easy classroom wall ideas to make the back-to-school season a little less hectic!
Awesome Birthday Classroom Display Ideas
Setting up a classroom display for birthdays has heaps of benefits that you may not be thinking of right now. Obviously, we know these are great ways for students to feel like they are celebrated in your classroom, and that goes a long way when you're building those important teacher-student relationships. Students want to feel treasured, and seeing their birthday listed on the wall beside their mates' lets them know you see them.
From a slightly more selfish point of view, a birthday display is one you can set up at the beginning of term and keep for the rest of the year — what a relief!
Our teacher team has created all these display ideas with a few things in mind — we wanted them to work for different year levels (great if you have to move class in the future or have a composite class). We also wanted to create ideas that you could enlist students' help with to save you time.
Teach Starter Teacher Tip: Need printables for your birthday wall? Just click on the little blue links on the words to download!
Oh, and if creating full birthday displays is a little too time-consuming for you, then scroll to the bottom of this post … we've got you covered with some ready-to-print birthday charts, birthday certificates, and unique ways to celebrate your students in the classroom!
Cupcake Birthday Display Idea
This supremely cute printable cupcake birthday display is one of the most popular in our collection of birthday-themed teacher resources! Like all the birthday board ideas we'll be sharing, this fun birthday display is easy to create and can be reused year after year.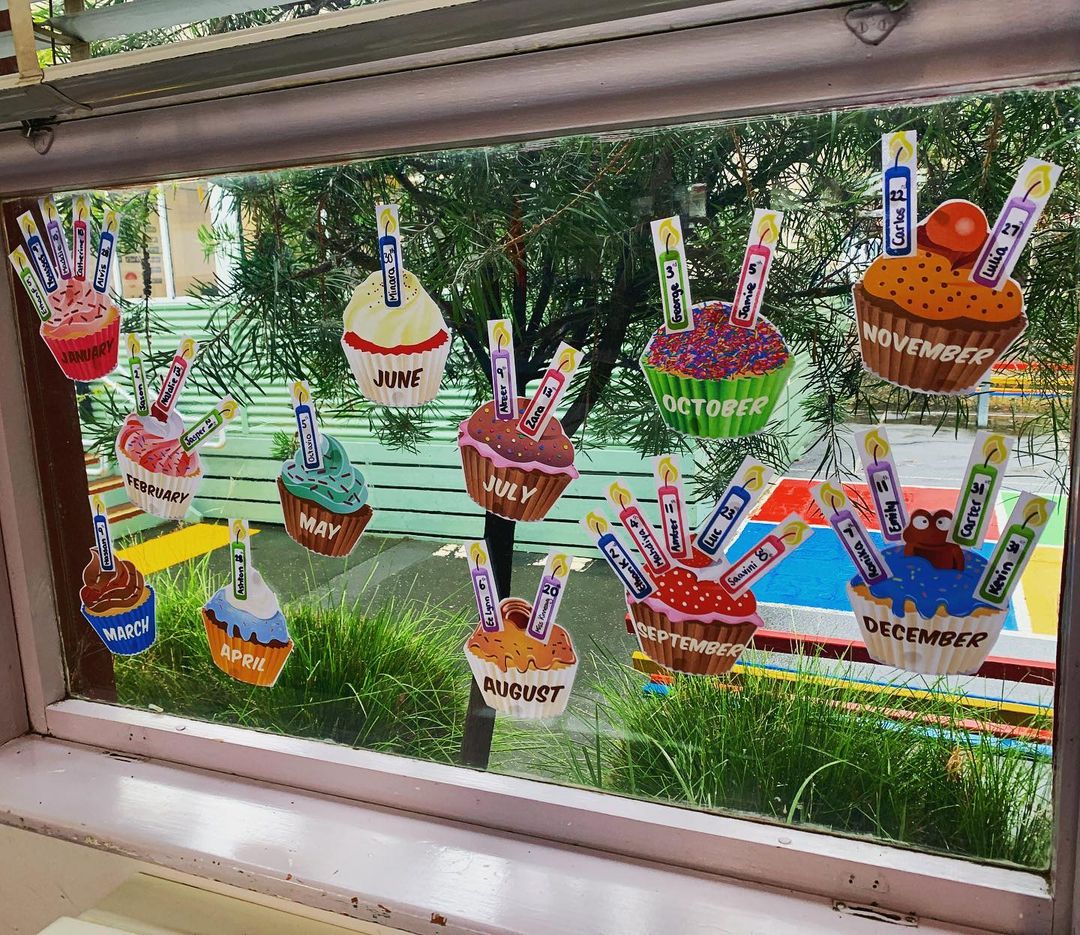 Thanks to year 3 teacher Hayley Grace for this cupcake display photo from her classroom! 
Supplies:
A blank wall or display board
Coloured wrapping paper to make a background
Printing Tips
This downloadable Cupcakes Birthday Display prints one cupcake per A4 page. When the candle pages are printed at full size, they are the correct proportions for the cupcakes.
To make a smaller cupcake birthday wall, reduce both the cupcake pages and the candle pages by the same size.
The candles in this resource are editable, and you may like to hand them out to students so they can fill in their name and birthdate.
You may also like this cupcake birthday chart idea!
Under the Sea-Themed Birthday Wall
This Under the Sea-themed birthday wall idea is super fun! A twist on the teacher-favourite Sea Jelly Classroom Display, each month is displayed on the body of a sea jelly and you can attach each of your students' birthdays as a tentacle hanging below.
One of the benefits of this classroom wall idea — you can just remove a tentacle if a student moves, or easily add one if you have a new student in your class!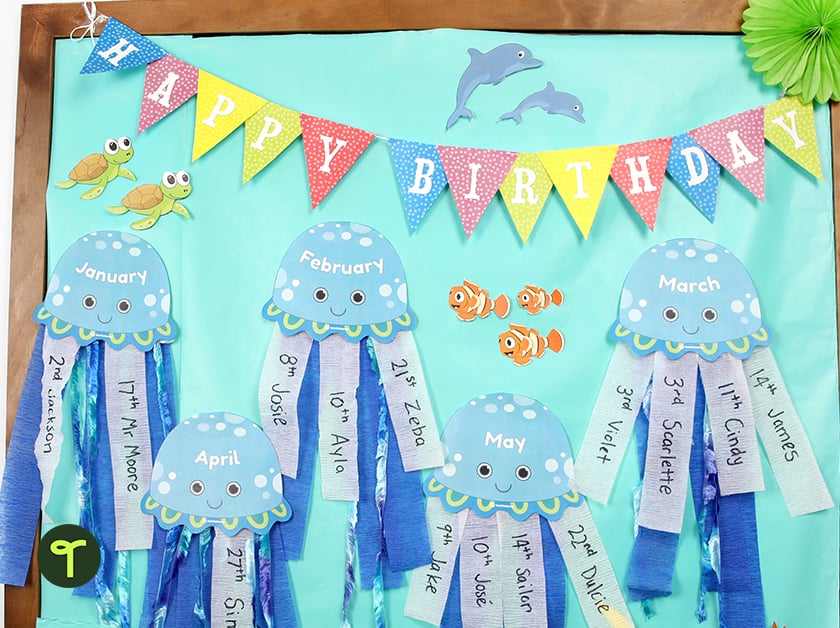 Birthday Wall Supplies:
aqua-coloured wrapping paper
sea jelly birthday display template (which includes sea jellies, a rainbow Happy Birthday bunting, and sea animal cut-out decorations)
white and dark blue crepe paper streamers
a ball of fancy wool
coloured cardboard to create the coral
yellow and green party decorations.
Printing Tips
The printable Sea Jelly Birthday Display template includes bunting flags that are sized one per A4 page. Depending on the size of your board, you may need to print the bunting at a different size.
To create this portrait-orientated Under the Sea birthday display, we printed the bunting flags 6 pages per A4 page.
For a landscape-orientated display you may like to try printing the bunting flags 2-4 pages per A4 page.
To create sea jellies and cut out decorations the same size as our example, print the relevant pages at full size.
Ice Cream Birthday Wall
We all love a good birthday cupcake display, however, this sweet ice cream birthday wall idea takes celebratory dessert displays to the next level! Best of all, it's a classroom display that you can get students' help with during the first days of school.
Every month of the year is printed out on a wafer cup, while students each get a blank ice cream scoop on which they can write their name, write the date of their birthday (we love putting these in the cherries!) and then decorate however they'd like to.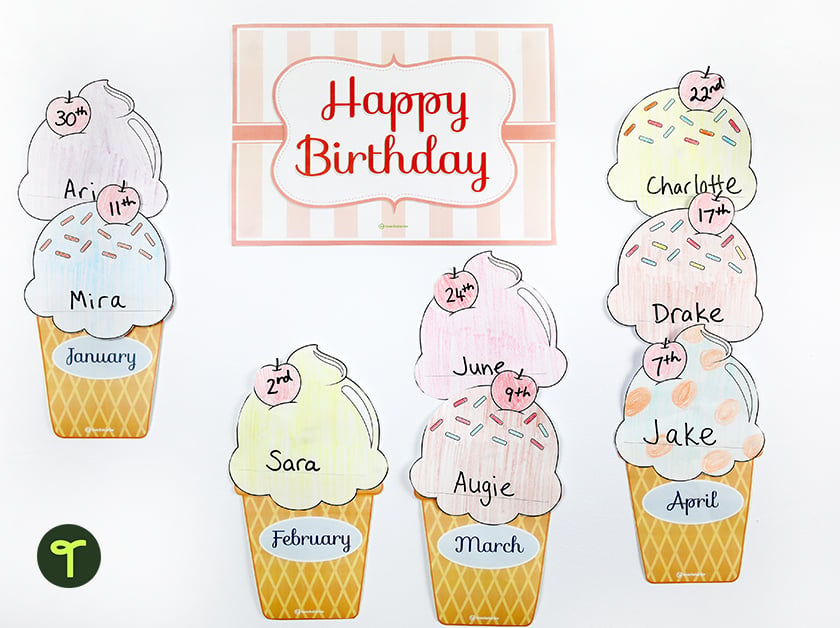 To create this ice cream-themed birthday wall we used:
That's it! The only thing you need for this display is some space on a display board or wall, a pair of scissors, some sticky tac and this one printable file!
Printing Tips
To create this sample display we printed all pages of the Ice Cream Birthday Display Template at full size. If you'd like to create a smaller display, make sure you print both the cups and the scoops at the same reduced size so the proportions remain the same!
Rainbow Balloons Birthday Wall Idea
Hands up if you love rainbows!? Well, this super easy classroom birthday wall idea is for you! Sticking with an obvious birthday theme, this printable Balloon Birthday Chart is another fun classroom display.
To create this birthday display board we used:
A black display board (though you could use large sheets of black card)
Different coloured string

Printing Tips
To create this sample display we printed all pages of the Balloon Birthday Template and the Rainbow Happy Birthday Bunting two pages per A4 page.
If you'd like to create a larger, landscape-orientated display you may like to try printing the balloons at full size and hanging the bunting across one string.
To create a smaller display, make sure you print both balloons at a reduced size so the proportions don't seem too out of whack.
Love the birthday balloons, but don't have room for a full wall? Print a simple balloon birthday chart!
Printable Birthday Charts
If you love a good pop of colour in your classroom but the idea of cutting a series of decorations for a new display isn't your idea of a good time, then a simple birthday chart is for you!
Browse the Birthdays collection to find the chart design that you like the best.
Enlarge the chart to A3 size and laminate it.
Use a whiteboard marker to write in your students' birthday dates for the year.
Wipe clean at the end of the year and reuse!
Here are some of our favourite birthday charts:
[resource:4372775][resource:3842798][resource:3351598][resource:3217826]
[resource:3171722][resource:3153234][resource:2223074][resource:2071418]
Teach Starter Teacher Tip: If you are sharing your classroom set-up on Instagram or TikTok, don't forget to hide student birthdates. Some parents may not like to see that information shared! (And don't forget to tag @teachstarter!)
How Do You Wish a Student Happy Birthday?
The birthday display is something you do at the start of term, but what about the actual birthday? How can you wish a student a happy birthday in a way that they will remember? Here are some of our teacher team's favourite ideas for making the day itself memorable!
Create a Birthday Chair
Whether it's simply decorating a chair with balloons or popping a pillowcase on the back to make it look a bit fancier, giving one special student a birthday chair to sit in on their big day is a big, big hit in a classroom!
Birthday Certificate
Don't have room or time to create a huge classroom birthday board or chart? You can keep things simple and print out a birthday certificate to show your best birthday wishes for each student. This is a perfect way to ensure they have something to bring home to commemorate the day!
Birthday Book Bag
Do you allow students to borrow books from your classroom library? Create a special book bag for the birthday child filled with birthday-themed books that they get to keep for a few days or even a full week! Some of our favourites include:
Ten Rules of the Birthday Wish by Beth Ferry
Happy Birthday, Madame Chapeau by Andrea Beaty
The Backwards Birthday Party by Tom Chapin and John Forster
If You Had Your Birthday Party on the Moon by Joyce Lapin
Give (Small) Birthday Gifts
When you have 20 students or more, gifts can get quite costly, but you don't have to do too much. Year 2 teacher Miss L prints Teach Starter's superhero-themed happy birthday badges to use as pencil toppers for simple birthday gifts that are useful in the classroom!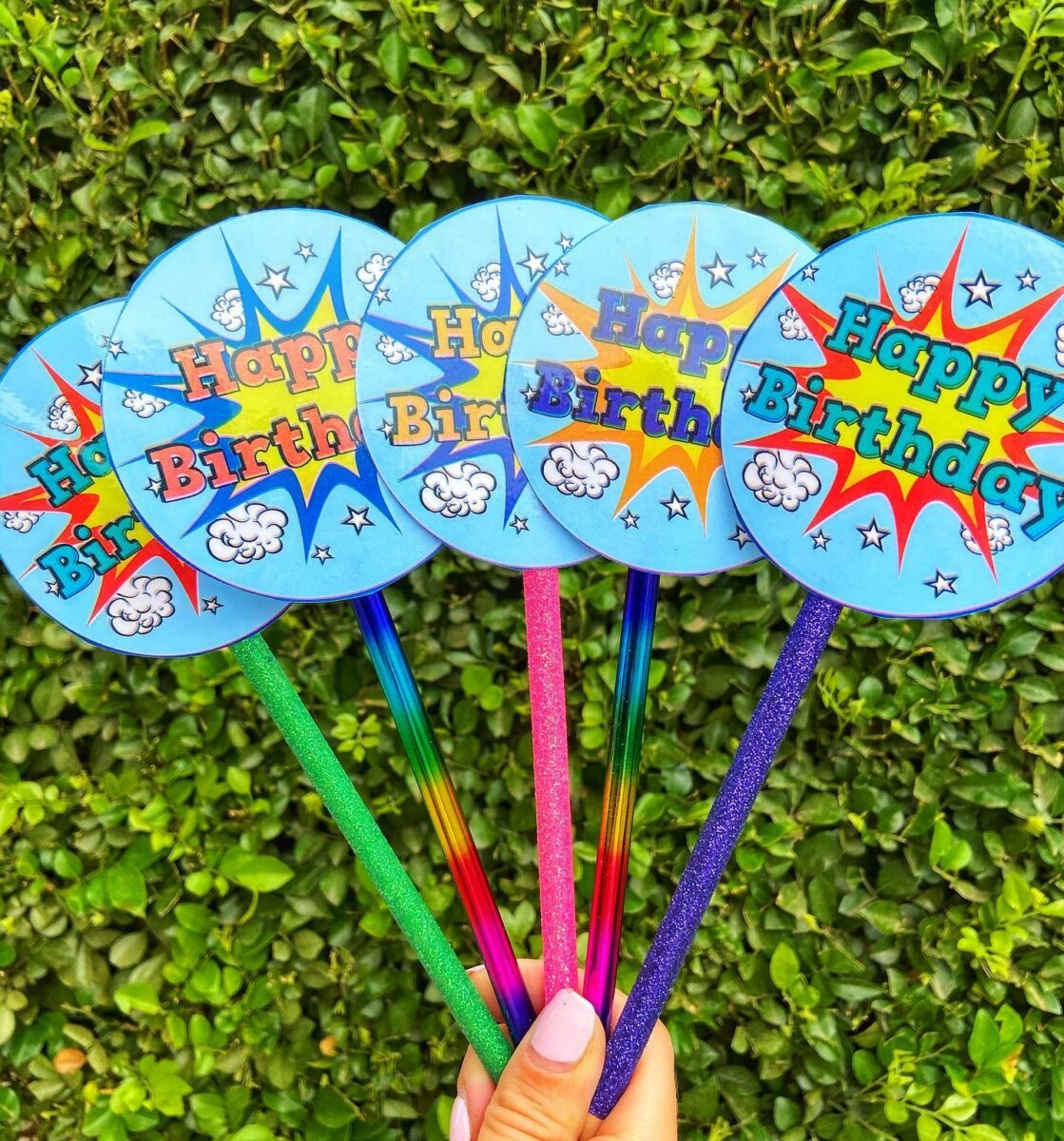 Class Birthday Card
Students will treasure a birthday card filled out by all their mates in the classroom! Print out several copies so you always have one at hand!
Show and Tell
Make a student's birthday special by allowing them to bring something special from home on their big day for their very own show and tell in front of the class!