Are you looking for some fresh new ideas for decorating your classroom this year? It doesn't matter whether you're a veteran teacher or this is your first year teaching, learning new decorating hacks for your classroom that will make your life a whole lot easier is what this blog is about!
The teacher team at Teach Starter has been right where you are, standing in an empty classroom, looking all around those cement walls and wondering where the heck do I even start. So we decided to make your classroom decorating easier this year. We rounded up some of our very favorite decorating hacks for teachers, some of our coolest classroom decorating resources, plus some tips from our entire teacher team's years in the classroom to make back-to-school decorating a lot easier in 2022… and hopefully a lot more fun!
---
Classroom Decorating Ideas for 2022
(1) Free Letter & Number Cutouts
Make your life a whole lot easier with blank number and letter cutouts that you can use on your bulletin boards, classroom doors, and just about everywhere else. Bonus: The templates are free to download now! You can also download full bulletin board displays — letters, pictures and all!
(2) Use Painter's Tape to Help Space Letters
Now that you have your letters, let's talk about hanging them up!
Ever wonder how other teachers always seem to have perfectly straight bulletin board letters with perfect spacing, while yours still looks like a handmade card to Mom with the big birthd and the teeny weeny ay? The trick is painter's tape!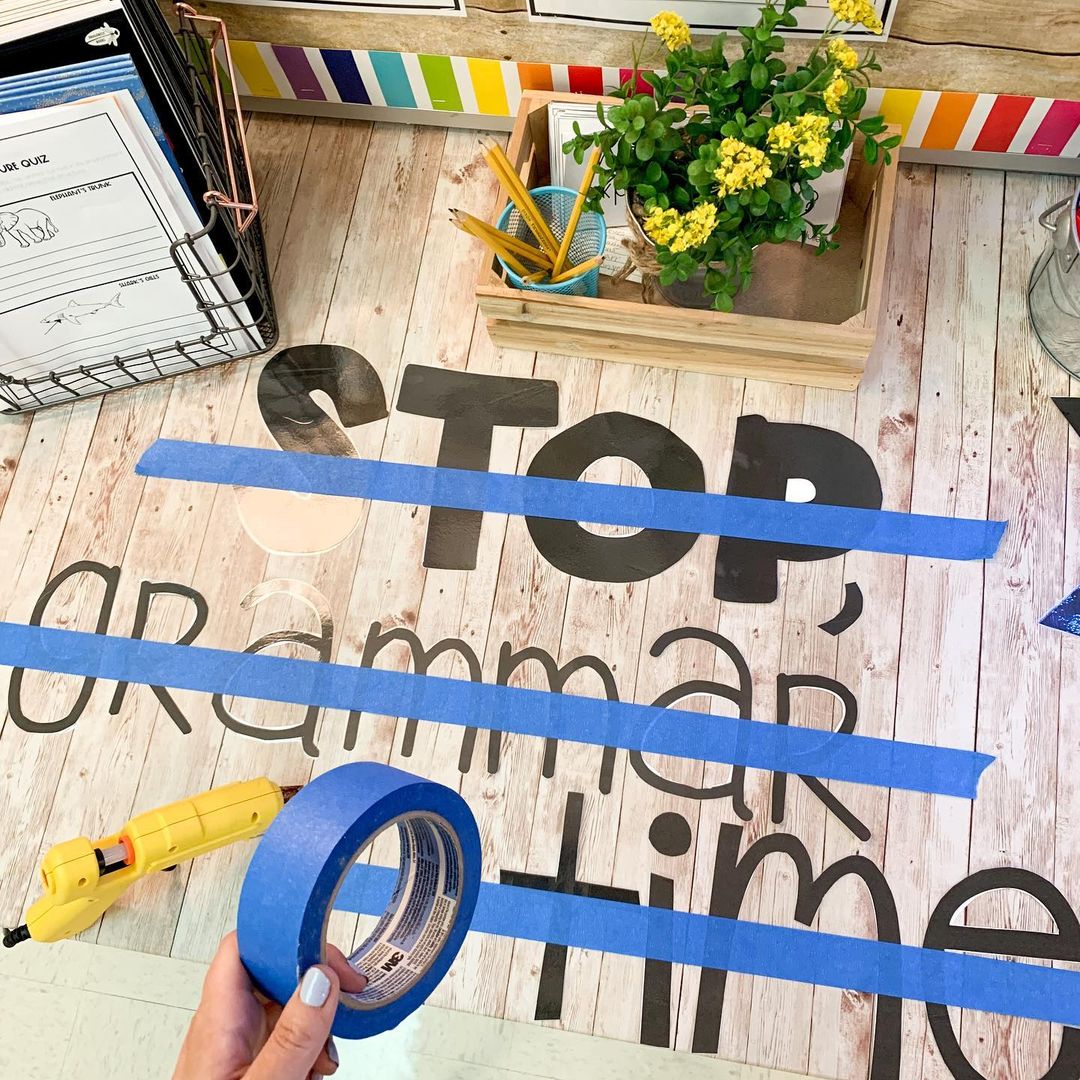 Tennessee third grade teacher McKay of @gradesandgrace demonstrates above, but basically, you lay out your letters on a flat surface the way you want them to look, then run a piece of painter's tape straight across to hold them that way.
Carefully pull the painter's tape away from your surface with the letters still connected, then place on your wall or bulletin board! You can then use mounting putty or tape to stick the letters to the wall before pulling up the tape! Oh, and you can use this trick when removing them too! Just slap a piece of tape across, and they're easy to store! If there's a ton of space (like these letters shown above), line a second piece on the back so the sticky parts touch one another before you store.
---
(3) Use Painter's Tape to Evenly Hang Pictures
While you have the painter's tape handy, we've got another one for you. If you're hanging frames or shelves that require multiple nails, you don't need to call another teacher or your favorite janitor to help you. Just grab your painter's tape, and tape along the back of the item you want to hang. Mark on the painter's tape the spots where you're going to need your nails or screws.
Now head to the wall with a level, tape the tape to the wall, drive in the nail or screw, and voila … perfectly spaced and ready for hanging!
---
(4) Use Painter's Tape to Prevent Wall Cracking
OK, this is the last painter's tape hack, we promise. But it's a good one!
If you're going to be nailing into freshly painted walls and don't want the custodians to groan when you're cleaning out your classroom next summer, grab a tiny piece of painter's tape and place it wherever you're going to add a nail to the wall for hanging. When it's time to take things down next year and pull those nails, the tape will prevent the paint around the nail from cracking, and you can easily fill the hole with a teeny bit of putty … it's like you were never even there!
---
(5) How to Use Tape So Displays Don't Fall Down
If you're rolling the tape to hang your bulletin board letters, we are pleased to inform you… there is a better way! Check out our Instagram reel for a demonstration of how to make sure your letters don't fall off your displays.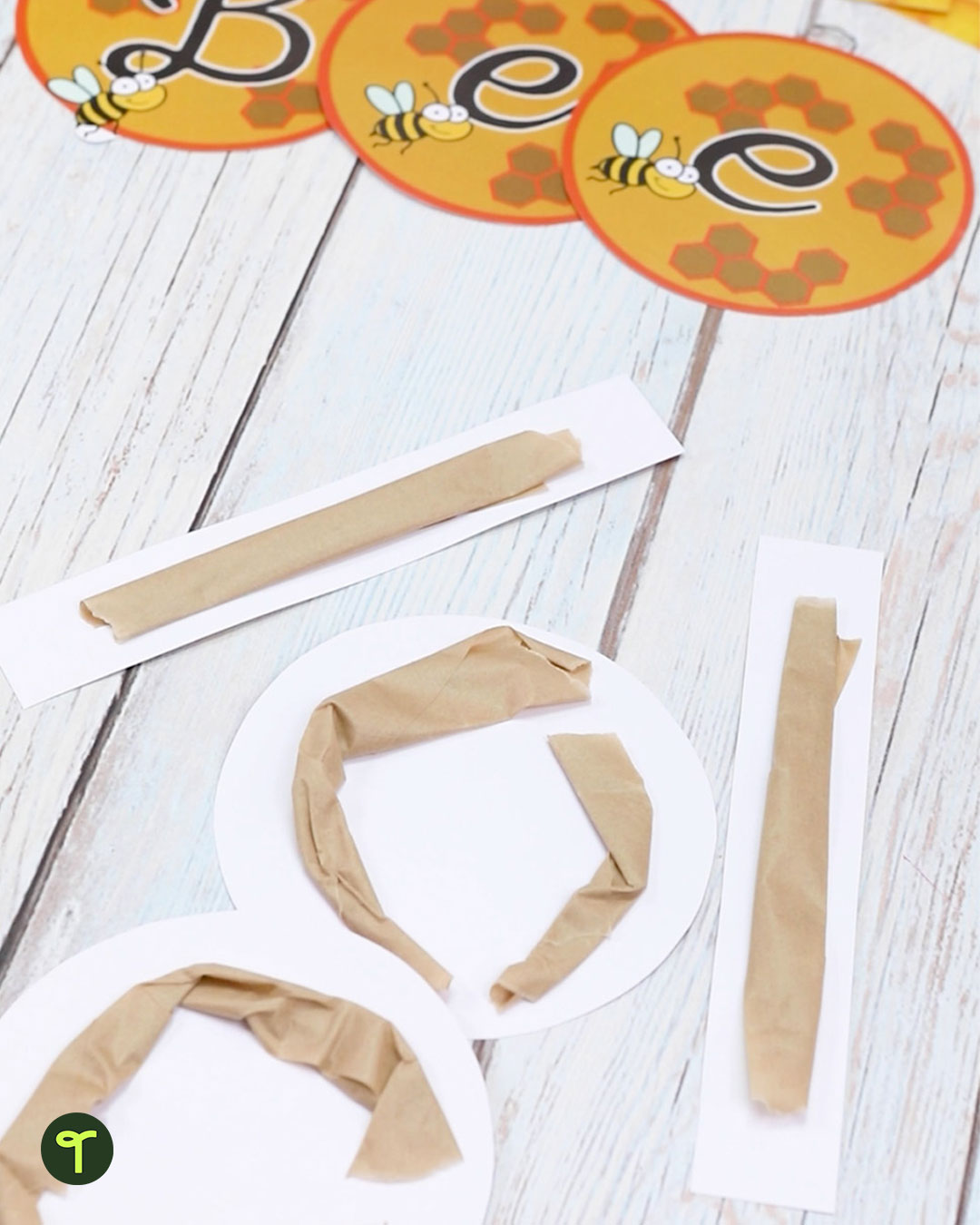 ---
(6) Create a Pencil Dispenser
You've probably grabbed a straw from a dispenser a few thousand times over the years, but have you thought of using one of those dispensers for classroom pencils? Leave it to a fourth-grade teacher to come up with this genius idea to store her trusty Ticonderogas and make it easy for students to access them!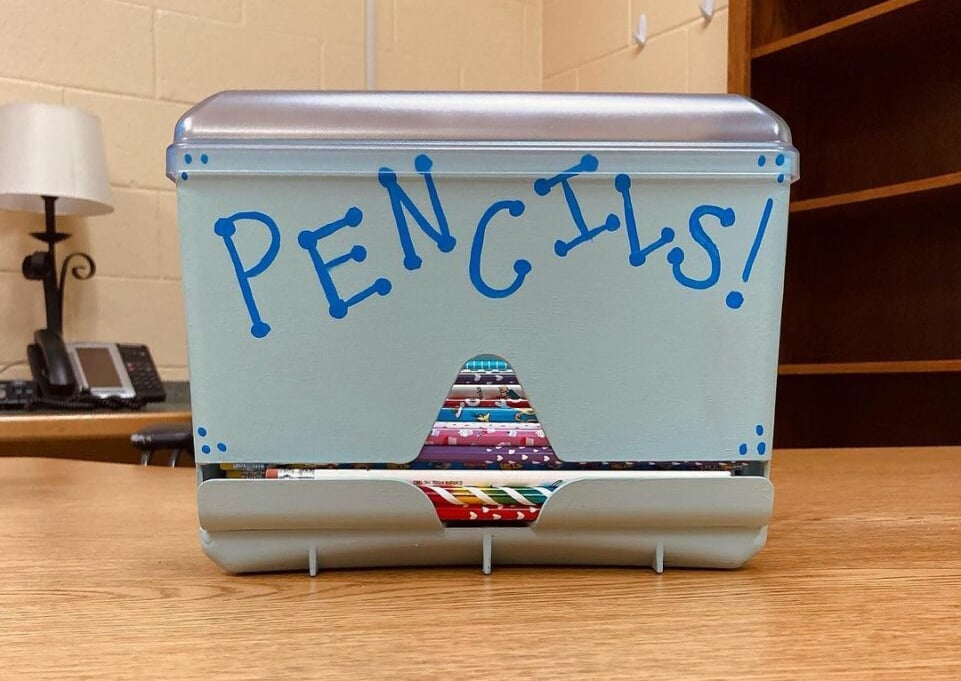 Sarah of @toteachwithcourage shared this fun idea with Teach Starter, and we don't think we'll ever store pencils the old way again. Check your local restaurant supply store for a dispenser, or find one on Amazon. Can't find this kind of straw dispenser? You can also use the type that has a pull-up top — don't worry, it's plastic — after all, straws and pencils are about the same size.
---
(7) Light Up the Room
When the lightbox trend swept Instagram a few years ago, we immediately jumped on board. What's not to love about an easy display system that also brightens up the room? It's been around for a while now, and we have to admit we're still digging it!
Never jumped on board? Now's your chance.
Add a beam of light into the classroom with a light box that can easily be changed out weekly (or more often if you're really feeling the energy) with very little effort. Just print out fresh labels for birthdays, holidays, or just to share an inspirational message, and store the others in your closet to be reused in the future!
(8) Catch Them Up on Work
Make it easy for students to catch up on work if they were absent or had to be out of the classroom by hanging a "catch-up work" mobile.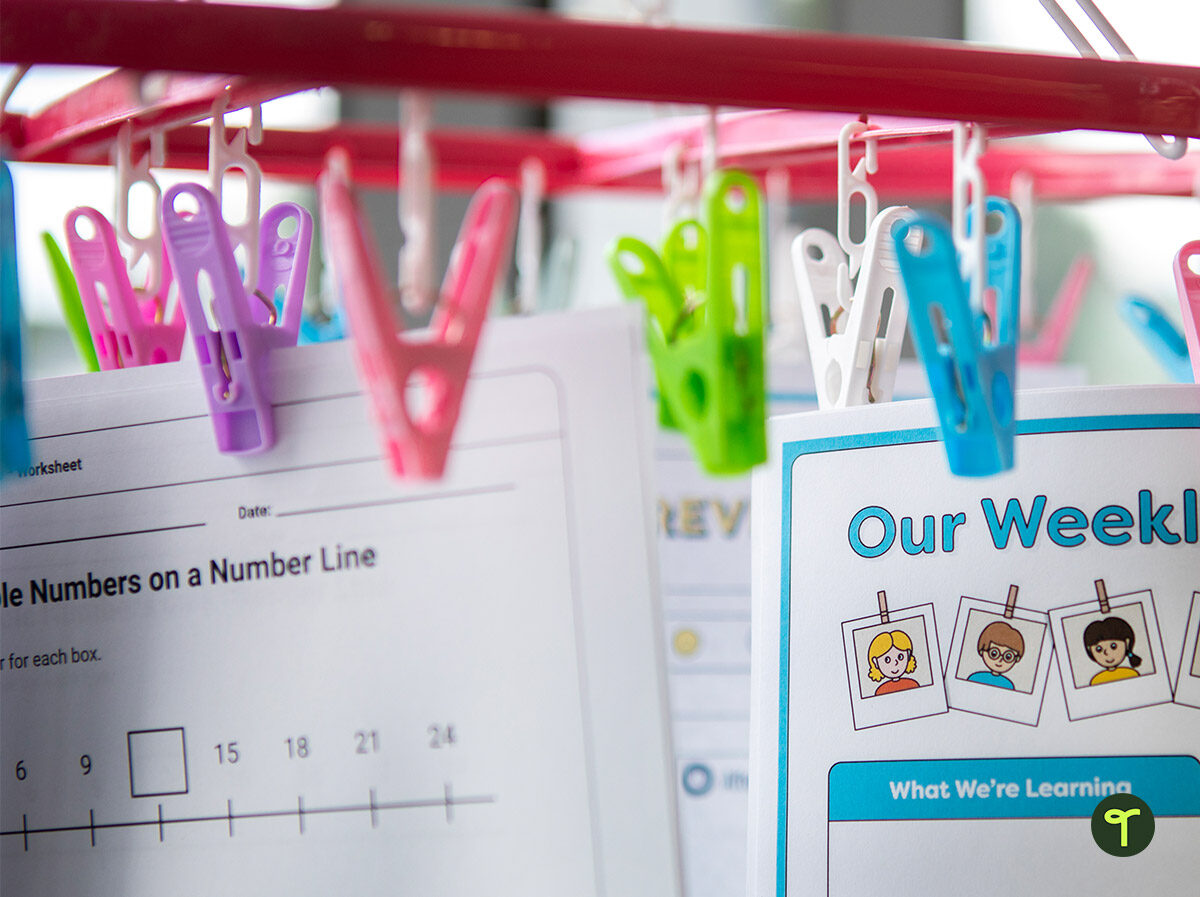 Fast finishers can check the mobile to see if they've got work to catch up on, and you won't be chasing kids down as you're nearing the end of the grading period … or having to hold kids in at recess to catch up on missed work. It's better for you and for the kids!
---
(9) Pack in the Plants
The best way to keep the air fresh and clean in the classroom? Fill it with plants! Bonus: Classroom plants can boost the overall mental well-being of the people around them — that's you and your students!
Find out which plants are the best for teachers … and which ones you'll want to avoid!
---
(10) Create a Pencil Sign Out Station
Students are required to sign out pencils if they've forgotten one, and each pencil is labeled with a reminder to "please return to the teacher".
What happens when the pencils are gone? The sign-out station gets closed down with a sign explaining that people didn't return them! Not only do you keep track of pencils, but your kids learn about the consequences of their actions.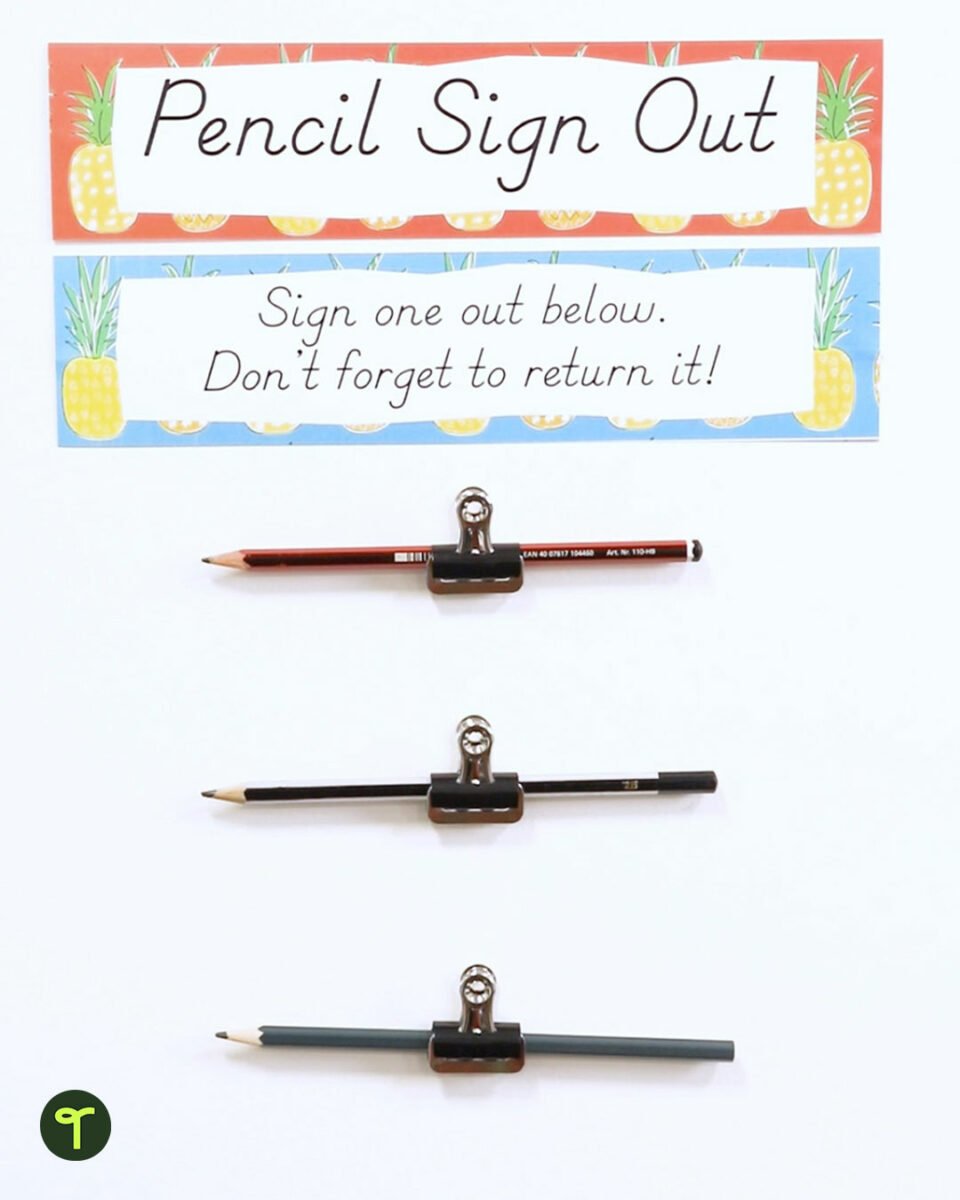 ---
(11) Hang Hand Signs
We love this classroom management trick to prevent students from shouting out in the middle of a lesson. Teach your students a few hand signals so they can quietly let you know they've got to go to the bathroom, have a question, need to fill their water bottle, and so on.
Hang signs featuring the different hand signals and what they mean prominently in your classroom to help them remember!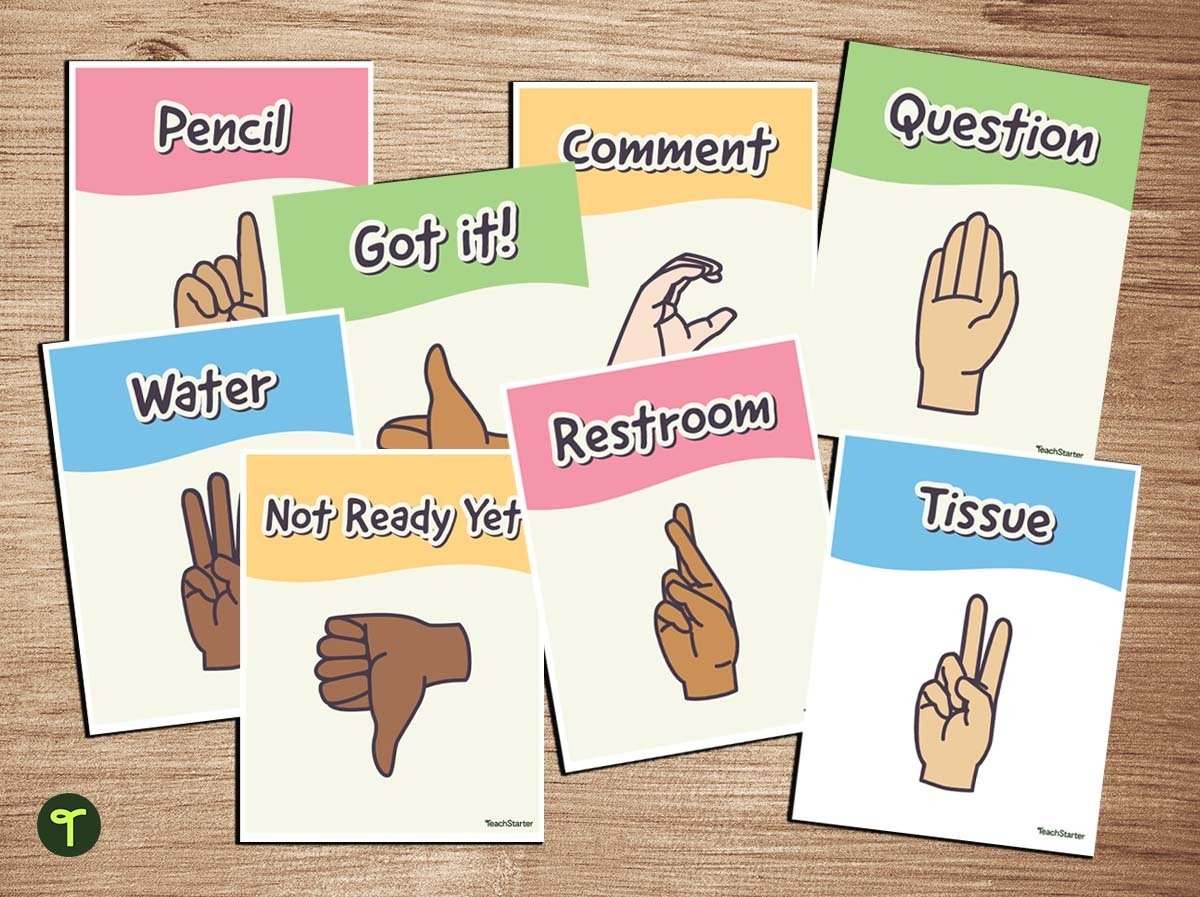 ---
(12) Add ASL to Your Alphabet
While we're on the subject of hand signs, there are countless benefits to teaching American Sign Language in elementary school — among them ensuring that deaf students have classmates who are better able to communicate with them.
To start kids off early with ASL, add the various letter signs to your classroom alphabet display! This way students have a visual reference not just of their capital and lowercase letters but also of all the letters they're learning to finger-spell.
Not sure where to start? You can print out these American Sign Language flashcards and cut them up to post on your wall, or hang these ASL pennant banners all around your whiteboard!
---
(13) Create a Weather Station
Set up a thermometer in a corner of the classroom, and create your own weather station! Teacher Debora Marines of Maryland shared this fun STEM activity and classroom decor idea with us, and we can't wait to set one up. Throughout the year, Marines and her students record the temperature by using a colored dot that matches her chart. They also write down the temperature to practice number formation. At the end of the year, the students have a great visual representation of the weather cycle!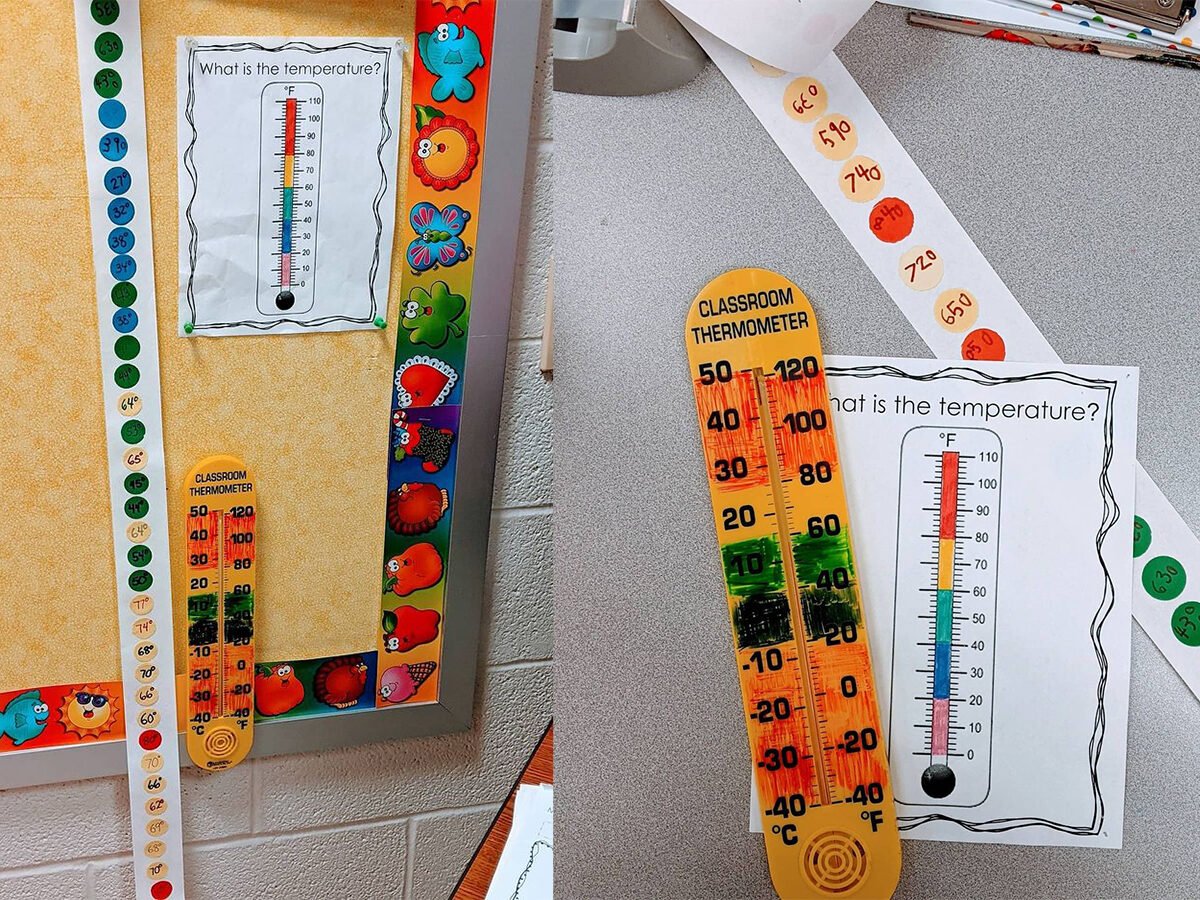 You can also opt for a weather graph activity for the class or hang this thermometer poster to help kids understand how temperature is recorded!
---
(14) Greet Each Day With a Sign
Classroom greetings can set the tone for the rest of the school day. Have some fun — and decorate your doorway with some creative greeting ideas. Students can point to or tap the greeting they want to exchange with you for a fun interaction that will start the day off right.
Print your own greetings display here, or check out this fun rainbow version!
---
(15) Set Up a Chill Out Zone
Social and emotional development is part and parcel of going to school, and with that comes learning to self-regulate your emotions. But that's tough for all of us — especially the little kiddos we see day in and day out. Setting up a chill-out corner or zone in your classroom gives kids a place to go when they just need a place to gather themselves before they return to their regularly scheduled programming.
Get everything you need to set up your own chill out zone here.
---
(16) Pick a Classroom Theme and Stick to It
Let's face it, the fewer decisions you have to make, the faster you can get your classroom decorated and set up, right? So choose one simple theme, and build from there! Our classroom theme booster packs range from penguins to sloths, camp classroom to rainbows, and beyond. Bonus? They have everything you need all in the theme — welcome signs, award certificates, border trimmers, tray labels, class lists… you name it!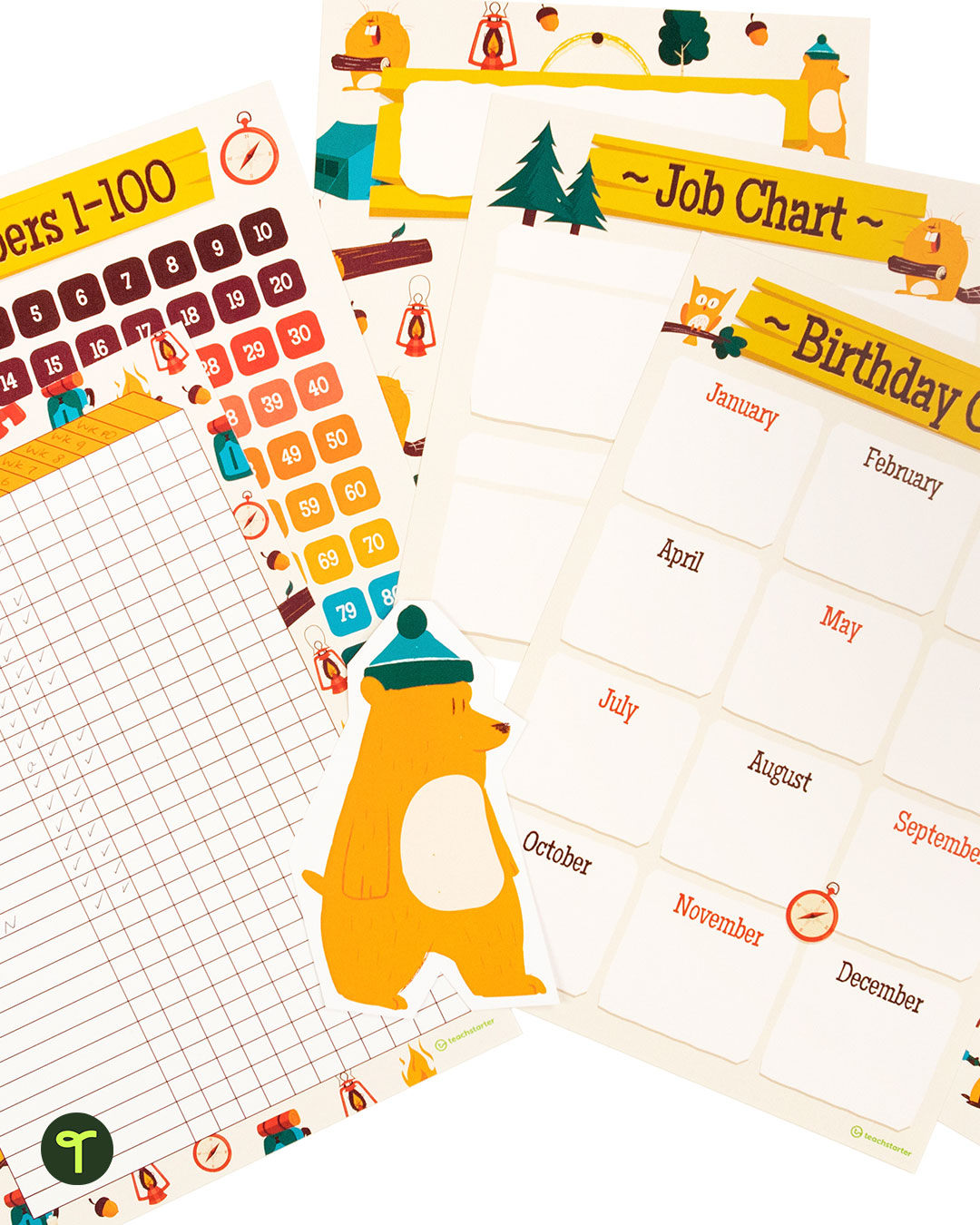 ---
(17) Use Your Clock as Part of Your Decor
Your kids are bound to look at your classroom clock a LOT over the course of the school year, so make good use of that prime piece of real estate.
Teacher Jeanie Culip used hers as the "o" in "you" for this inspiring message, but the sky is really the limit here!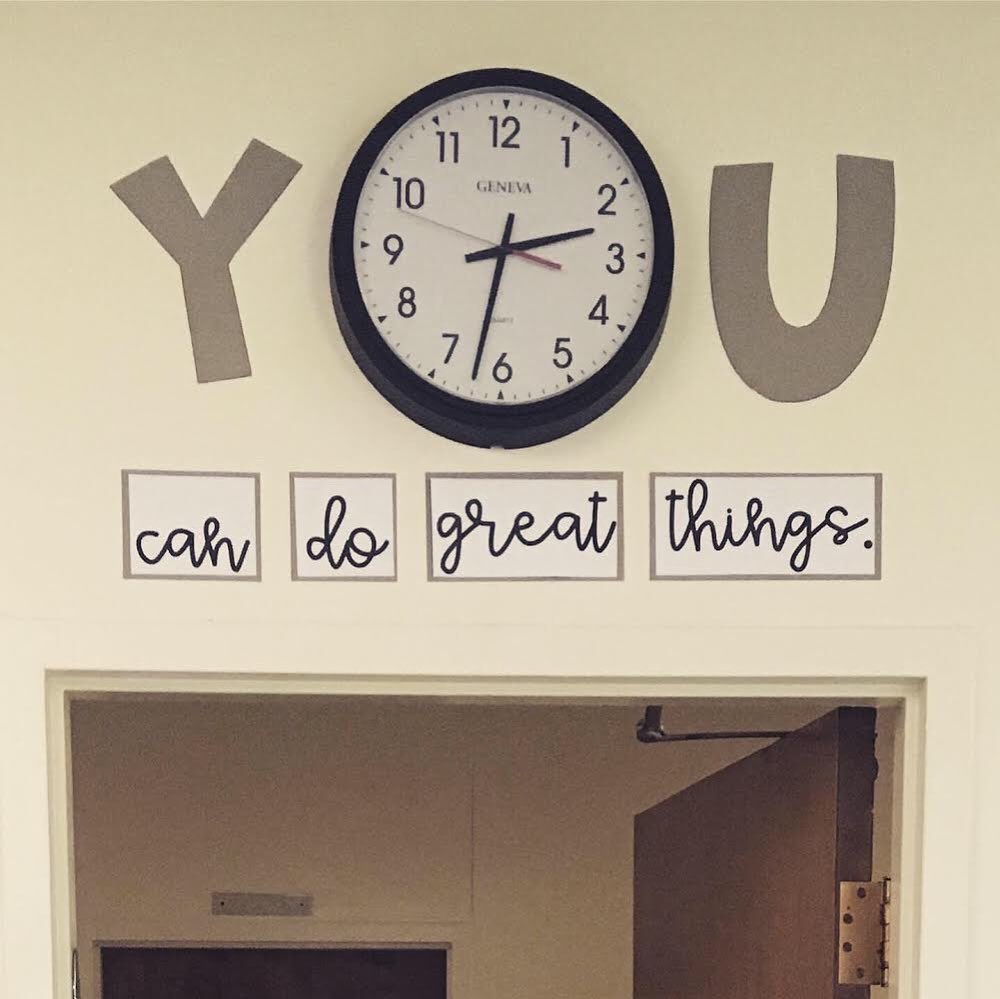 Use it as the "o" in dozens of other words, add flower petals to make it look like a flower (bonus if you add numbers on the petals to help kids translate the analog numbers — we've got the fun template, here), or even add some pom-poms for a flash of color!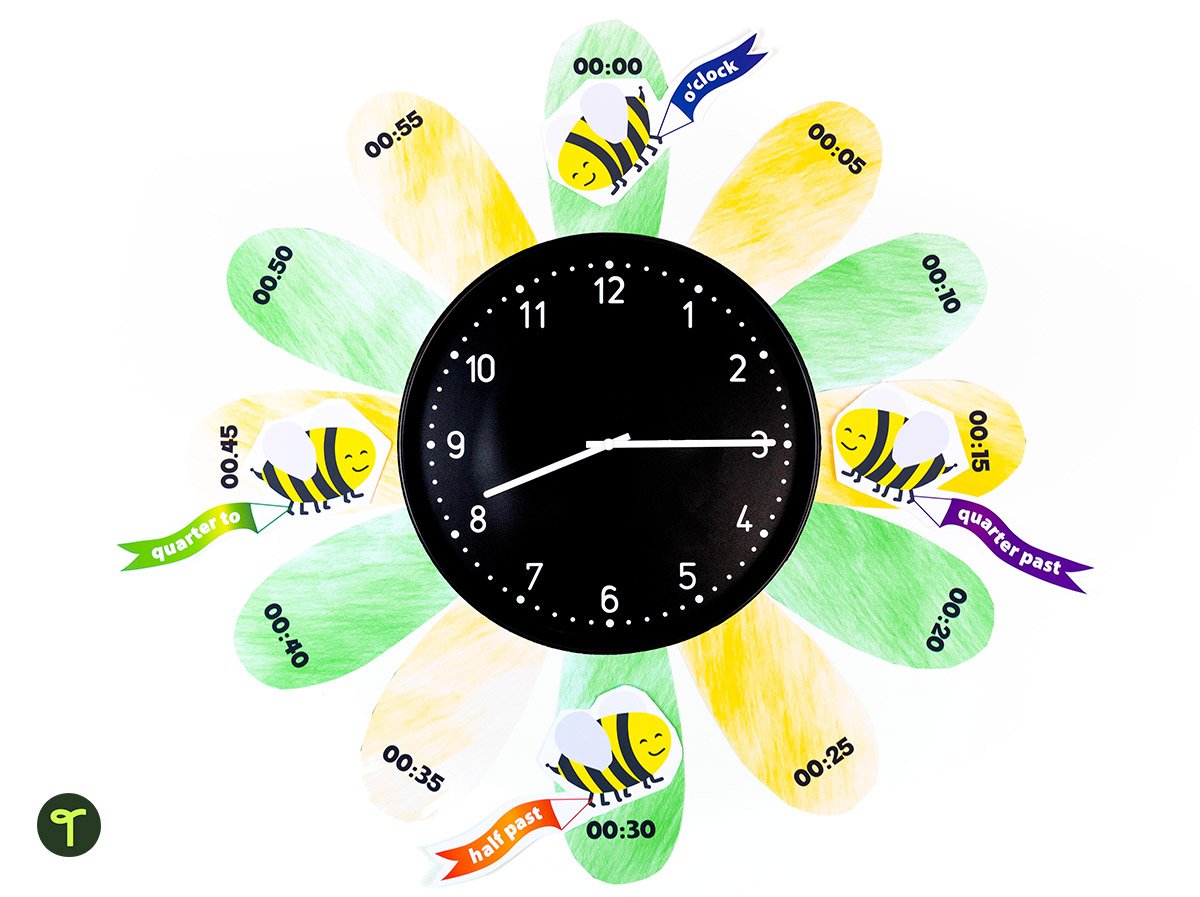 ---
(18) "Grow" Positivity
Many of our belief systems are formed in early childhood, and repetition can help reinforce them — but you want to make sure the things kids believe are positive, don't you? Grow positivity in your classroom with a positivity tree. You can invite your students to gather round the tree once a day and choose one affirmation to read or send students to pick out an appropriate affirmation from the class tree when you catch them being down on themselves.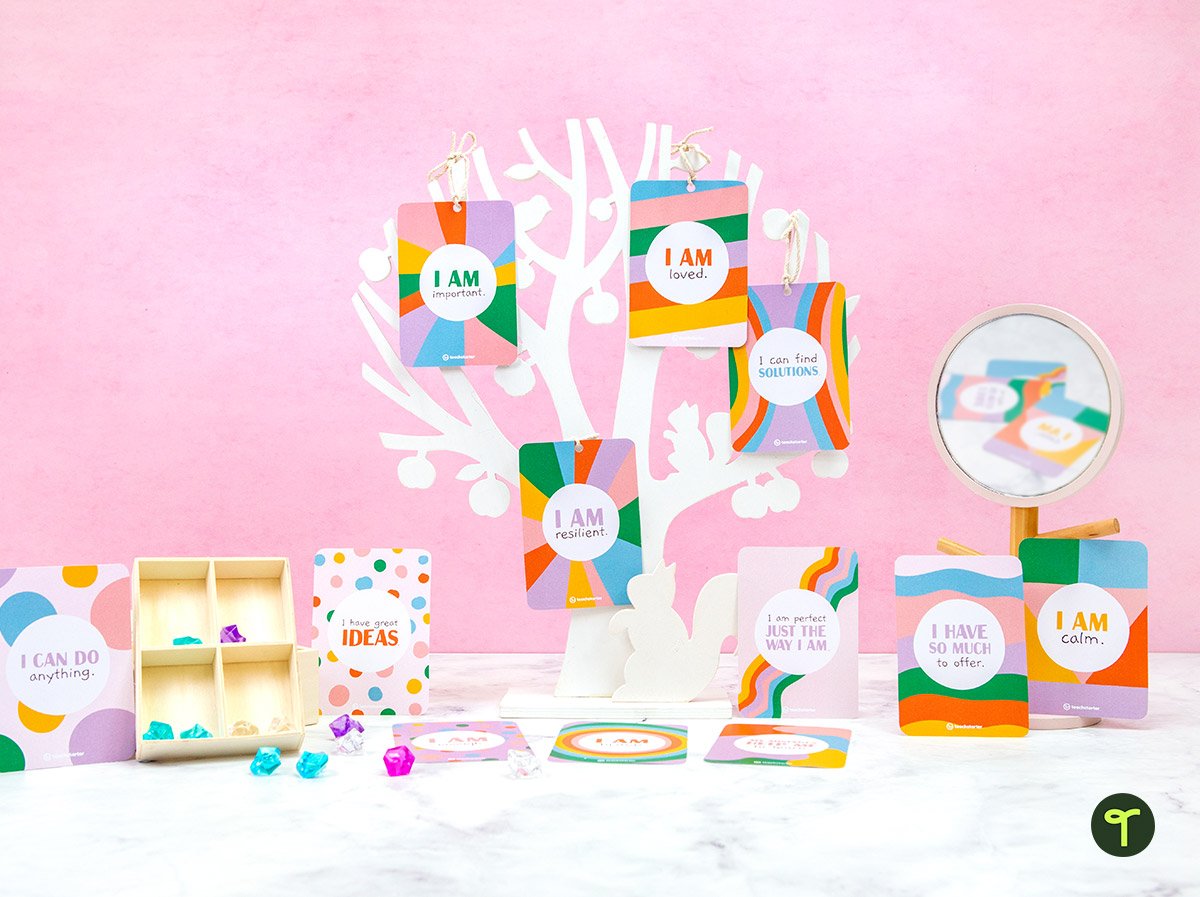 The tree we bought isn't in stock anymore, but we found this fun wood tree with leaves for just $15 at Target! Get the positive affirmation cards here.
---
(19) Add an Affirmation Mirror
Do you have a classroom mirror set up?
If a positivity tree isn't for you — maybe you just don't have the space — try this instead.  Print the positive affirmation cards, and hang them all around your classroom mirror for some positive reminders each time you or your students take a peek at yourselves.
---
(20) Set Up a Kindness Rock Garden
This is a seriously inexpensive idea to promote kindness in the classroom plus add some pops of color when you're decorating your room! Collect rocks, and paint on positive sayings to let your students know they have your full support. B
onus idea: Allow them to collect a rock before big tests, so they have something to hold onto (think a worry stone) and a positive reminder that they have got this! While you're at it, grab this poster to go with your garden!
---
(21) Create a Positivity Walk
Carry along the positivity theme by creating a positivity walk for your students! Hang posters that encourage a growth mindset near where they line up to go to lunch or along the wall outside of your classroom, so they've always got a reminder to look on the bright side of life! You could use some of our positivity posters, our growth mindset pennant banners, and include their names, photos, or an avatar of each of your students to really reinforce that this positivity walk belongs to them!
---
(22) Use Tap Lights for Sound Levels
Add these tap light posters to your tap lights for a great classroom display to highlight voice-level expectations in the classroom.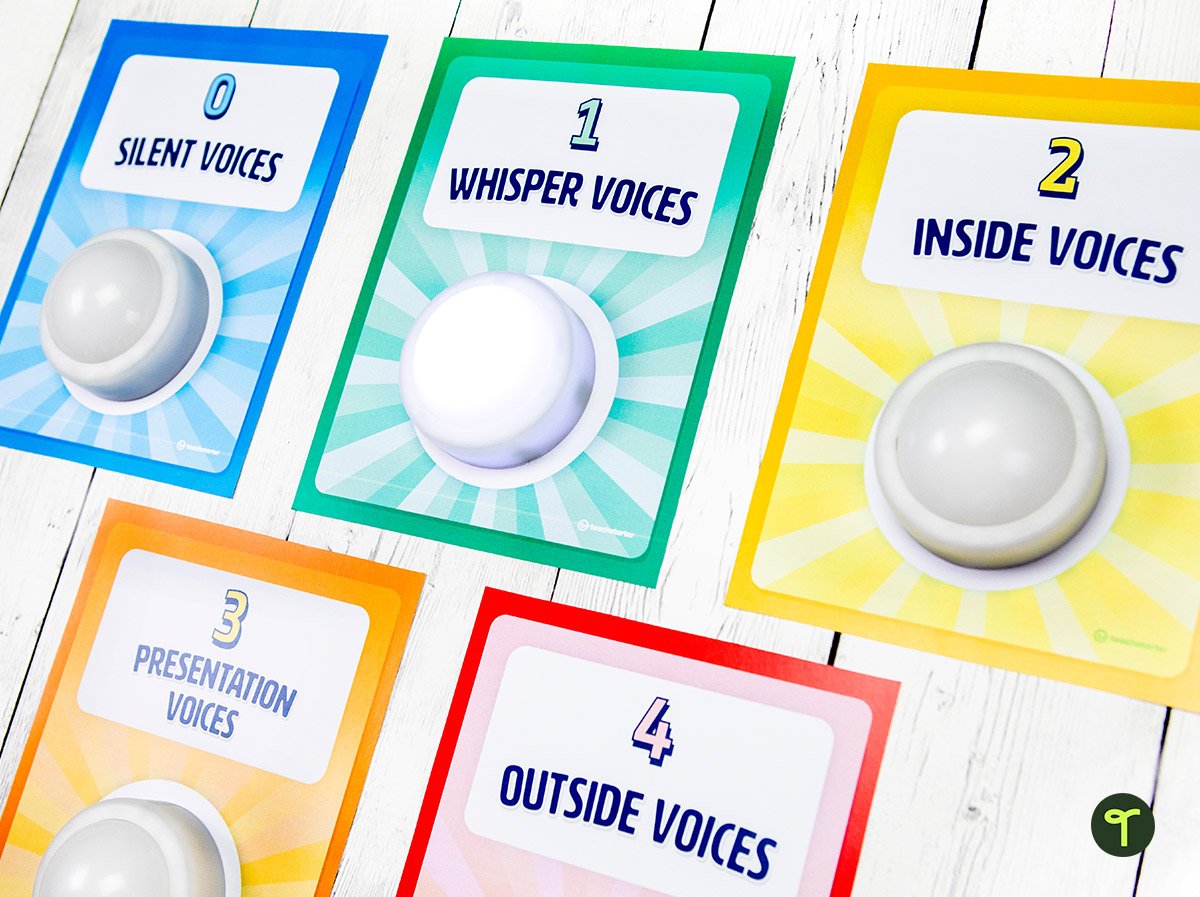 (23) Make a Share Chair
Find a stool or chair at a secondhand store or garage sale (we've also seen some sturdy options at stores like Five Below), and paint on the words "share chair." Use this extra bit of classroom furniture to prepare for a year of students taking turns sharing their work with their classmates!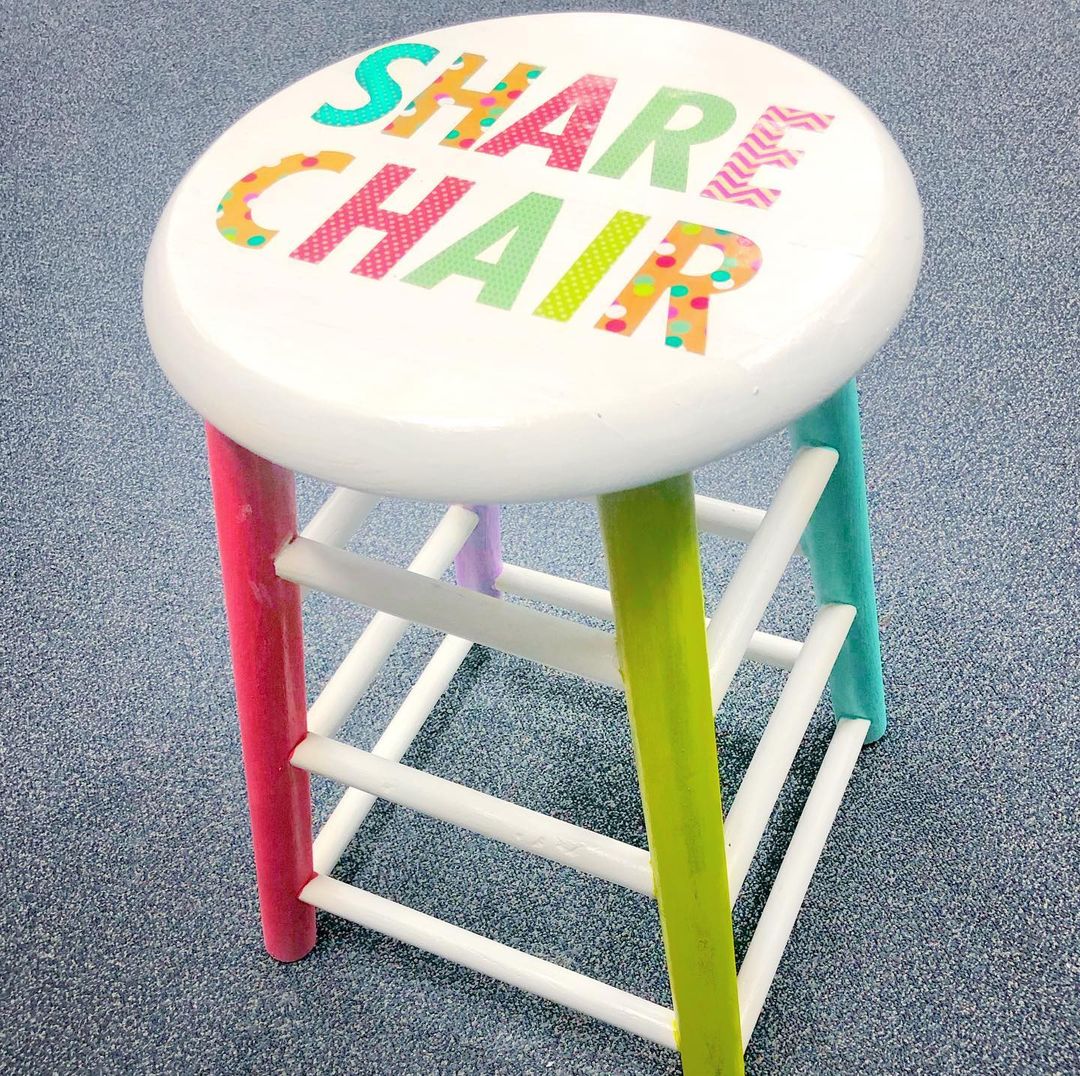 Teacher Emily Shirey created the share chair above — we've also seen them called author's chairs or reader's chairs for her writing lessons to get kids excited about sharing their writing during her literacy block! You can also use the share chair for show and tell, for read-alouds, and a whole lot more.
---
Really trying to get organized this school year? Check out some of our favorite classroom storage hacks!