Roll in the pumpkins and go batty for bats. It's time for Halloween activities in the classroom! If you're looking for Halloween art projects for your elementary students, games themed around pumpkins and witches or maybe some Halloween-themed activities that are more in line with the subjects you're actually teaching, we've got you.
The Teach Starter teacher team pulled together a few of their favorite Halloween art projects, Halloween activities that will help students practice writing skills, Halloween math activities, and more … plus some Halloween activities for your students that are just plain fun!
Ready to do math with pumpkins, create creepy stories and explore more curriculum-aligned Halloween hijinks? Read on for the perfect Halloween activities for schools!
Halloween Art Projects for Elementary Teachers
Let's kick things off with everyone's favorite — the fun stuff! These are some of our favorite Halloween art projects to do with the elementary school set, and we added a few teacher tips to add an educational element.
Analyze Texture With Leaf Rubbing
Combine science with art using free supplies from nature! If your school grounds are showered with fall leaves, collect a bin full to use for leaf rubbings. Kids will select a few leaves and rub them onto blank pieces of paper to view leaf veins, tips and stems.
Go a step further with this idea and have your students create leaf monsters. After the "body" is rubbed onto the paper, kids can add facial features, horns, arms etc. in pen for a fun Halloween touch.
Draw Halloween Elements
All you need is a few minutes to complete these easy Halloween directed drawings. Demonstrate on the white board or show one of the following simple videos, and pause as necessary so your students can follow along:
Paint Some Spooky Rocks
Give your students some smooth, flat rocks to paint as little Halloween characters. Orange, black and white paint can create handfuls of designs including pumpkins, ghosts, gravestones, scary faces, bats, a full moon and much more. Let those creative minds run wild!
Create Giant Candy Corn
For this simple craft, all you'll need are paper plates, paint and paintbrushes! The center of the plate should have a small white circle. Paint an outer ring of orange around the white and then one more layer (extending to the edge of your plate) in yellow. When your painted plate is dry, use scissors to cut the plate into pizza-styled pieces.
Now you have large candy corn-inspired decor that can be used on a bulletin board, classroom door or as filler Halloween decorations for the classroom.
Color a Halloween Book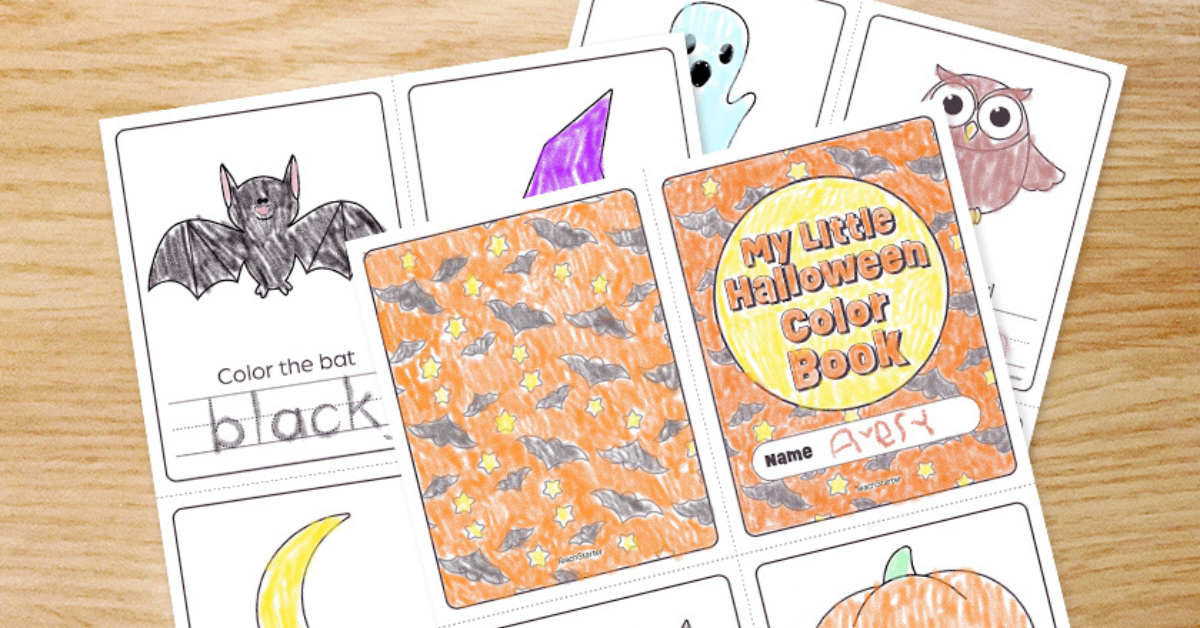 Calling all preschool and kindergarten teachers! Our little Halloween Coloring Book is a perfect (and fun!) way to engage your young learners and help them practice color recognition, fine motor skills and writing skills. With all these fun activities packed into one tiny book, your students won't even feel like they're doing work.
String a Pumpkin…With Yarn!
For this cute craft, you'll need the following:
Balloons (check to make sure none of your students have allergies to latex)
Yarn
White Glue
Container (to hold glue)
Scissors
First, have each of your students blow up their balloon and tie it off. Next, they'll need to cut their yarn into sections (about 12″) and lay them on the table. Once the balloons and yarn strands are prepped, each student will take one strand of yarn at a time, dip into their container of glue and squeeze off any excess glue before placing it on their balloon.
Continue placing the glue-soaked yarn strands in crisscrossed angles on the balloon until it's covered. It doesn't need to be completely covered in yarn; there should be spaces in between each strand. Let the yarn balloons dry completely before popping the balloon and carefully extracting it between the strands of yarn. Students can choose to hang their yarn pumpkins in the classroom or take them home to decorate!
Create a Hanging Bat Craft
Save up your toilet paper rolls to create hanging bats for the classroom. As well as creating a spooky Halloween classroom display, they are a great starting point for a classroom discussion about animal behavior and what it means to be nocturnal.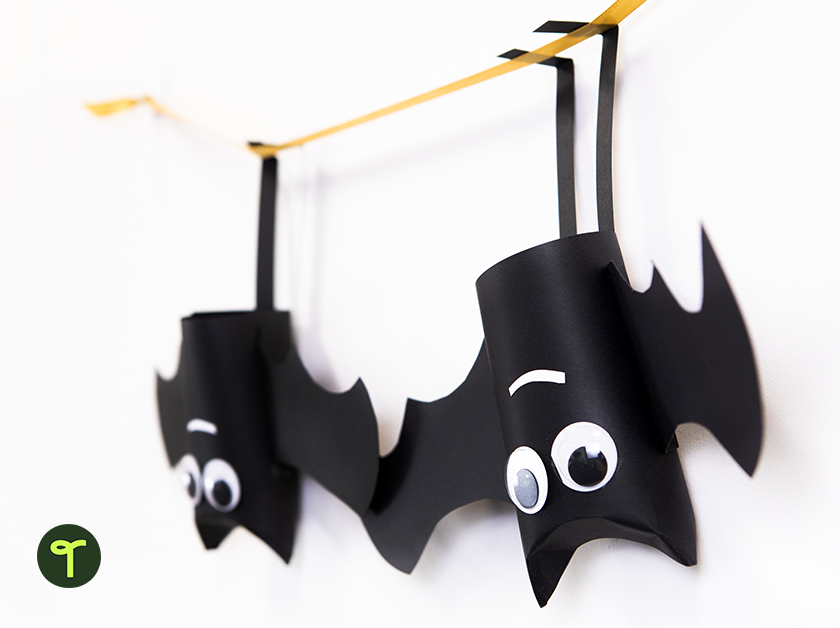 This can also open the door to writing an animal research task! For example, challenge your students to find out why bats hang upside down.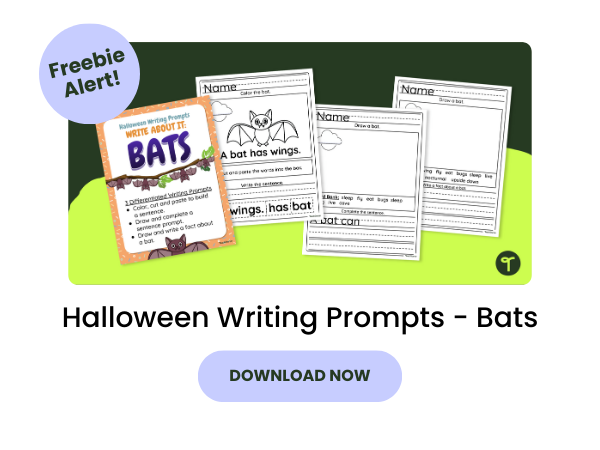 Color and Cut Page-Biter Bookmarks
Does your district frown on giving out candy for Halloween? Skip the edible treats, and send students home with these fun printable Halloween bookmarks instead, so they can take a bite out of reading fun! Making these Halloween Page Biter bookmarks is fun and easy.
Download and print the Halloween Page Biters template.
Decorate the bookmark of choice.
Cut along the outside dashed lines and cut out the hole for the mouth.
Use the page biter's mouth to sit as a bookmark over the top of a page.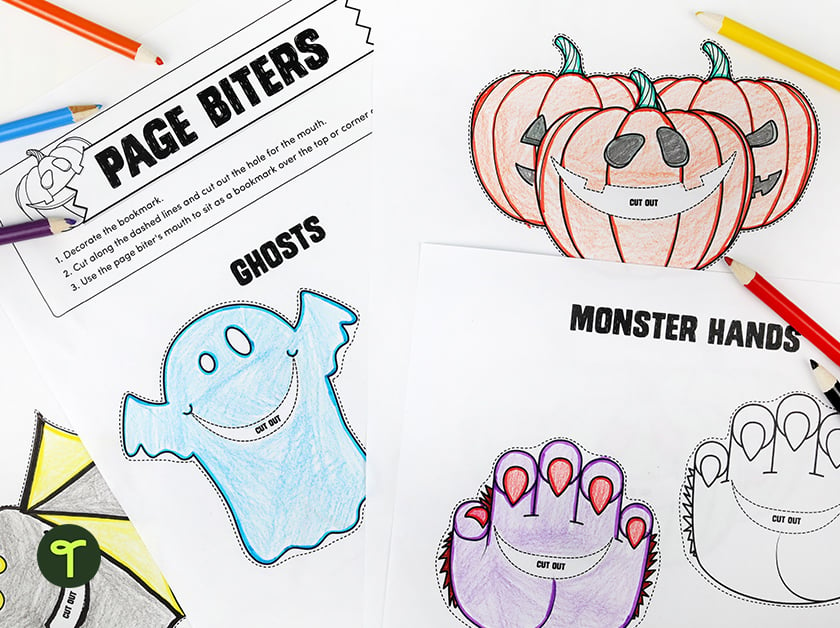 Design a Dancing Q-Tip Skeleton
They're spooky, and they're scary, but skeletons are a big part of Halloween! This easy Halloween craft activity requires very little planning and preparation but creates an impressive Halloween art piece to take home! Grab Q-Tips (or cotton swabs) from the dollar store, some black construction paper, and make Q-tip skeletons.
You can add a math element to this art project too — as a class, explore symmetry and angles!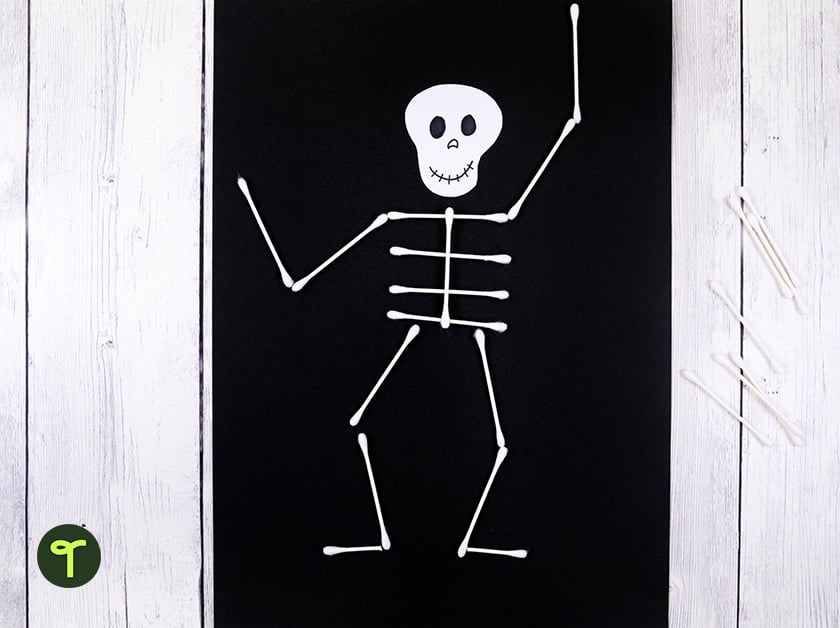 Build-Your-Own Skeleton Craft
Want to upgrade the cotton swab skeleton to something more life-like? Our teacher team created this fun Halloween skeleton resource that's ready to be printed and assembled with some simple brass brads — then mounted on your classroom bulletin board!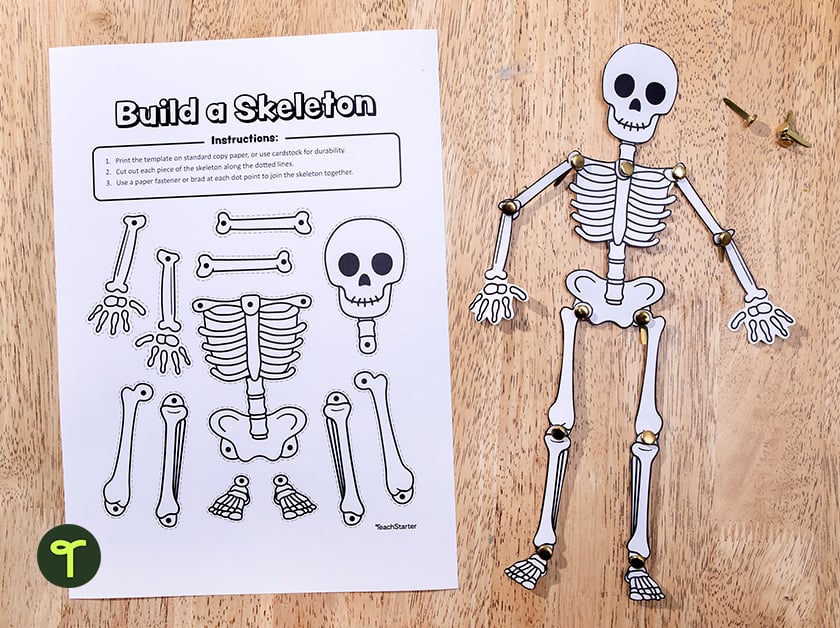 Embellish a Funky Zentangle Pumpkin
Need a printable Halloween activity with a little less mess and lot less work involved? Introducing our zentangle Funky Pumpkin! The printable pumpkin templates include glasses and other accessories for your students to deck out their paper pumpkins.
Funky pumpkins are also a great art project for teaching about patterns and lines: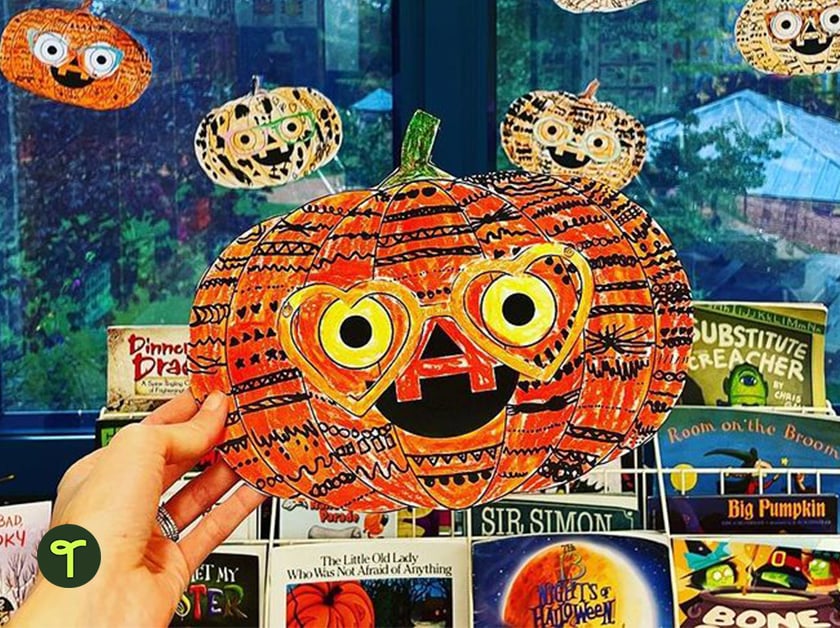 Color a Funky Zentangle Cat
Steer your students away from those myths about black cats with a funky Halloween cat art project. Just like the funky pumpkin, this Halloween printable comes with purrfect accessories like a witch's hat!
Explore our entire Funky Zentangle resources for fun crafts, easy bulletin board displays or last-minute calm-down activities: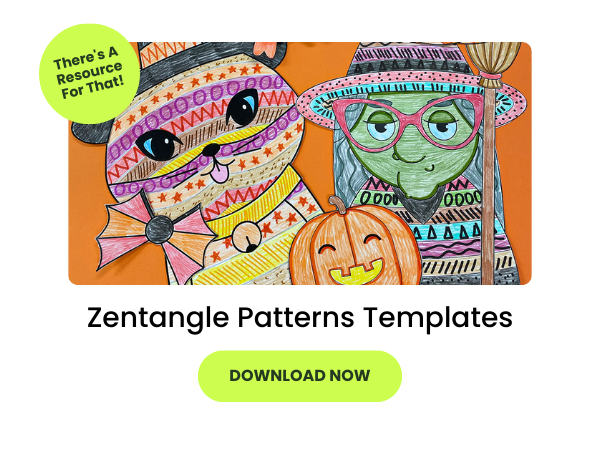 Print Some Halloween Hands and Feet Art
Put a Halloween twist on this popular preschool and kindergarten art project. Students use their hands and feet to create prints that can be decorated into one of many spooky Halloween characters like vampires, monsters, ghosts, and pumpkins.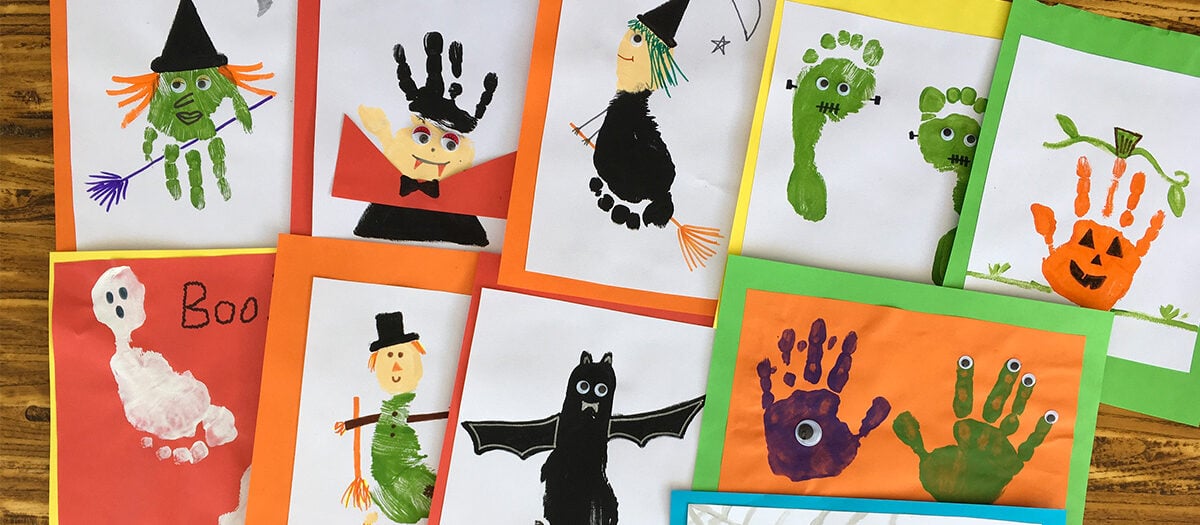 Roll to Create a Haunted House
Make drawing a haunted house extra fun with a "roll to create" that will make this house extra kooky.
Download and print the Roll to Create a Haunted House worksheet.
Students roll their dice and find the corresponding house and yard features on the chart.
Each time they identify an element, they add it to their haunted house drawing.
Halloween ELA Activities
Brew a Stew With Words
Double bubble toil and trouble…what will your students brew with their imaginations? Have your class practice procedural writing with how to create a witch's brew.
Read Halloween Stories

Get into the Halloween spirit with some spooky (and sweet!) stories to read aloud.
Dress Up The Teacher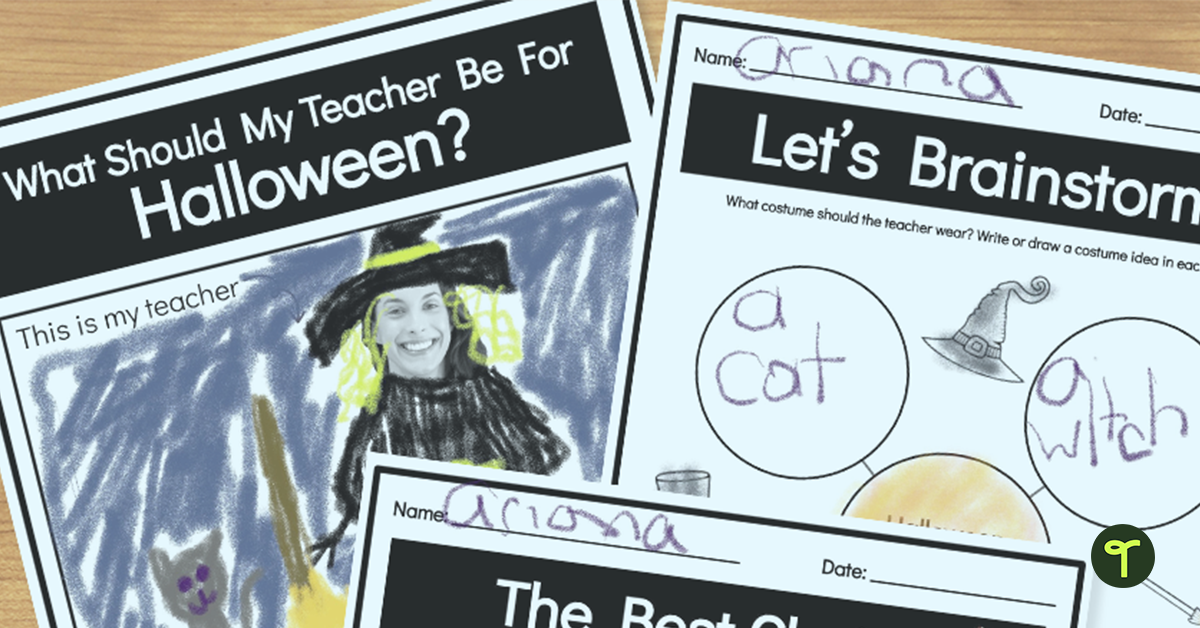 Give your students some creative freedom with your Halloween costume this year! Pass out this differentiated writing activity and have your kids brainstorm, write and sketch what they think you should be come October 31.
Complete A Halloween Story
A mysterious cat and a curious girl meet in this short Halloween story. The problem? It doesn't have an ending! Students will have an opportunity to finish the story of Mia and a cat with magical powers through this narrative writing prompt. When students complete their story, they will color the cat's face and glue it to their work. This makes for a creative and easy bulletin board display too!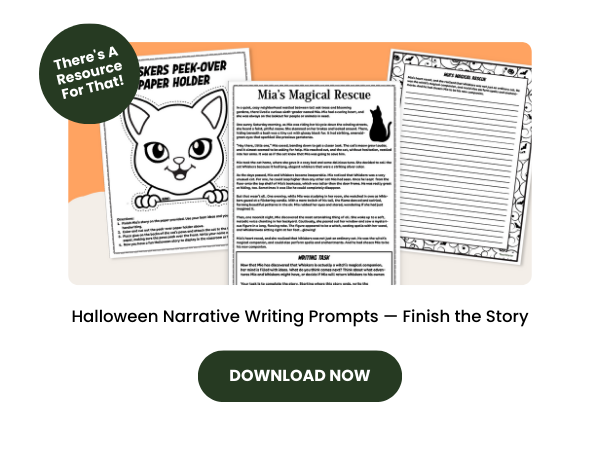 Assemble A Book A Day Halloween Bulletin Board
Keep the monsters at bay — and build a cool Halloween bulletin board that can stay up long after the holiday is over with this fun way for students to write about the books they're reading! Print the bulletin board set here!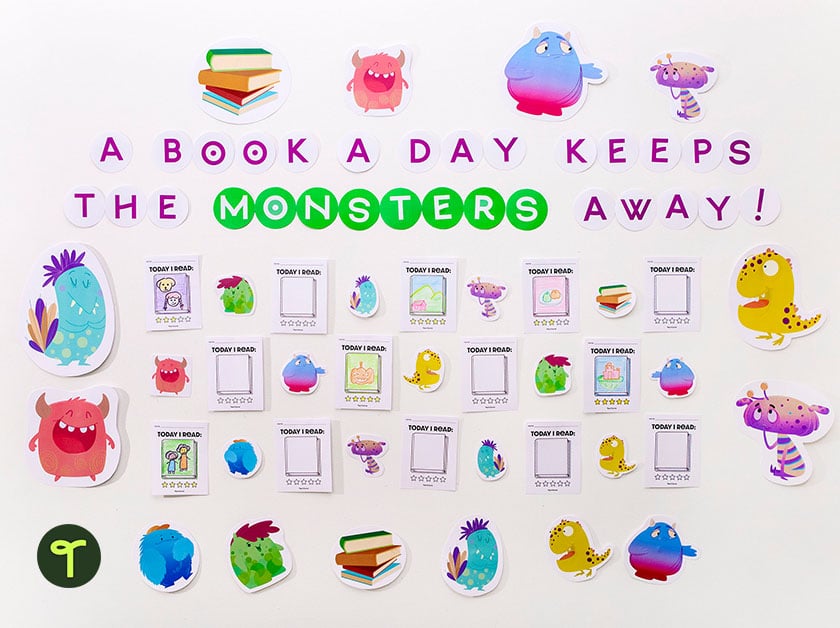 Practice Phonics With the Feed the Monster Sorting Activity
Do you know what monsters love to eat most of all? In this Halloween phonics activity, it's digraphs! Print the monster face feeding posters, and the accompanying flashcards for use in your reading centers.
Roll to Create a Halloween Story
Use this Roll a Story game to get students started on a fun Halloween creative writing task!
Download and print the Roll to Create a Halloween Story worksheet.
Students roll the dice and identify the corresponding narrative elements on the chart.
Each narrative element is recorded at the bottom of the sheet.
Once students have "rolled" the characters, setting, and complications for their story they can begin to write their narrative.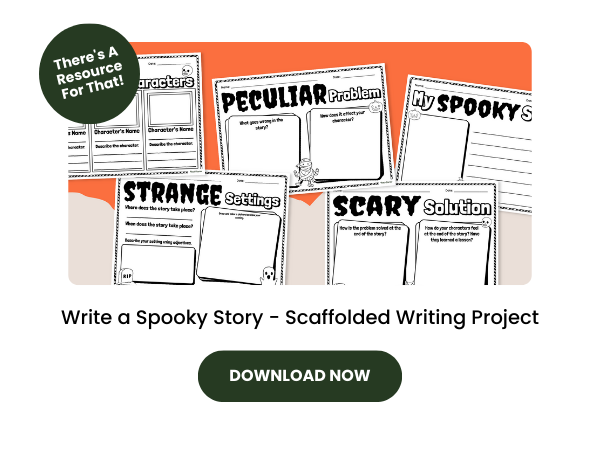 Fold Some Fortune Telling Characters
Create a simple phonics game by writing Halloween-related vocabulary on pumpkin, mummy, and bat fortune teller templates. Break the words up into syllables, blends, and digraphs.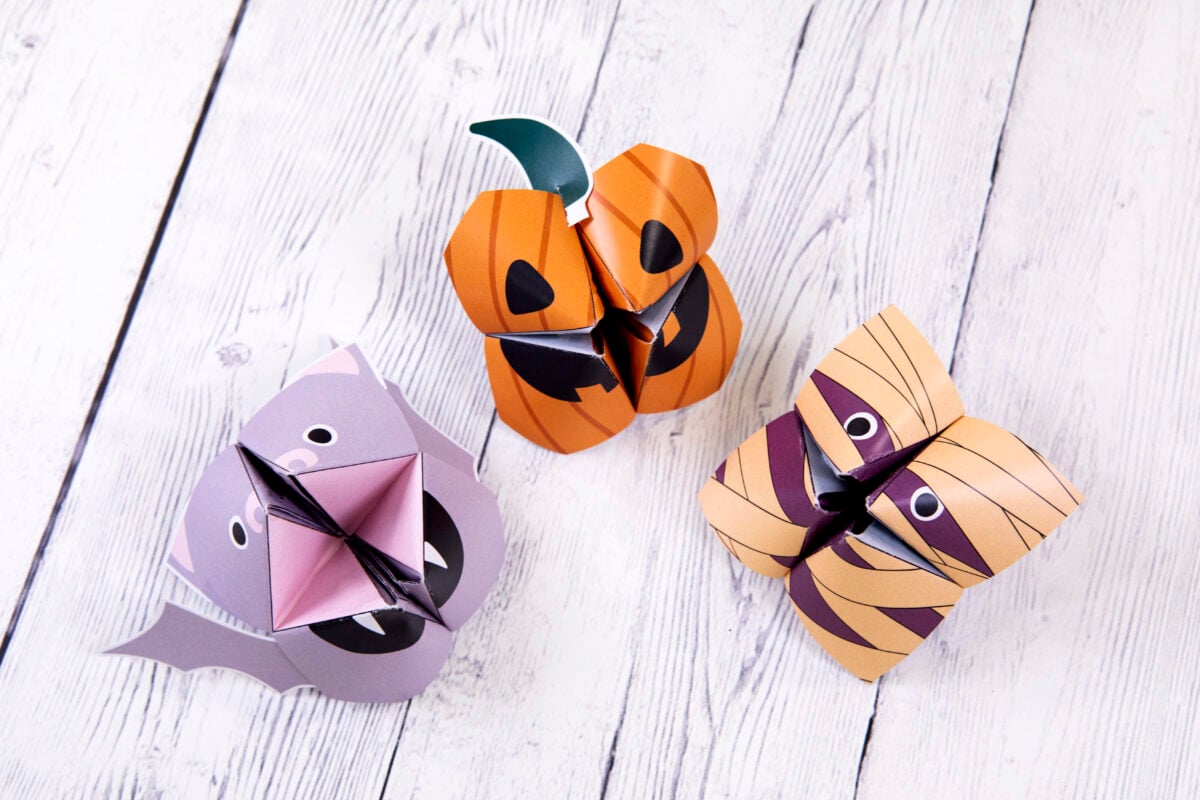 Halloween Math Activities
Cast a spell on your little mathematicians with these frightfully fun Halloween math activities!
Pin a Pumpkin Geoboard
Geoboards are excellent learning tools for exploring basic concepts such as perimeter, area, and the characteristics of polygons.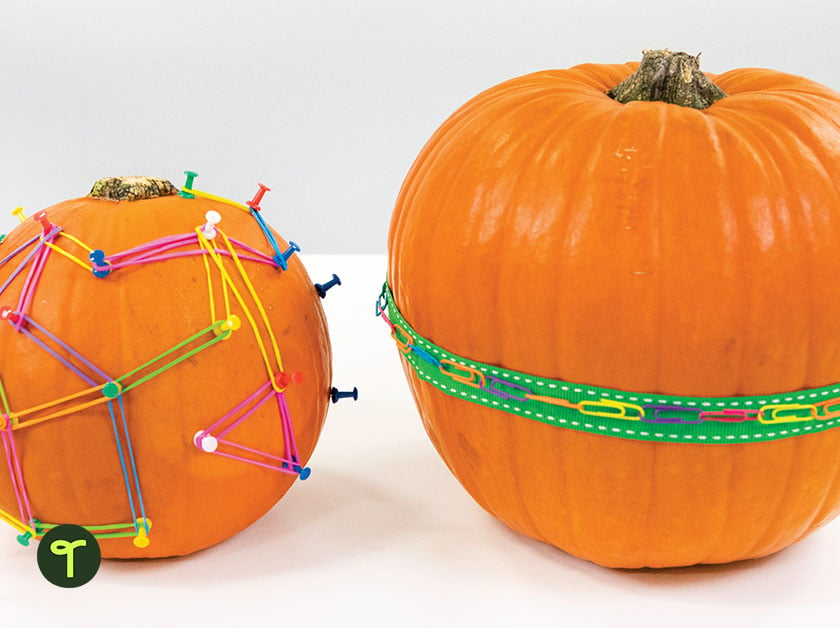 You will need:
a small pumpkin
push pins
colorful rubber bands
How to Make a Pumpkin Geoboard:
Press push pins into the skin of a pumpkin, and provide your students with brightly colored rubber bands.
Remind your students that a polygon is any 2-dimensional shape formed with straight lines.
Demonstrate how to secure the rubber bands around the pins to create polygons.
Encourage your students to work with a partner or a small group to explore different polygons.
Use our Types of Triangles Poster and head to our 2-D Shapes Learning Area for teaching resources to scaffold learning.
Measure the Circumference of a Pumpkin
This fun and simple Halloween activity can easily be adapted to fit any grade level. For the primary grades, focus on informal units of measure, and for the older grades, use a measuring tape. Extend student learning by converting measurements, comparing and finding the difference between pumpkins, and graphing your results!
You will need:
one or more pumpkins of varying size
ribbon or string
paper clips
measuring tape
Explain to your students that a circle or sphere's circumference is the distance around it. For a rich learning experience, be sure to ask open-ended questions and build in class discussion. For example, ask:
How could we measure the circumference of the pumpkin?
What challenges might we face?
How do measurements vary and compare?
Why do the results vary?
Measure a Pumpkin's Capacity
Students often find it hard to estimate the capacity of containers, and the best way to develop knowledge and understanding of this tricky concept is through hands-on learning. So, this Halloween, why not estimate, measure, and compare the capacity of pumpkins! You will want to make sure that your students know the difference between volume and capacity before you begin this activity. Also, don't forget to explore how containers of different shapes can have the same capacity!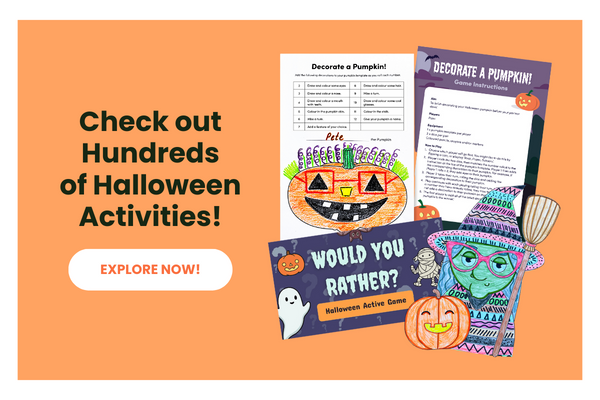 Measure the Mass of a Pumpkin
Use a balance scale to compare the masses of small pumpkins or pumpkin portions. Encourage your students to determine whether the pumpkin's mass is more, less, or about the same.
For the older grades, use a bathroom scale to measure a whole pumpkin's mass and encourage your students to convert to another measurement unit. Use our Customary Units of Measurement Poster Pack as a scaffold for students who may need it. Head to our Measurement Learning Area for teaching resources to use when your students learn about measurement units, including length, mass, and volume.
Practice Number-Ordering Through Puzzles
Perfect for little learners who are still learning numerical order, these number-order puzzles use witches, pumpkins, and more for a Halloween twist on the game!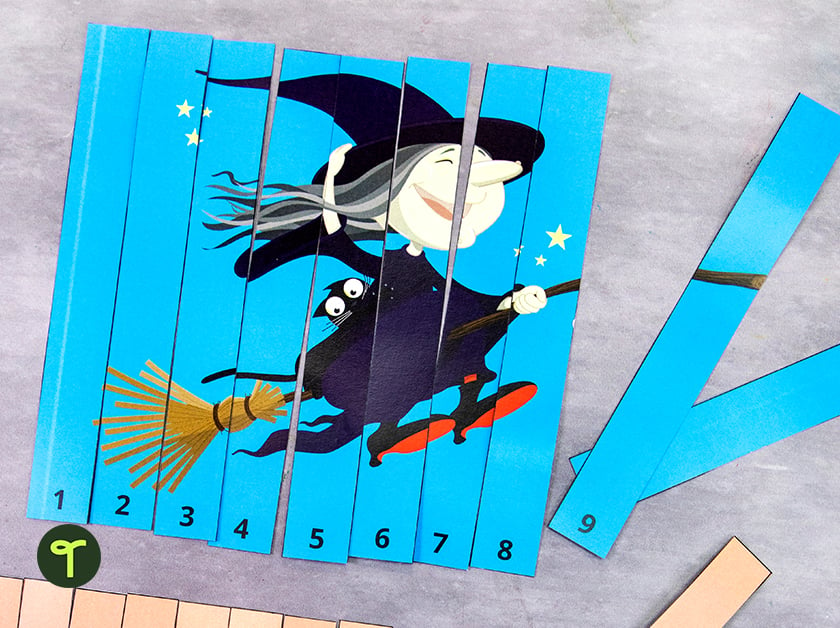 Fold and Cut Spiderwebs
Help your students practice those fine motor skills with our (free!) paper spiderweb template. Students will not only practice folding but also cutting to create their own symmetrical spiderweb. This is a perfect way to add a taste of the Halloween holiday to your lesson that's not too spooky! Plus, it's great practice for snowflake folding during the winter months.
Think Mathematically With Fortune Tellers
Grab the mummy, bat, and pumpkin fortune tellers for some mental math strategy fun! Write number sentences on the inside of the fortune tellers, and pair students off to use mental math to calculate the answers.
Learn Geometry With 2D Monsters
Explore 2-D shapes … but make it monstrously fun with monster puppets that help them get a sense of hexagons, squares, and more (while playing Monster Mash on Spotify, perhaps?).
Fold 3D Halloween Creatures
Don't let the two-dimensional creatures take all the attention. Try these creepy printable 3D creatures to explore cones, cylinders, and more shapes.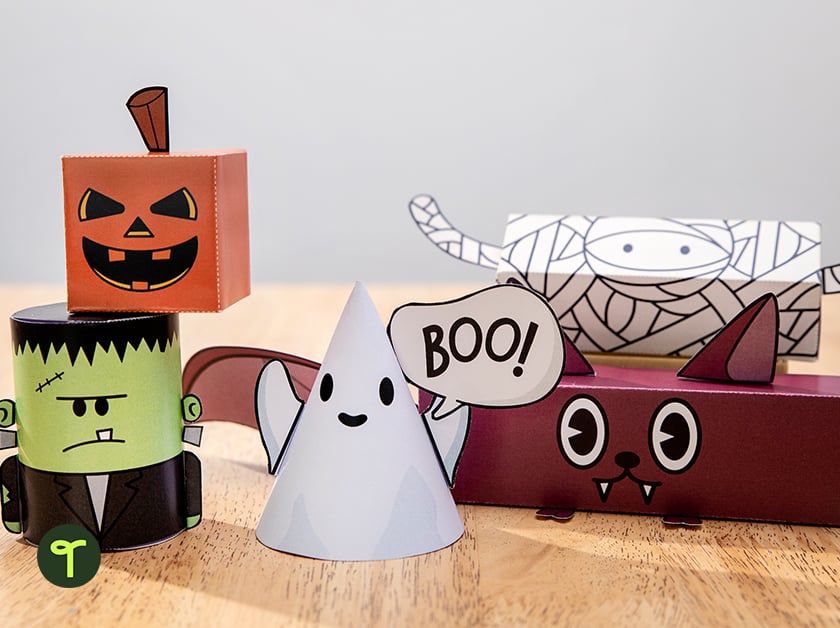 Count and Graph — Halloween Style
This quick activity makes the perfect graphing lesson! Count the Halloween illustrations and create a tally chart on the Search and Find – Halloween worksheet. Then, have your students create a graph to display their data. A great extension activity could be to have your students generate questions using information from their graphs for a partner to answer.
Are you ready for Halloween? See our complete holiday resource collection for more spooky good fun for the classroom!