April may be best known for bringing us the showers before we can start to smell the May flowers, but the fourth month of the year has another special designation. April is National Poetry Month in the US!
Teaching poetry this year? We pulled together some of our favorite ways to teach poetry creatively and get kids hooked on composing their own verses!
When Is National Poetry Month Celebrated in the US?
First thing's first — let's talk timing! The entire month of April is devoted to National Poetry Month, although it's actually coming on the heels of World Poetry Day which is celebrated globally in late March. April 1 is set aside as National Poetry Day here in the US, kicking off the month-long festivities.
Why Do We Celebrate National Poetry Month?
If you're a teacher who can't wait to expose your students to the wonderful world of verse, we realize you don't really need a National Poetry Month to do it! But the Academy of American Poets launched the month-long celebration in 1996 to give teachers like you a little help in spreading the word about the wonders of poetry. In the ensuing years, it's become of the largest literary celebrations in the world, with millions of students — and their teachers — taking part every year, along with poets, of course.
How to Make Poetry Fun for Kids
Teaching poetry can be a challenge. We get it! Although many will spend a chunk of the tween and teen years scribbling rhymes in a notebook (or more likely the notes app of their smartphone), when they're first presented with this form of writing, the tendency for many kids is to inform you in no uncertain terms that they "hate" it. And who can blame them?
If not presented in the right way, poetry can feel like any old English assignment but with a lot more rules. Do kids really need to understand iambic pentameter and what constitutes a stanza? They may not think so, of course. But you likely don't need the research to convince you that learning poetry helps build early literacy skills and opens up those speaking and listening skills.
And researchers have dug into what makes poetry click with elementary schoolers. Presenting poems that are difficult to understand? They're more likely to be disliked by your class.
On the other hand, elementary schoolers tend to get hooked on poetry that:
Is written in narrative form
Includes humor and/or animals
Include contemporary content rather than traditional poetry
National Poetry Month Activities for the Classroom
With all that in mind, here are some ways to make this year's National Poetry Month fun with activities that open students' ears and minds!
Get the Official Poster for Your Classroom
Designed by Lara Lazar, an eleventh grader at the Saunders Trades and Technical High School in Yonkers, New York, this year's official National Poetry Day Poster can be downloaded for free from the American Academy of Poets. The poster features a line from In This Place (An American Lyric), a poem by National Youth Poet Laureate Amanda Gorman.
Gorman makes for a particularly powerful poet to share with kids thanks to her youth (born in 1998, she's not that much older than your students) and her place in modern culture. Your class can watch Gorman read her now-famous poem The Hill We Climb from the 2021 presidential inauguration, offering a chance to talk about poetry in contemporary society. When it comes to convincing dubious students that poetry matters, you can't do much better than showing them a young woman who made it all the way to the national stage thanks to her skills as a poet!
Engage With the Favorite Poem Project
Founded by Robert Pinsky, the 39th Poet Laureate of the United States, back in 1997, the Favorite Poem Project is a free resource for teachers that features videos of dozens of Americans of all ages reading and speaking about poems they love. Not only do the project's videos give your students a chance to hear poetry read out loud, but the stories told by those featured open up new ways of thinking about each particular piece.
Zip Into Onomatopoeia
While it's certainly not limited to poetry, onomatopoeia is a literary device that has "kid-friendly" written all over it, and the Teach Starter teacher team has long found that digging into the words that sound just like the sounds they describe is a surefire way to kids' hearts.
Some of our favorite onomatopoeia poems to start with include:
The Bells by Edgar Allen Poe — "How they tinkle, tinkle, tinkle."
The Highwayman by Alfred Noyes — "Tlot tlot, tlot tlot, in the distance."
"Fossils" by Ogden Nash — "Just the clatter of their bones"
Get students started with these sound devices by writing about them on their own with an onomatopoeia activity.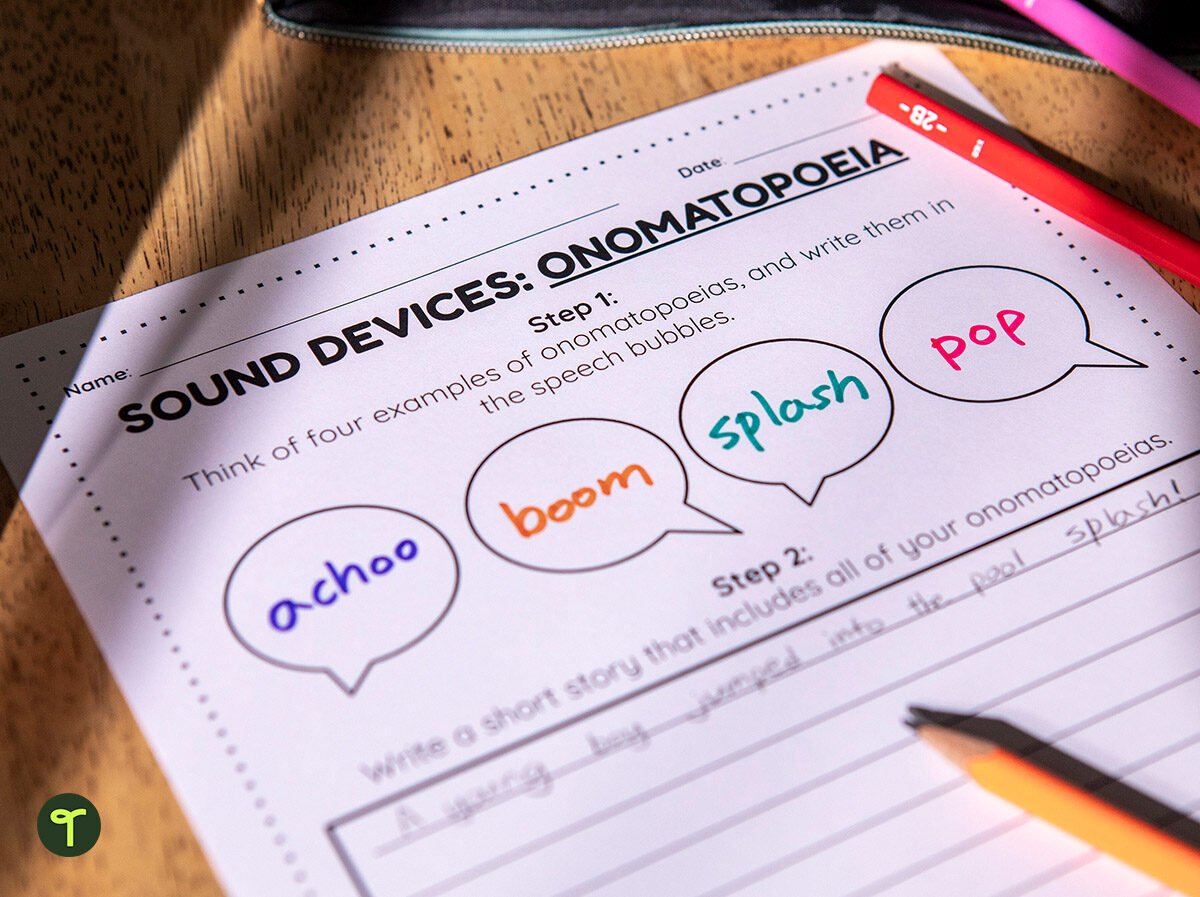 Get Acquainted With Your State's Poet Laureate
You may have taught your students plenty about your state during the course of the year — the climate, the history,  maybe even your state bird. But have you told your students that there's a Poet Laureate who represents them in all things poetry? With the exception of Massachusetts, Michigan, and Pennsylvania, each state has one, and the Library of Congress has a wealth of information about the current poet representing each state, past holders of the position, plus background of the position.
Concrete Poetry
Sometimes called shape poetry, concrete poetry is another hit with elementary students as they can write their poems in the shape of the poem's topic. Connecting art and writing together, concrete poetry can be traced back all the way to ancient Greece and helps students develop their visual thinking skills on top of their writing skills.
Share this fun animated concrete poem to help your students better understand the concept.
Encourage students to write poems in the shape of a favorite topic, or use a template to get them started: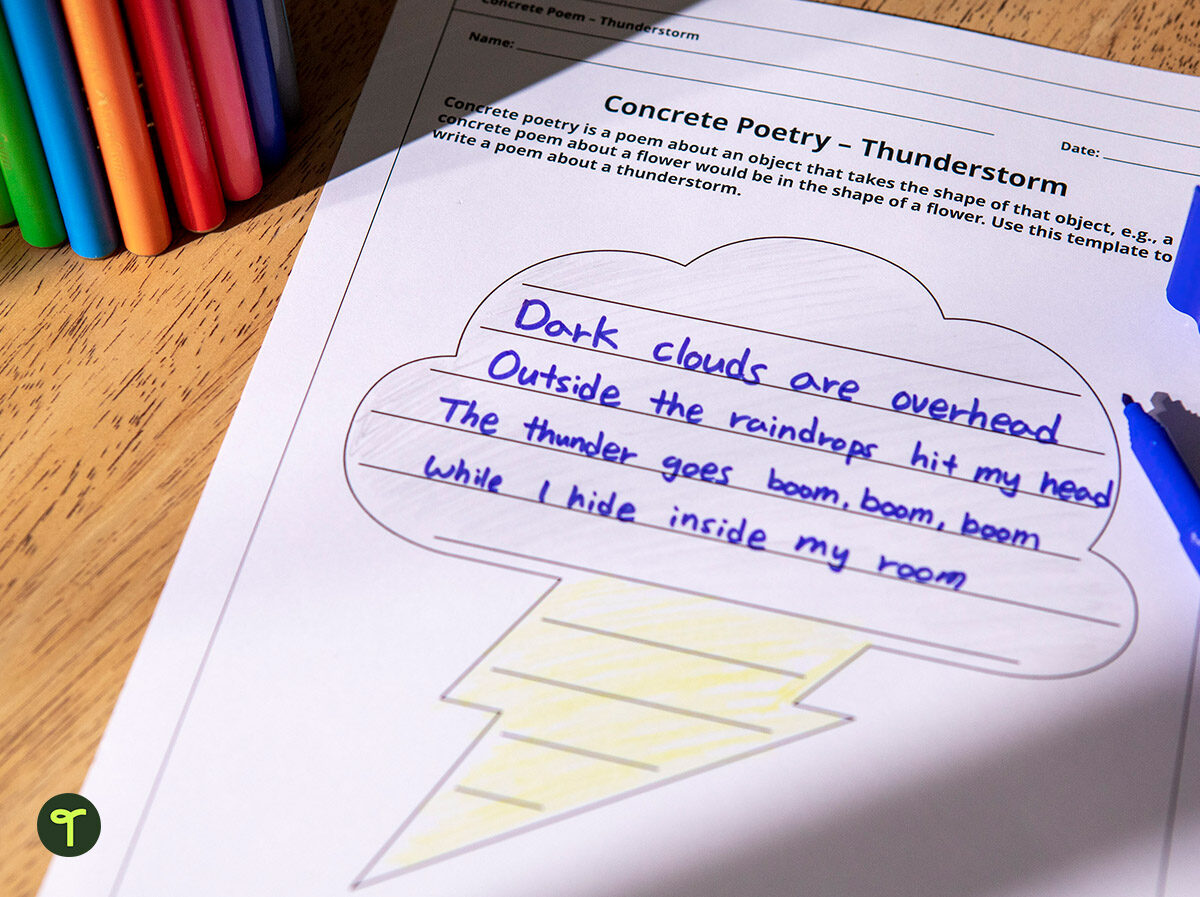 Grab a concrete poetry poster for the classroom! 
Sticky Note Poetry
Looking for a fun whole-class activity for National Poetry Month? Try sticky note poetry! Hand out sticky notes to all your students, and post a work of art on your whiteboard where students can all see it. Ask each student to write down the words that come to mind when they look at the piece of art — limiting themselves to just one word per sticky note.
You can set a timer for their free-writing session (give one of these free digital timers a try), and when time is up, direct students to create poems by placing the sticky notes side-by-side, arranging them into lines of poetry. Alternatively, you can collect the stacks of words and form the poetry lines on your whiteboard as a class.
Bring In Earth Day
Earth Day falls right near the end of National Poetry Month — the perfect opportunity to write poems about our magnificent planet! Try an Earth Day acrostic, or write a verse about being kind to Mother Earth!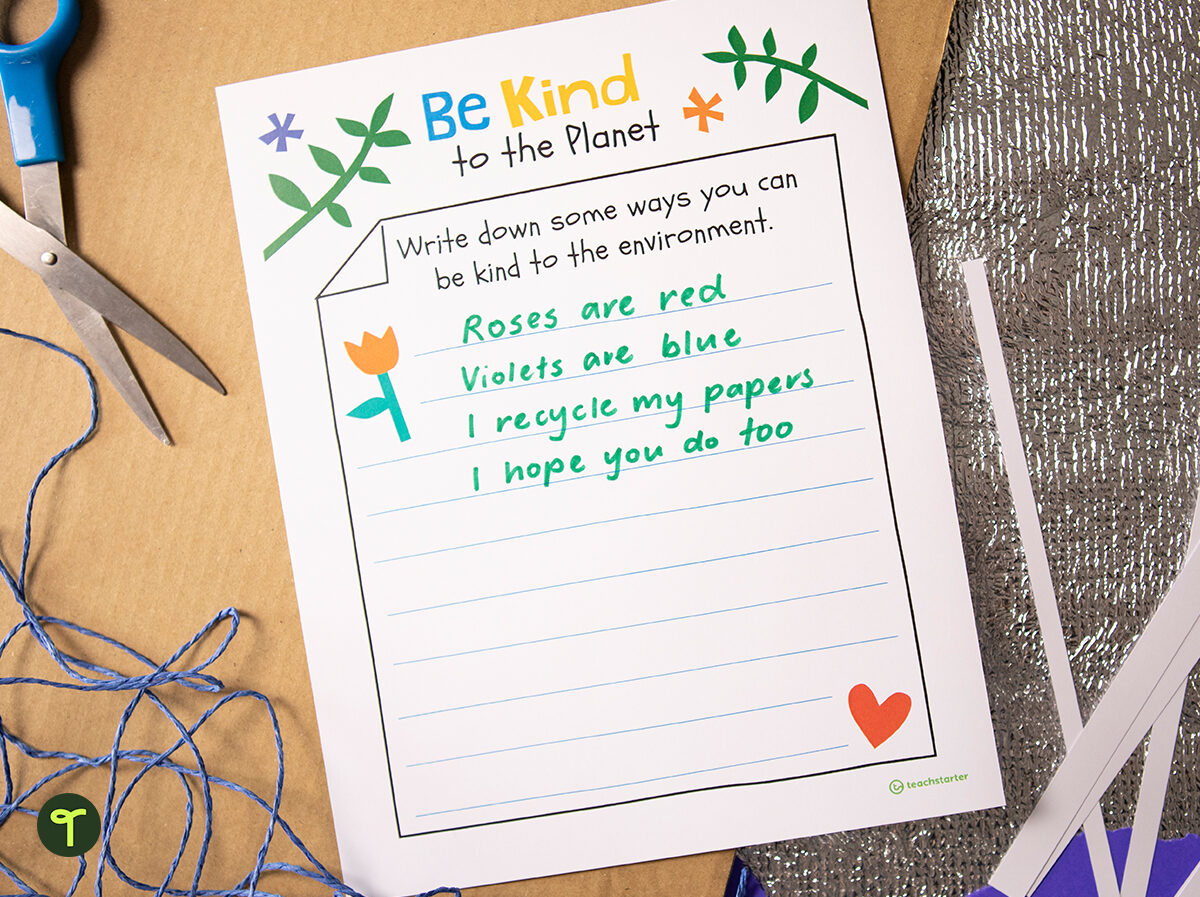 See more National Poetry Month resources, and let us know below what you are doing to celebrate!