Reinforce sound devices used in text by sorting 16 poetic device cards into their appropriate category.
Peter Piper picked a peck of pickled peppers.
The rain in Spain falls mainly on the plain. 
She shears sheep near the shore.   
The blob oozed its way out of the jar. 
It's a wonder how words are turned into magic just by their selection and ordering. 
Through the use of sound devices, text is turned into poetry to our ears, even when reading prose. 
KEYWORD HERE Activity/Game/Resource
This activity shows that your students can identify how an author's use of sound devices shapes how their words and phrases distinguish literal from figurative language. 
To play, students will read the sentence on a card and sort it by one of 4 types of sound devices:
Alliteration

: the repetition of initial sounds in successive or adjacent words

Assonance

: the repetition of vowel sounds through a series of words

Consonance

: the repetition of consonant sounds through a series of words

Onomatopoeia

: words that evoke the sound of what they are describing
An answer key is included with your download so that students can self-check their work. 
Scaffolding + Extension Tips 
Challenge students who already understand the concept to choose a card and use it as a writing prompt for a short story or poem, adding language that includes the other three sound devices. 
Support students who need help understanding the concepts by assigning this activity as a group or pair work. The sort can also be modified to have fewer choices for each sound device. 
Get our 10 Best Scaffolding Strategies here! 
More Activities
Download this resource for an additional fast-finisher activity in your reading center! 
We also suggest using it with your guided reading group and whole class for scoot activities, lesson reviews, and other comprehension assessments like these:
✍️ Write the Room (Scoot Activity)
Hang four sheets of chart paper around the room and post a sound device card above each one. Individually or with a partner, have students rotate around the room, adding a word or phrase that exemplifies the sound device. Examples may be used only once.
🤩 Show Me!
Give each student a mini dry-erase board and a dry-erase marker. Project all four sound device cards on the screen and a phrase card. Read the phrase aloud and have your students write the sound device it uses on their board. When everyone has written their answer, say, "Show Me." Students will flip their boards, allowing you to see who needs extra support.
🏃 Sorting Relay Race
Print 2 game sets, split the class into two teams, and have them line up in their group on either side of the room. Lay each team's game board in a central location. Shuffle and give each group their own set of sound device cards, placed face down at the front of their line. When you say, "Go!" the first player in each line will grab a card, run to the other side of the room, and place it under its sound device. Then they'll run back to their group and tag the next person in line, who will grab the top sorting card, run to the other side of the room, and categorize it. The first team to place their cards correctly wins.
Easily Prepare This Resource for Your Students
Print on cardstock for added durability and longevity. Place all pieces in a folder or large envelope for easy access. 
Keep the task cards out of pockets or under desks: cut out the cards and punch a hole in each corner to place them on a binder ring. 
To turn this teaching resource into a sustainable activity, print a few recording sheets on cardstock and slip them into dry-erase sleeves. Students can record their answers with a dry-erase marker, then erase and reuse.
Because this activity includes an answer sheet, we recommend printing one copy of the entire file first. Then, make photocopies of the blank worksheet for students to complete. 
Before You Download
Use the dropdown icon on the Download button to choose between the PDF or Google Slides version of this resource. A recording sheet and answer key are also included with this download.
---
This resource was created by Jennifer Hall, a teacher in North Carolina and a Teach Starter Collaborator. 
Strengthen your students' understanding of sound devices by supplementing your lesson plans with these resources and activities: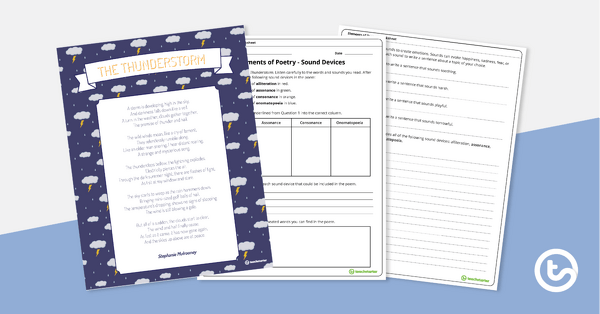 teaching resource
A worksheet to help students understand sound devices in poetry.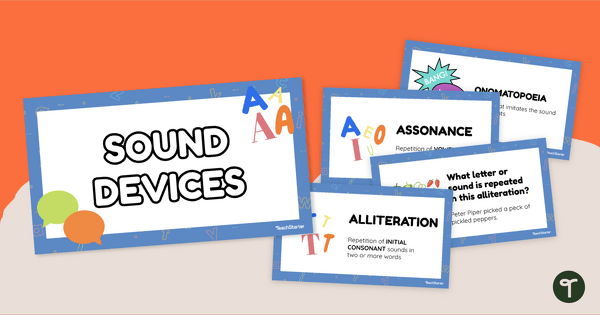 teaching resource
Teach the different sound devices used in poetry with this Google Slide Deck.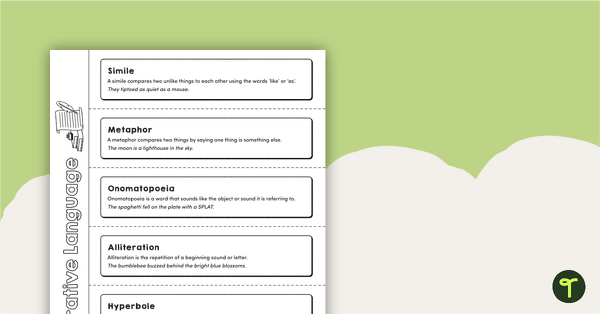 teaching resource
Practice identify examples of figurative language with this flip book template for kids.