Desk pets are all the rage in American classrooms since the idea took off on TikTok, and no wonder. With students all living 6 feet apart, these small animal erasers give kids a friend right at their desk and a little bit of comfort in a confusing time. And of course, they're a great classroom reward system and option for behavior management in the classroom and a way to incorporate those mini erasers into your daily classroom activities.
Who Started Desk Pets?
The question of the hour — who started desk pets? The desk pet movement was created by elementary school music teacher and viral TikToker Marissa Begay, who began posting about them in late 2020 as a prize bin alternative, only to see her video (and idea) go viral.
"In the 2019-2020 school year I found myself in a new position with students who are highly motivated by rewards and prizes," Begay tells Teach Starter. "I started spending tons of money on prizes for my 350+ students. I knew that solution would not be sustainable for me!"
So what's a teacher to do when they've got a problem? Head to Target, of course … Begay was in the popular dollar section of the store when she noticed a bag full of adorable erasers, and the idea for desk pets hit.
"In my head I was thinking that the erasers alone would not be enough to keep my students motivated," she explains. "I started to think about how I could make tiny, cheap erasers fun. It just came to me right then and there …'Desk Pets!'"
What Is a Desk Pet?
The concept behind desk pets in the classroom is pretty simple. Buy mini erasers, and tell your students that they can now have these cute critters for their very own pets. You can create any criteria you want for eligibility to become a pet owner. Think about the criteria you would use for picking something special out of the classroom prize box. That's exactly the sort of thing desk pets motivate! Once your students adopt their pets, they get to keep them at their desk — hence the name – and what comes next is up to you.
Second-grade teacher Brianna Price lets her students earn "pet accessories" — so they can provide their new friends with food (more erasers, of course!), houses, and more. Other teachers have set up desk pet daycares, pulled them into Fidget Friday activities, and a whole lot more.
"I have seen teachers across that world use Desk Pets and everyone does it a little differently based on the needs for their classroom. I just love how dynamic it can be," Begay says. And you don't have to stop at classroom rewards with your desk pets.
"I have seen Desk Pets used in many ways," Begay says. "It can be used during transitions, as a brain break, used to teach literature and science, as manipulatives, behavior management and I have seen some teachers use it as an incentive to keep students' desks nice and tidy. The possibilities are truly endless!"
---
Desk Pet Desk Plates
You're probably going to label your students' desk with a desk name plate, right? So do double duty with a desk plate that provides a little home for their desk plates. This a great introduction into the subject of habitats!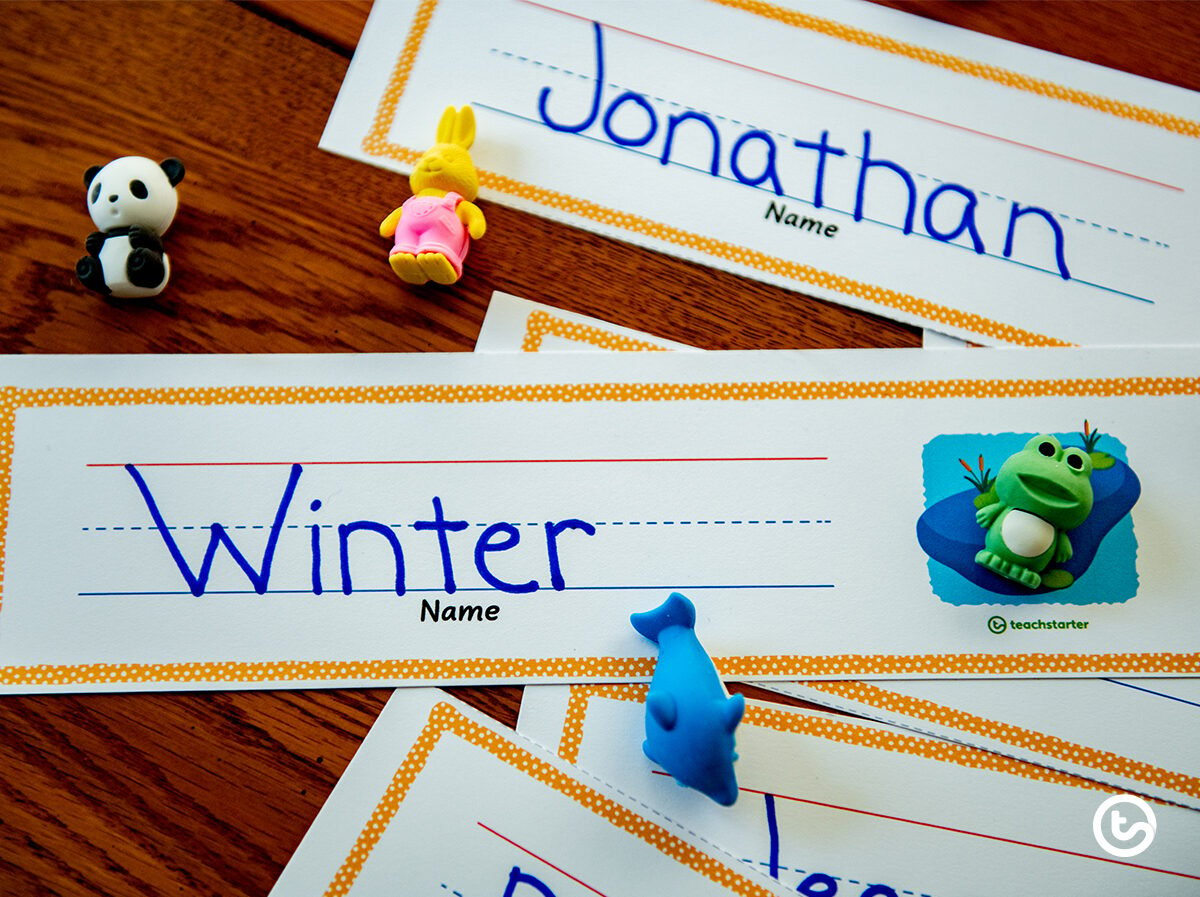 Desk Pet Application Printable Templates
If you're looking to use Desk Pets to teach your kiddos about responsibility, you're going to need desk pet applications! Much like classroom job applications, these can be filled out by your students as a way of practicing persuasive writing without them even realizing that they're learning.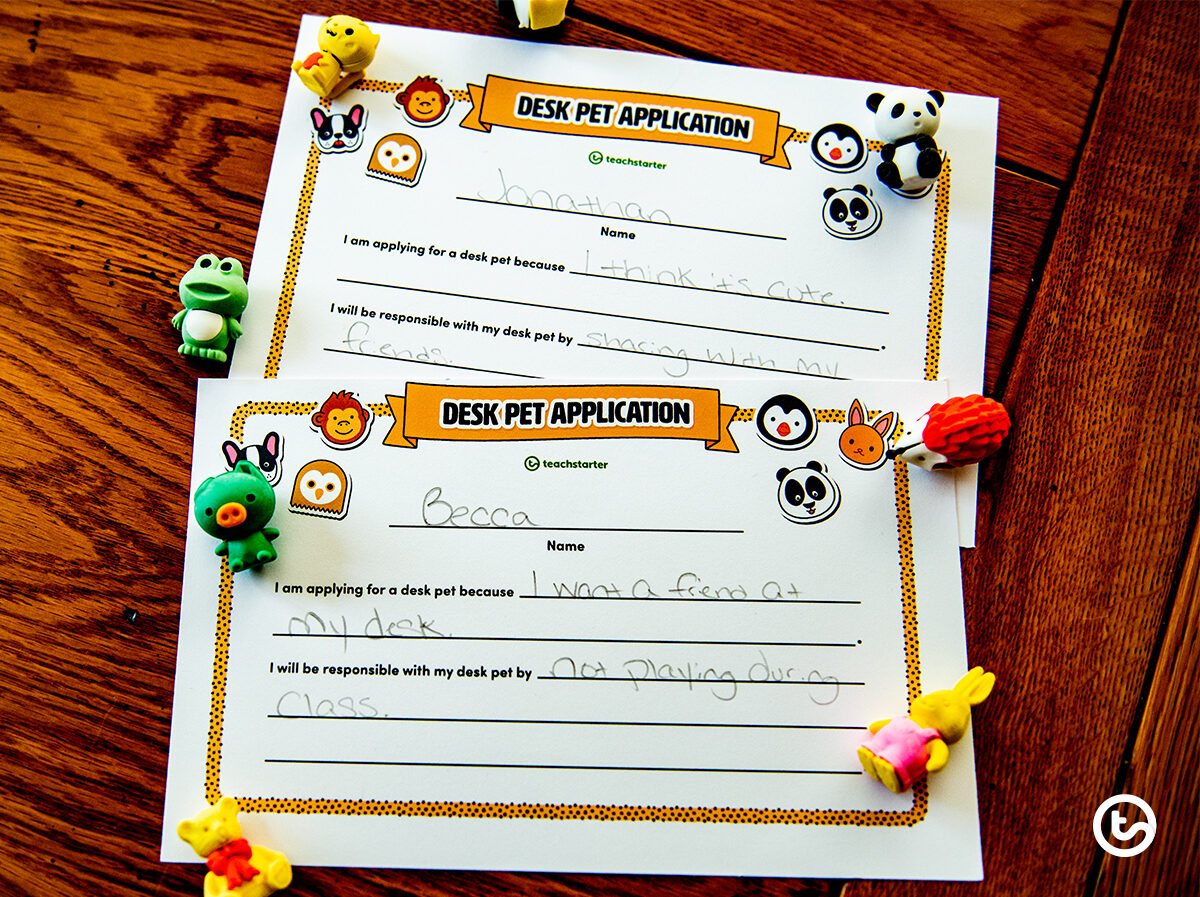 Nothing can get your students pumped up about persuasive writing quite like penning a few sentences about something they really want. Ever read a child's plea to their parents to get a puppy? They tend to be even better writers when they're passionate. Use that to your advantage when it comes to "adopting" their desk pets. Get a desk pet application for the lower grades or one for the upper grades:
---
Other Ways to Use Desk Pets
We've talked to teachers and put our heads together at the Teach Starter offices to come up with some fun ways to incorporate these cute critters into the learning process! So grab some animal erasers, and let's dive in, shall we?
---
Desk Pets Math Lesson: Critter Skip Counting & Multiplication
Hundreds charts are a classic tool for teaching myriad math skills. We're big fans of the math mystery pictures route, not to mention teaching number sequencing, skip counting, patterns … OK, we won't go on. Let's just say we get really excited about math! And desk pets have given us a whole new twist on this old favorite.
For the youngest mathematicians, try Critter Skip Counting
Print out your favorite hundreds chart.
Assign small groups of students to work together.
Provide each group with a small handful of desk pets and a hundreds chart.
Assign one student in each group to cover a few numbers on their chart with the "pets."
Challenge the other students in each group to guess the numbers that are missing.
Younger kids can also practice counting by using their desk pets as counters in 10 Frames!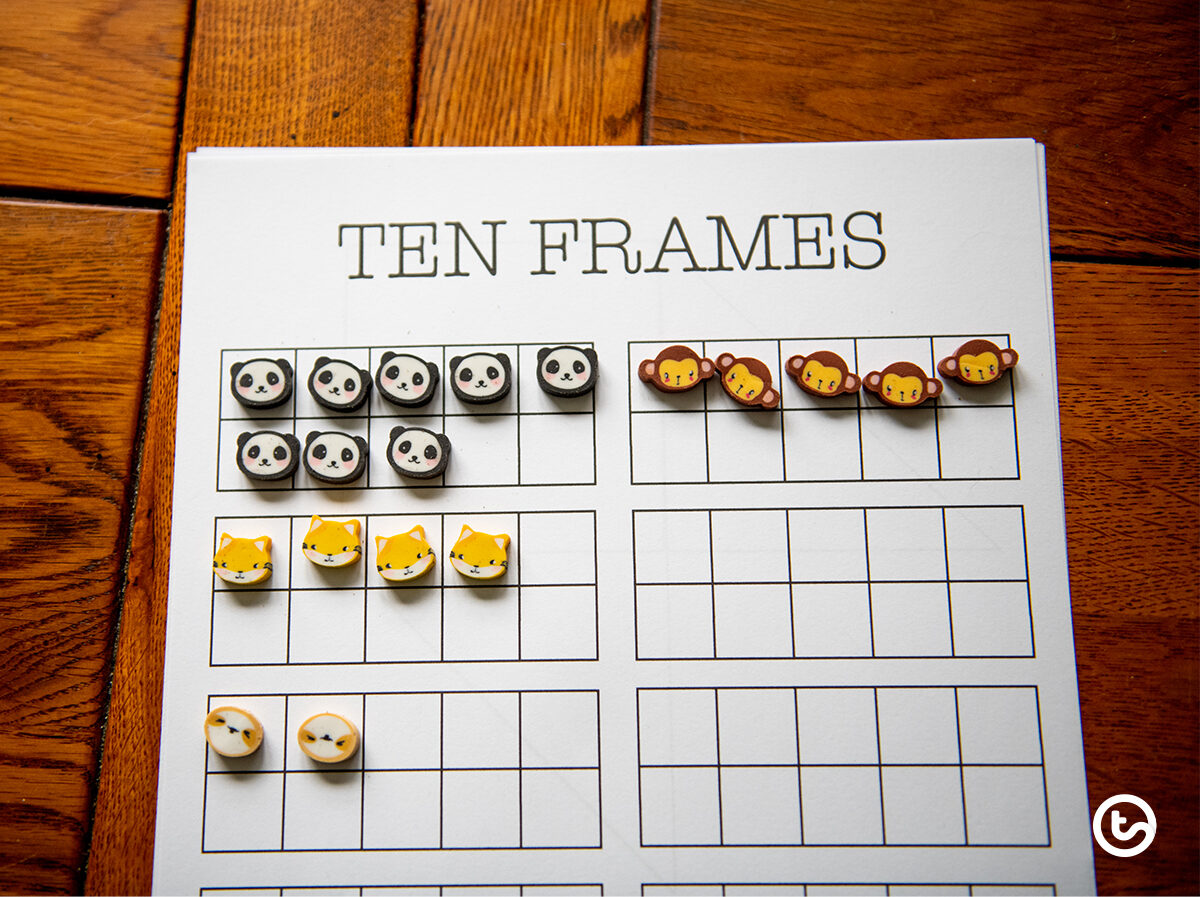 For your middle mathematicians, try using desk pets to guide students on skip counting by multiples and multiplication tables in their hundreds charts or hooray arrays!
Desk Pets Shape Hunting
Boost shape recognition skills and graphing knowledge in your younger year students with this fun game that sends their little pets on an adventure across the game board.
How to play:
Print the shape hunting game board and accompanying graph.
Allow each player to choose a desk pet to place on the 'Start' star. The youngest player has the first turn.
The first player rolls the dice, then moves their Desk Pet the corresponding number of squares on the game board.
Using the Shape Hunt Worksheet, the first player records the shape that they have landed on in the graph provided, e.g., rectangle, diamond, octagon, oval, square, pentagon, circle, or triangle.
Play continues with the next player rolling the die, moving their Desk Pet the corresponding number of squares and recording the shape that they have landed on in their graph.
The first player to reach the 'Finish' star is the winner!
---
Desk Pets Syllable Lessons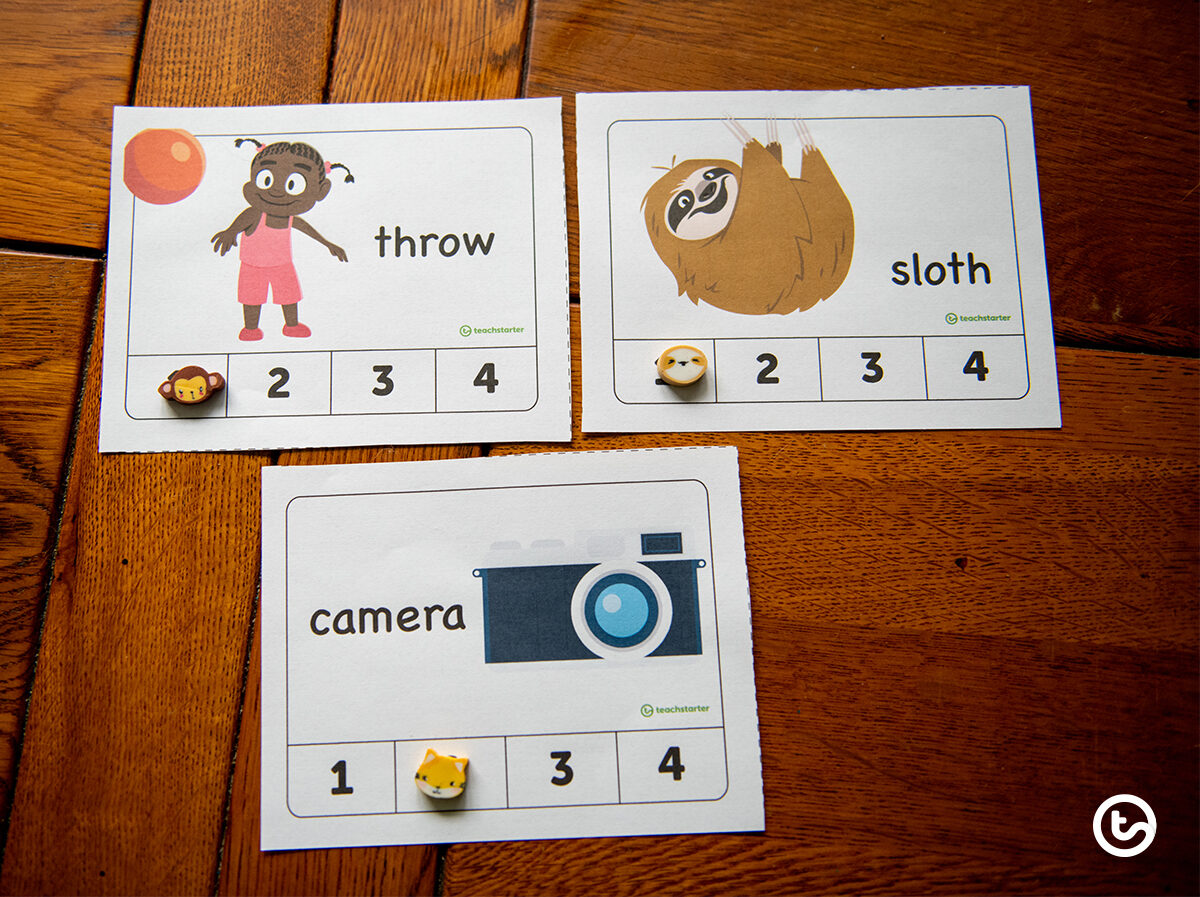 Clothespins are a mainstay of an elementary school classroom, but have you thought of switching in a desk pet for some of your favorite clothespin activities? We love this activity for helping students break words down into syllables:
How it works:
Print out syllable clip cards.
Cut along the dotted lines to create small activity cards.
Provide your students with the cards and a pile of desk pets.
Students are to sound out each word, then clap to determine the number of syllables. When they have it, they place their desk pet on the correct number.
Desk Pets Initial Sounds
This hands-on activity for early readers is very similar to the syllable one! Instead of using your desk pets to identify the correct number of syllables, students can show they've got a handle on the concept of initial sounds by placing their little pet on the image that makes the same initial sound as the letter. Print the resource here!
---
Desk Pets Bingo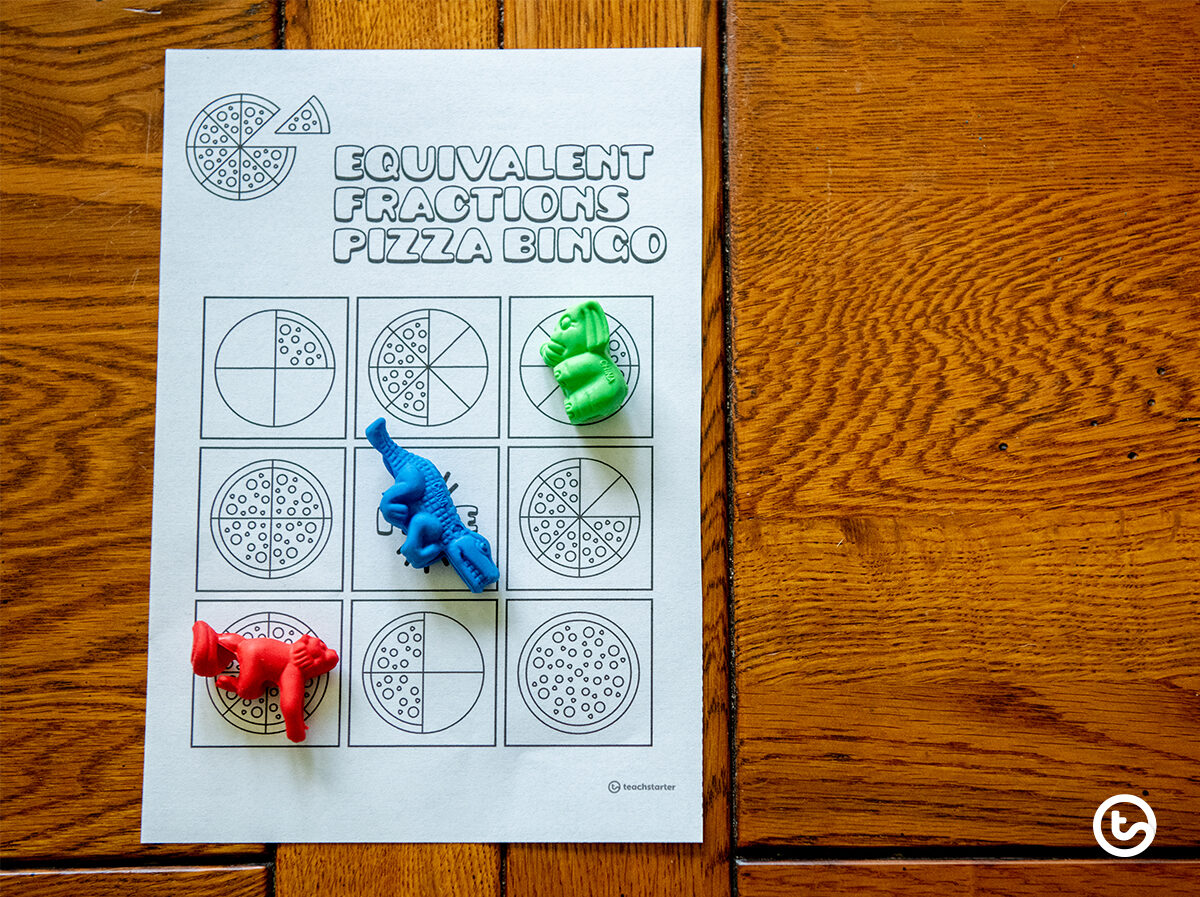 Whether you're practicing clock-reading skills with a game of time-telling Bingo or practicing math skills with equivalent fractions bingo, desk pets make for the perfect game pieces.
Or put a Desk Pet twist on a game of cover up!
---
Introducing Your Desk Pets
Wondering the best way to get the desk pet trend going in your classroom? We asked the expert for her best advice. Here's what desk pet creator Begay has to say:
Come up with some healthy classroom expectations and boundaries with the students.
Keep it simple!
Give kiddos time to play with their pets!
Do you have desk pets in your classroom? Show us how you're using them on Instagram! Tag @teachstarter_us.