Introduce students to the people and events of the American civil rights movement with this 17-slide PowerPoint presentation.
What Was the Civil Rights Movement? 
We designed this class presentation to talk about the fight for equality in America in the 1950s and 60s. This lesson explores the significance of civil rights history and its influence on advocacy today by introducing students to history-making Black Americans, issues, and events like:
13th Amendment (abolishment of slavery)

Jim Crow laws

Civil rights

Montgomery Bus Boycott

March on Washington

Little Rock Nine

Rosa Parks

Dr. Martin Luther King, Jr.

 

'I Have a Dream' speech

1964 Civil Rights Act

1965 Voting Rights Act

Black Lives Matter
Students will also walk away from this lesson with the ability to discuss vocabulary and concepts like:
Discrimination

Segregation

Protests

Equality

Activism
Discover Meaningful Black History Month Activities For Kids »
Implement Our Civil Rights Movement Lesson in Your Discussions
Take this presentation even further with more activities to examine this important movement.
🗣️ Pre-Lesson Activity
Students can read this presentation independently, either at home or before starting the lesson as a group. Ask students to take notes about what they learned before beginning your lesson. 
🗣️ Turn & Talk
Ask students to write questions on a sticky note as the resource is presented, then put students into groups of 3 or 4 to help each other answer the questions on their sticky notes. 
🗣️ Be the Teacher
As a post-lesson activity, ask students what they would put on a quiz if they were the teacher. Ask students to write their own 5-question quiz using the information in the presentation. Then have them trade papers with another student to take the quiz.
Preparing This Resource for Your Students
Project this presentation on your smartboard or another projection device. 
MLK's Fakebook Worksheet and our Blank Timeline Template are linked in the presentation to use for additional learning. 
Before You Download
Use the drop-down icon on the Download button to choose between the PowerPoint or PDF version of this resource. 
---
Add these teaching tools and activities to your lesson to create a meaningful learning experience for your students:
teaching resource
Define and discuss vocabulary words associated with diversity and equality using this flip-book writing activity.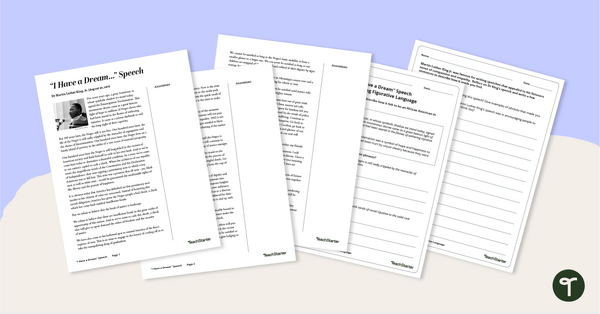 teaching resource
Review MLK's "I Have a Dream" speech text and explore the metaphors he used to convey his message through the accompanying questions.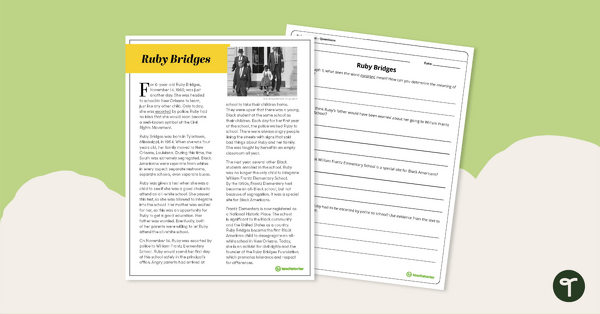 teaching resource
Review our profile on 6-year-old civil rights figure Ruby Bridges, and answer questions to reinforce understanding.