Welcome new students to the classroom with an editable flip book template for new students.
Use this editable flipbook template to help your new students survive their start in your classroom!
New Student Orientation
New student orientation is an important part of helping new kids feel welcome in your class. In this flip book, you'll find all the information your new student will need — think of it as a new student checklist to help them and also help you!
Special Days at School
Important People
Classroom Rules
Map of the School
Class Schedule
Your Buddy's Profile
Welcome Messages From Your New Class
Special Days at School
Having a few special and exciting days to look forward to at their new school can go a long way to helping a student settle in.
Let them know about the fun things on the school calendar with this page! This will also help their parents be aware of any special times they need to take note of later in the year.
Important People
Your new student will have a whir of names going through their head, and that's just their new classmates! Take some of the hassles out of remembering teachers' names with the Important People tab.
This tab has the added benefit of reminding the student which adult to go to for different needs and information.
Classroom Rules
Most classroom rules and expectations go without saying! But if you have certain rules that you and your class have agreed upon, include these in this section. Have certain guidelines about late homework? Include these here! This way, the student will know the expectations of the room in advance and not get caught unawares.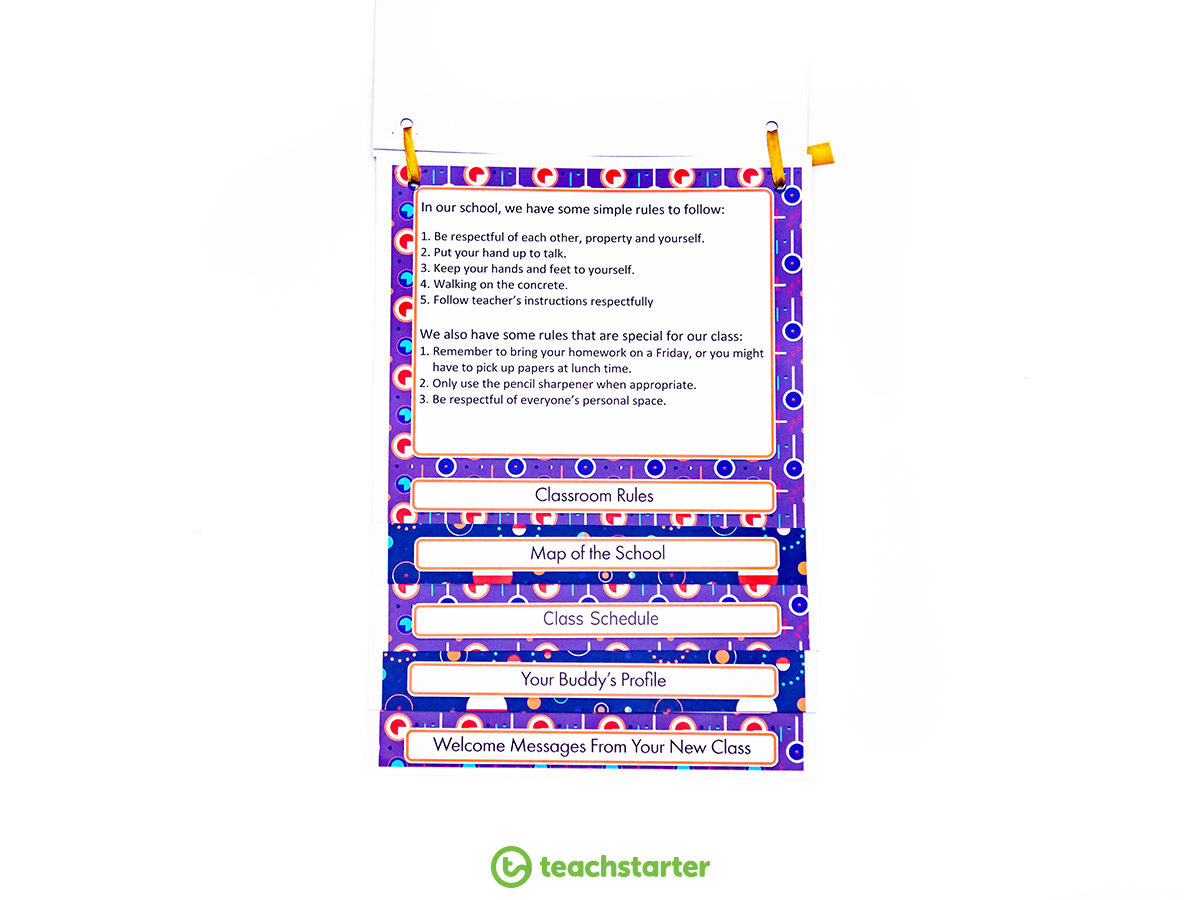 School Map
Having a simple map of your school with special locations highlighted is a great way to show your new child the lay of the land.
Why not trace the routes they should take to get to the library, assembly hall or cafeteria? X marks the spot!
Class Schedule
A class timetable is particularly good for upper-year students who may have a lot of specialist lessons. This section of the New Student Survival Flip Book is great for reminding kids which day requires which materials!
Better yet, a visual timetable with little icons for each lesson can make this page early-years friendly!
New Student's Buddy
The new face in your room will no doubt need someone from their peer group to show them the ropes. Why not choose a buddy for your new student and include a mini-biography on that special person? The magic of having this template available in Word is that you can edit and include any information you want! With information on their buddy, your new student will feel less isolated and have some conversation starters.
Welcome Messages
Finally, walking into a class of open and welcoming faces is a must for helping re-establish routine and keep your school days rolling smoothly with an extra student. Really make your new student feel welcome by allowing your established classmates to write a brief welcome message to include in the back of the flipbook.
How to Use Your New Student Flipbook
Download your new student guide as a PDF or as an editable Word document to tailor it to your class needs. Cut each piece to size and attach together at the top!
For an extra welcoming punch, why not print each page of the black and white template on a different piece of colored paper?
Read more about using this new student orientation tool and get our 7 Tips for Welcoming a New Student Into an Established Classroom.