Print a creative Chinese dragon art activity for kids to celebrate Lunar New Year in the classroom.
Lunar New Year Art Activity for Kids
Celebrate the Lunar New Year in your classroom with this dragon art activity that brings a popular symbol to life! Dragons are a powerful symbol in Chinese culture and are often associated with strength, good luck, and prosperity. They are also traditionally seen as symbols of power and good fortune and are often featured in Chinese art and mythology.
During the Lunar New Year, dragons are often featured in parades and other celebrations and are believed to bring good luck and prosperity to those who see them.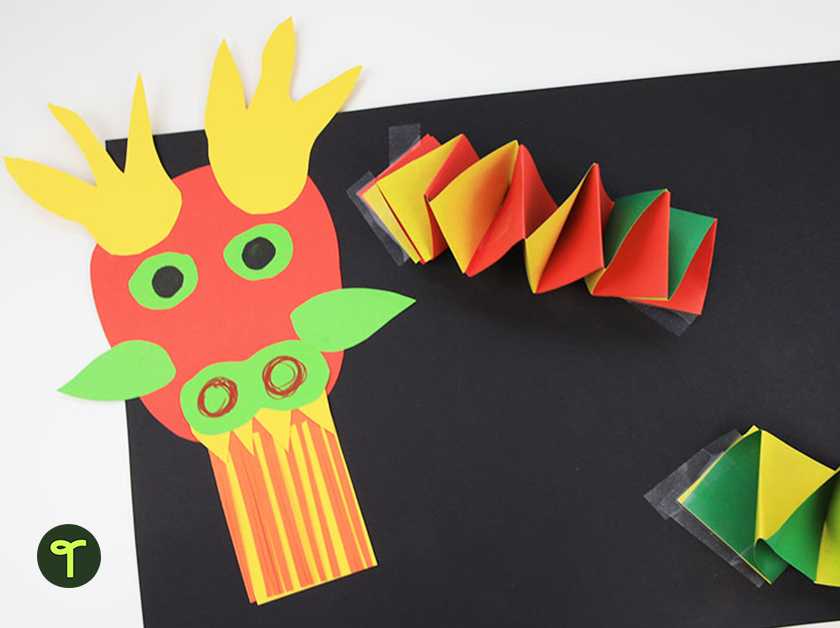 How to Make a Lunar New Year Dragon
This instruction sheet has almost everything you will need to lead your students in this Lunar New Year art activity, including the template for the face and body parts of your students' dragons. Following the instructions, students will create a dragon that has a spring-like tail that seems to slither in and out of the paper!
Supplies:
Lunar New Year Dragon Instructions from Teach Starter
Construction paper
Scissors
Tape
Glue or tape
How Are Dragons Used to Celebrate Lunar New Year?
Looking to teach students more about the Lunar New Year Dragon? Here's a little more about this popular symbol to share with your class:
Dragons are often featured in parades and performances for the Lunar New Year, where they are traditionally carried by a team of people through the streets. The dragon dancers, typically men, perform a choreographed routine and manipulate the dragon to give the appearance of it moving through the air.
Dragon costumes and decorations are commonly used during the Lunar New Year celebrations, and dragon dances are considered good luck for the new year.
Explore our complete collection of Lunar New Year resources for your classroom!