Strengthen student understanding of different cloud types with this cloze reading worksheet.
Cloud Types for Kids
Are you looking for an activity to help your students differentiate between the different types of clouds? Teach Starter has created a ready-to-go worksheet that will encourage your students to show what they know about the different types of clouds.
With this worksheet, students will draw the four different cloud types (cumulus, stratus, cirrus, and nimbus). Additionally, students will complete the cloze reading activity by writing the missing words in each blank.
An answer key is included with your download to make grading fast and easy!  
Tips for Differentiation + Scaffolding 
If there are students looking for a challenge, encourage them to create an infographic or poster showing the different types of clouds and information about each.
For students who need additional support, consider listing the words needed for the activity in a random order on the whiteboard. This will give students the options to use as they are completing the worksheet.
Easily Download & Print
Use the dropdown icon on the Download button to choose between the PDF or editable Google Slides version of this resource. 
Because this resource includes an answer sheet, we recommend you print one copy of the entire file. Then, make photocopies of the blank worksheet for students to complete. 
Turn this teaching resource into a sustainable activity by printing on cardstock and slipping it into a dry-erase sleeve. Students can record their answers with a whiteboard marker, then erase and reuse them.
---
Don't stop there! We've got more activities to shorten your lesson planning time: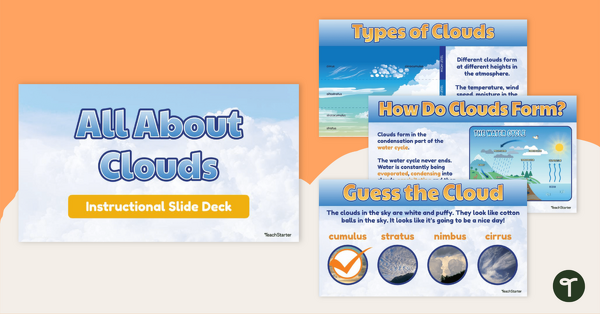 teaching resource
Teach your students about the different types of clouds with this 19-slide instructional slide deck.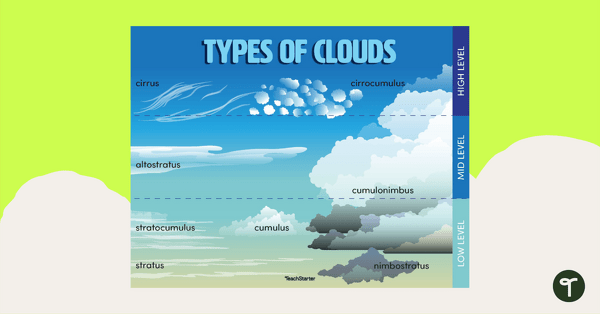 teaching resource
Learn about the different types of clouds and their position within the atmosphere with this printable poster.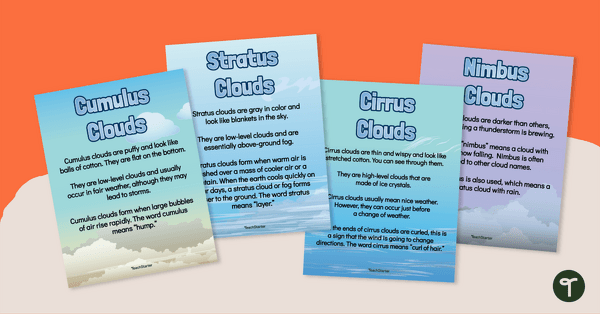 teaching resource
Learn about nimbus, cirrus, stratus, and cumulus clouds with this set of 4 printable posters.