Make world geography fun by using our Continents and Oceans Board Game!
Let's Identify the Continents and Oceans!
Turn your students into world travelers right inside the four walls of your classroom with engaging and exciting Geography activities from Teach Starter!  Make learning continents and oceans easy (and fun!) with a lively board game! Students will identify the 7 continents and 5 oceans, enhance their knowledge of the world, and have a blast while learning about maps of our planet!
This resource will be great for independent learning centers, to keep in an emergency sub folder, to enhance knowledge of world geography, or to introduce a social studies lesson. It can  be used with students in a variety of grade levels and with varying ability levels.
No-Prep Geography Lessons
This Continents and Oceans Board Game will be a fun addition to your social studies or world geography curriculum. It includes a set of directions, a game board, 20 question cards, an answer key, and game pieces. 
To play,
Students will choose a card, read it aloud and answer the question. 

If answered correctly, move the number of spaces listed on the card. If incorrect, the turn ends. 

Play continues until one player lands on FINISH! 
Easily Download & Print
Use the dropdown icon on the Download button to choose between the PDF or Google Slides version of this resource. It is also available in both full-color and black and white.
Make sure you stop in and grab more Social Studies and Geography lessons while you're here!
---
This resource was created by Lindsey Phillips, a teacher in Michigan and Teach Starter Collaborator. 
Don't stop there! We've got more activities to shorten your lesson planning time: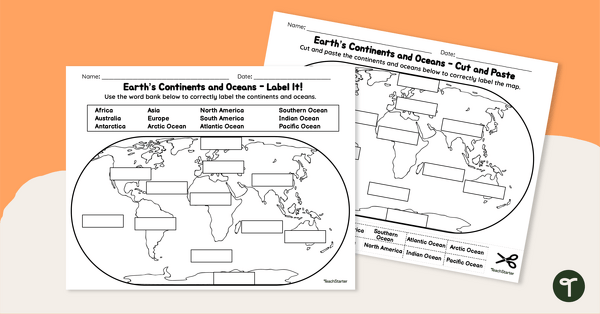 teaching resource
Turn geography into a fun and educational learning experience by using our free Continents and Oceans worksheets!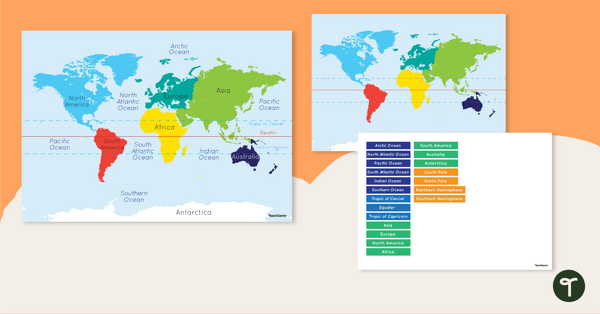 teaching resource
Discover and label the world's continents and oceans with this blank map of the world.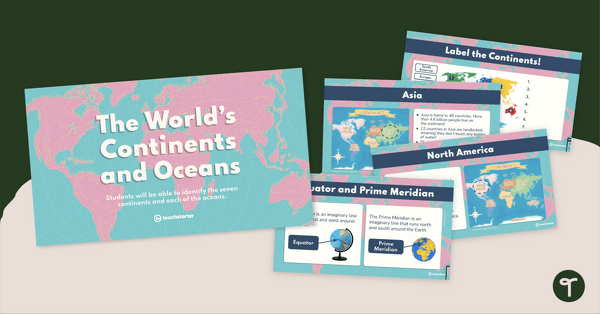 teaching resource
Explore the seven continents and five oceans of the world with this comprehensive teaching presentation.