Teach the rules of punctuating direct speech in texts with an interactive teaching presentation
How Do You Punctuate Direct Speech? Let's Learn How!
Every year teachers worldwide battle with a common grammatical foe – the quotation mark. Teaching young writers the rules of punctuating direct speech is no simple task. Students won't learn the material from worksheets alone. They need to 'see' the punctuation rules in action within texts! 
We've developed another tool for your teacher toolbox–an interactive teaching presentation that specifically addresses direct speech punctuation.
Through this teaching presentation, your students will begin to understand how to use commas and quotation marks to indicate direct speech and quotations in a text.
Practice Applying Direct Speech Punctuation
This presentation works best as an introduction to direct speech punctuation.
This resource uses varied types of sentences—character dialogue and direct quotations from simulated non-fiction texts so that students can practice with both types of direct speech. This resource also requires that students identify sentences with proper use of quotation marks and commas to mark speech.
Scaffolding + Extension Tips 
Challenge students who already understand the concept to try one of our handy

Direct Speech activities.

Support students who need help understanding the concepts by providing additional think time during instruction, or a visual reference, such as a

quotation marks poster

, punctuation mark guide, or speech marks

anchor chart

, to remind them of their punctuation rules.  
Get our 10 Best Scaffolding Strategies here! 
Before You Download
Download the Google Slides resource file by clicking on the Download button. Project the slides onto a screen and start teaching!
---
Jennifer Hall, a teacher in North Carolina and Teach Starter Collaborator, created this resource. 
Make sure students leave your classroom proficient in their punctuation with these resources and activities:   
teaching resource
Help your students remember their punctuation rules by providing them with this bookmark for quick reference.
teaching resource
Amazing Man helps students to learn what both direct and indirect speech entails as well as providing examples on how they can use it themselves.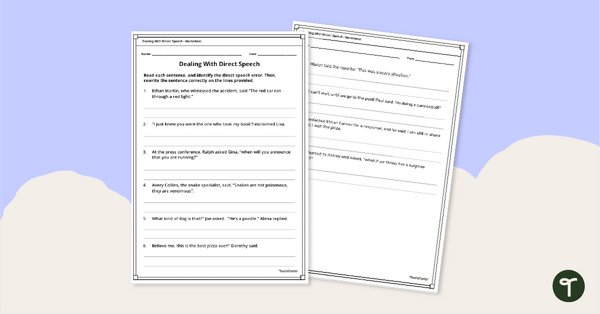 teaching resource
A worksheet for students to practice writing direct speech.