Give the gift of a handy student-created bookmark this Father's Day.
Printable Bookmark Craft, Perfect for Father's Day!
Looking for the perfect gift for your students to take home for Father's Day, that is also quick and easy to make? Teach Starter has you covered!
These printable Father's Day bookmarks feature four awesome designs with inspiring messages about why dads are amazing human beings!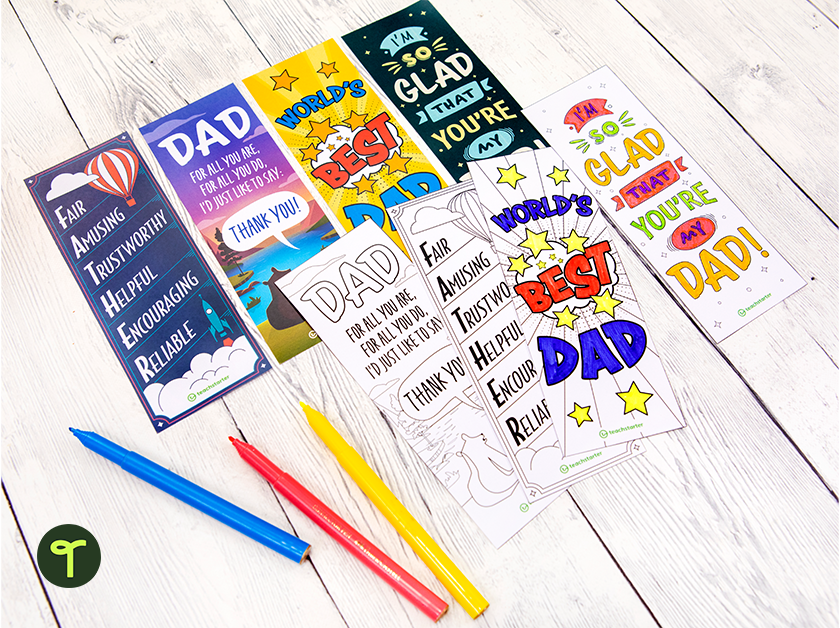 The quotes on our Father's Day bookmarks include:
I'm so glad that you're my dad!
Fair, Amusing, Trustworthy, Helpful, Encouraging, Reliable
World's Best Dad
For all you are, for all you do, I'd just like to say thank you!
Color Your Own Bookmarks, or 'Fancy Up' Ours!
Black and white versions of our Father's Day bookmarks are available so that students can color in the bookmark of their choice.
Running short on time? Why not provide students with the colored version, then have them add their own unique touches.
It is recommended that you print this resource on cardstock for increased durability.