Use this hands-on puzzle to practice telling time to the half hour and hour.
Practice Telling Time to the Half Hour and Hour With Our Polygon Puzzle
Our fun and engaging Hour and Half Hour Polygon Puzzle will help practice telling time to the nearest hour and half hour. The puzzle is made up on 10 pieces, with different times (digital form and word form) on each piece. 
To complete the activity, encourage students to cut apart all of the polygon pieces. Students will then look to match corresponding times (ex. half past 8 and 8:30). Students will glue the pieces together in the correct order on a separate piece of paper.
Through this activity, students will show that they can match word and digital forms of each time.
Tips for Differentiation + Scaffolding 
A team of dedicated, experienced educators created this resource to support your math lessons. 
In addition to individual student work time, use this telling time game to enhance learning through guided math groups or as a partner activity. 
If you have a mixture of above and below-level learners, check out these suggestions for keeping students on track with the concepts: 
🆘 Support Struggling Students
Help students who need help understanding the concepts by completing the activity in a small group or 1 on 1 setting. Additionally, provide access to previous assignments, as well as posters and anchor charts for students to recall past lessons.
➕ Challenge Fast Finishers
Encourage fast finishers to create their own polygon puzzle. Challenge students to include times such as "quarter past 5" or "quarter til 7."
Plan lessons for all ability levels with our 10 Best Scaffolding Strategies! 
Easily Prepare This Resource for Your Students
Use the Download button to access the PDF version of this resource. An  answer key is also included with this download. 
If you wish to use this activity in a center, print on cardstock for added durability and longevity. Place all pieces in a folder or large envelope for easy access. 
---
Don't stop there! We've got more activities and resources that cut down on lesson planning time: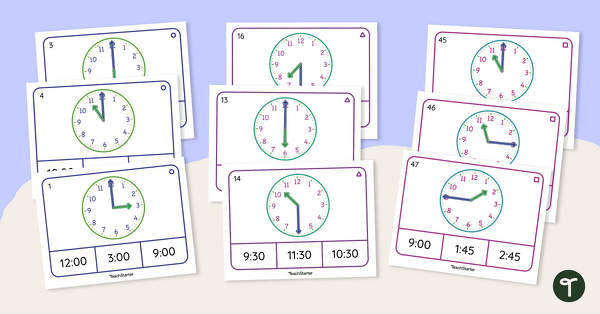 teaching resource
Identify the time on the analog clock and use a clothespin to mark the correct digital time.
teaching resource
Match cards with three different representations of time to practice reading clocks and time in their written form.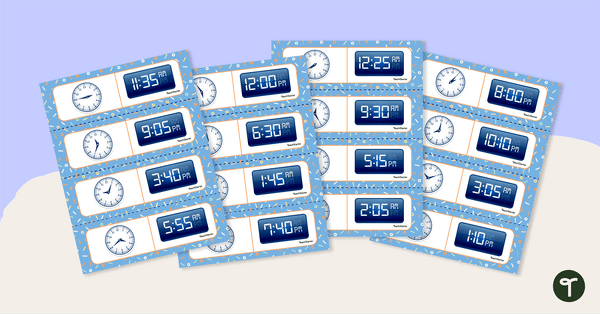 teaching resource
Practice telling time to the nearest 5 minutes by matching 32 analog and digital clock dominoes.