Download 180 days of morning meeting questions to foster communication and positivity while building relationships in your classroom.
Morning Meeting Questions for Elementary Grades
Creating a more positive learning environment for your students will benefit them in all aspects of their lives. Morning meetings are an excellent way to help students transition from home to school and help them get ready to learn. Help your students build relationships with each other and promote an overall sense of community in the classroom with this resource! This is a slide deck containing a full year of daily morning meeting activities, one for each day of the school year!
When ideating this resource, our teacher friends adamantly agreed that a full year's worth of morning meeting prompts would be an excellent addition to their teacher toolkit. We took that advice to heart and created an amazing social-emotional slide deck!
We didn't come up with 20 ideas, 50 ideas, or even 105 morning meetings sharing ideas. We put our teacher brains to work and created 180 different morning meeting greeting ideas and discussion prompts, one for each day of the school year! 
Daily Morning Meeting Questions for Kids
This resource is structured with Monday through Friday slides, each with a simple yet thought-provoking prompt. The days of the week are themed as follows
Mindset Monday – These morning meeting prompts promote a 

growth mindset

and goal setting.

Talkative Tuesday- These daily prompts encourage students to learn more about each other through talking about things they love and have in common.

Wacky Wednesday – Each of these fun morning meeting questions encourages students to use their imagination and verbal skills to engage in conversation.

Thoughtful Thursday – These conversations encourage deep thinking and reflection.

Feelings Friday – Each Friday morning meeting question guides students into discussions about feelings,

emotions

, and coping strategies.
To use, all you need to do is click the download button to access this resource's editable Google Slides version. Open the presentation to the day you need and project it on a screen. Now your students can get to thinking as soon as they walk in the door!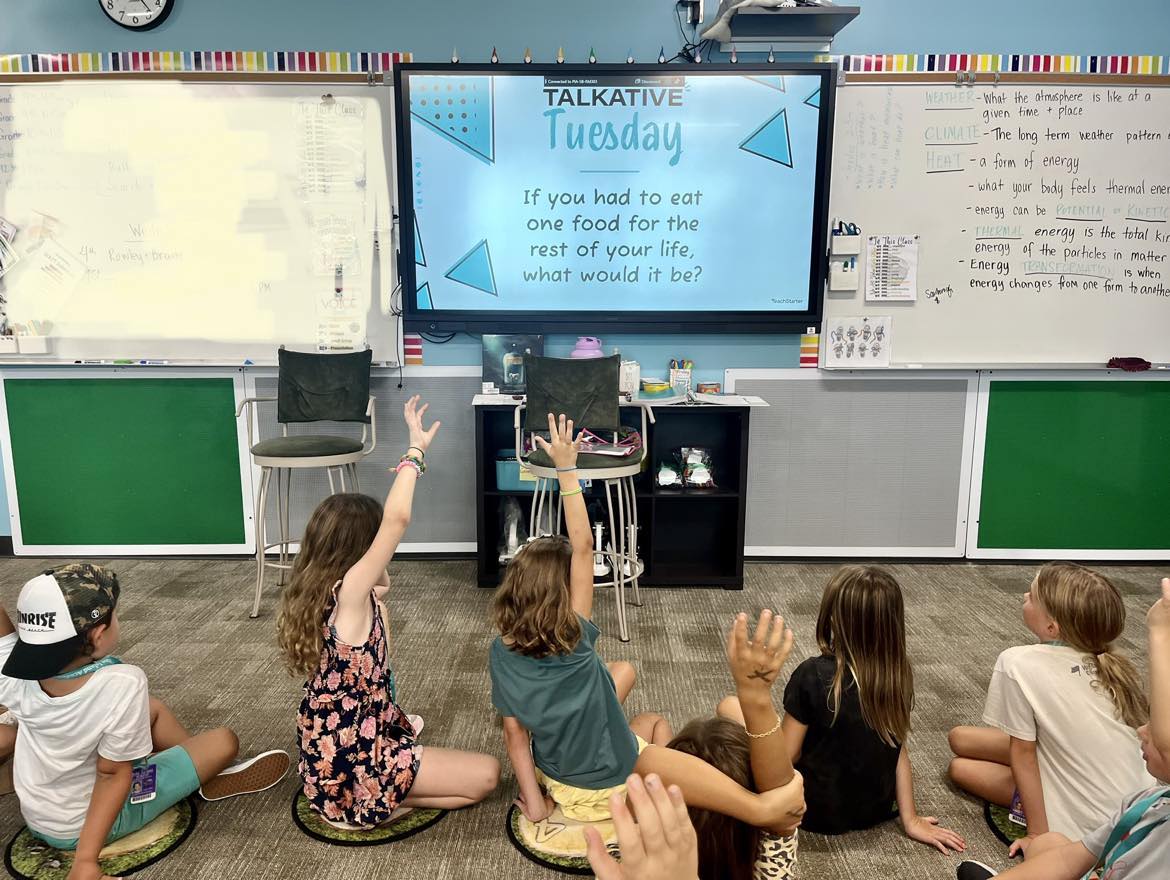 ---
While you're here, check out more Social Emotional activities and teaching resources that fill your lesson plans and students' brains:
[resource:4657405]   [resource:4822216]   [resource:4819043]