Practice using positive, comparative, and superlative adverbs with an adverb worksheet.
Teaching Comparative and Superlative Adverbs? Let Us Help!
Are you looking for a skill-driven way to tackle positive, comparative, and superlative adverbs with your students? The goal of this simple worksheet is to enhance your learners' abilities in using the correct form of positive,superlative, and comparative adverbs.
The adverb worksheet is a tried and true way for students to practice using comparative adverbs and superlative adverbs. Students will identify the correct adverb form that must be used to complete each sentence. This resource includes the worksheet and answer key.
Tips for Differentiation + Scaffolding 
A team of dedicated, experienced educators created this resource to support your language arts lessons. 
In addition to partner work time, use this adverb worksheet to enhance learning through guided writing groups, homework assignments, or as a fast finisher activity.
If you have a mixture of above and below-level learners, check out these suggestions for keeping students on track with the concepts: 
🆘 Support Struggling Students
Help students who need help understanding the concepts by providing an anchor chart or reference sheet about adverbs.
➕ Challenge Fast Finishers
For students who need a bit of a challenge, encourage them to write sentences or stories using the adverbs from the worksheet.
Looking for more ELA Ideas and Resources? Look at A Simple Way to Get Your Kids Writing Every Day.
Easily Prepare This Resource for Your Students
Use the dropdown icon on the Download button to choose between the Google Slides or PDF version of this resource
---
This resource was created by Kiri Sowers, a teacher in Illinois and Teach Starter Collaborator. 
Don't stop there! We've got more activities and resources that cut down on lesson planning time: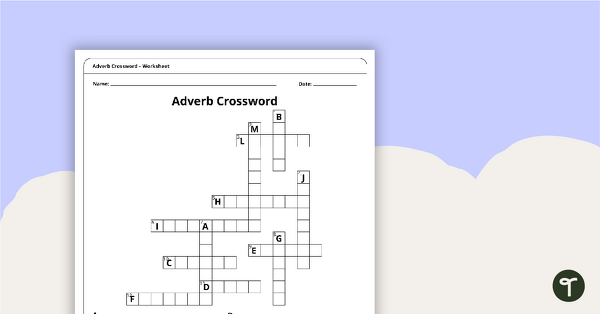 teaching resource
A crossword for students to review different adverbs.
teaching resource
Enhance student understanding of the 8 parts of speech with these colorful, informative, and easily-referenced grammar wall posters for the classroom covering nouns, verbs and more!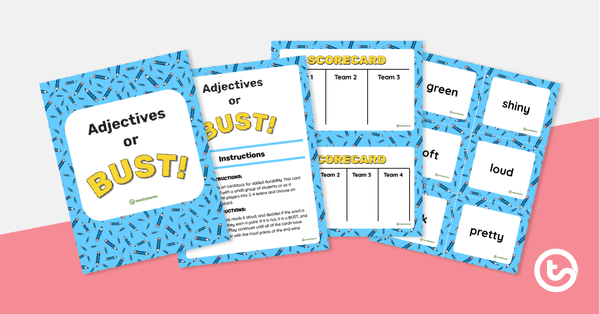 teaching resource
Play this engaging adjective identification card game with a small group of students or as a whole class.