Enhance your students' comprehension, vocabulary, and writing skills with this nonfiction Earth Day passage and accompanying activities.
Earth Day Reading Activities – Nonfiction Comprehension Activities for Earth Day
Earth Day falls on April 22nd each year, and it is a time to appreciate the world around us. This Reading/Writing Nonfiction packet focuses on Earth Day and would be great as a way to wrap up your study of nonfiction reading skills, brainstorming, and writing informational text.  It could also just be a fun way to extend your students' interest in Earth Day!
The resource provides a nonfiction passage written to provide students with important background information on the holiday, along with providing the following activities:
An answer key is included with your download to make grading fast and easy!  
Tips for Differentiation + Scaffolding 
In addition to independent student work time, use this worksheet as an activity for:
Lesson warm-up

Homework assignment

Whole-class review (via smartboard)
For struggling readers, try the following:
Provide read aloud accommodations.

Allow students to partner read the passage and complete the comprehension check together.

Pre-teach vocabulary related to passage prior to reading. 

Build background before completing by viewing videos, images, or discussing prior knowledge on the topic.
For fast finishers, enhance their learning by trying the following:
Encourage students to look into activities that they could do to participate in Earth Day, or have them create posters highlighting things that students could do to contribute.

Have students read additional texts or watch videos about Earth Day. 

Have students enhance their writing into a complete five-paragraph essay.
Easily Download & Print
Use the dropdown icon on the Download button to download the PDF
Because this resource includes an answer sheet, we recommend you print one copy of the entire file. Then, make photocopies of the blank worksheet for students to complete.
To save paper, we suggest printing the 2-page worksheets double-sided. 
Additionally, project the worksheet onto a screen and work through it as a class by having students record their answers in their notebooks. 
Get more worksheets to have handy!
---
Don't stop there! We've got more activities to shorten your lesson planning time: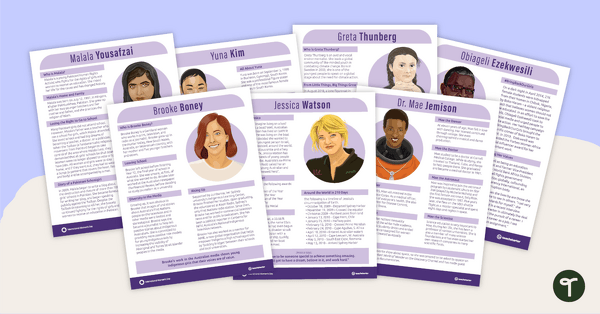 teaching resource
A set of 7 posters profiling inspirational women from around the world.
teaching resource
A 14 slide editable PowerPoint template explaining the reading comprehension strategy of monitoring.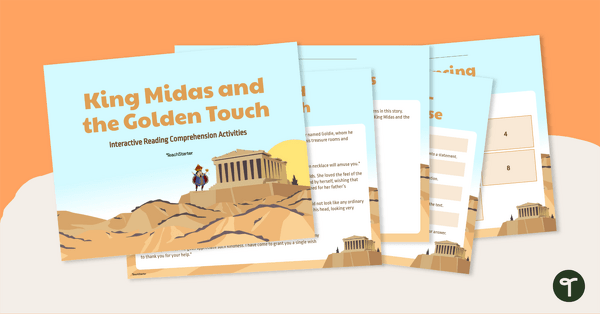 teaching resource
Review and practice multiple reading skills using the text "King Midas and the Golden Touch" with these digital and print resources.