Explore silent letters in a new and unusual way with this creative craft activity.
Silent Letter Words + Crafting = Fun!
Looking for a new, interesting way to demonstrate and show off your students' understanding of silent letters? This flower craft will do just the trick! Students will love combining their literacy learning with a hands-on craft activity… with any luck, they may not even realize they're learning!
This engaging literacy resource includes everything your students will need to create a silent letter sunflower. It contains two different templates better to meet the diverse learning needs of your students.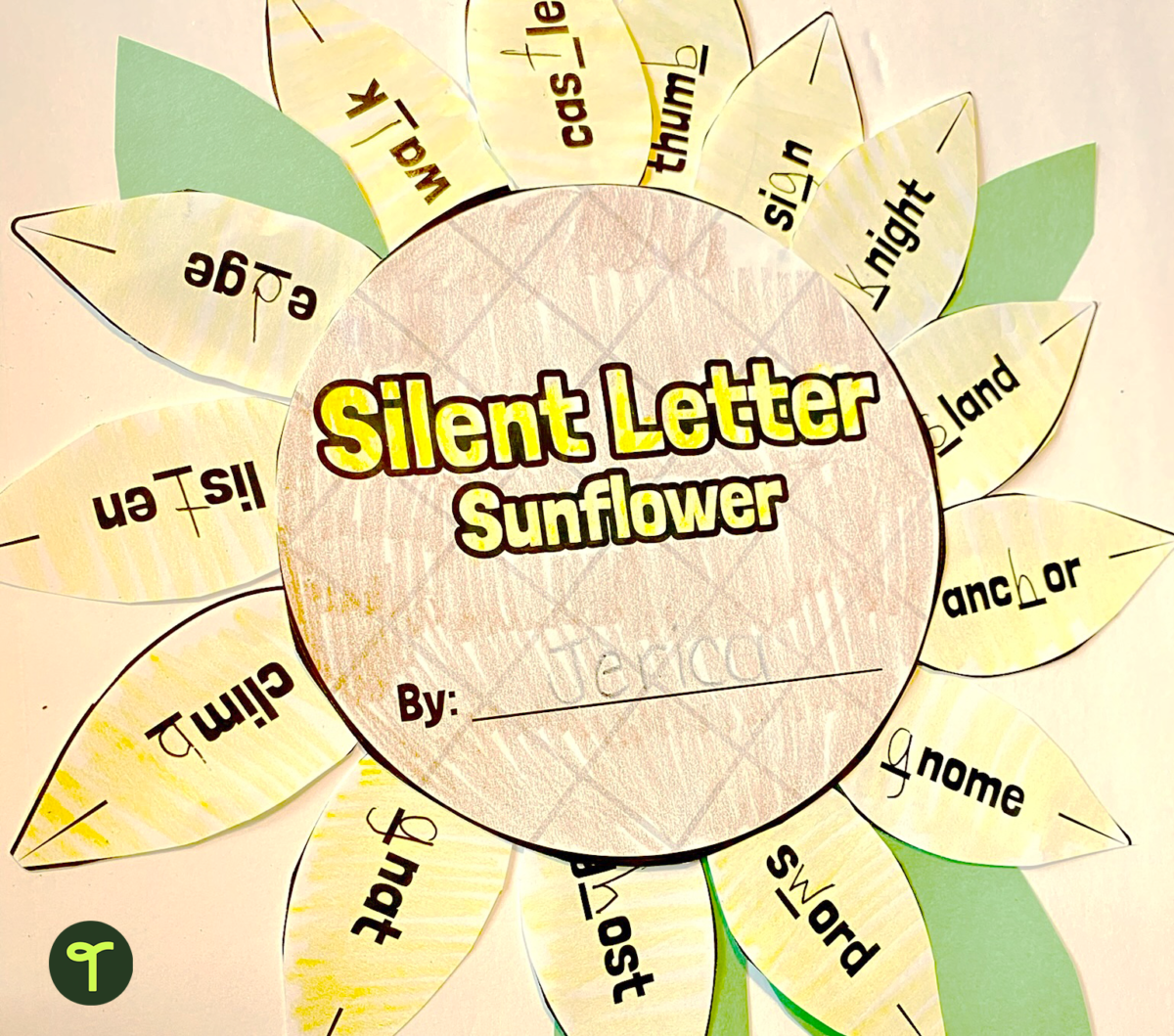 The first set should be given to students with a solid grasp of silent letters and how they are used in common words. It contains blank petals upon which students can write silent letter words of their own choosing.
The second set should be given to students who may require additional scaffolding to complete the activity. It contains petals with pre-written silent letter words. The silent letter is missing and must be added in by the student.
How to Create Our Silent Letter Craft
Creating our silent letter craft is as easy as 1, 2, 3!
Provide each student with the most appropriate template for their learning ability. Each student needs one silent letter circle for the middle of their flower and two sheets of flower petals to attach around the circle. 

Have the students write silent letter words on the blank flower petals or fill in the missing silent letters on the pre-filled petals.

When students are finished writing on their petals, have them cut them out and paste them onto the circle to create a flower.
Why not create a silent letter flowers classroom display to brighten up your bulletin board and show off your students' fantastic learning?
Make a Silent Letter Spring Bulletin Board!
Have your students craft a whole garden full of silent letter sunflowers and display them on your Spring bulletin board. It's an easy way to kill two birds with one stone!
Use the dropdown arrow next to the Download button to choose between the Google Slides or PDF version of this resource.
You may wish to print this resource on colored cardstock; alternatively, print it on white cardstock and allow the students to color their flowers in their own choice of colors.

Your students will need scissors and glue to complete this activity.
---
This resource was created by Anna Helwig, a teacher in Arizona and a Teach Starter collaborator.