Make mental wellness check-ins a regular part of your day with our collection of 50 student self-reflection prompts.
Foster Mindfulness in the Classroom with Student Self-Reflection Exercises
Self-reflection is HARD work. 
As adults, these personal "timeouts" are a challenge because of our days' endless tasks and distractions. But when we prioritize our well-being, looking inward allows us to take time for ourselves—to determine what we need to be at our best and when to take a step back and take care of our mental, physical, and emotional health. 
And when you encourage your students to learn this beneficial habit early, they'll be more likely to carry it into adulthood! 
These self-reflection prompts help students think about parts of their lives that directly or indirectly contribute to their sense of well-being. These check-ins are an excellent tool for giving students space to consider their mindset. Additionally, these prompts can provide insights into students' behavior that impairs or interferes with learning. 
The prompts cover a range of topics related to physical, mental, and emotional health, such as: 
Gratitude 

Empathy

Emotional intelligence

Resilience strategies

Lifestyle habits
Students can interact with the prompts by writing their responses, drawing a picture, or verbally sharing their thoughts with the class, small group, or a partner. 
One download includes 50 prompts, making it easy to consistently check in with your students during the school year. 
Tips for Differentiation + Scaffolding 
A team of dedicated, experienced educators created this resource to support social-emotional learning in the classroom. 
In addition to individual student work time, use this activity to enhance learning through guided groups, whole class lessons, or remote learning assignments. 
If you have a mixture of above and below-level learners and ELL/ESL students, we have a few suggestions for keeping students on track with these concepts: 
🧑‍🏫 Group Learning
Project the slides onto a screen and work through them as a class by having students record their answers in their notebooks or mini whiteboards. 
Appoint students in need of a challenge to leadership roles in a small group.
🗣️ Turn & Talk 
Invite students to pair up with someone in the seat nearest to them for a 5-minute Turn & Talk. Students should use this session to make space for each other by actively listening, asking questions, and practicing empathy.
🆘 Support Struggling Students
Use these prompts in a 1:1 intervention setting to give students a safe space to discuss their feelings in private. Additionally, provide students with a personal journal to write their self-reflections. They can choose to share their thoughts with a peer or a teacher if they feel comfortable.  
Easily Prepare This Resource for Your Students
Use the dropdown icon on the Download button to choose between the PowerPoint or PDF versions of this resource. 
Alternatively, print slides to use for your: 
Daily warm-ups

End of the day wrap-ups

Fast finisher activities

 

Homework assignments
---
While you're here, check out more activities and teaching resources to promote healthy hearts and brains in the classroom: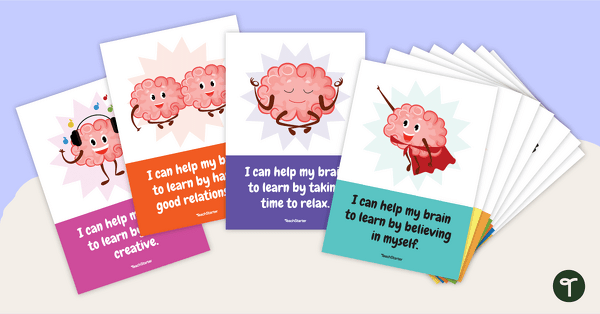 teaching resource
Display these classroom posters to remind your students of things they can do to ensure the three brains are functioning at their best.