Teachers are often creatures of habit. And, if you've taught the same year level year in year out – you usually have a go-to book that you read to your class on the first day of school. It's one you know works and covers the content you want to share with your students on the first day. But, what if I told you our colleagues also memorised a bunch of books stamped with their teacher tick of approval? Well, that's exactly what this list of books for the first day of school is – a collection of 36 teachers' go-to storybooks for day one of the school year!
Teachers Share Their Go-To Book for the First Day of School
We have ended up with a fantastic mix of books for all sorts of topics.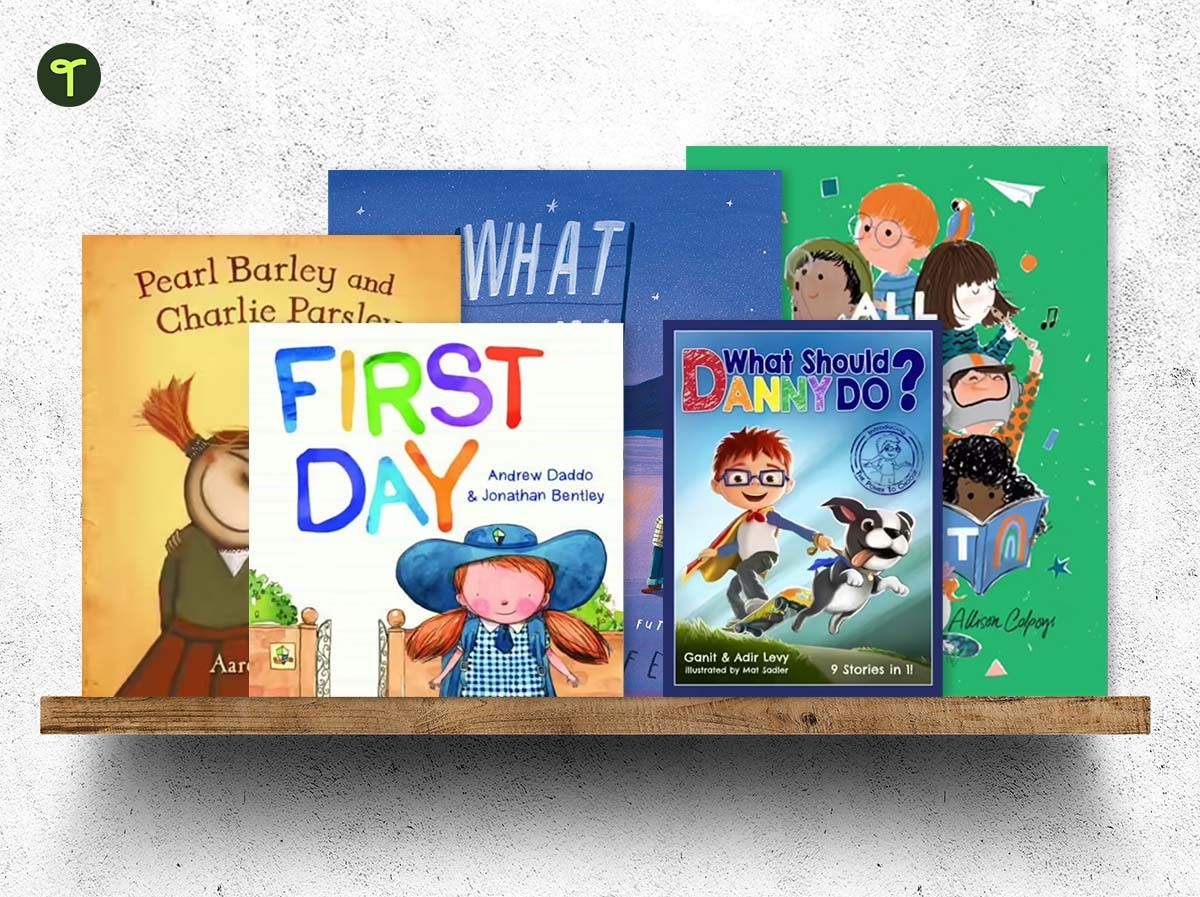 Books About the First Day of School
An adorable picture book about first-day nerves from the team who brought you I DO IT and CHECK ON ME.
Written by a Paediatrician this book is all about Danny beginning 'Big School'. Danny feels scared at first, but he soon learns that big school is lots of fun!
An absolutely adorable guide for kids using cute animals and covering things like the first day jitters, meeting teachers, making friends, lunchtime, home time, and everything in between.
Sarah Jane Hartwell is starting over at a new school and is scared. Mr. Hartwell spends the morning encouraging Sara Jane to get ready and go to school. Mrs. Burton steps in and help smooth her first day jitters.
This is a fun silly storybook to try and help students get over their first day jitters.
Books About Celebrating Diversity
A book celebrating neurodiversity. Conditions like Autism, ADHD, Dyslexia and the like are normal and essential parts of human biodiversity – without it, we don't get Picasso, Einstein or Greta Thurnberg!
This is a beautiful story about embracing our differences and celebrating our diversity.
A beautiful story to read to your children on day one of the school year. The book follows a group of diverse children as they each build their very own hot-air balloons. The kids work together leaning into their own skills to fill the sky with beautiful colours.
Little Miss Jessica doesn't look like the other kids. Follow her journey as she discovers, with her school friends, that their differences are the exact thing that brings them together.
Books About the Importance of Kindness
A book for children aged 8 years or older that explores a child's perspective on the refugee crises. It highlights the importance of friendship and kindness.
A book that focuses on reminding children to be kind and how important it is to be kind.
A delightful book to teach young children how to experience the joy of giving and receiving. It introduces the concept of the invisible bucket.
A beautiful tale teaching children the idea that fighting is not the best alternative and that an enemy can become a friend.
This book teaches young readers a valuable lesson about giving, sharing and caring. A guide to daily happiness and all about that invisible bucket.
Books About Social-Emotional Skills
The perfect book to read at the start of the school year to build up your students' confidence.
This is a beautiful story and perhaps one to suggest to parents of children who are really anxious about starting school. Chester Raccoon doesn't want to go to the first day of school. To ease his fears, Mrs. Raccoon shares a family secret called the Kissing Hand to reassure him of her love any time he feels a little scared.
This is a gorgeous book where a photographer asks children 'What is the best part of you?' then presents their answers and includes striking black and white photographs. A great activity to then do with students.
Nine different stories in one book. A book that empowers kids that their choices will shape their days.
Peral and Charlie are best friends but they are very different. A gorgeous story that highlights the power of friendship.
A book written by a Psychotherapist explores how feelings are like clouds and we all have the power to change our feelings.
This book helps kids to understand why anxiety feels the way it does and empowers them to notice when they are feeling anxious. It talks about how anxiety is a sign that you're about do do something really brave.
A book that shows young readers how every mistake is an opportunity to make something beautiful. A gorgeous book to read to talk about how it's ok to make mistakes – that's how we learn.
A well-known story that is a great book to bring out on day one! Entice even the stubbornly uncreative to make a mark! There are lots of great art activities that you can do after reading this story too!
A spectacular story of a father and daughter working together to build memories to cherish, a home to keep them safe and love to keep them warm. A heart-warming story to read on the first day of school.
Larry teaches listening skills with cute rhymes that talk about whole body listening in a kid-friendly way.
Silly Books for the First Day of School
This is a captivating story about a just-baked Gingerbread Man being left behind in the classroom. With the help of some school staff, the Gingerbread Man ends up finding the class. A funny twist on the original story.
A cute picture book about the keenest dragon in school. But he's a little bit accident-prone!
If you're looking for a book that you can read that will captivate your students from day one – this is it! Take their mind off their first-day jitters by exploring these fantastically silly letters from each of the crayons!
A little bit of fun for the older kids! Dr. Dread one of the teachers featured in this book teaches science and is half man, half monster!! This book includes ten terrifying tales about the world's worst teachers.
Another great book to read that will take your students' minds off their first day jitters. A very, very silly book that will have your students in fits of laughter – but be careful – there's some utterly goofy words in this book.
The teacher has grown a long trunk and the gym is full of llamas. Join Oscar and Ava as they discover their school has been taken over by zoo animals.
A true Aussie book that follows the day in the life of a wombat who suddenly finds himself at a local school.
Books About Celebrating Reading
A funny story about a little boy who develops an appetite for books – not like we read books – he actually eats them! He dreams of becoming the smartest boy in the world.
A wonderful story celebrating books and how they bring us all together.
Begin the year by celebrating the joy of reading and begin a lifelong love of books. Join Parsley and his brother Basil as they walk through the different elements that make up a book.
And there we have it – 36 absolutely gorgeous children's books to read on the first day of school.
If you're looking for more first-day-of-school activity ideas, head to our blog 5 Quick and Easy First-Day Activities.