It's that time of the year when we like to talk about back-to-school books. If you've taught the same year level several years in a row, you probably already have a go-to book list that you return to on the first day of school — after all, teachers are creatures of habit.
But what if we told you our colleagues have a brand new booklist for you — all back-to-school books that are stamped with the teacher tick of approval? Well, that's exactly what this list of books for the first day of school is — a collection of 36 teachers' go-to storybooks for day one of the school year!
How to Use This Back-to-School Booklist
Reading back-to-school books is a great way to connect with your new class on the first day of school, but that's not all. Use a read-aloud to:
Introduce rules and classroom expectations
Open up classroom conversations about feelings
Set the tone for the school year
Get ready to explore favourite picture books from the Teach Starter team and more teachers from around Australia to pull out on day one! We have ended up with a fantastic mix of books for all sorts of topics, plus we've put together some ideas for activities that will go along with the read-aloud.
Books About the First Day of School
Help students get over their first-day jitters with a classic by Mo Willems (the author of Don't Let the Pigeon Ride the Bus). The pigeon goes through a range of feelings, just like your little learners, and it is the perfect picture book to open up discussions with your early years students about any fears they may have about starting school.
This is a good time to introduce students to words used to describe feelings and help them learn to express them in the classroom. Print a "how are you feeling today" poster that will offer visual cues for your students to turn to, or introduce students to the worry waterfall (this printable is free!).
This is an adorable picture book about first-day nerves from the team who brought you I DO IT and CHECK ON ME. 
Written by a paediatrician, this book is all about Danny beginning 'Big School.' Danny feels scared at first, but he soon learns that big school is lots of fun! It's a feeling many early years students will identify with.
After reading, why not learn how to sign feelings and emotions in Auslan (Australian Sign Language)? You can create an interactive display for your classroom and encourage your students to attach a name peg to the Auslan Feeling Flashcard that best describes how they are feeling?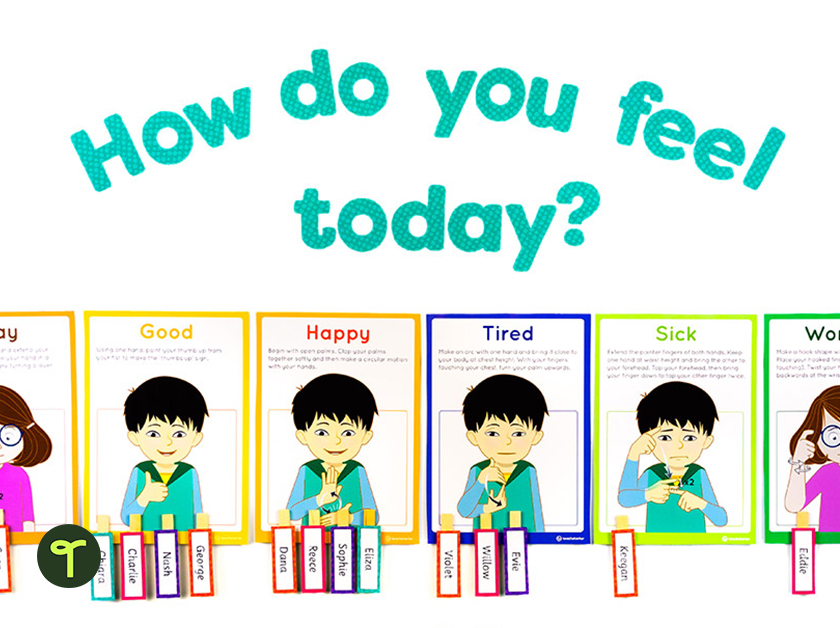 This an absolutely adorable guide for kids using cute animals to cover topics such as first-day jitters, meeting teachers, making friends, lunchtime, home time, and everything in between.
The Starting School Chatterbox is a great way to introduce simple tasks that can be done to make students ready to embrace school life. The tasks encourage your students to:
learn how to spell their teacher's name
get their school uniform ready the night before school
pack their bag the night before school
learn the names of two people in their new class
read to an adult at home
introduce themselves to a classmate
draw a map of their classroom
show an adult how to hold their pencil
Sarah Jane Hartwell is starting over at a new school and is scared. Mr. Hartwell spends the morning encouraging Sara Jane to get ready and go to school. Mrs. Burton steps in and help smooth the way. This is the perfect book to read if you have a lot of students who are new to the school in your classroom.
Books About the Importance of Kindness
A book for children aged 8 years or older that explores a child's perspective on the refugee crisis, this story highlights the importance of friendship and kindness — two themes perfect for the first days of school and all year through.
A book that focuses on reminding children to be kind and how important it is to be kind.
Why not ask students to write about all the ways they can "stick with kindness" this school year with a kindness activity perfect for prep through year 2 students? This simple template is one year 2 teacher Miss March told us opened up "great discussions" in her classroom, and it's sure to d the same in yours! Print the kindness activity template here.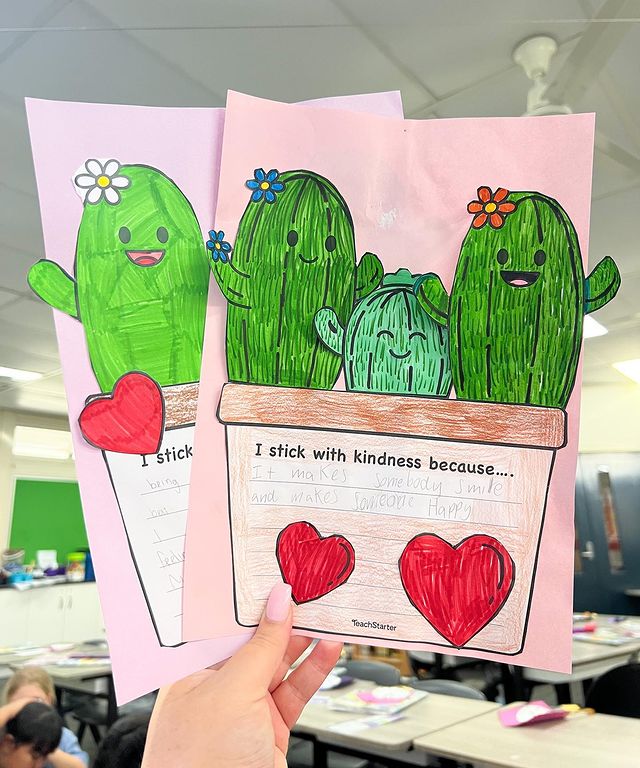 Thanks to year 2 teacher Miss March for this photo of the template in action! 
This is a delightful book to teach young children how to experience the joy of giving and receiving. It introduces the concept of the invisible bucket.
This beautiful tale teaches children the idea that fighting is not the best alternative and that an enemy can become a friend. It makes a great set-up to talk about conflict resolution. Get started with our free template!
This book teaches young readers a valuable lesson about giving, sharing, and caring using the visual of a bucket that is filled up. It's a great way to help students visualise something that is not tangible and can be hard for little ones to understand.
Books About Celebrating Diversity
The first day of school is a good time to let students know that your classroom is a safe space where all students will be cherished and respected. Explore themes of diversity and acceptance with some of these books chosen by our teacher team as must-reads for our back-to-school booklist.
This book celebrating neurodiversity ensures all students can feel seen and valued in your classroom. The book encourages students to look at brains just like fingerprints. They may all be different, but what is different is what makes them so special.
This is a beautiful story about embracing our differences and celebrating our diversity. It follows the story of Nic who worries that his new classmates will think he is strange and different. Instead, he finds that people in his new school welcome him and help him!
Author Nic Naitanui was born in Sydney to Fijian parents before moving to Western Australia. The Australian rules footballer may be known to students — he plays for the West Coast Eagles in the Australian Football League.
Attending a new school can be scary for little people because they don't know the people there or even where to find things (like the bathroom!) — help your class get acquainted with every part of the school with a fun scavenger hunt, and introduce them to all the staff along the way! Print scavenger hunt worksheets for each student or for pairs to share.
This is a beautiful story to read to your children on day one of the school year as it follows a group of diverse children as they each build their very own hot-air balloons. The kids work together leaning into their own skills to fill the sky with beautiful colours.
Why not encourage students to soar to great heights this term by creating a hot air balloon classroom display together?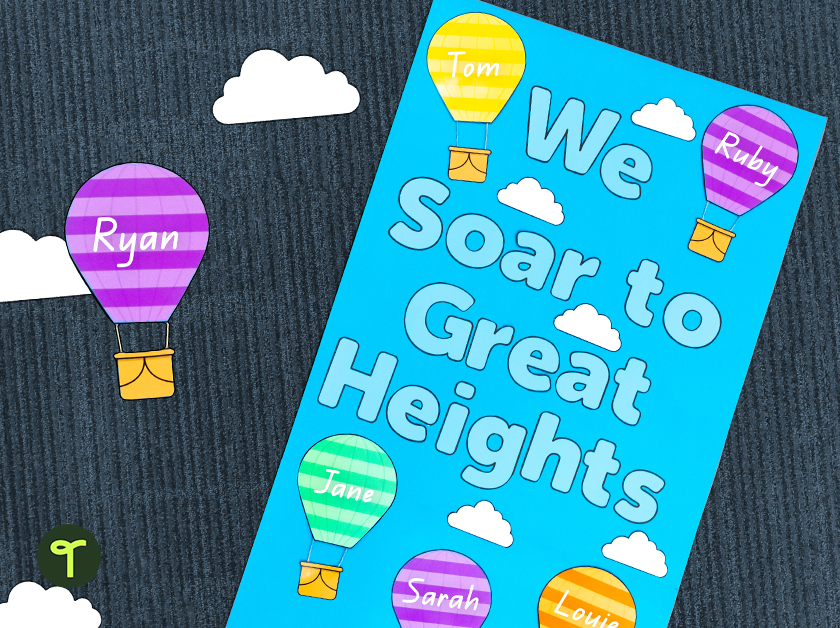 Little Miss Jessica doesn't look like the other kids. Follow her journey as she discovers, with her school friends, that their differences are the exact thing that brings them together.
This teacher-favourite book provides a brilliant opportunity to develop emotional literacy and to tick a Health and Physical Education box. After reading, why not use the My Emotions Wheel to show your students a range of emotions?
Ask your students to take you on a museum walk (silent stroll) around the classroom to observe the different areas of the classroom.
Gather in a circle, and lead a discussion in which your students tell you what they have seen.
Encourage your students to tell you what activities might take place in areas such as the reading nook, wet area and group work area.
Encourage your students to suggest how each area could be looked after.
Books About Social-Emotional Skills
Being smart is cool, and this is the perfect book to read at the start of the school year to build up your students' confidence. After reading, one of the teachers on our team loves to pull out this Proud Peacock printable worksheet and ask students to share all the special things that they are proud of!
It's a great activity to revisit at the end of term as well to see how that list has changed.
This is a beautiful story and perhaps one to suggest to parents of children who are really anxious about starting school. Chester Raccoon doesn't want to go to the first day of school. To ease his fears, Mrs. Raccoon shares a family secret called the Kissing Hand to reassure him of her love any time he feels a little scared. Why not create handprints of each student and add a sweet message in the center for each child to take home on the first day of school?
This is a gorgeous book where a photographer asks children 'What is the best part of you?' then presents their answers and includes striking black and white photographs. It presents a great activity to then do with students — ask them each what is the best part of you. They can
There are nine different stories in one book to empower kids that their choices will shape their days.
Peral and Charlie are best friends but they are very different, but this gorgeous story highlights the power of friendship. After reading, why not choose an icebreaker game to get your students started on making friends?
This book written by a psychotherapist explores how feelings are like clouds and we all have the power to change our feelings.
This book helps kids to understand why anxiety feels the way it does and empowers them to notice when they are feeling anxious. It talks about how anxiety can be a sign that you're about to do something really brave.
This is a book that shows young readers how every mistake is an opportunity to make something beautiful. It's a gorgeous book to read to talk about how it's OK to make mistakes — that's how we learn.
Entice even the stubbornly uncreative to make a mark with this book on the first day of school, or wait for International Dot Day in September. There are lots of great art activities that you can do after reading this story too — explore our whole International Dot Day teaching collection for activities that work any time of the year!
This is a spectacular story of a father and daughter working together to build memories to cherish, a home to keep them safe and love to keep them warm.
Silly Books for the First Day of School
This is a captivating story about a just-baked Gingerbread Man being left behind in the classroom. With the help of some school staff, the Gingerbread Man ends up finding the class. It's a funny twist on the original story.
This is another cute picture book about the keenest dragon in school, but he's a little bit accident-prone!
If you're looking for a book that you can read that will captivate your students from day one — this is it! Take their mind off their first-day jitters by exploring these fantastically silly letters from each of the crayons!
The book plays heavily on emotional language that your students can learn from and happens to be one of our favorites when teaching persuasive writing, so even if it doesn't make your first day of school booklist, it's one to add to your classroom library!
This is a fun read for the older kids! This book includes ten terrifying tales about the world's worst teachers. Dr. Dread — one of the teachers featured in this book — teaches science and is half man, half monster! We promise no science teachers were harmed in the making of this book.
Yup, another great book to read that will take your students' minds off their first-day jitters. It's a very, very silly book that will have your students in fits of laughter — but be careful — there are some utterly goofy words in this book.
Oh no! What has happened to the school? The teacher has grown a long trunk and the gym is full of llamas. Join Oscar and Ava as they discover their school has been taken over by zoo animals. (Perhaps a little inspiration for this year's classroom theme?)
This is a true Aussie book that follows the day in the life of a wombat who suddenly finds himself at a local school!
Books About Celebrating Reading
If you're anything like our teacher team, you are excited for your students to turn into bookworms this school year! Start the year off with an expectation that reading is fun with a printable bookmark they can use again and again … and a first-day-of-school read that makes it clear your classroom is a place where reading is valued!
This is a funny story about a little boy who develops an appetite for books, in the silliest way. He dreams of becoming the smartest boy in the world, by devouring books with his mouth. Nom. Nom!
This is a wonderful story about celebrating books and how they bring us all together. It's a wonderful way to introduce students to their new 'positive self-talk bookmarks," which you can print and hand out to students on the first day to let them know you are always on their side, and you are their first champion.
Adelaide teacher Bec tells Teach Starter she loves to gift these bookmarks to her students because "Our kids so desperately need to have a cheerleader on their side, especially when their environment, the world and their own mindset tells them they are not enough."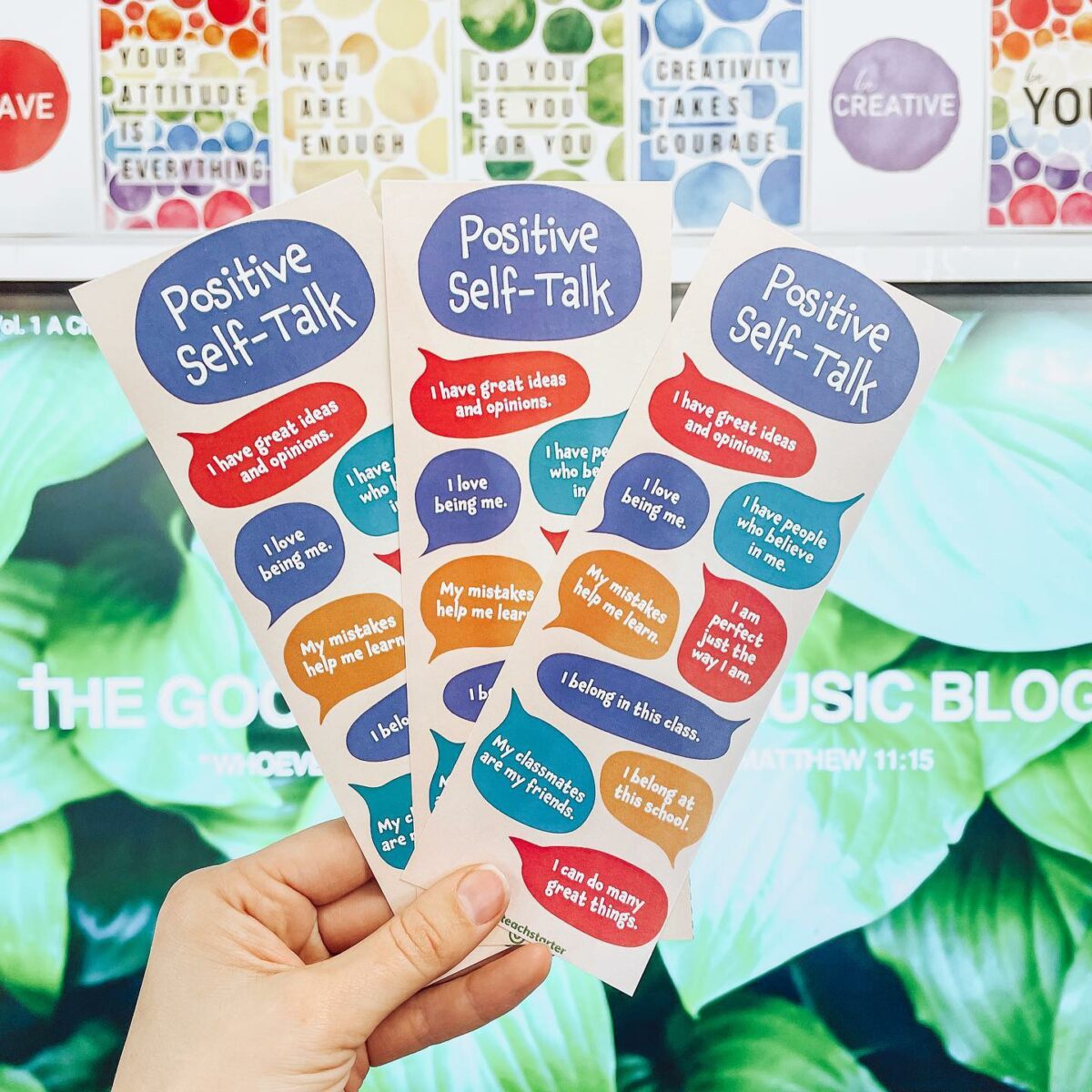 Begin the year by celebrating the joy of reading and begin a lifelong love of books. Join Parsley and his brother Basil as they walk through the different elements that make up a book.
If you're looking for more first-day-of-school activity ideas, head to our back-to-school collection!
Banner image via Shutterstock/Monkey Business Images