On April 25, as a nation, we commemorate Anzac Day and honour those who had served or are serving our country. In preparation for this meaningful day, we've put together a collection of Anzac Day activities and teaching resources for you to use in your lower primary, middle primary or upper primary classroom.
Anzac Day provides us with the opportunity to talk to our students about the importance of the ANZACS (Australian and New Zealand Army Corps) and the significant roles service men and women of our nations have now and had during the war.
During the Gallipoli Campaign, the Australian and New Zealand Forces created a powerful legacy commonly known as the 'Anzac Legend'. This then formed part of the identity for each nation, shaping past and future
What is Anzac Day?
Anzac Day is both a celebration and a commemoration. Explaining to your students the reasons behind the traditions and services is an important part of the day. Here's a gorgeous video that can be showed to all age groups.
Anzac Day Craft Ideas for the Classroom
Poppy and Flag Agamograph
Use this colouring template for a Poppy and Soldier agamograph to be used on Anzac Day.
To create this resource:
Colour in the template.
Cut around the outline.
Fold the template along the inner lines like a fan (one fold forwards, one fold backwards).
Display the completed agamographs in your classroom to acknowledge the sacrifices made by our servicemen and women.

ANZAC Soldier Silhouette Artworks
Use the Anzac Day Silhouette Art Templates to create a simple but effective tribute to the ANZACs.
How to Create an ANZAC Soldier Silhouette Artwork
Simply create a sunset background using one of the techniques below.
Cut out the template and glue it on top of the sunset.
Trim the edges of the background to match the template (i.e. trim around the outside of the circular template, or trim the sides of the rectangle template).
Sunset Background Techniques
Use red, orange, yellow and purple oil pastels to create a sunset. Gently blend the edges of each colour into the next.
Lay coloured crepe paper over a piece of white card and spray the crepe paper with water. Leave it for 2 to 3 minutes and allow the dye to soak into the white card. Remove the crepe paper and let the card dry.
Use watercolour paints to create the sunset.
Stick tissue paper squares onto the sticky side of clear book contact to create a background for the silhouette.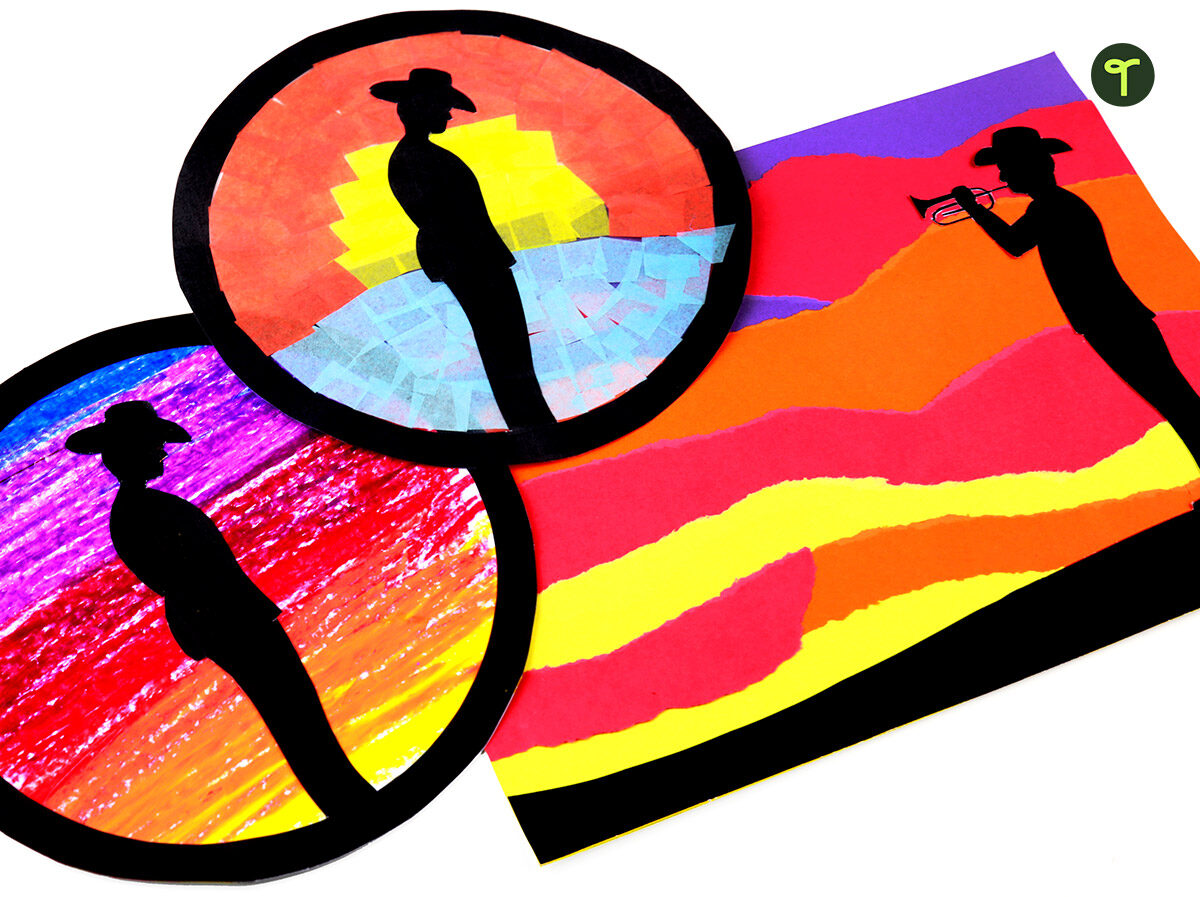 Poppy Mosaic Craft Idea
To help your class learn about the symbolic poppy, we have produced a meaningful Mosaic Poppy Art Activity. Mosaic art is wonderful for promoting mindfulness. It takes care and consideration – but the effort is well worth the stunning result.
The Mosaic Poppy Art Activity includes all you need to make a rich, eye-catching class display.
poppy template
patterned grids for the petals and centre of the flower
poppy stem.
Using this stunning resource, your students will be able to create a beautifully personalised Mosaic Poppy.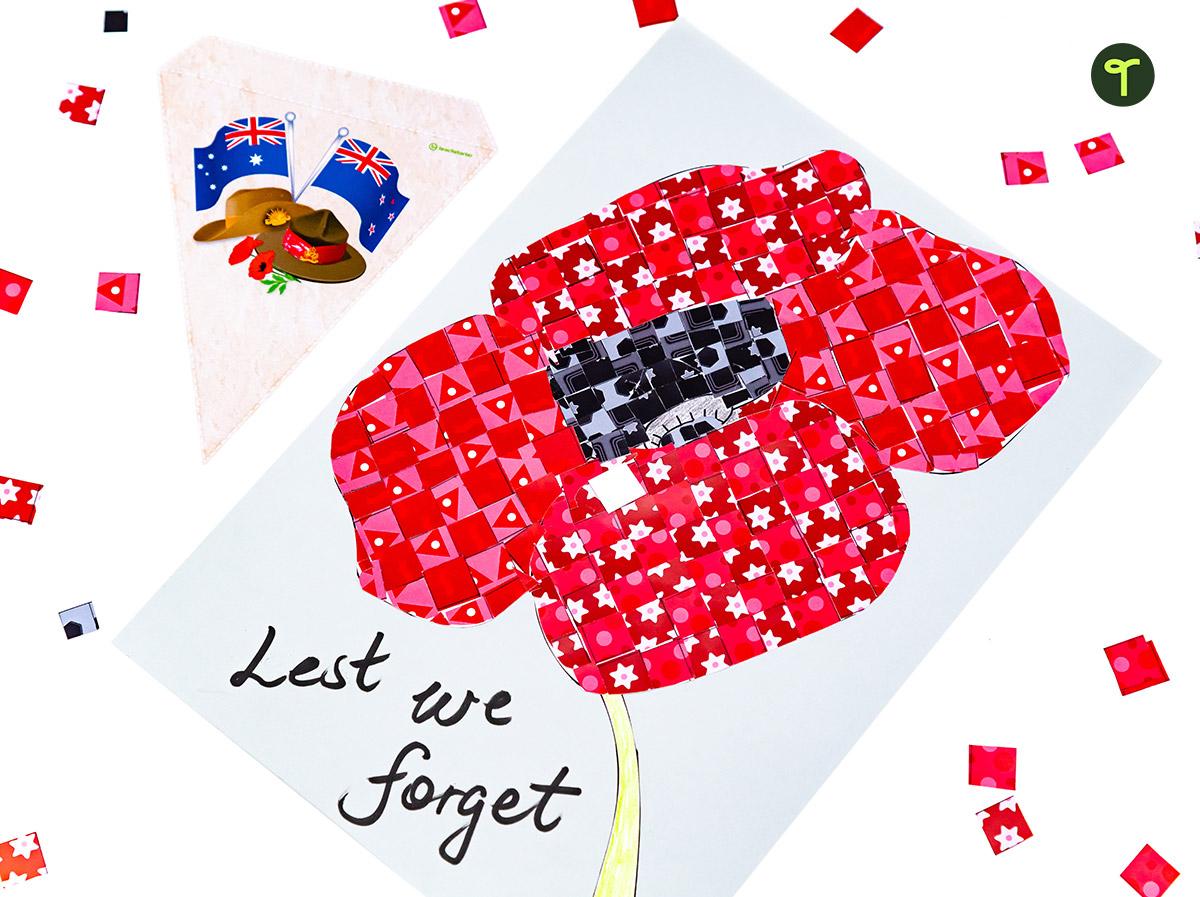 Create an Anzac Day Wreath
The wreath is a traditional tribute for Anzac Day services. They are traditionally woven with Laurel leaves, which was used as a symbol of honour as far back as the ancient Romans to crown victors and the brave. The wreaths are also adorned with red poppies.
Download our  Anzac Day Wreath template and have your students colour in the first template or they can colour the individual poppy, wreath, leaves and sign and stick it all together themselves.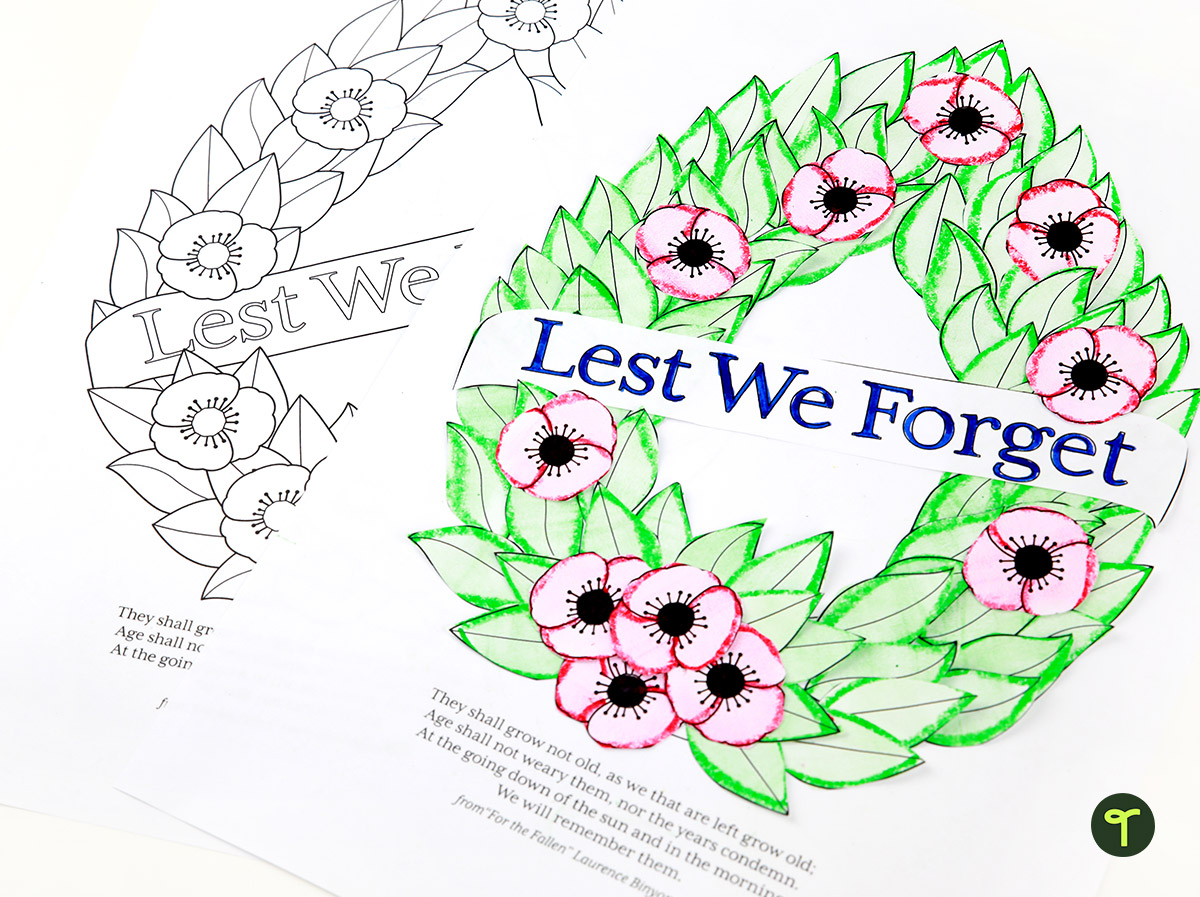 More Anzac Day craft activities for kids.
Anzac Day Picture Books
Picture books are a powerful way of introducing and explaining Anzac Day to children.
Before reading an Anzac Day picture book to your students, start a conversation with them about what Anzac Day means to them and the significance they think it has to our nation.
Whilst reading, stop and reflect on the events taking part along the way and imagine with your students how the characters may be feeling.
After reading, identify the important message that the author has presented in the book, then engage students with an activity that connects the students with the author's purpose or a personal experience they have had.
This picture book is about a boy and his grandfather who help the reader to understand the significance of ANZAC Day.  Lest We Forget by Kerry Brown is one of our top pics!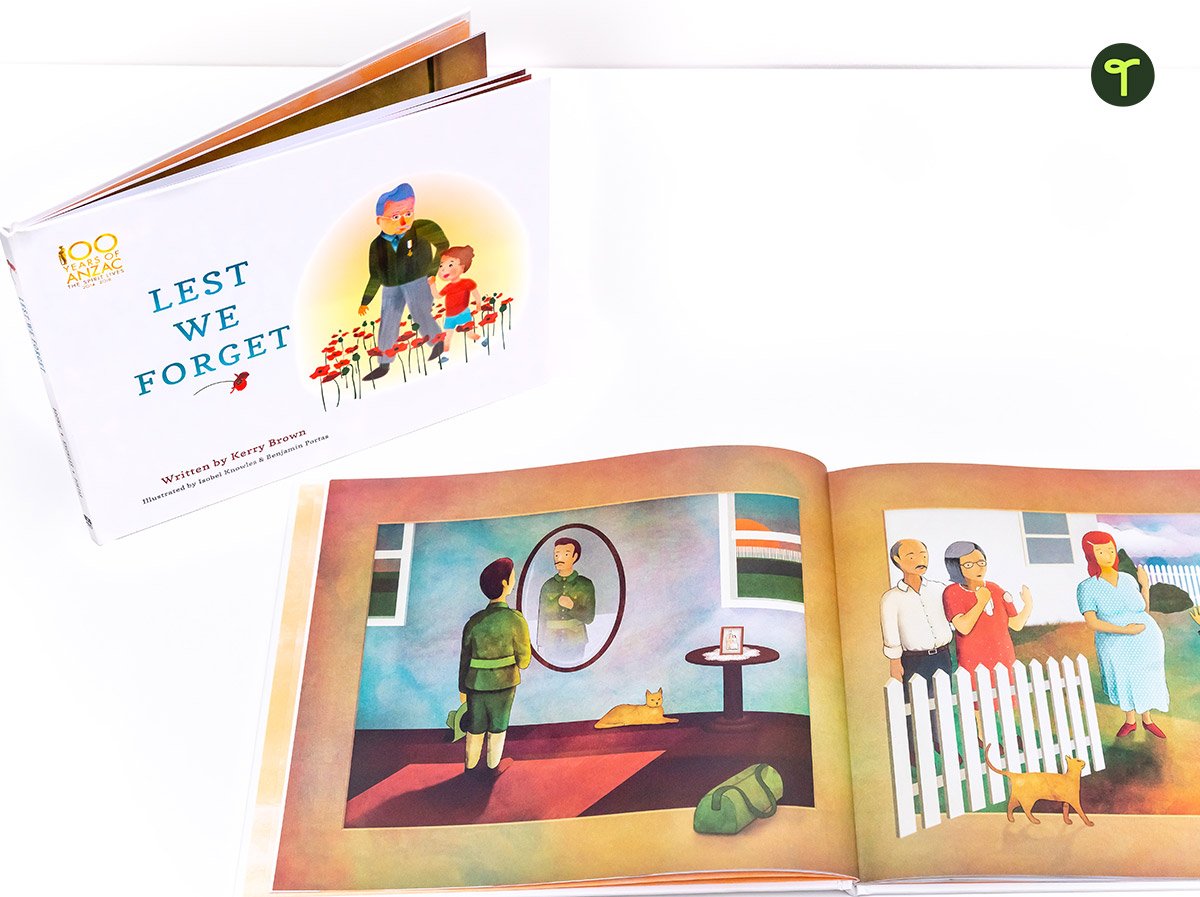 Here are a few examples of books you may like to find to share with your students. Most of them can be found at your local library, purchased online at Booktopia or perhaps you have some floating around your school library!
Lower Primary – Anzac Ted by Belinda Landsberry and The Anzac Puppy by Peter Millett
Middle Primary – Gallipoli by Kerry Greenwood and My Grandad Marches On Anzac Day by Catriona Hoy
Upper Primary – In Flanders Fields by Norman Jorgensen and Simpson and His Donkey by Mark Greenwood
Anzac Day Activities
Anzac Day Writing Template
Use this Reflections on Anzac Day Template to help your students reflect on the meaning of Anzac Day to them.
You may wish to display the students' reflections in the classroom to publically acknowledge the sacrifice of the Anzacs. The resource includes both a male and a female soldier.

Discuss Anzac Day Vocabulary
This wonderful book is full of Anzac Day vocabulary. Discuss these words in conjunction with our Anzac Day Word Wall Vocabulary to create a wonderful Anzac Day display! Having a space dedicated to Anzac Day in your classroom is a meaningful way to create discussion and awareness in the lead up to the day.
A Letter From the Trenches
Once your students have put themselves in a soldier's shoes, have them complete a Letter from the Trenches – Worksheet. Students can pretend to be a soldier or nurse, writing home to their loved ones. For a historical twist, stain your letters with teabags after they've been written and display them in your classroom alongside your Anzac Day Vocabulary!
Make a Poppy
Although the red poppies have long been a part of Remembrance Day, they are are also being used as part of Anzac Day observances. You may like to use our Red Poppy Template for your students to easily create their very own red poppy. Create a classroom display with each of your students red poppies to commemorate Anzac Day.
Anzac Day Word Searches
Use our Anzac Day Word Search – Upper and our Anzac Day Word Search – Lower with your students to explore the vocabulary associated with Anzac Day.
Anzac Day Teaching PowerPoints
Use this 10-slide editable Anzac Day Assembly PowerPoint template for your school assembly. It provides an overview of Anzac Day and covers the following key information:
What is Anzac Day?
What Happened on the First Anzac Day?
Why is Anzac Day Important?
How Can We Commemorate Anzac Day?
You might also want to check out our Anzac Day Multiple Choice Quiz in the lead up to Anzac Day, an important day of remembrance in Australia and New Zealand.