Classroom organisation is a work in progress. Whether you have been teaching for many years, or this is your first or second year in the classroom – new, fresh, and tried and tested organisational hacks are always handy to have ready to go! Dealing with the copious amount of paperwork that will hit your desk, school-home communication, where do those student water bottles go and iPad and device storage are just a few of the classroom organisation hacks we have included in this blog.
---
Classroom Organisation Hacks Teachers Love
(1) Binder Clip Labels
We all know the feeling. Your desk is clean at the beginning of the day, then during the craziness, that is a school day, your desk is suddenly covered in paperwork that then gets put into that ever-growing Mount Paper on your desk.
That's where these printable binder clip label templates become surprisingly helpful.
---
(2) Weekly Sorting Drawers
Planning tip: I used to plan my teaching week on a Thursday afternoon! I would always force myself to plan and organise any photocopying or finding any particular hands-on activities for the following week's topics that afternoon. Once all the photocopying and sorting was done, I would then use a drawer set up like the photo below to sort it all. Not only did I feel somewhat organised, but if for some reason I was away, it was much easier to plan for the relief teacher.
To create the drawer set up below, use a set of five desk drawers (I purchased this one from Kmart). Then, use some washi tape to decorate each drawer (who doesn't love a bit of washi tape?). Finally, you can use any of our customisable tray labels to create the days of the week.
Once downloaded, I printed these tray labels two to a page to get the correct size for the drawers.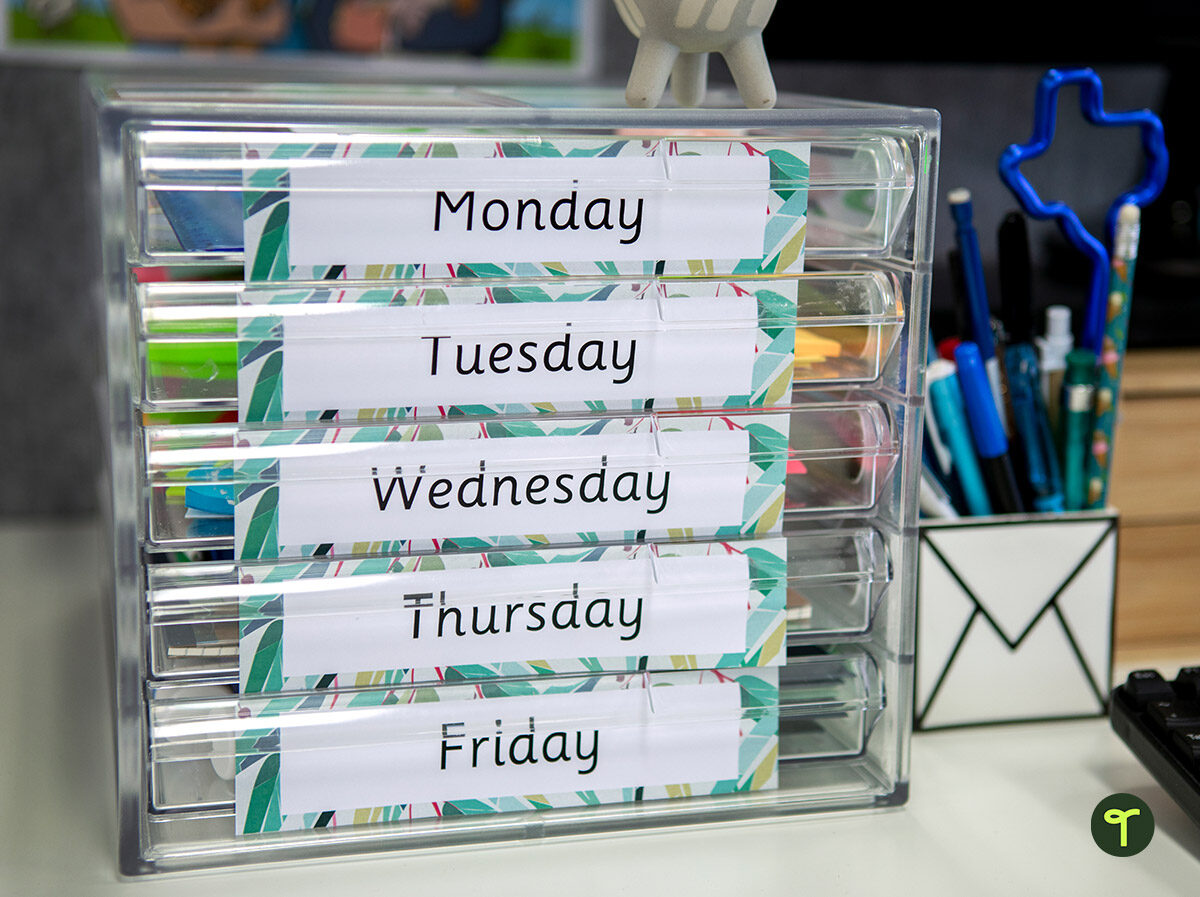 ---
(3) Student Work Filing System
This idea is not one that I had come across when I was teaching! But I would absolutely use it if I was still in the classroom. Of course, the documents that you file in each of these manilla folders would not be of the confidential type. I would actually put my students' work samples in there for the term. Making them easily accessible for meetings that you may have for that particular student. The front compartments of the dish drying rack could be used for pencils or name tags – whatever you may need handy on your desk during the day.
You could use our range of customisable name tags to label each folder (I used the 16 name tags to a page option).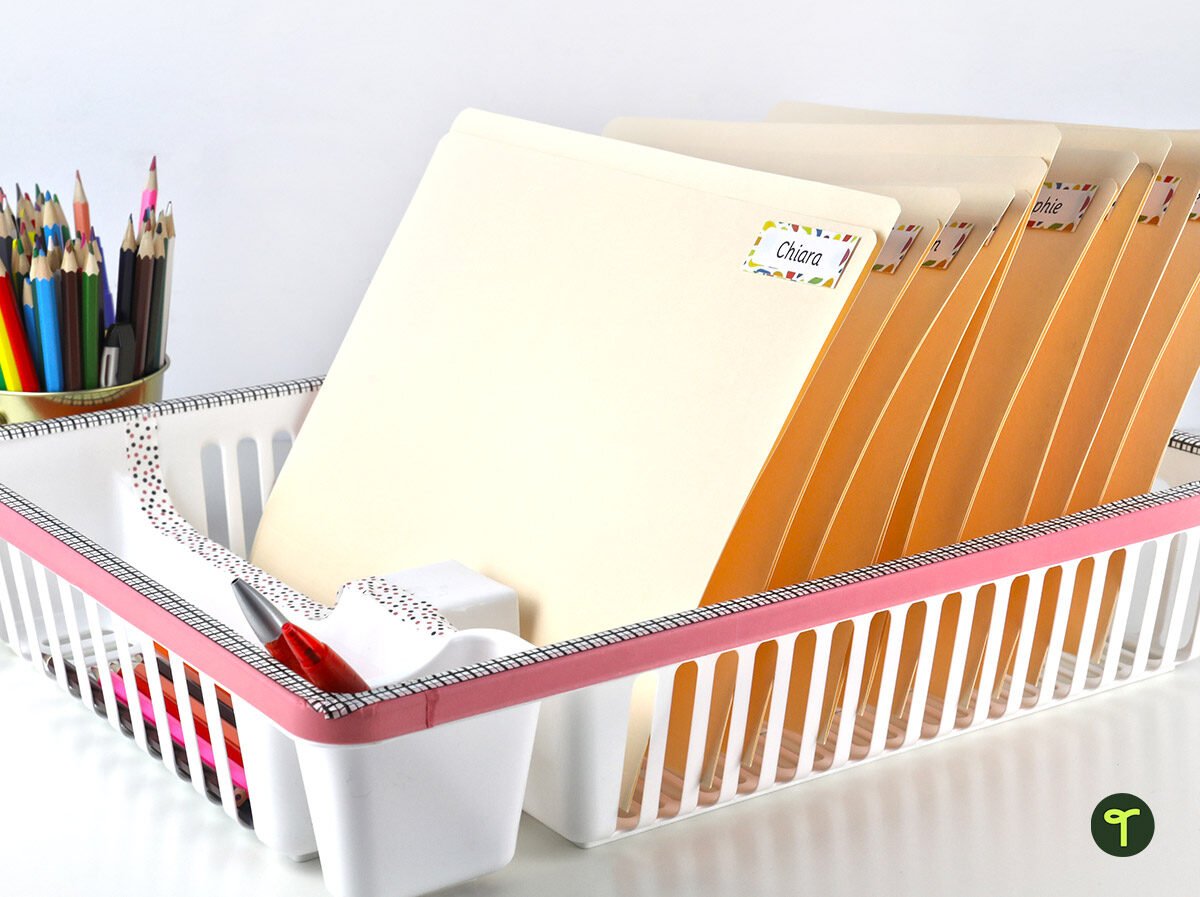 ---
(4) Notes and Worksheet Holder
Believe it or not, this was a lifesaver for me! Such a simple idea, but it was one of those ideas that I used every single year, without fail! A simple hanging clothes dryer purchased at my local cheap shop! I would hang spares of everything here, spare notes home, worksheets, weekly homework, etc. This was particularly useful for absent students. They knew to go here to find any notes or worksheets that they may have missed when they were away!
---
(5) Stationery Sorter
You can't do an organisation hack without featuring the ever famous stationery drawers! These drawers and the different ways to decorate them have been all over social media! I purchased these drawers from Bunnings. Then, I used our customisable desk name tags to label each drawer with whatever you want! Note: print these two to a page to get the correct size.
This organisation hack prevents your drawers in your desk from getting full of all of those bits and bobs that you seem to collect as a teacher.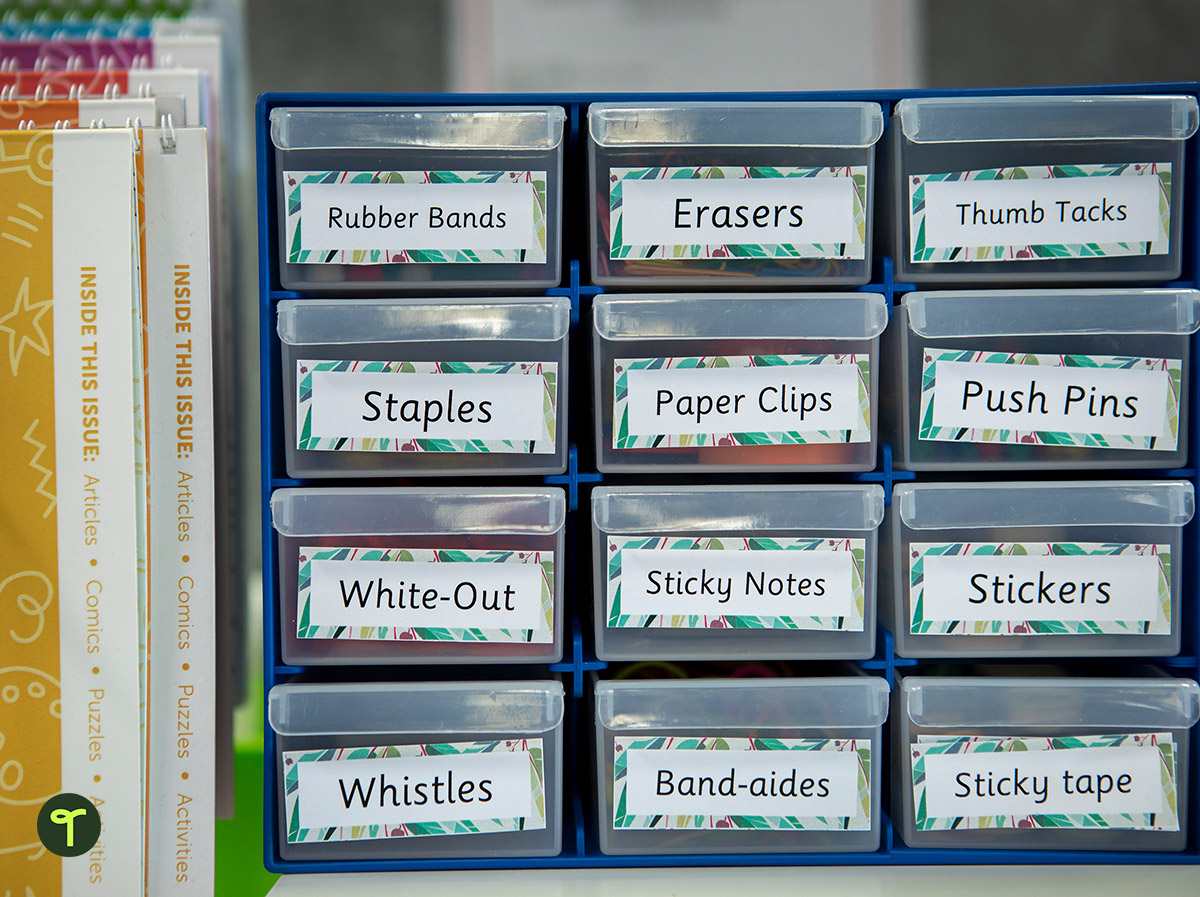 ---
(6) Resource Storage Solution
Storing all of those amazing resources that you have spent hours and hours printing is always a big question we get asked! Of course, you can store them in coloured baskets, but sometimes, those amazing resources get forgotten about.
Using coat hangers and a tie hanger is just perfect! It's another simple yet effective solution to ensure you get your use out of those teaching resources you have spent so much of your life creating!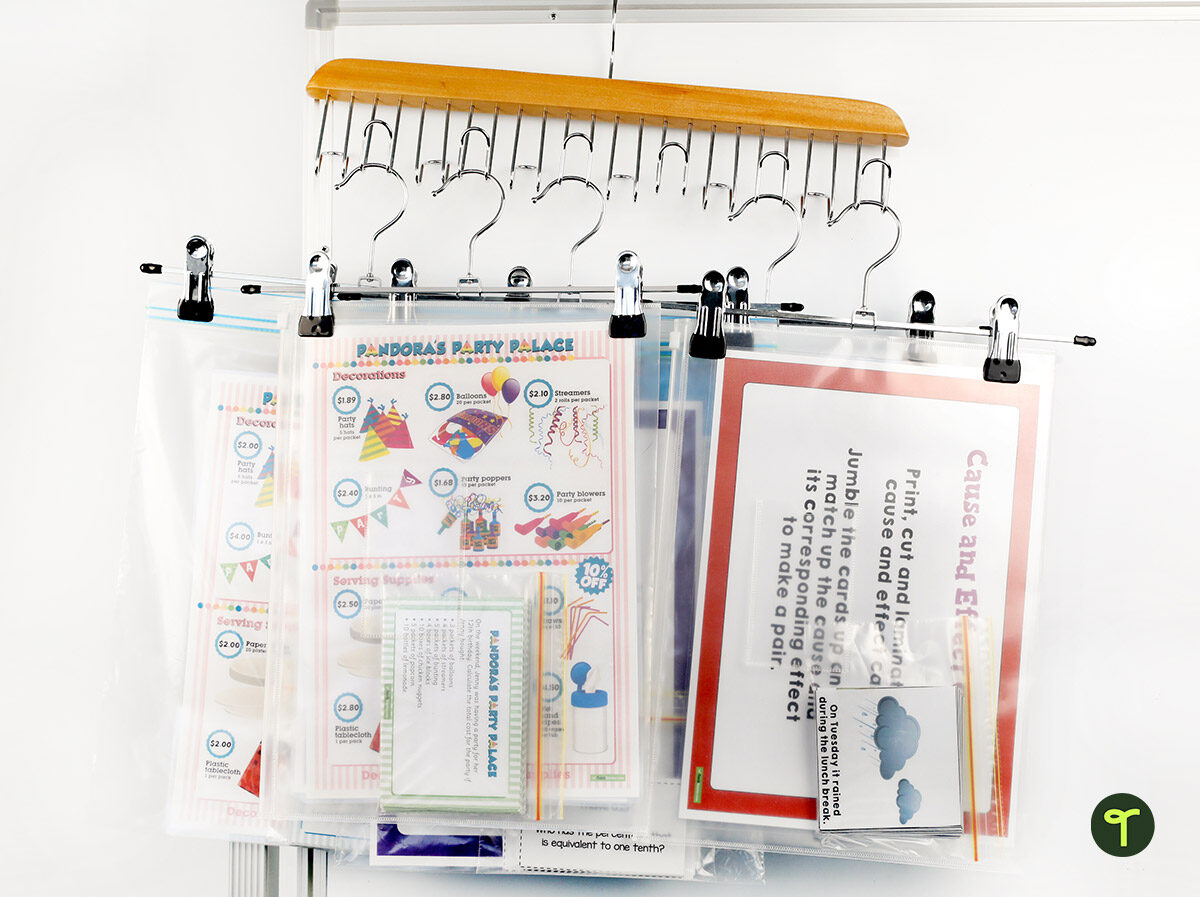 ---
(7) Parent Pockets / Note Pockets
Parent pockets for the early years classroom was always a must-have. They can be used to pass on notes for individual students as well as for parents to access take-home letters and important information. You'll find it so much easier to post take-home letters, notes and flyers into these easy to reach parent pockets. What's more, parents and guardians will love you for it too!
You can buy super fancy parent pockets with 30 pouches from MTA ModernTeaching Aids. Or, you can save yourself some pocket money and make your own using hanging shoe organisers!
Parent pockets work equally well for upper years students if you make it the students' responsibility to check their parent pocket before they go home. You'll soon see which students are forgetting to take letters home!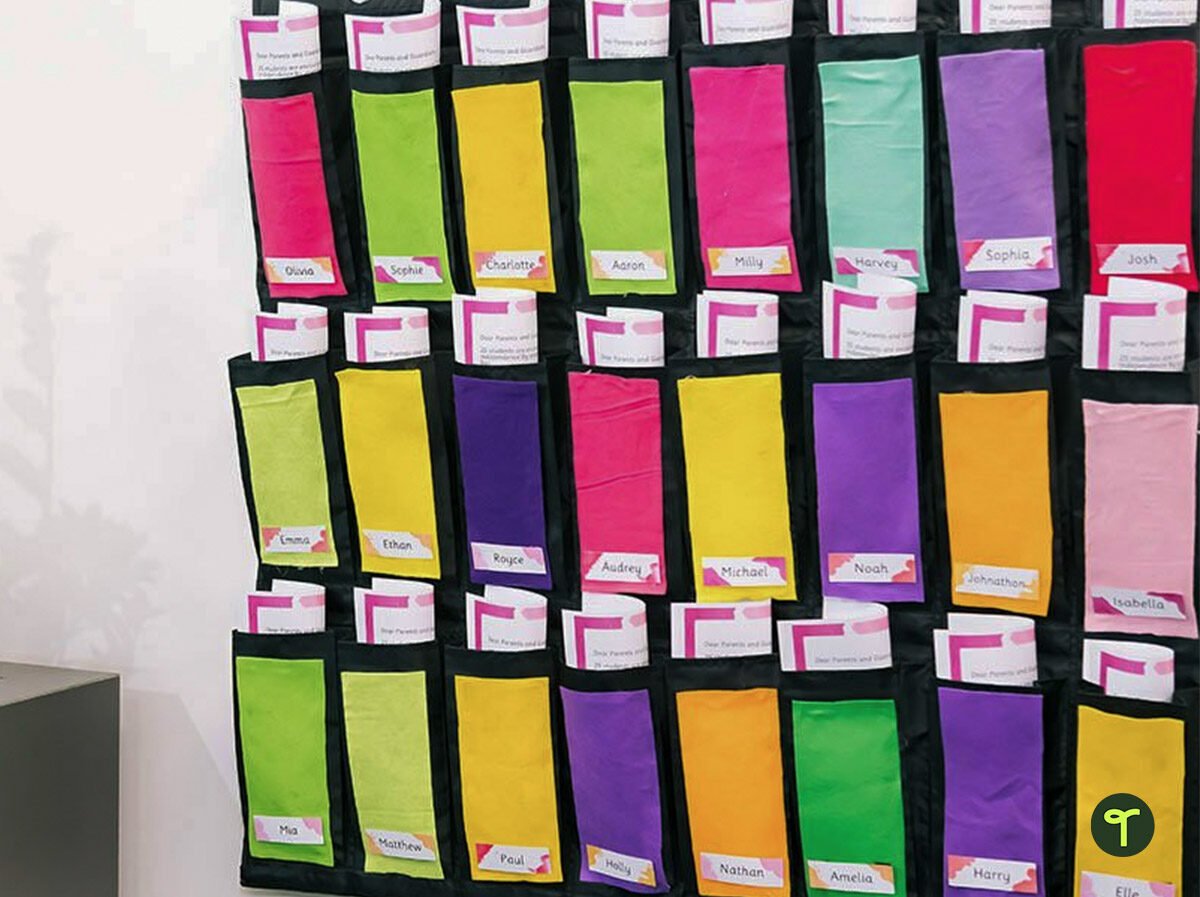 ---
(8) Outdoor Whiteboards
Get organised with an outdoor whiteboard. An outdoor whiteboard or notice board is a great place to display important messages for students, parents and guardians. Not only will you save your voice, but you will also reduce the number of parent inquiries and improve your classroom organisation.
Don't forget that parents can be a huge support when it comes to classroom organisation and reminding students to remember things. Embrace open communication and strengthen the connection between home and school.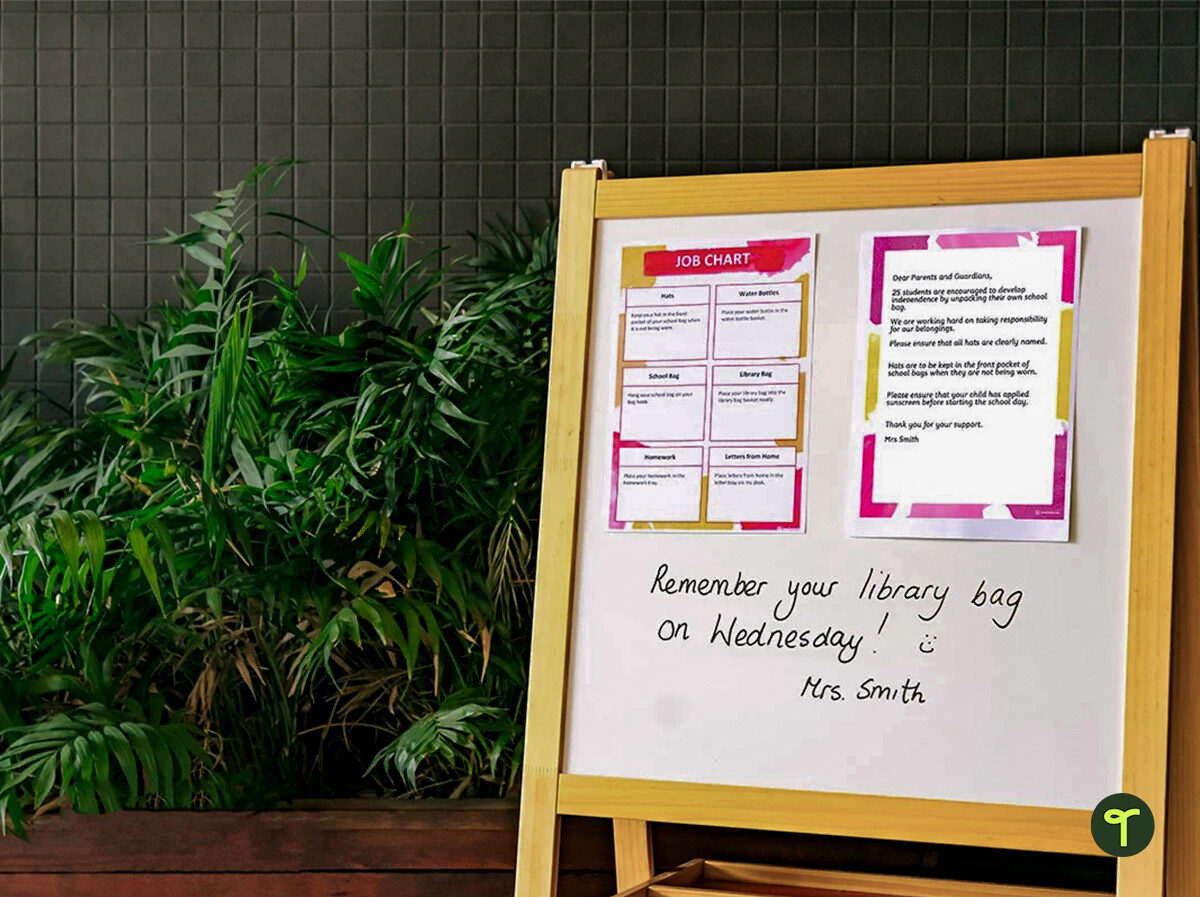 ---
(9) Water Bottle Pockets
You've probably worked out that I'm a big fan of these Ikea Hanging shoe organiser with 16 pockets. They are such a bargain at $5.49! All you need is two of these handy classroom organisation gems, jazz them up with colourful name tags and you can use them to store just about anything! You can hang them in a cupboard, on the wall, outside of your classroom (undercover) or behind a door.
Do you find water bottles lying around the classroom? Are you tired of students asking you whether you have seen their water bottle? Perhaps the system that you had in place to store water bottles just isn't working out.
If it's not working, change it!
Take your class organisation to the next level and create the perfect clutter-free water bottle storage.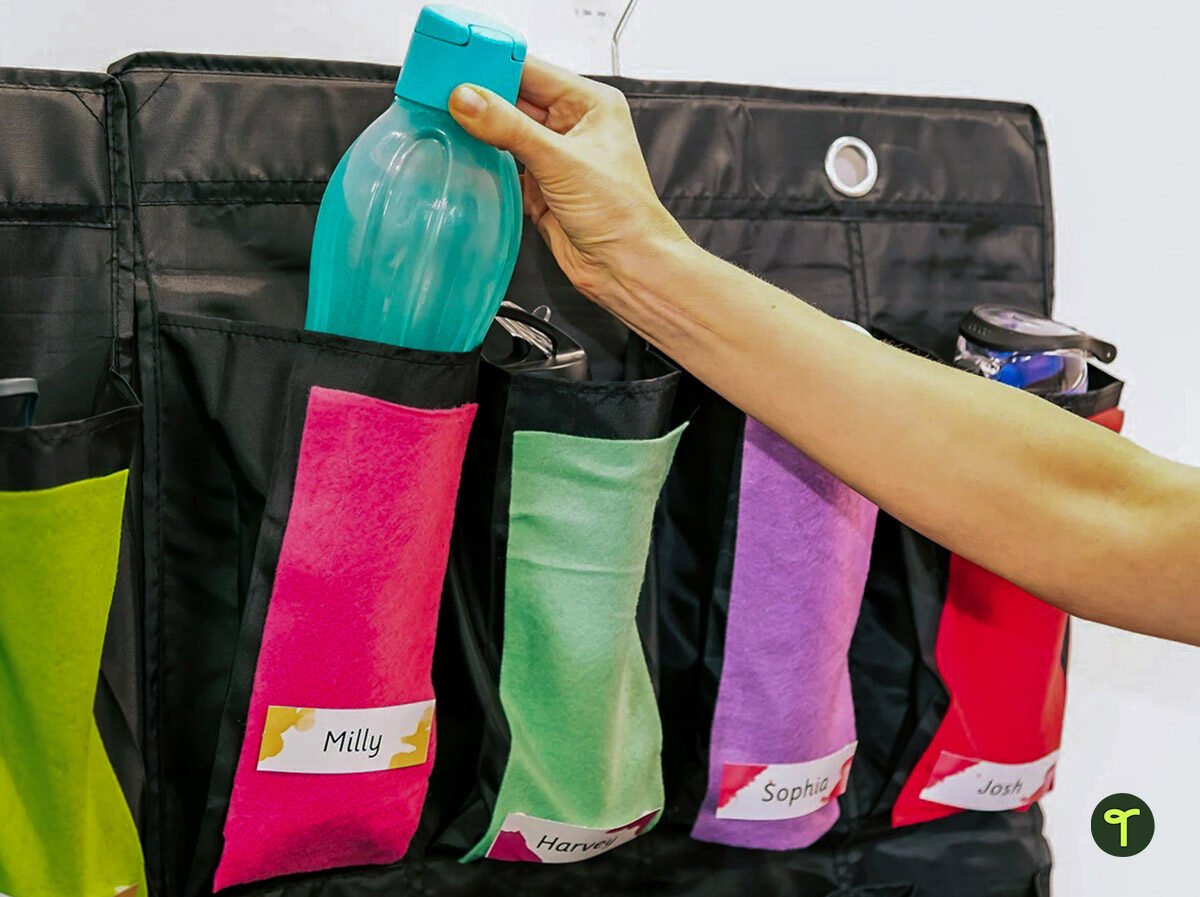 ---
(10) Play Music
If all else fails… pop on some music!
Music can be used:
as students enter the classroom at the beginning of the day
as the students return to class after a break
to signal tidy up time
to signal transition time
to increase focus during lesson time
to reduce student chatter.
This isn't just for the lower years, contemporary chart music can work brilliantly to signal time to pack away to transition to the next activity. Music brings energy to the classroom and lifts the mood. Try it! For more information on the power of music, take the time to read another of our blogs, Powerful Ways to Use Music in the Classroom.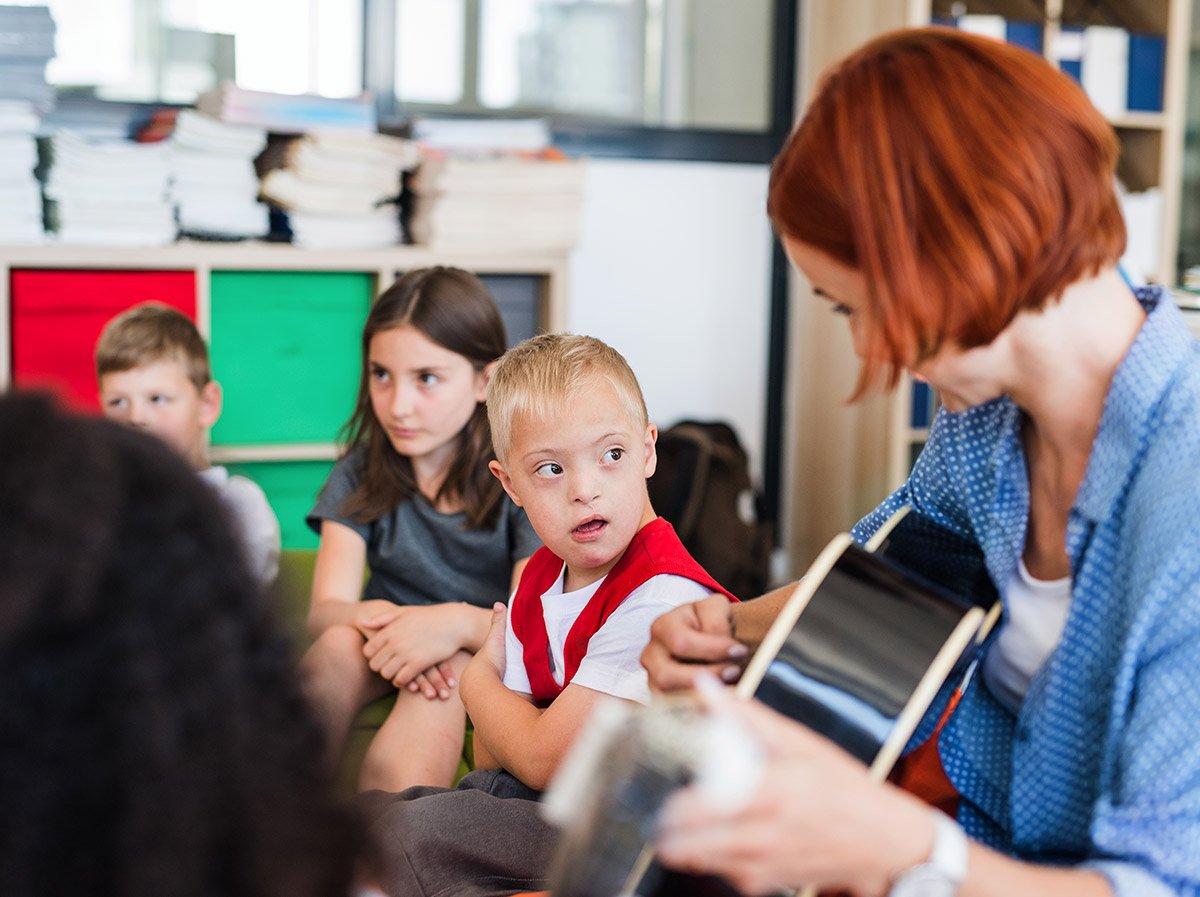 Shutterstock.com / Halfpoint
Now… breath! It may take some time to set up some of these organisation hacks, but I promise it will relieve some of the disorganised haze teachers often find themselves in when they look down at their messy desk or work area!
"For every minute spent organising, an hour is earned." – Anonymous