'Tis the season when all most kids can think about is Christmas break … and hey, we teachers are feeling it too. It's also the season when easy Christmas crafts for kids can quickly save the day!
Whether you're looking for some Christmas crafts for your class to make gifts to take home or just something fun for the classroom break-up party, we've got you covered.
And did we mention that plenty of these are EASY holiday crafts? Yup, we've really got you. So grab a glue stick and some craft supplies. Let's do this.
Easy Christmas Crafts for Kids
Many of these Christmas crafts can be done with simple materials from around the classroom.
---
Toilet Roll Elf
We'd have to be a bunch of cotton-headed ninny muggins to ignore the allure of elf crafts this time of year. These little creatures are just your students' size, and they are a lot of fun to create!
Bonus: You get to do a little upcycling. Salvage those empty toilet paper rolls — or paper towel rolls (just cut them in half), and get ready for elf crafts!
Supplies:
Empty toilet paper roll
Green, yellow, and red coloured paper
Pompoms
Googly eyes
Glue stick
Marker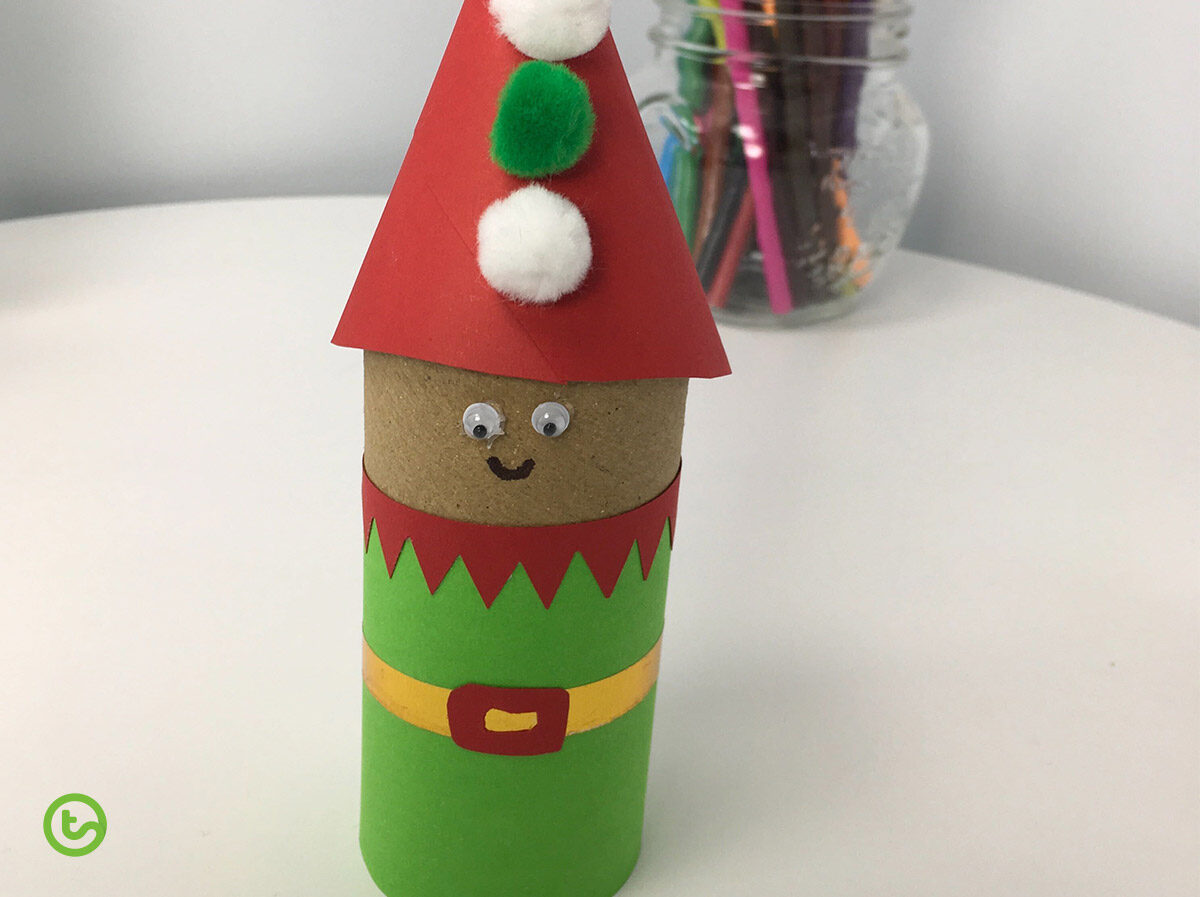 More elf activities for kids:
---
Create an Elfie Selfie
This fun craft activity has students creating their very own 'Elfie Selfie!'
Using our 'Elfie Selfie' Template, you can decide between a number of different templates to suit your students' capabilities.
One option is to have them decorate the full elf body and just glue their photo in the spot provided. Alternatively, students use the body parts to put their elf together. Let your students get creative with buttons, cotton balls, oil pastels, felt pieces and more to create their elf! I used red paper and created springs for the legs and felt for the belt in this example: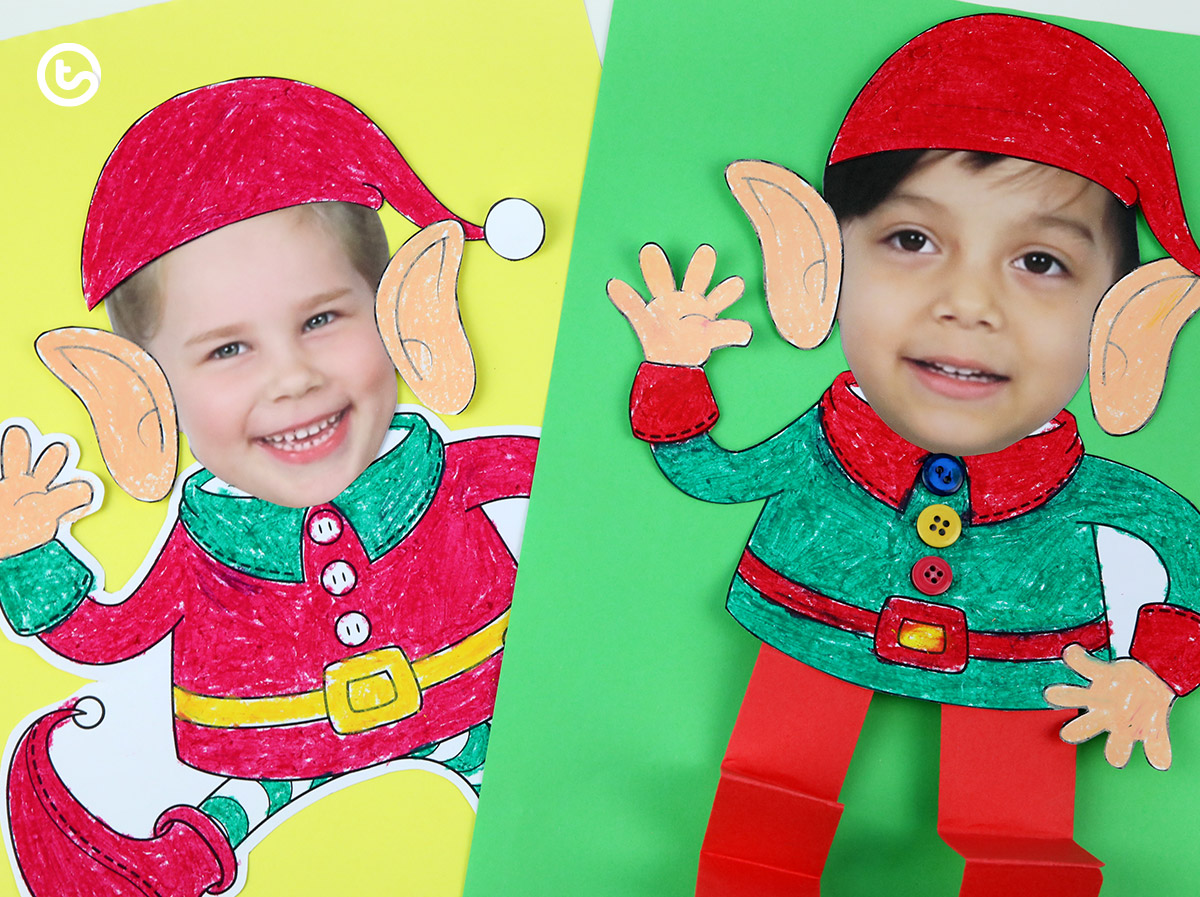 ---
Here Comes Santa Claus
Santa is coming and this cute little guy is perfect for some Christmas craft. All you need is some cotton wool balls, a small red plastic cup (I found some at my local cheap shop in the party section), googly eyes, pink and red felt, a black piece of paper and a yellow button.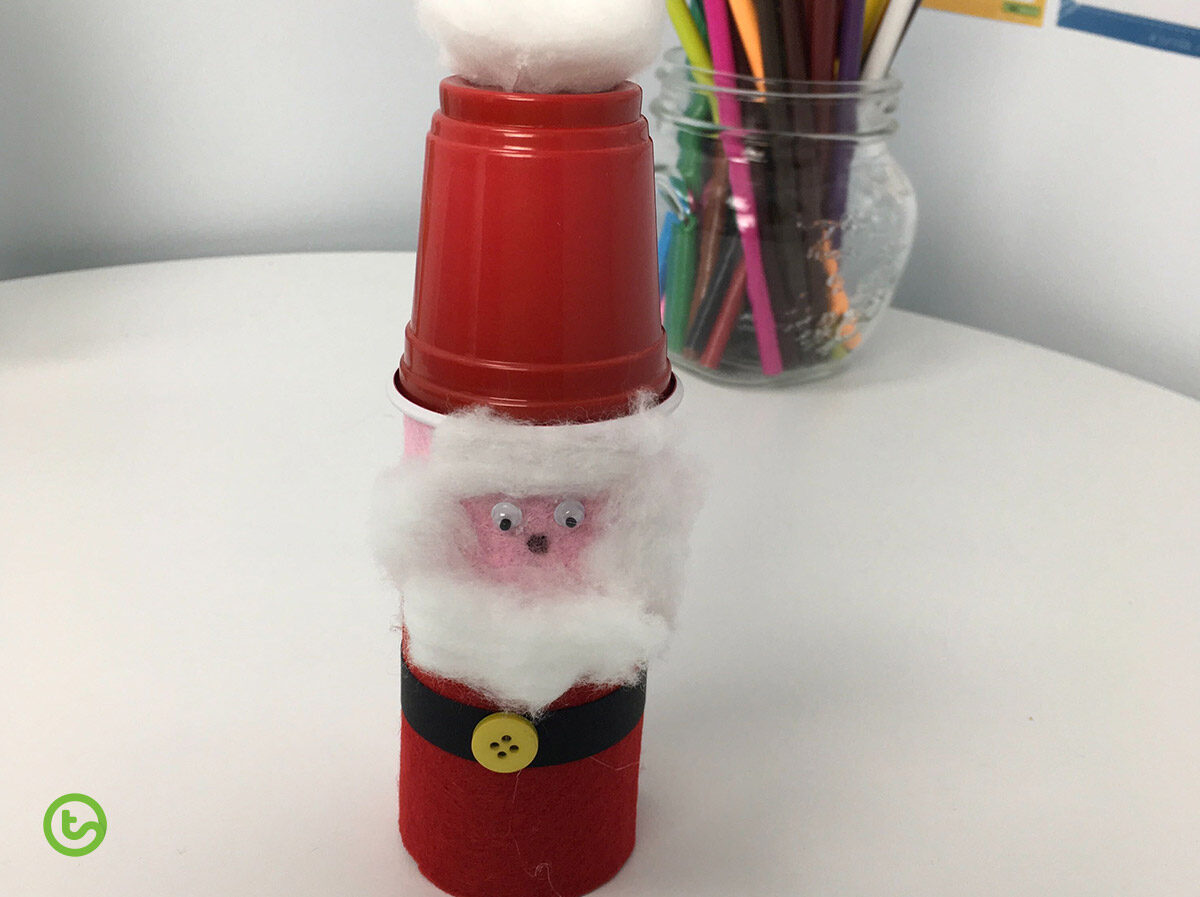 More Santa activities for kids:
---
I'm Dreaming of a White Christmas!
Frosty the Snowman was a very jolly, happy soul, and making this little Frosty craft will make your kiddos very happy indeed!
Supplies:
Toilet paper roll
White paint
Googly eyes
Orange and black felt
Pipe cleaners
Pompoms
Small buttons
Hot glue gun (your students will likely need help with this part!)
Glue stick
Marker or pen
Instructions:
Coat the entire roll in white paint.
While the white paint is drying on an empty toilet paper roll, gather three small buttons, two googly eyes, some felt for the scarf and the carrot nose, a pipe cleaner, and two little pompoms.
Prep your earmuffs by cutting two pipe cleaners into equal lengths and twisting them together. Form a "U" shape out of the twisted pipe cleaners, and hot glue each end at the top of your white toilet paper roll.
Add a pompom on each side where the pipe cleaners meet the toilet paper roll — once again hot glue works best.
Add two googly eyes and draw on a mouth.
Cut a small piece of orange felt into a carrot shape, and glue on as a nose.
Cut a strip of red felt and drape around the paper roll, just below the face, to form a scarf. Glue in place.
Add buttons below!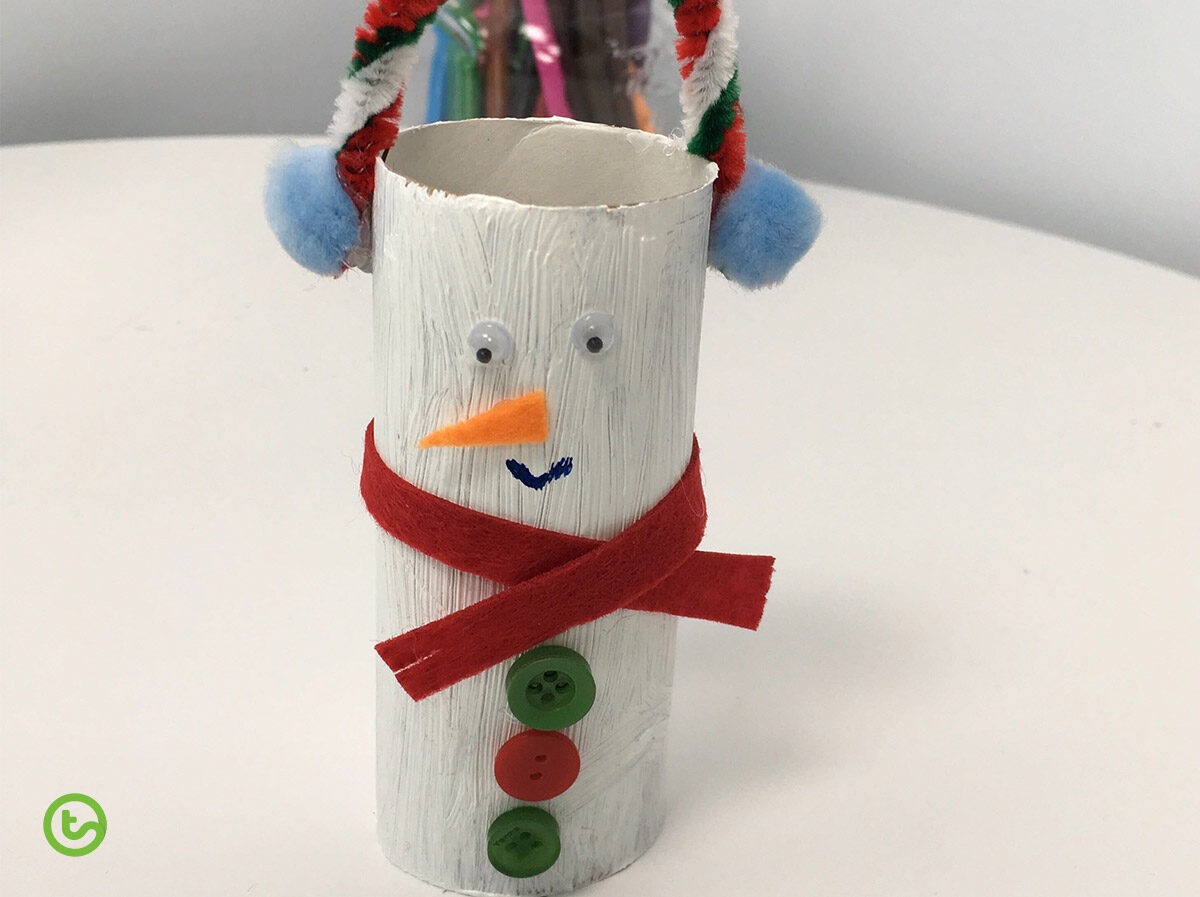 More snowman activities for kids:
---
Oh Christmas Tree…
Did you know that toilet paper rolls make excellent tree stumps for holiday crafts? We tried it, and it works!
For this tree craft, we printed out our Christmas Picture Templates resource on green cardstock. Once we cut out the Christmas tree, we cut two small slits in an empty toilet paper roll to hold the tree and become the tree stump.
Let your students' imaginations run wild when decorating their trees. Provide craft resources such as buttons, pompoms, felt, glitter, etc.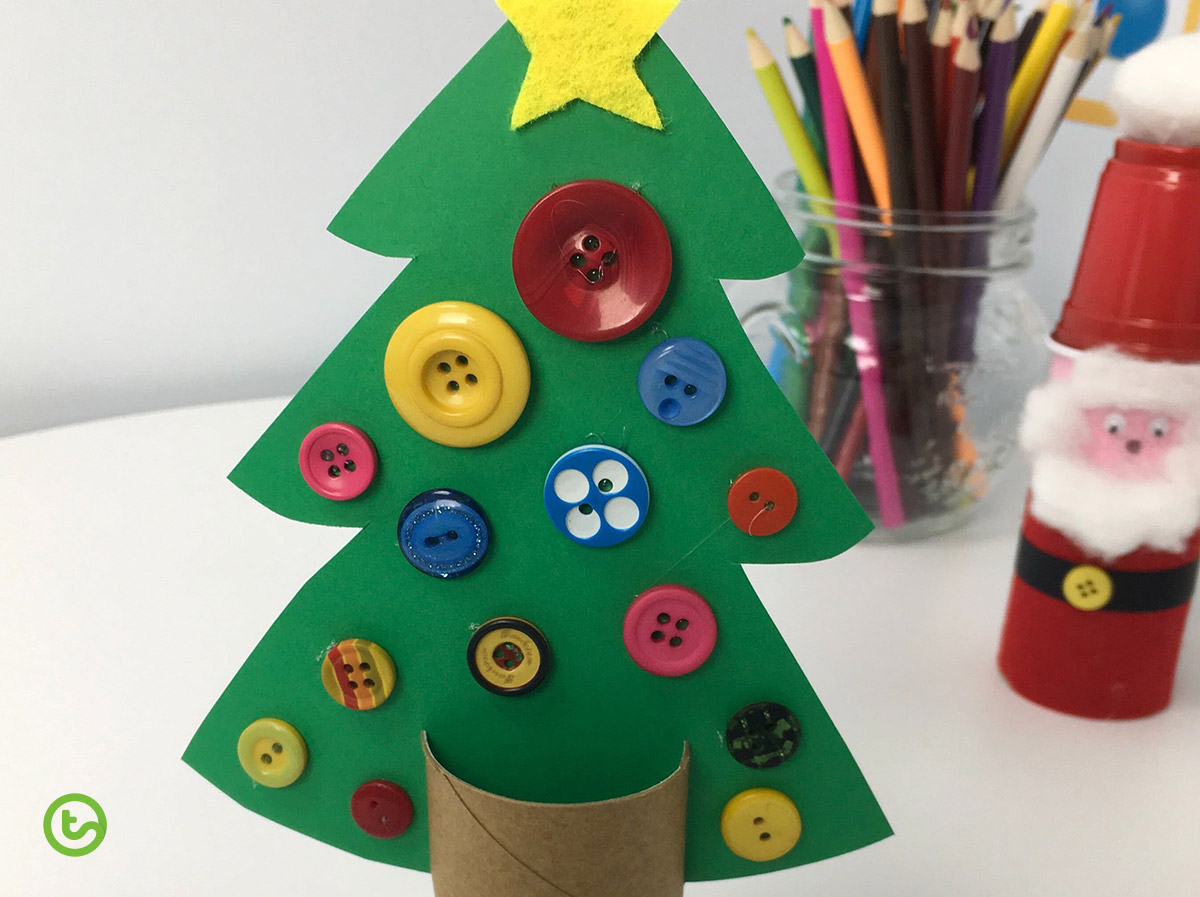 More Christmas tree activities for kids:
---
Rudolf the Red-Nosed Reindeer…
Everyone's favorite trusty red-nosed reindeer is another great Christmas craft kids can make that will make them smile. This easy holiday craft can be done by fairly small children, although they will need some help with the antlers. Paint or colour in an empty toilet paper roll gold. Stick some antlers and ears on it. I used round white stickers for the eyes, a red pompom for the nose, and a black felt pen for the mouth.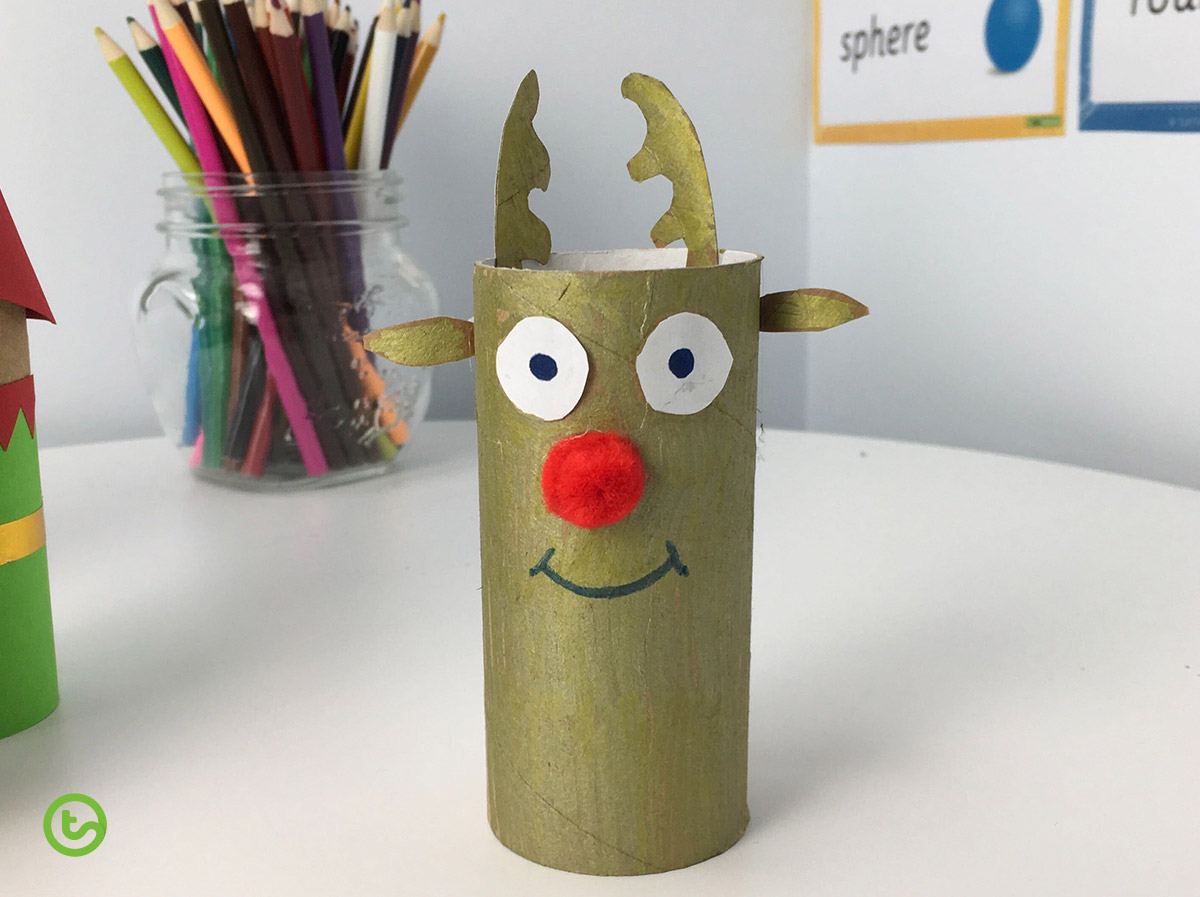 Other reindeer crafts for kids:
---
Starry Starry Night
This is one of my favourites and so easy to do.
Simply divide a toilet roll into four equal sections (approx. 2.5 cm) and cut. I cut up three toilet rolls, however, you can do as many as you want to make the star as big or as small as you wish. Arrange the smaller toilet roll sections into a star shape like the photo below. I used a hot glue gun to glue it all together.
I painted mine white and sprinkled silver glitter on the wet paint and set it aside to dry. This could also be painted green and red pompoms used create some holly bush.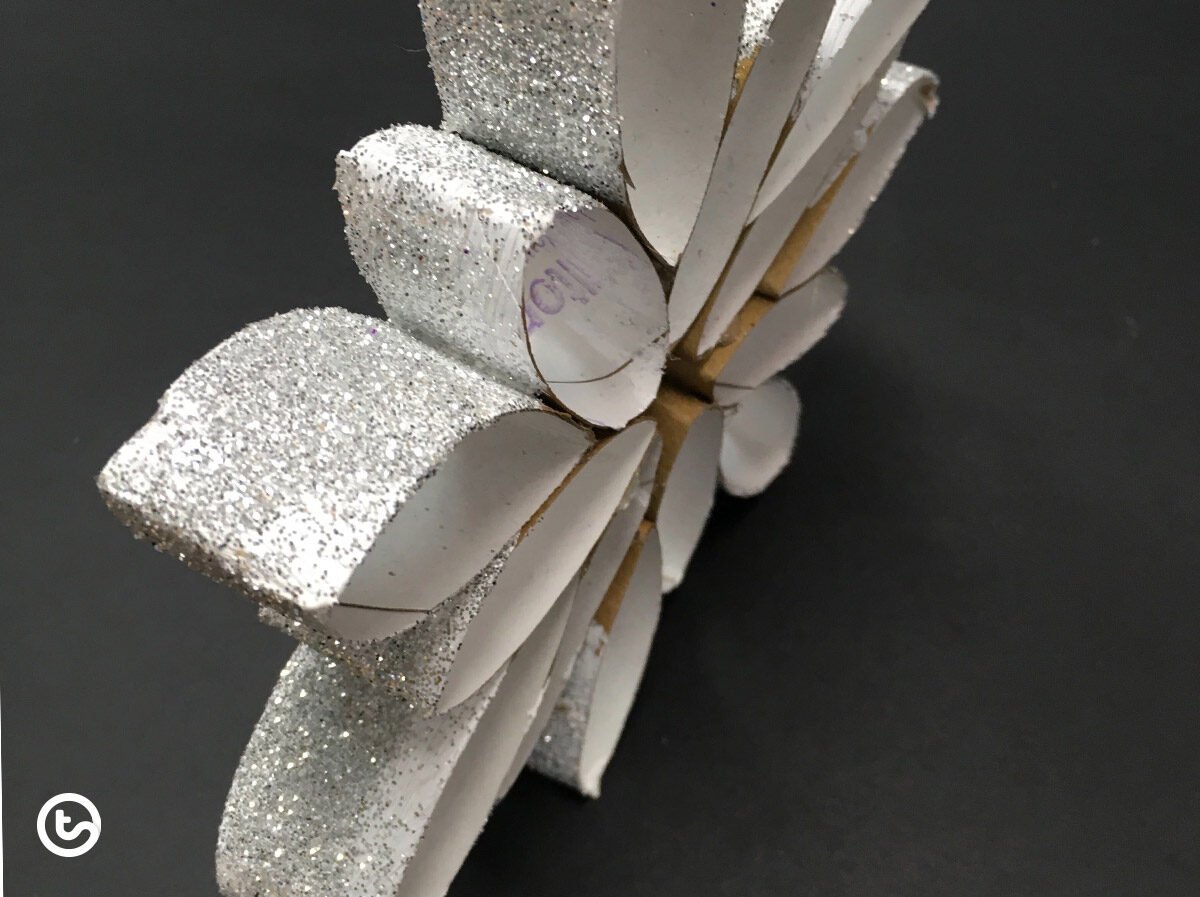 ---
Funky Reindeer Craft
Your students will love creating this Christmas craft activity! Plus, it will keep them quiet for a while – a bonus for this time of year!
Read all about our Funky Reindeer template.

Christmas Around the World
This is a cute YouTube clip to show how different countries around the world celebrate Christmas.
A great start to our Christmas Around the World Case Study Lesson. A nice idea, other than craft, for students to explore and discover the differences in celebrations around the world.
---
More Christmas Activities and Resources
We have a huge range of Christmas classroom activities and resources. Here are some of our most downloaded…
We would love to hear what you do in your classroom at Christmas time… leave us a comment below.