Do you have reluctant writers in your class? Those children who are full of ideas, but just can't quite put them down onto paper? When you're teaching how to write a story, there's always at least one or two!
It can be hard for some students to put their thoughts into words – the problem is not their imagination, it may be the dozens of things they need to remember after the idea pops into their heads. Text structure, sentence structure, grammar and spelling – all of these things can stop a budding author in their tracks.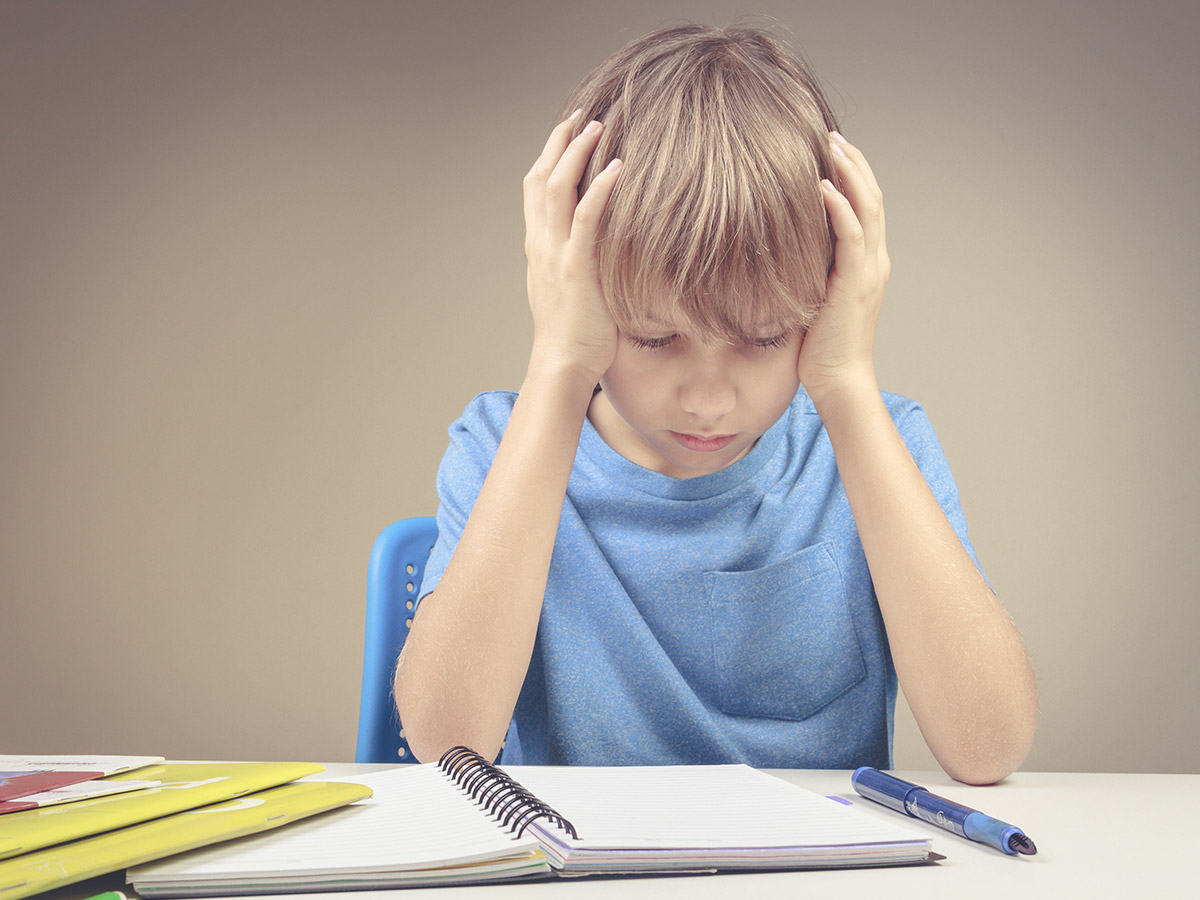 Veja/Shutterstock.com
We understand that sometimes students need a little help with the technical side of writing – and we've developed one the cutest writing scaffold worksheets out there to help them out!
Teaching How to Write with the Story Spine Porcupine
When it comes to writing a story, there's usually no limit to the content that a child's wonderful imagination can come up with. How you structure this content, however, is another matter!
While there are many great ways to structure a narrative, there are usually a few things they all have in common. A sequence of events which outlines an orientation, complication and resolution, combined with some fun characters and an interesting setting – this is the recipe for a great story!
To help your students get there, take a look at this cute and cuddly resource.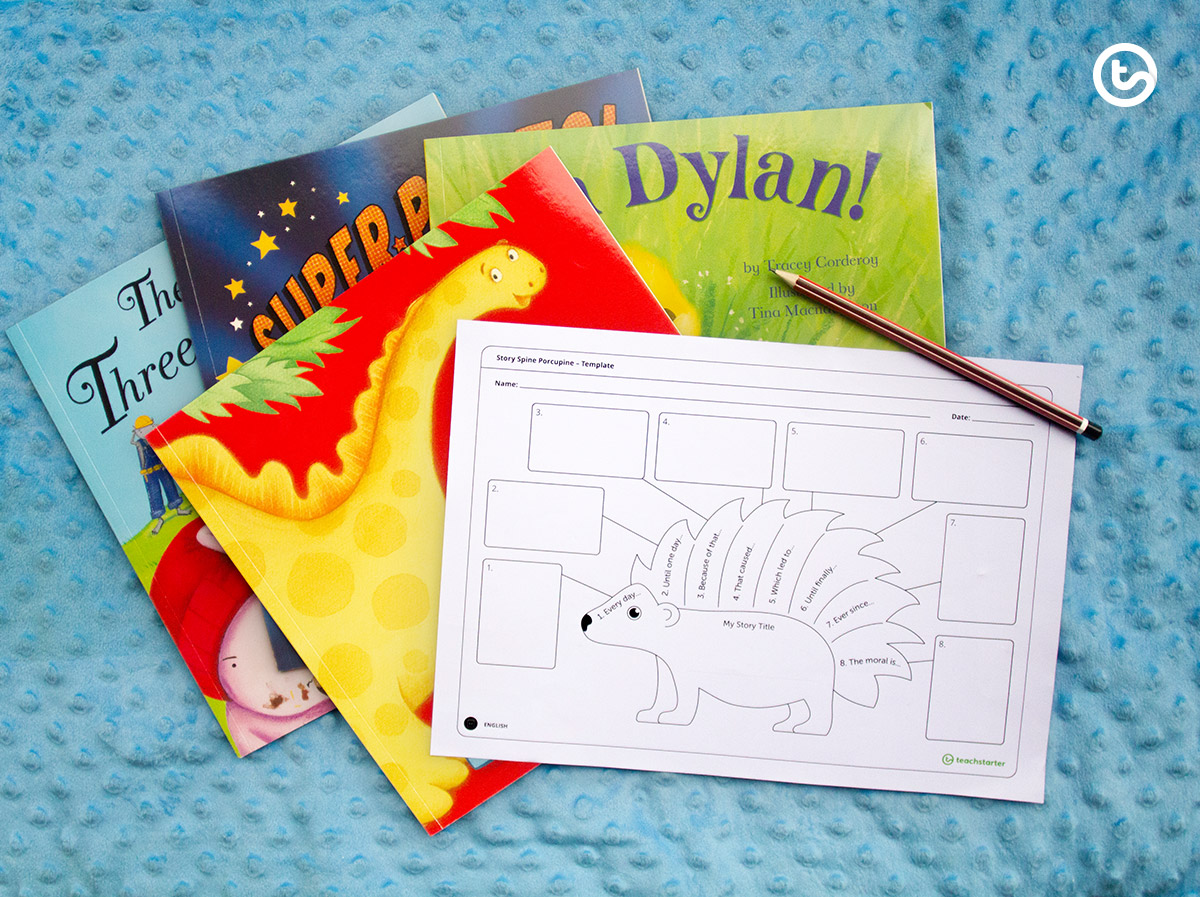 With the Story Spine Porcupine worksheet, your students will be scaffolded to outline their sequence of events from start to finish, leaving more brainpower for their imaginations. Your students can use the optional sentence starters, or come up with some of their own!
Scaffolding with Storybooks
Get your students started by breaking down some beloved storybooks into their parts to help your students see how this template can be used to represent a bigger story.
You may not need to use all of the sentence starters, depending on the length of the story you are working on with your class.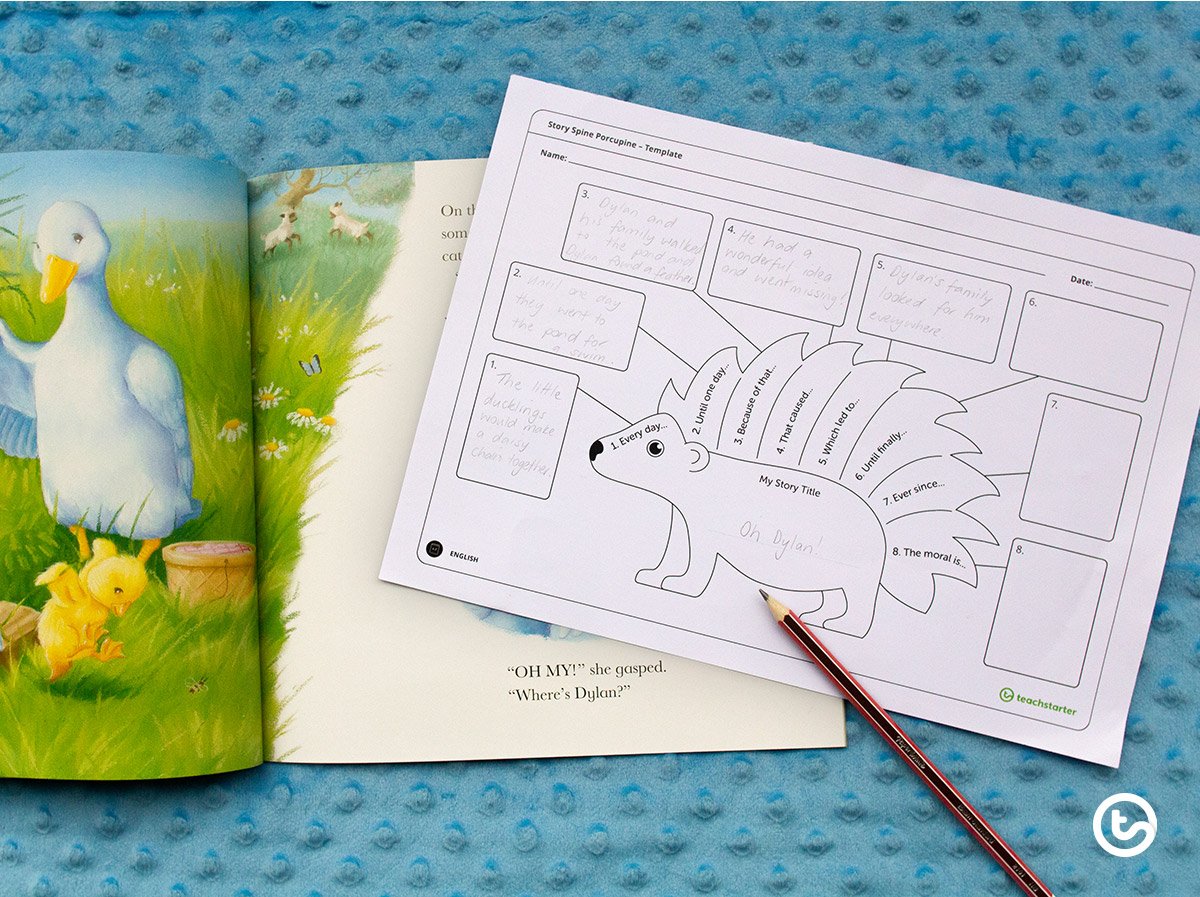 Whether it's a picture book or a chapter book, this porcupine has got your students sorted!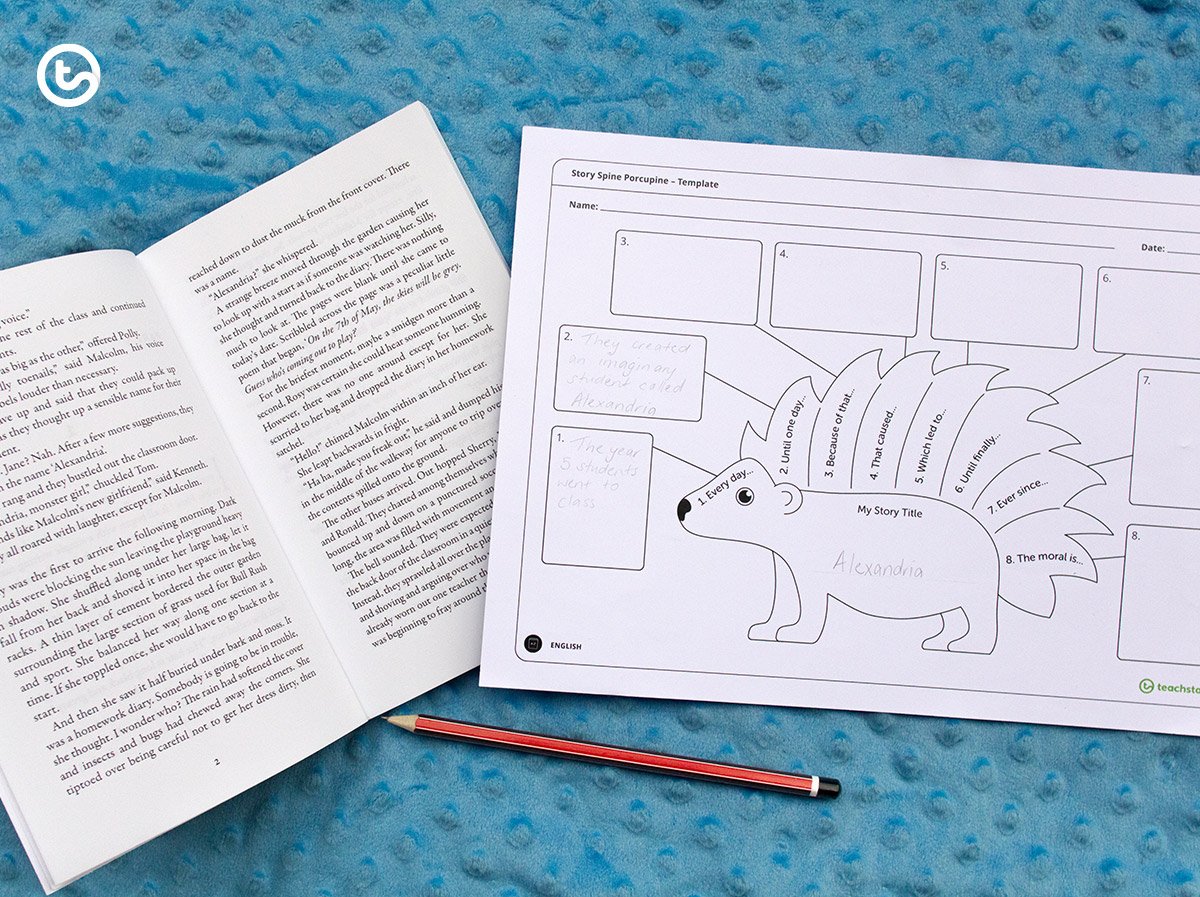 Writing a Story with the Story Spine Porcupine
The structure of the Story Spine Porcupine will help your students draw out their story ideas into a more developed narrative. With 8 steps accompanied by easy to follow sentence starters, your students will have planned their writing in full before they know it! First, get them to build their characters – why not check out our Building a Character Powerpoint for some help?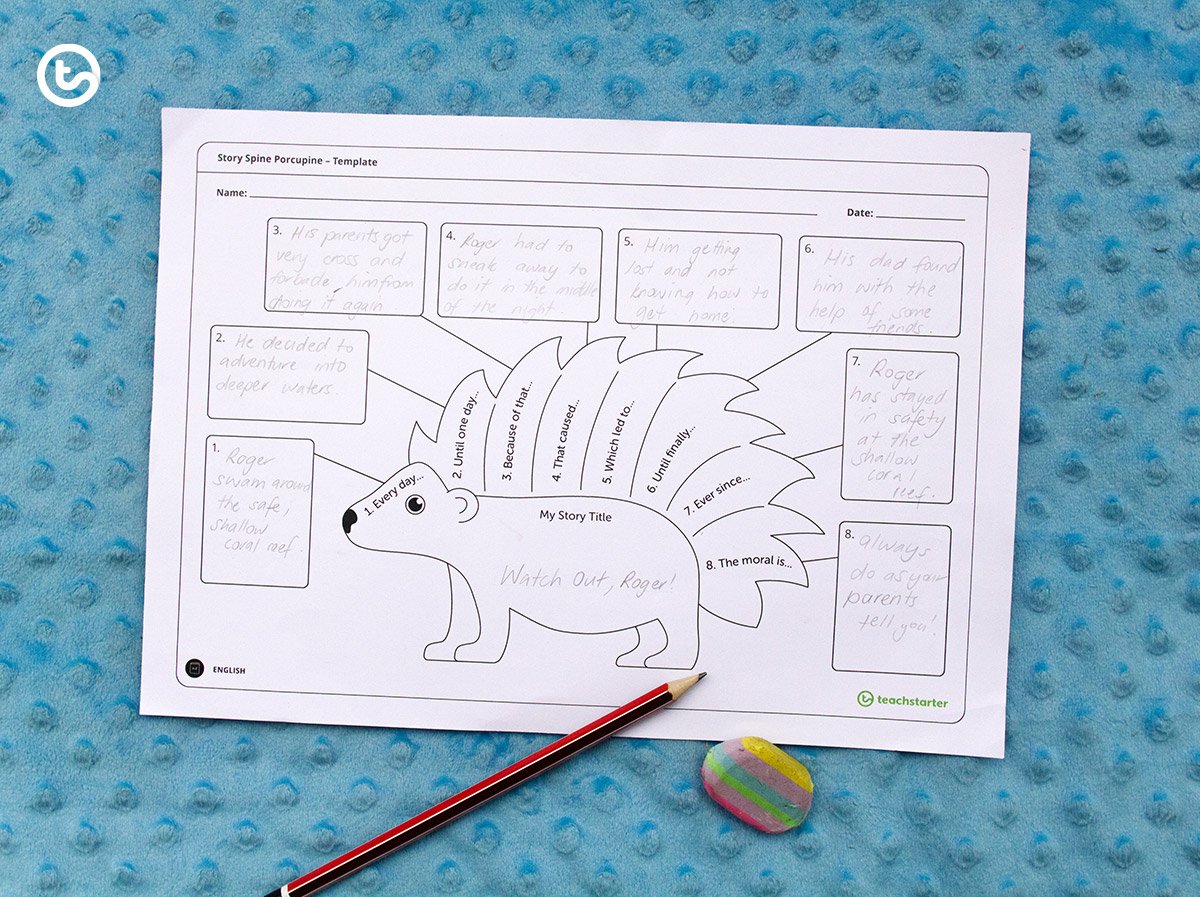 Next, get them to complete each section of the worksheet:
Every day…
Until one day…
Because of that…
That caused…
Which led to…
Until finally…
Ever since…
The moral is…
The great thing about this template is that it's not your everyday orientation, complication and resolution. The porcupine prompts your students to think about the sequence of events in more depth. It even encourages students to reflect back on their stories to provide a moral.
Putting the Porcupine Planner into Sentences
Once their stories have been planned, your students will be ready to put their pencils to paper.
Go through their Story Spine Porcupine worksheets and talk about which sentences would fit to introduce the settings, characters and plot (orientation). Highlight these in a particular colour. Next, discuss the complication. Which sentences help to build suspense and move the plot forward?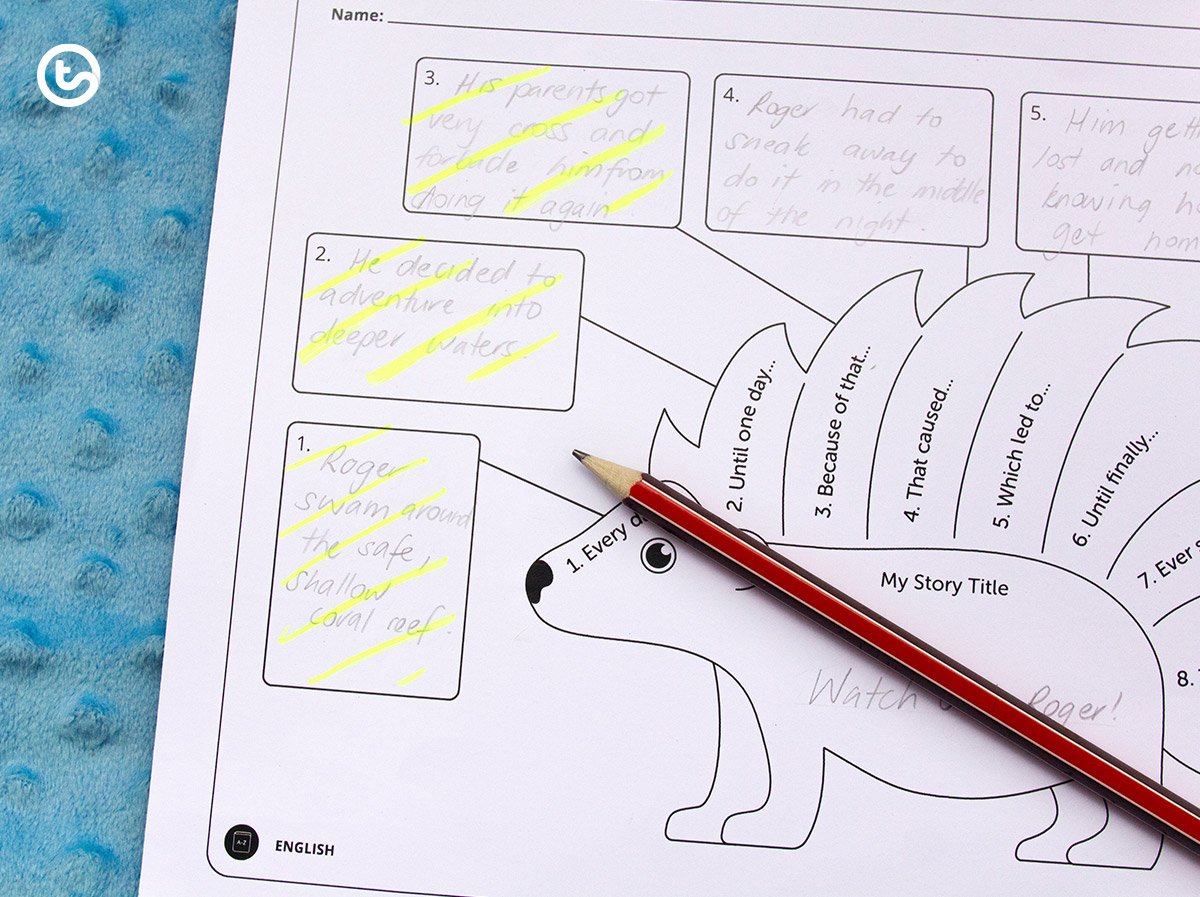 Finally, decide on the resolution! Ask your students – how does this story get resolved? Which sentences help to tie up the loose ends?
So, your students have broken their porcupine scaffold into the sections of the story. Now, they are ready to write their paragraphs!
Early years students will be able to copy their template onto their pages, observing how each piece comes together to produce a big piece of writing.
Your older students may not need to highlight and can flesh out each sentence with further description and dialogue. The skeleton of their scaffold will now come together to help them put together a larger piece of writing.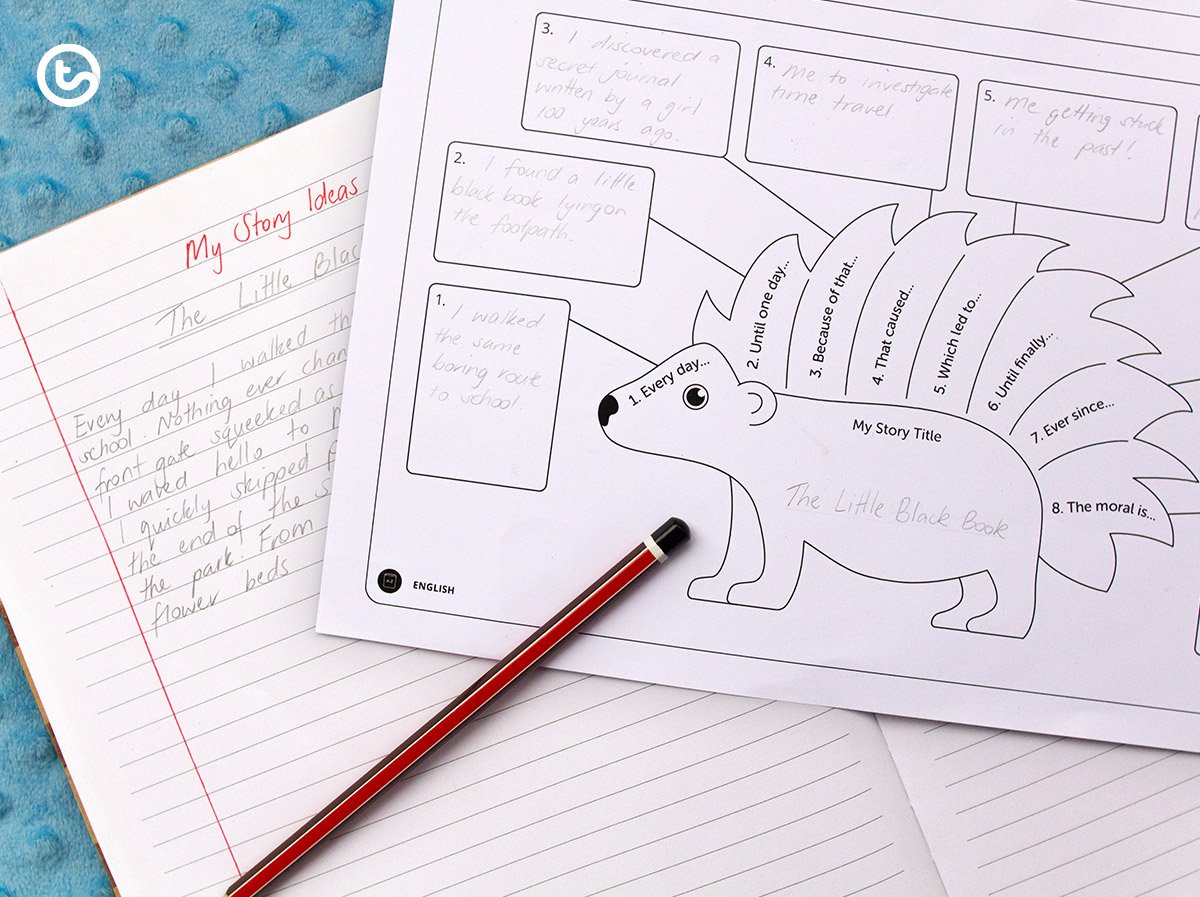 Your students will love seeing how their porcupine friend can help them create something brilliant! And your reluctant writers will be wowed by all they have achieved.
---
We'd love to see this cute critter in action! Share your students' story spine porcupines on Instagram and tag @teachstarter!
In the meantime, check out our Narrative Writing Resource Collection for more great ideas on teaching how to write a story.