Are you struggling to find ways for students to practise their reading and comprehension strategies without busting out yet another traditional comprehension worksheet? Let's face it, while worksheets have their place in student learning, we know that humans as a species learn better when we are having fun! This awesome comprehension skills board game is one activity that you can use during literacy rotations, or as a stand-alone activity.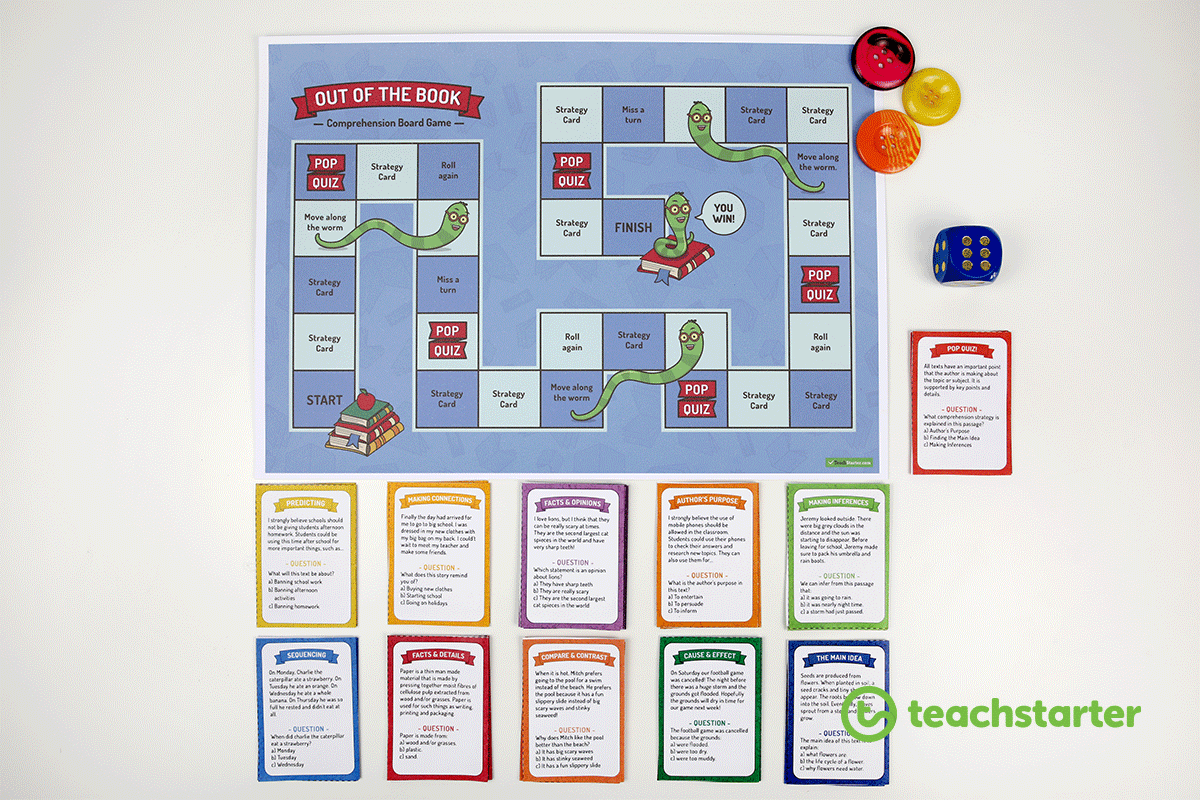 It's a simple game, that uses familiar board game rules. It can be played in groups of 2 – 6 students, and all they need is a dice and some markers, counters or buttons to keep track of their spot on the board. The game is downloaded as a PDF document that includes 1 board game, 88 comprehension strategy cards, 12 "Pop Quiz" cards and an instruction sheet. You can download the file in colour or black and white.
Students work their way towards the finish line by reading small passages from a variety of strategy or pop quiz cards and answering multiple choice comprehension questions. The first student to reach the finish is the winner!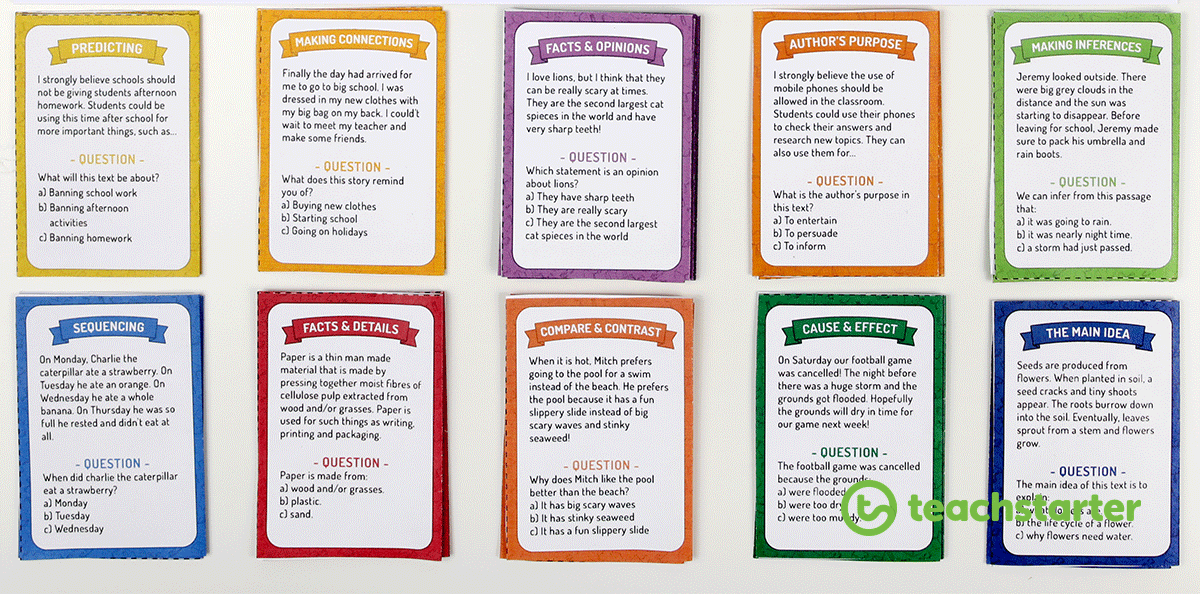 Teaching Comprehension Strategies
The "Out of the Book" board game includes comprehension cards for the following strategies:
predicting
making connections
author's purpose
finding the main idea
sequencing
cause and effect
making inferences
summarising
fact and opinion
recalling facts and details
compare and contrast.
Comprehension Strategies Pop Quiz Cards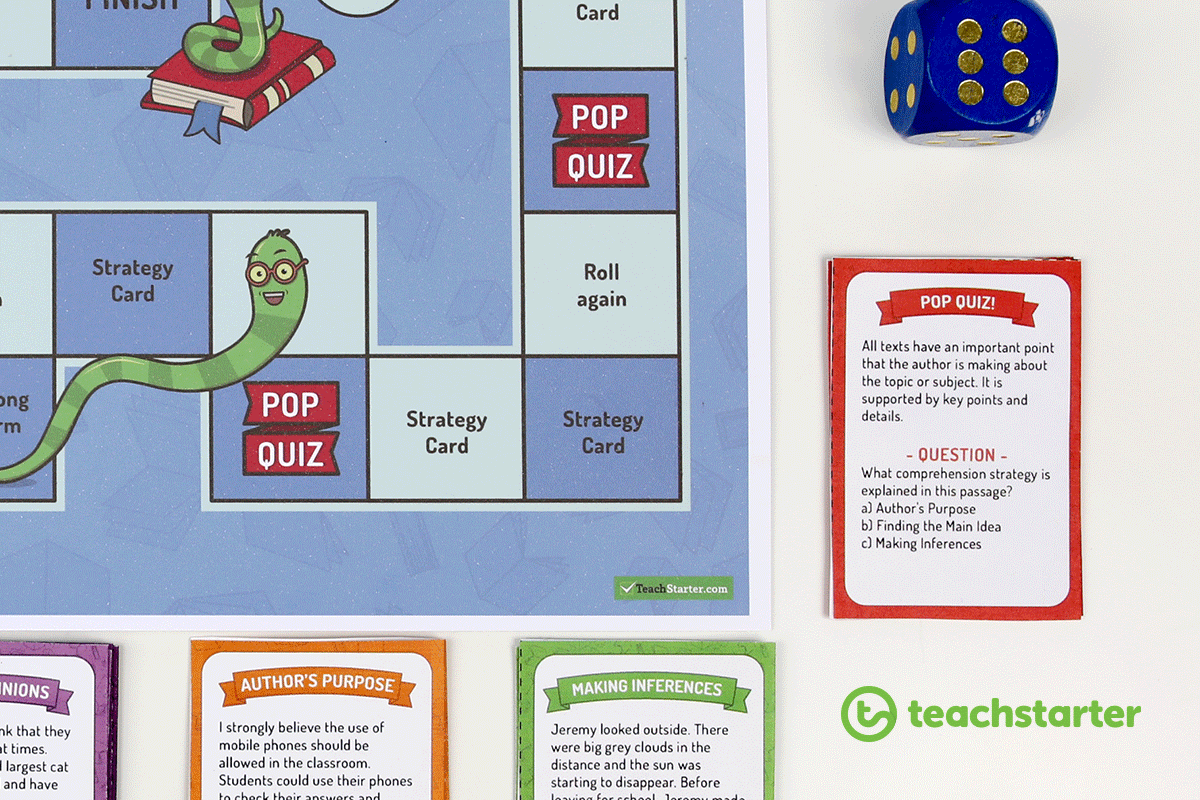 The "Pop Quiz" cards help students practice their explicit knowledge and understanding of these eleven comprehension skills through multiple choice questions.
Texts are written in a particular order. This order helps the text to flow and make sense. Most texts have a beginning, middle and an end.

Question:
What comprehension strategy is explained in this passage?
(a) Cause and Effect
(b) Summarising
(c) Sequencing

Differentiated Comprehension Activities
Perhaps one of the best parts of this game is the flexibility it gives you to cater to the needs of individual students and small groups.
Choose to focus on just one or two specific comprehension strategies by only using the relevant strategy cards.
Play in mixed ability groups to help support less confident students.
Split your class into two teams, project the game board onto your whiteboard and allocate specific strategies to pairs within each team.
For hints and tips for preparing and storing this awesome game, check out these step-by-step instructions!