Since the introduction of NAPLAN, persuasive writing has taken on a new force in the classroom. Advertisements, letters of persuasion and debates haunt many a teacher's dreams. But make no mistake — teaching students how to write with persuasive devices has always been an important part of developing literacy in the classroom, and introducing the right techniques can give your class the newfound opportunity to voice their opinion in brilliant ways.
So how do you teach persuasive devices, and what are the writing techniques and examples you need to focus on in the classroom? The teachers on the Teach Starter team have been teaching persuasive writing for decades, and we've created some of teachers' favourite resources to do the same in their own classrooms. Our literacy experts sat down to create this how to guide to make it easier to teach persuasive writing in your classroom, including a look at some of the writing techniques that are most important for our students to learn.
Short on time? Skip straight to our favourite persuasive devices teaching resources!
Set Clear Goals for Persuasive Writing
Before you dive into teaching all the persuasive devices and challenging your young writers, it's wise to set your goals for the unit.
Learning intentions are teacher-given descriptions of what the student needs to do in order to accomplish a set task while success criteria are the measures used by teachers in order to determine whether the student has met the learning intentions.
When teaching persuasive writing, being transparent with our students about both of these is critical. This can be achieved in several ways:
Upon starting the unit, provide an overview of the learning that will take place
Provide students (and parents for homework tasks or projects) with a marking rubric or criteria sheet for each assessment task undertaken
Show students work samples from previous years' students and from relevant study authorities (and annotate and analyse these together)
Set up a 'What a good one looks like' wall, showing current peer samples at varying assessable levels
Give students self-assessment tools and checklists to track their own progress
Our NAPLAN-style marking rubric is a great teaching resource to show your students to really illustrate what you're looking for when marking their writing pieces.
Teaching Persuasive Writing Techniques
Persuasive writing is everywhere that our students look, from advertisements to newspapers. So how do you teach students to form convincing arguments in their writing? Here are some of the techniques our teacher team focuses on when we're teaching students to write persuasively.
1. Alliteration
Alliteration is the repetition of the same or similar kinds of sounds at the beginning of words or in stressed syllables. Often seen in poetry, it can also be effective as a persuasive device because it is so memorable, creating a piece of writing that will stick in the reader's mind.
As you teach alliteration, you may want to introduce students to some of the more common idioms that include alliteration such as 'hold your horses' or 'bee in your bonnet.'
Alliteration can be a little tricky to master at first, but once your students have got their sounds and letters right, the sky's the limit as they'll find themselves stringing together sentences packed with powerful prose.
Check out these absolutely awesome alliteration activities to give your students some practice using this device in their writing:
[resource:3175550] [resource:3175550] [resource:3195386] [resource:3159850]
2. Rhetorical Questions
Rhetorical questions are questions that the writer does not expect to have answered either because there is no answer or the answer is obvious. For example, the question 'is water wet?' has an obvious answer, making it a rhetorical question. On the other hand, 'are you kidding?' is a question often used in conversation that doesn't have an obvious answer, but the questioner also does not expect to be answered, which makes it rhetorical.
Either way, they can be effective to get your reader thinking and often evoke an emotional reaction. This persuasive device is used to emphasise a point, and students may hear them used in figures of speech or see them in advertisements.
Challenge your students to practise their rhetorical question skills by matching some opinion sentences on different topics with a question. Start the ball rolling with this Rhetorical Questions Worksheet.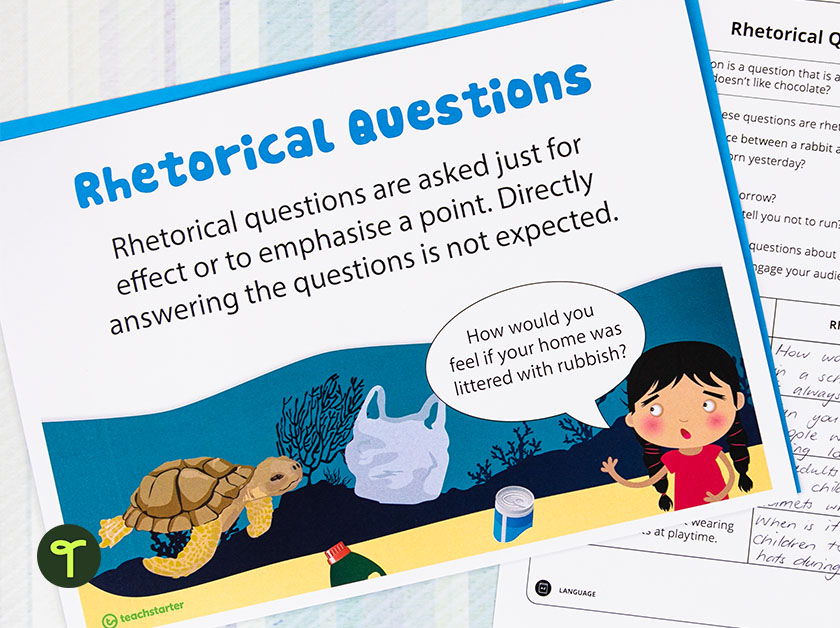 3. Statistics
Including statistics in writing takes a different approach to persuasion than some of the devices we've covered so far. Instead of appealing to the reader's memory or trying to evoke a strong reaction, statistics are used when a writer is looking to convince and persuade via logic.
When it comes to including statistics in persuasive writing, there's a little bit more research involved than chucking an alliterative phrase into the text. Sometimes, your students may have to conduct a survey or data collection activity before they have any statistics to work with. For the bigger topics, why not help your students by encouraging them to find information that supports their opinion?
This could include providing an infographic, such as our examples below:
[resource:658099] [resource:4415910]
4. Emotive Language
Emotive language is a type of language that is designed to evoke an emotional response such as anger or sadness or joy. Tapping into a reader's emotions helps to manipulate their opinion by pulling on the heartstrings, which makes writing more persuasive in the end.
Here are a few examples of emotive language that your students can implement to make their writing stronger:
Adjectives — These describing words do a lot of the heavy lifting for students as they help make writing more specific and aid the reader in drawing pictures in the mind. Introduce your students to adjectives that help them dig deep into descriptions!
Adverbs — Words that describe how, when, why, where or under what conditions can add an emotional component as they modify other words in your students' writing.
Verbs — Help your students move beyond old overused verbs like said and did with more emotive verbs like yelled and accomplished.
Give your students some practice with emotive language and then brainstorm together how to include these words in persuasive sentences.
5. Modality
Although they likely don't realise it, your students are using modality every day in speaking to their classmates and friends and family.
Modality is used to indicate the degree to which something is certain, possible or improbable. Using high-modality words in persuasive writing is a great way to convince your reader that your point of view is the correct one.
Some high-modality words your students can use include:
Adjectives — required, possible
Adverbs — rarely, always
Nouns — possibility, requirement
Verbs — must, will, should, could
Give students a visual reference in the classroom to remind them of the different high-modality words that are at their disposal when they're writing! Our Modality Word Wall with Information (spotted in a classroom below!) is a great visual reminder to display in the classroom.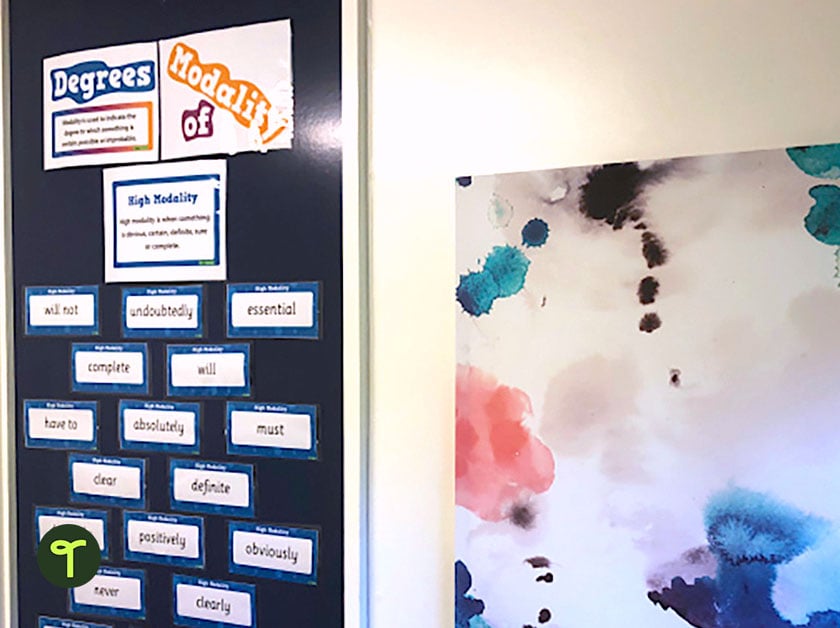 6. Repetition
When important words or phrases are repeated in a text, they are more likely to stick in the reader's mind — that's the key behind using repetition in persuasive writing. It's incredibly effective and can be seen in some of the most famous persuasive writing throughout history from Martin Luther King Jr.'s repetition of the words 'I have a dream' in his world-famous speech to Maya Angelou's repetition of the words "I rise" in her poem, Still I Rise.
Read through some persuasive writing examples, such as this Letter to the Editor (Sugary Snacks Ban) – Worksheet. Then, have your students highlight the different techniques they come across, paying attention to how many times important words or phrases are repeated.
7. Facts
Facts are another persuasive device designed to appeal to the reader using logic and can be a powerful persuader.  Although this persuasive device is similar to statistics, adding facts to persuasive writing is often a little trickier. They require students to have a strong understanding of the difference between facts and opinions.
8. Opinion
I believe 'opinion' to be the most important of all the persuasive devices!
Unlike facts, sharing opinions seems to be incredibly easy when it comes to school children! Seriously though, we want to encourage our students to have strong opinions (that can be backed up by solid reasoning!). To strengthen their understanding of opinions, try out some of the following resources:
[resource:41725][resource:97765][resource:535866][resource:41709]
9. Rule of 3
It may seem simple enough to persuade your reader by thinking of three describing terms to accompany your topic, but this is a solid persuasive advice that is often employed effectively. The goal is to simply list three things that work together to convey a thought.
For example, William Shakespeare listed out 'friends, Romans, countrymen,' in Julius Caesar, and the line is often repeated because it's so memorable.
Why not get your students to level up their Rule of 3 describing game by including some out-of-this-world adjectives? You can use our Wheely Wonderful Words – Overused Adjectives wheel to help your students improve their vocabulary. Brainstorm three terms that help to describe your students' topic, and then challenge them with finding better and more advanced words that have the same meaning.

10. Personal Pronouns
Students hear a lot about pronouns these days on the news, but do they understand how to use this part of speech in their writing?
Personal pronouns, of course, refer to words such as we, I, you, our, your and us. These are the words that can help your readers to feel as though they are part of the conversation and connect with your arguments. We have a Personal Pronouns Worksheet to help your students practise combining these with their other persuasive devices.
11. Exaggeration
If you don't include persuasive devices in your writing, you may as well not bother writing at all!
Exaggeration can be used in persuasive writing to add emphasis to a feeling, an idea, an action, or a feature, and it's one of the more fun devices for students to play with as they realise they are able to say things that are just a little bit ridiculous … and it's OK! It's fun, after all, to be able to say the elephant was 'as big as a house.'
Have some fun with our Persuasive Devices Sorting Activity and have your students sort out the exaggerated sentences from the rest. Once they've got a grasp of what, exactly, an exaggeration is, then they can begin to think of some of their own hilarious examples!
How to Teach Persuasive Writing Passion
A note on persuasive passion: Getting kids to understand the purpose of persuasive writing can be simple, but it's often more difficult for them to write persuasively about something they're not interested in. While there's certainly a place for demand-writing to a set topic, it's also beneficial to allow children to explore topics they're already passionate about.
Conferencing with students can really draw out some great ideas and ignite interest in our young students. Finding out what they really care about helps us as teachers to help them focus on totally nailing their persuasive writing tasks.
What do your students care about?
Do you have a budding athlete who lives and breathes soccer? A foodie who loves to cook for her family? A tender heart who loves all creatures great and small? Harness their passions, and get them writing.
Persuasive Writing Examples for Kids
A final note on teaching persuasive devices: Fully immersing your students in persuasive language is crucial. Here are some places where you can get those writing examples in front of students to help them build their skills:
Reading children's books with persuasive language kids adds an immense amount of value to the learning process.
Displaying examples of persuasive writing in the classroom is a way of explicitly showing your students what is expected and the language features that are required to get them on the right track.
If you're still not quite sure about these persuasive writing techniques, we have some wonderful resources to help you out!