Calling all Year 5 teachers! You asked and we delivered. The Year 5 What's Buzzing? magazine for students is hot off the press and ready for you to download. This magazine for students is literally bursting with high quality, content-rich pages. Tell your students to hold onto their hats because they are in for a treat!
The Greatness of the Year 5 What's Buzzing? Magazine
So, what makes this magazine so exceptional and unique? Where should I start?
This magazine for students is packed full of articles pitched perfectly for Year 5 students. Oh, and did I mention that it is curriculum aligned? Most importantly, the topics and subject matter has been chosen with Year 5 students and their interests in mind.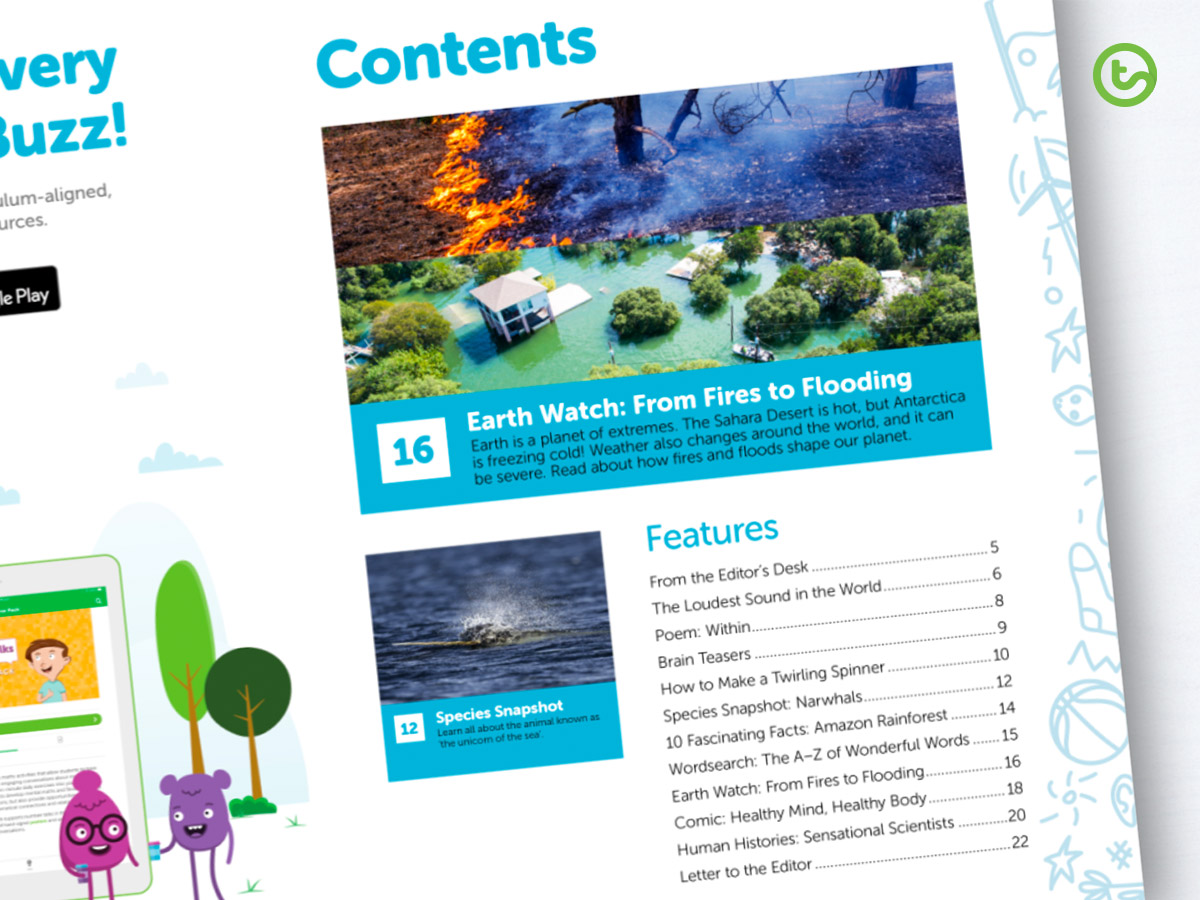 Our brand new Year 5 – What Buzzing? magazine for students is…
brimming with fascinating and engaging articles
designed to use in conjunction with Year 5 Magazine task Cards
written specifically for Year 5 students
bright, bold and beautifully illustrated
presented as a digital text or printable
perfect to explore with more confident Year 4 students or less confident Year 6 students.
---
Fascinate and Engage Your Students
There is something for everyone within the pages of our Year 5 magazine – What's Buzzing? It includes multiple genres and covers a wide range of topics. This magazine for students has been designed to spark interest in Humanities and Social Sciences, Health and Physical Education and more!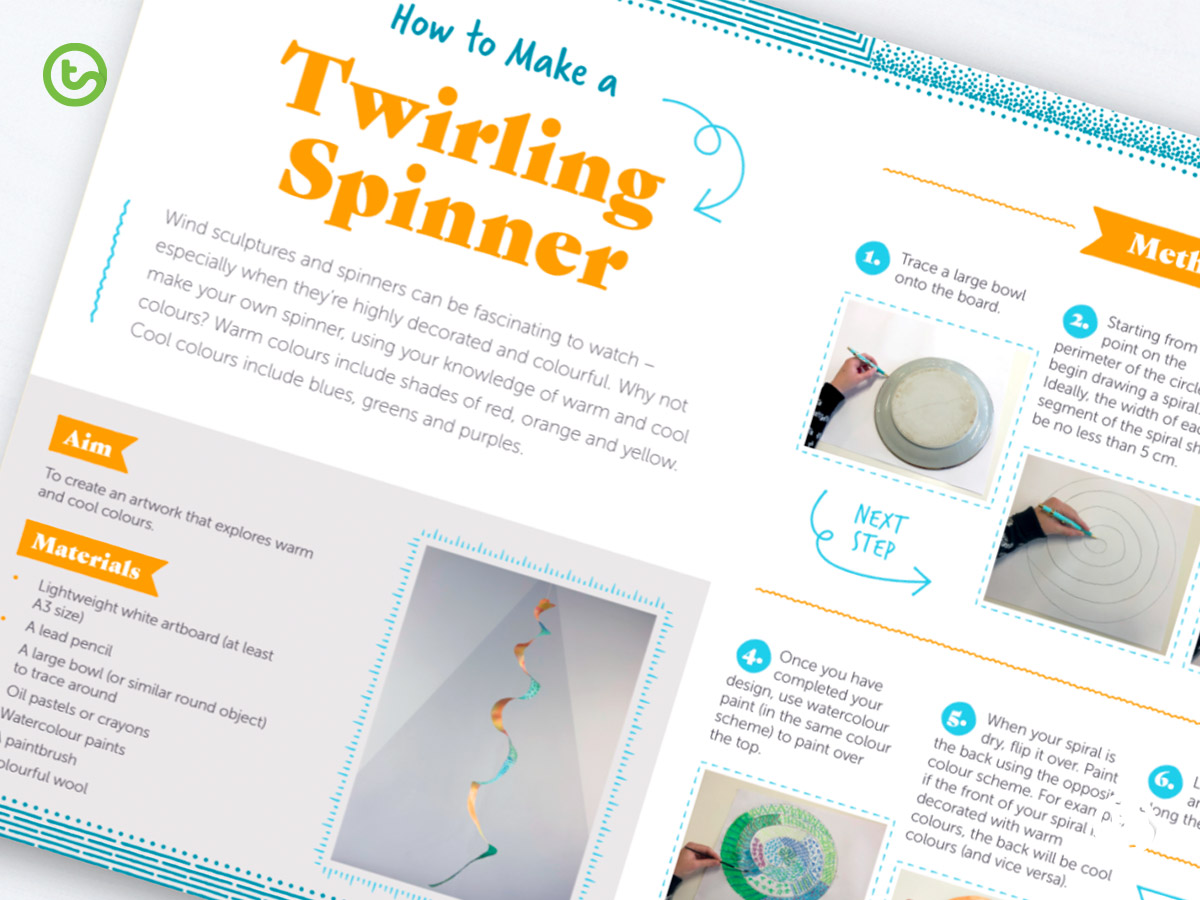 Kids love magazines because they offer bright and bold illustrations and bite-sized articles. Magazines appeal to a wide range of ability levels and make easy work of differentiation. Most of all, magazines are fun and nurture a love of reading.
---
Text Type Heaven
In our Year 5 What's Buzzing? magazine for students, you'll find ten different text types to develop reading comprehension.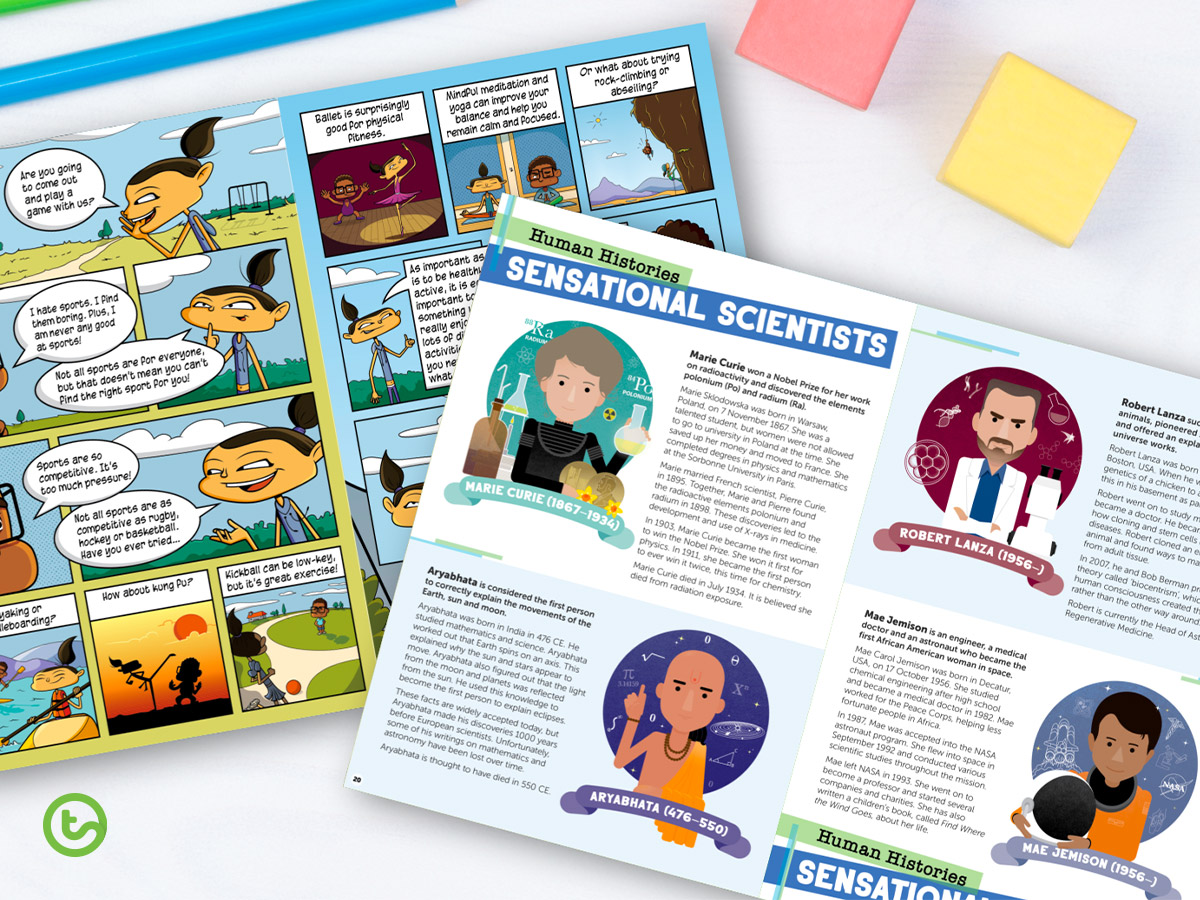 With a click of a download button, you'll have the following texts at your fingertips:
Within (poem)
Letter to the Editor (persuasive)
How to Make a Twirling Spinner (procedure)
The Loudest Sound in the World (narrative)
Human Histories: Sensational Scientists (biography)
K-9ine (advertisement)
10 Fascinating Facts About the Amazon Rainforest (factual)
Healthy Mind, Healthy Body: Find Your Sport (comic)
Species Snapshot: Narwhals (informative)
Earth Watch: From Fires to Flooding (explanation).
For more insight into the importance of exposing your students to different text types, read my blog, 10 Text Types for Upper Years | FREE Teaching Resources,
---
What's Buzzing? Comic Strip
Do you have reluctant readers in your class? Providing magazines for students and comics could be the answer. So, with this in mind we have included an engaging comic strip Healthy Mind, Healthy Body: Find Your Sport. This fun and engaging a comic strip carries the important message to give things a go!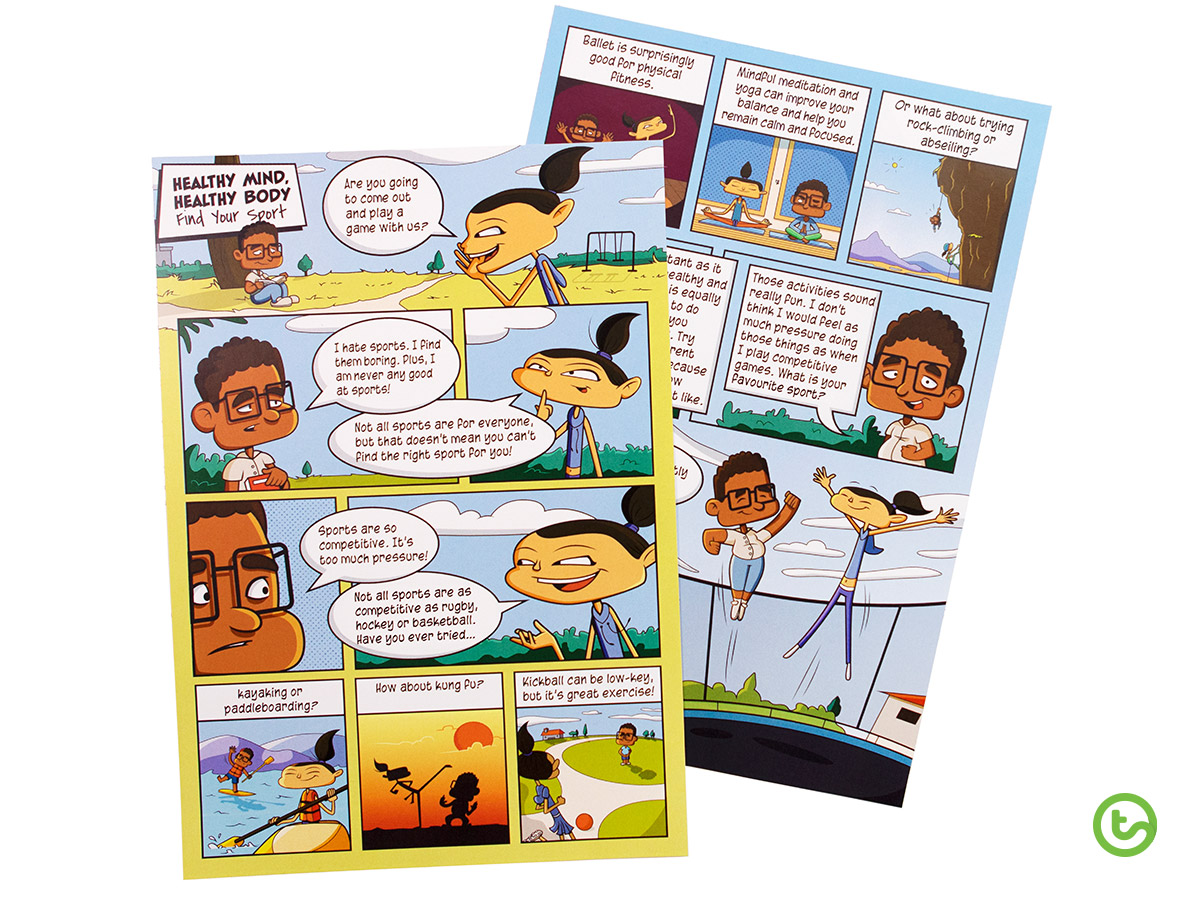 Students benefit from reading comics because of the way in which they:
encourage the use of inference (students have to infer what has not been written)
slow down skim reading (students are forced to slow down in order to fully understand what's happening)
support less confident readers with less text and bold illustrations
tackle sensitive topics in a fun way
support reading comprehension for students with additional needs such as dyslexia and autism.
Check out our Comics collection for more engaging comics that your students will love. Why not use our Blank Comic Strip Template, and encourage your students to create their own comic storyboard?
---
Poem – Within
Our Year 5 – What's Buzzing? magazine for students includes a heartfelt poem –Within.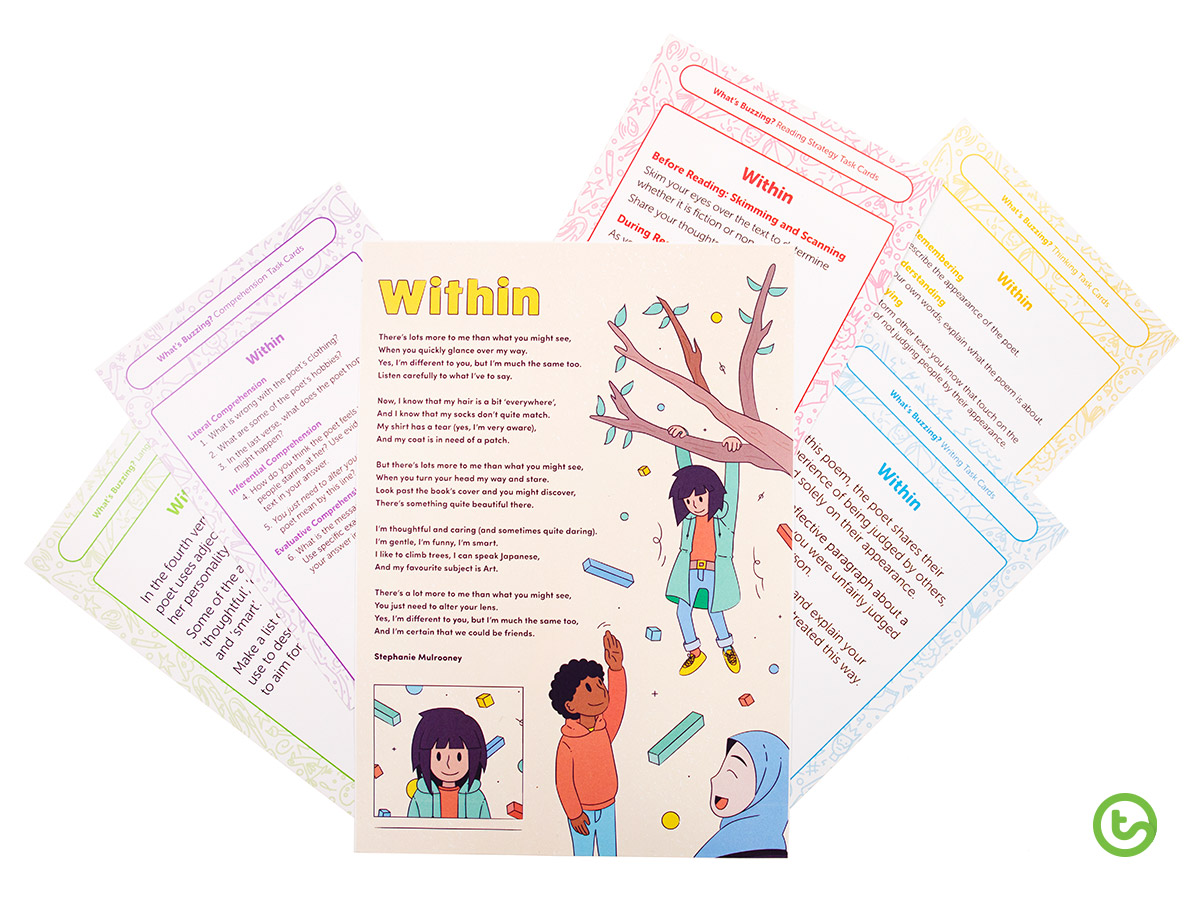 Within was written by one of our very own Teach Starter Resource Producers, Stephanie. The poem tackles the sensitive topic of inclusion and offers a thought-provoking insight into the mind of a young girl who feels a bit different. The careful use of language, rhythm and rhyme will enable your students to draw the important message from the poem.
By using this text in conjunction with the corresponding Year 5 magazine – What's Buzzing? Task Cards, you can use this article to explore writing, language, comprehension, reading strategies and higher-order thinking skills.
---
Year 5 What's Buzzing? Magazine Task Cards
The new Year 5 – What's Buzzing? magazine was created to use in conjunctions with a set of Year 5 What's Buzzing? Magazine Task Cards. These time-saving task cards take the stress out of your literacy planning and are perfect to use as English Group Activities and Reading Group Activities.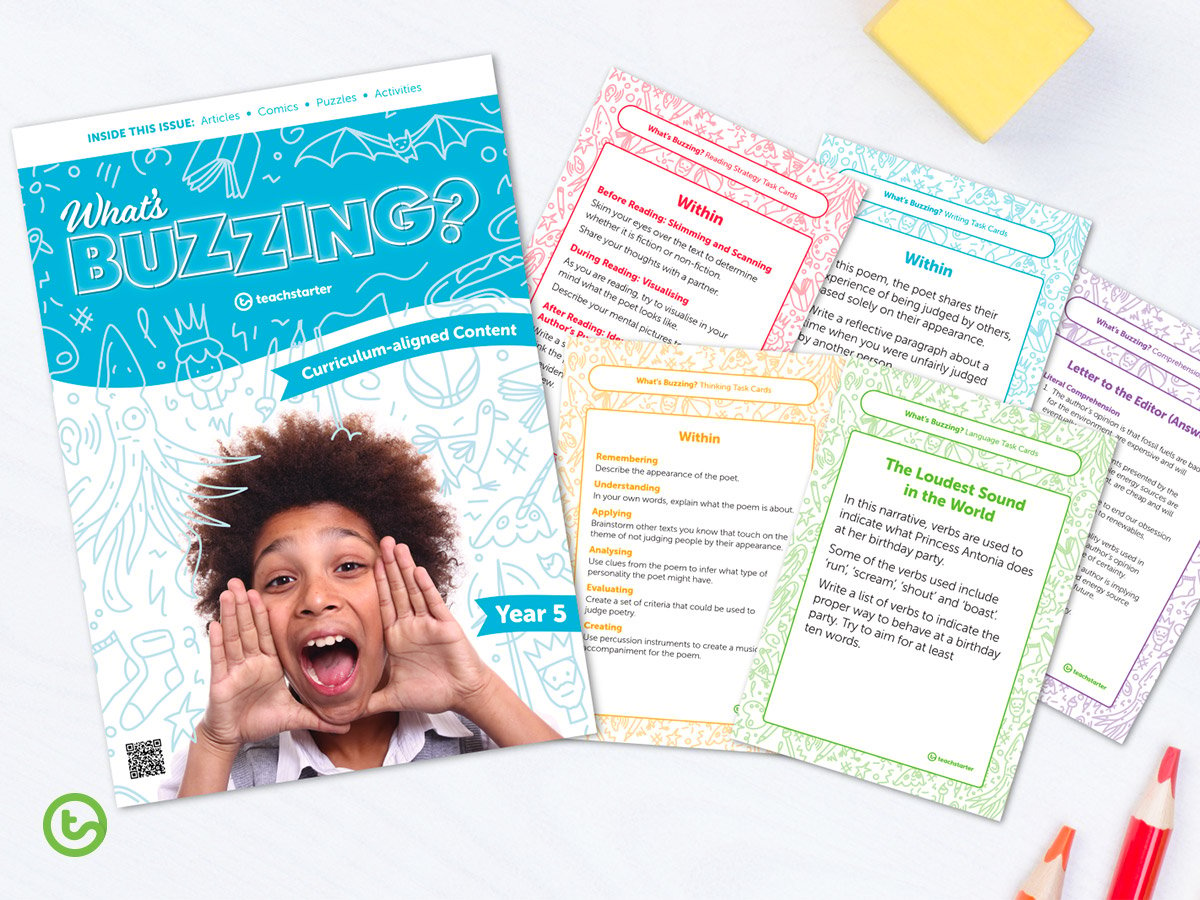 The five sets of task cards can be used in countless ways and address the areas of:
reading strategies
comprehension
language
writing
For more information and ideas on successfully setting up literacy groups read Holly's blog, 40 Activities and Ideas to Set up Literacy Groups in Your Classroom.
---
Spread the word amongst your tribe that the Year 5 What's Buzzing? magazine for students is out! And of course, don't miss the Year 6 Magazine – What's Buzzing? (First Edition). 
Which year group will be next?
Share your What's Buzzing? appreciation on Instagram #teachstarter