Explore Greek and Latin word origins with this hand-on card game.
Can Learning Greek and Latin Word Origins Be Fun? You Bet It Can!
Why teach Greek and Latin word origins with worksheets when you can learn with a fun and engaging card game?
This card game has been designed to teach your students about the origins and meanings of a collection of commonly used root words. The aim of the game is to match a selection of words with their root meanings of Greek or Latin origin. Players win by being the first person to use all of the cards in their hand.
The root words included in the resource are as follows:
Greek root words

: derm (skin), geo (earth), phon (sound), auto (self), cardi (heart), gram (writing)

Latin root words

: min (small), struct (build), vid or vis (see), fract (break).
The resource includes:
instructions for game set-up and play

a set of word cards, each containing a Greek or Latin root word

a set of root meaning cards

an answer key.
Tips for Differentiation + Scaffolding
A team of dedicated, experienced educators created this resource for students to work on as an English group activity.
If you have a mixture of above and below-level learners, check out these suggestions for keeping students on track with the concepts: 
🆘 Support Struggling Students
The purpose of this game is to learn about words and how they work… not to be stressed by unfamiliar words! Provide students with a dictionary, or allow them to use an online equivalent if they need to look up the meaning of new vocabulary. Word definitions will hopefully provide the additional information they require to complete the next steps in the game.
➕ A Greater Challenge 
Challenge those students who require extension by having them create word banks for the root words contained in the game. Perhaps offer a prize to the student who creates the longest list… extra points for definitions!
Download the File Format That Best Suits Your Classroom!
Use the dropdown menu next to the Download button to select from the colour or black and white version of this resource. An editable Google Slides file is also available should you wish to change any of the included words.
---
Check out these other great resources to liven up your English lessons!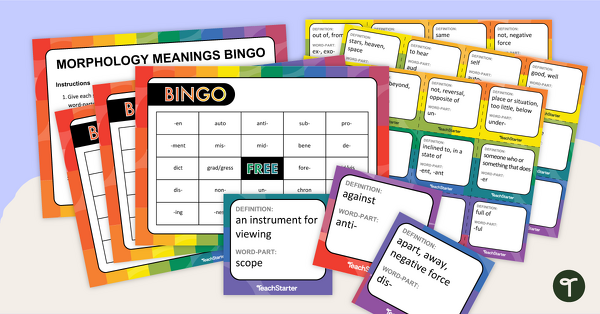 teaching resource
Examine word parts and identify their morphological meanings in this BINGO game.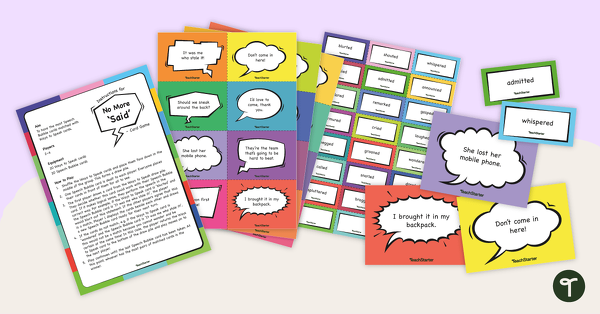 teaching resource
Develop skilled writers with expansive vocabularies by experimenting with descriptive dialogue words.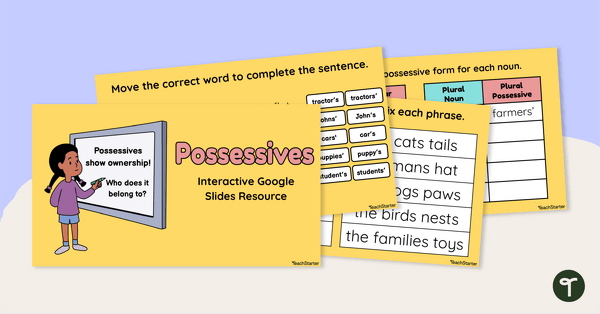 teaching resource
Engage your learners with a Google Interactive activity designed to build skill with possessive nouns.