Teach students the features of nonfiction texts such as headings, sidebars, captions and many more with this set of flashcards for primary students.
Textual Features Flashcards for Kids
What are text features? Text features are the parts of a text that help the reader to understand the text's message. The features of fiction texts are different from the features of nonfiction texts. It is important that our students can identify and understand the text features of both fiction and nonfiction texts.
This set of 17 features of nonfiction texts flashcards provides definitions to help your students understand the role these text elements play in informational texts. Each flashcard provides a definition of the text feature accompanied by a real-life example. The text feature definitions featured in this pack of flashcards are:
Subheading

Photograph  

Table of Contents

Glossary

Index

Chart

Diagram

Bold Words

Caption

Graph

Italic Words

Timeline

Map

Bullet Points

Table

Guide Words

Illustration
This set of textual features flashcards downloads as either a full-color or black-and-white PDF. We recommend printing on card to increase the durability of the resource.
Reduce confusion about which text feature is which by reviewing these flashcards regularly with your students. Alternatively, use these text feature definitions to create a word wall display on your class bulletin board. 
Time for a Text Features Scavenger Hunt!
Looking for more ways to use these features of nonfiction texts flashcards in your classroom? Why not use them for a text features scavenger hunt? Here is how one teacher suggests you might implement a text features scavenger hunt in your classroom:
Choose one of the textual features flashcards and project it onto your whiteboard.

Review the text feature with the students. Make sure all students understand what this text feature looks like in a text and what it is used for.

Give the students a set time to search for a book that contains this text feature and bring it back to their desks. If your classroom library is limited, it may be beneficial to conduct the task in the school library.

Choose a selection of students to share the text they have found with the class. They could also explain how this feature would be helpful to the reader.

Choose a new textual features flashcard and repeat the activity.
Download These Text Features Flashcards
Use the download button above to access either the easy-print PDF or the editable Google Slides version of these features of nonfiction texts flashcards. (Note: You will be prompted to make a copy of the Google Slides template on your personal drive before accessing it.)
More Resources Targeting Text Features for Kids
Teach Starter has more great resources to save you time when teaching text features to your class. Click below for some more curriculum-aligned, teacher-created activities!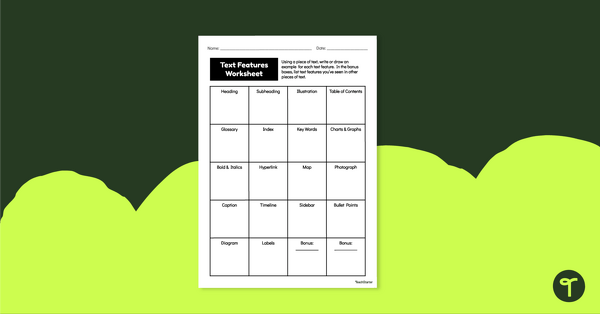 teaching resource
Download this nonfiction text features worksheet so students can practice locating different types of text features found in an information text.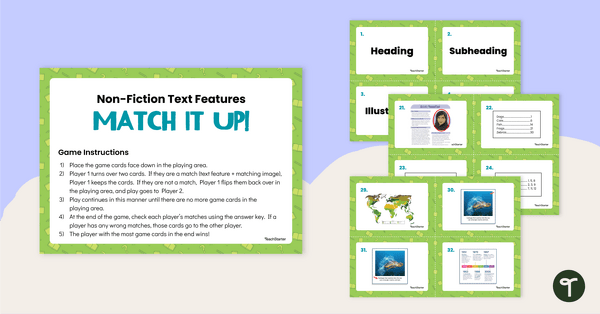 teaching resource
Download this informational text features game to teach primary school students about the common text features of informational texts.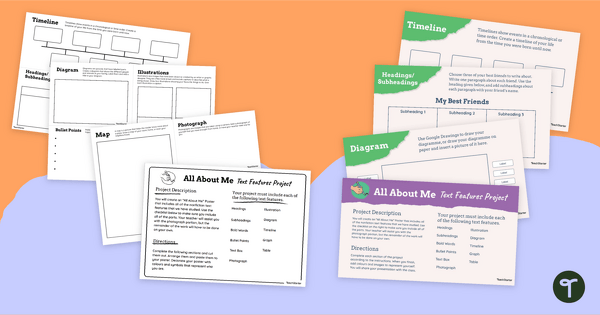 teaching resource
Implement a text features project with an "All About Me" theme to explore informational text features with your students.