Just about every school offers some art education these days, although the requirements are pretty fast and loose regarding whether or not there needs to be an art teacher on the premises. Certainly, there's plenty to gain when your school has an active arts education program: The studies show that art education is linked to everything from motivation to concentration to confidence, even and teamwork.
But what art activities for elementary students are really worth it? The teachers on the Teach Starter gathered our favorite art activities for kids to provide some ideas for elementary teachers!
Art Activities for Kids
Tropical Bird Art
Learning about the different biomes? Follow up your adventure to the hot, wet rainforest with a fun art project that will give your class a bird's eye view of one of the Amazon's many creatures!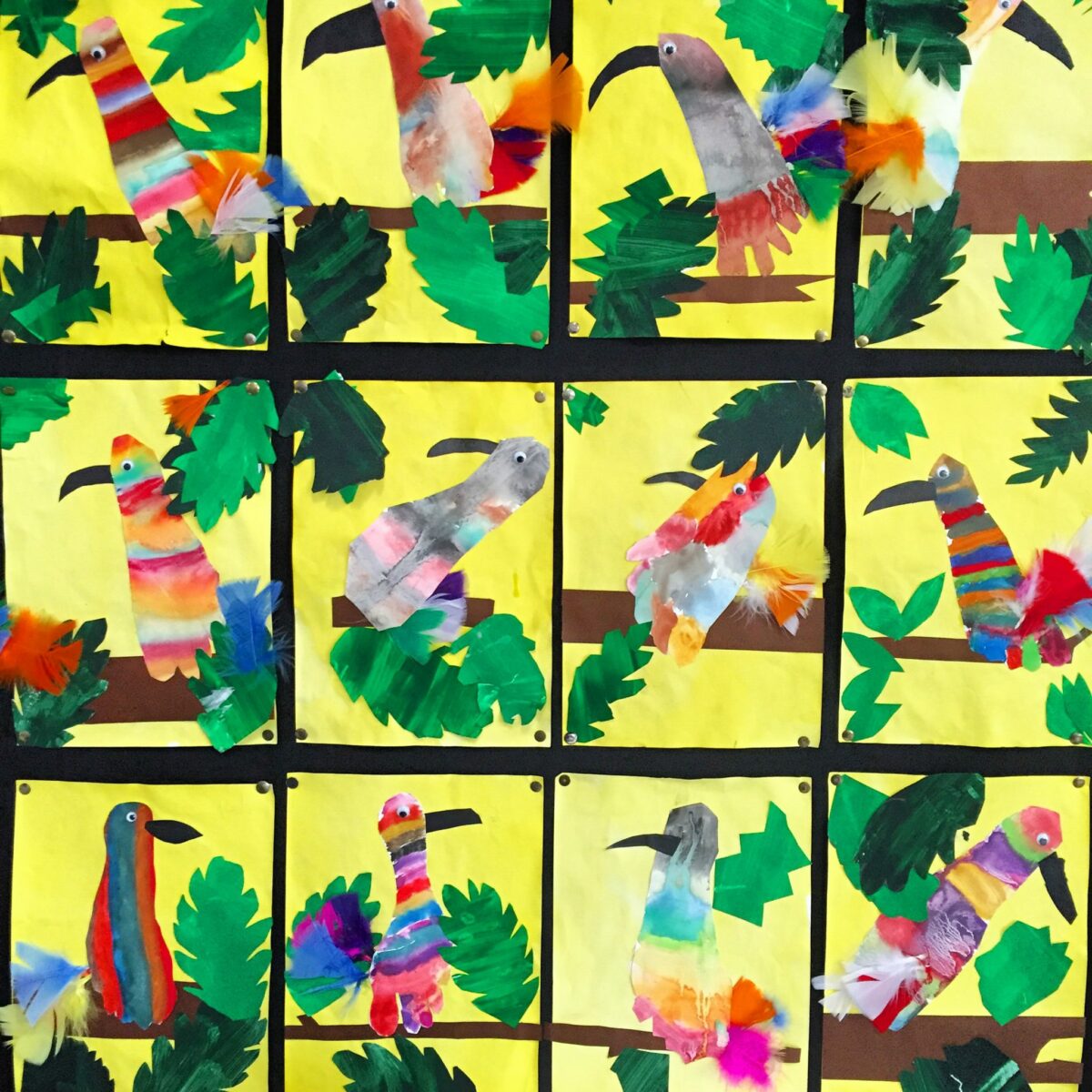 Supplies
Yellow, green, and brown construction paper
White paper
Paints
Feathers
Googly eyes
Black marker
Glue
How to Create the Rainforest Art Project:
Students take off a shoe and sock and trace a foot on a white piece of paper to create the outline of a footprint.
Students then paint the inside of the footprint.
Draw a tree branch on brown paper, cut it out and paste onto the piece of yellow construction paper. You'll want to make sure the branch is about a third of the way down the page and placed horizontally — this is where their tropical bird will sit.
Once their footprint is dry, students cut it out and paste it to the piece of yellow construction paper with the heel at the top and toes sitting on the branch.
Add feathers for the tail.
Add googly eyes and draw a beak with a marker.
Cut leaf shapes out of the green paper, and add them to the picture to complete their rainforest art project.
Take the study of the rainforest a step farther: Print a free rainforest maze!
Cherry Blossom Crepe Paper Art
Do you have leftover crepe paper from a child's birthday party? This colroful paper is often used to create party streamers. Because it's so thin, it tears easily. That makes it harder to reuse for a second party but perfect for kids' art projects in the classroom!
Jessica from @teachlearncreate shared this fun idea for creating Cherry Blossom Art with our teacher team, and we love that it can be used by a variety of grade levels. Why not teach students about the Cherry Blossoms in Washington D.C. or Japan along with this art project?
Pick up these beautiful children's books to go along with the lesson: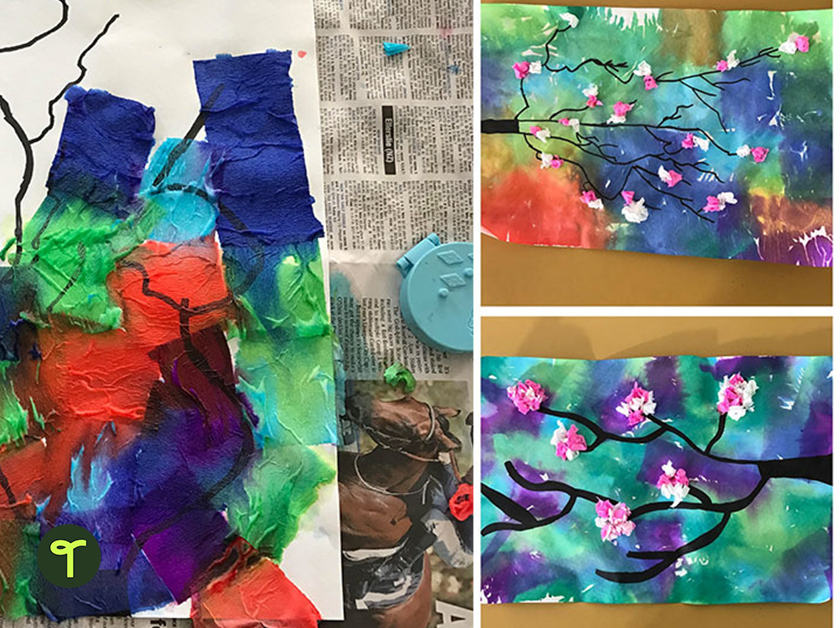 Supplies:
White cardstock
Permanent marker
Colored crepe paper
Paintbrush
Cup of water
Pencil
Glue
How to Make Cherry Blossoms Crepe Paper Art:
Draw the shape of tree branches on your white cardstock with a pencil, and draw over it with a black permanent marker.
Then, layer the squares of crepe paper over the top.
Wet the crepe paper with a brush and water.
Let the crepe paper dry and then gently remove the crepe paper.
Finally, roll balls of white and pink crepe paper and glue onto the branches to form the cherry blossom flowers.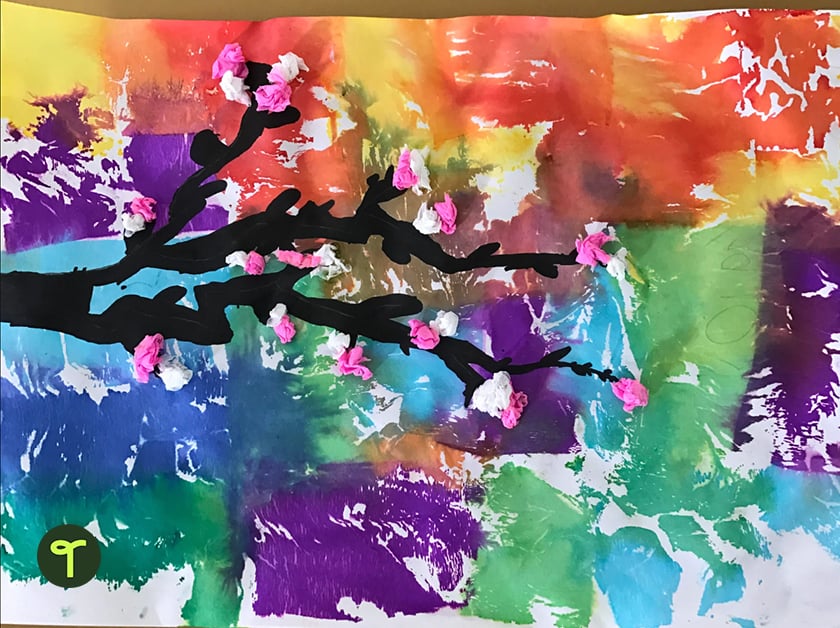 Some other fun ways to use crepe paper for kids' art projects:
Allow students to ball up green bits of crepe paper to make "leaves" on tree art.
Bits of colorful crepe paper can be substituted for the tissue paper in this "I Love You to Pieces" card project.
Happy Art
Join Romero Britto and the Happy Art Revolution with some of our happiest art activities for elementary students!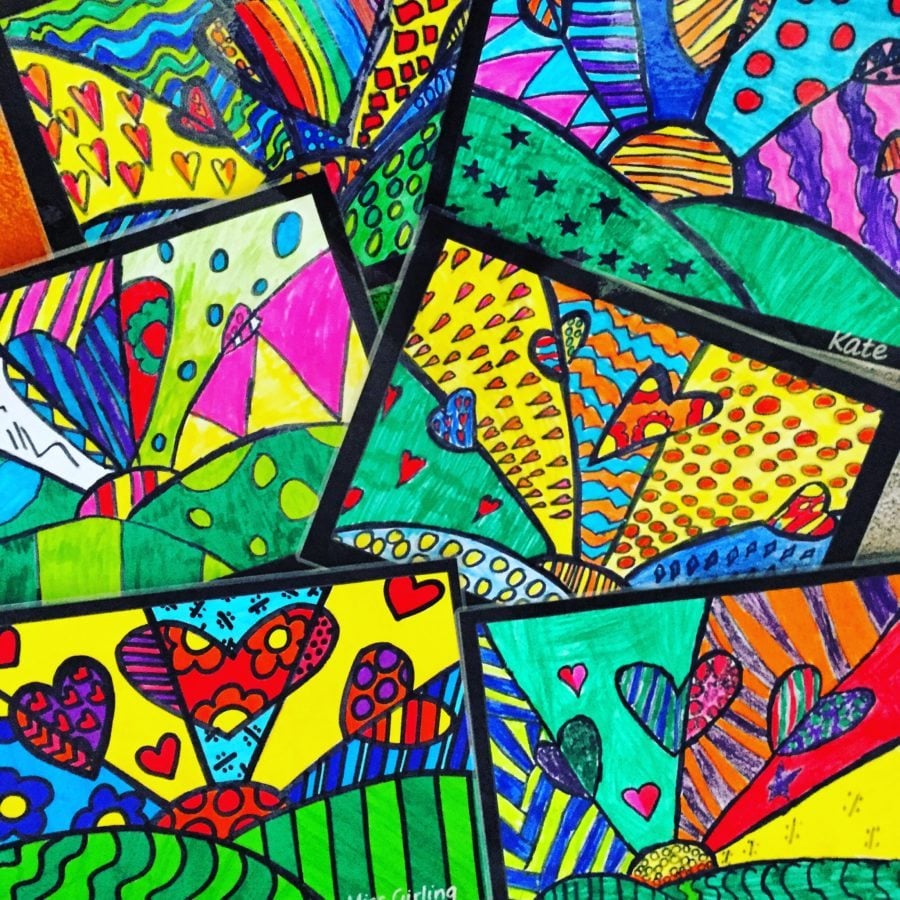 Optical Illusion Art
Optical illusions may have been all the rage in the 1990s, but the artistic elements have never gone away! Try some fun optical illusion art with your students! Bonus: Optical illusions can actually help kids develop their cognition skills, making this an art activity for kids with added benefits.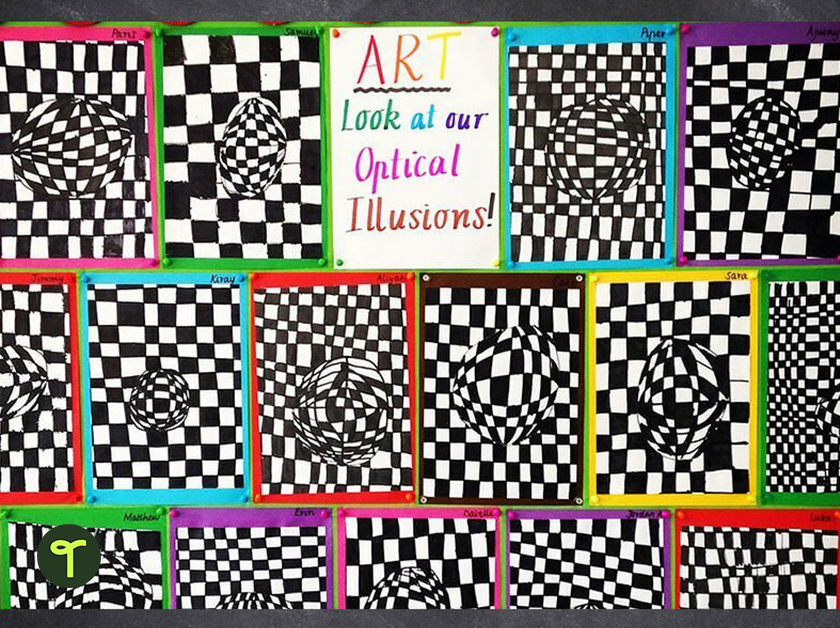 Pop-Up Dragon Art Activity
Planning a Lunar New Year lesson? It's time to bring out the pop-up dragon art activity! Using construction paper, this fun art activity was devised by an art teacher on our team to make it appear as if the dragon is slithering in and out of the background.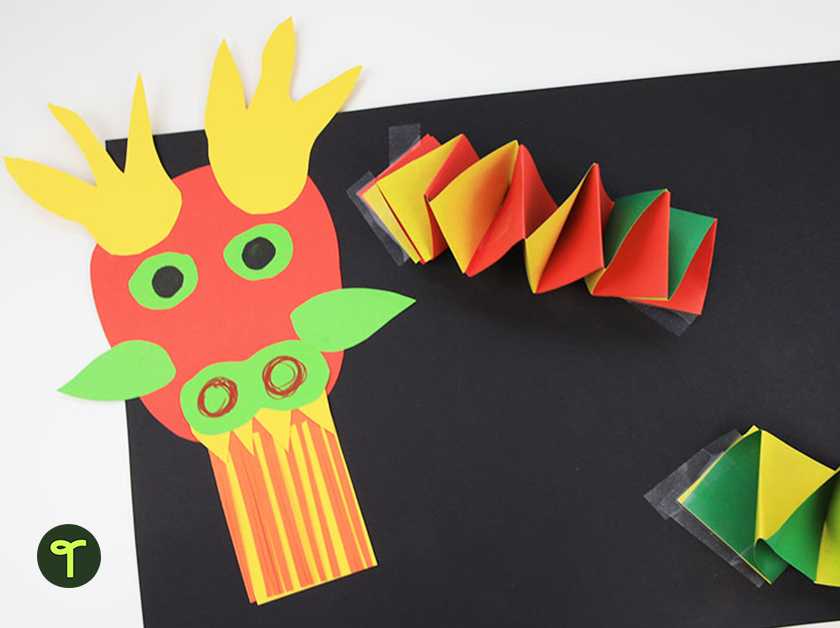 Use the lesson as a jumping-off point to talk about Lunar New Year and the importance of dragons in Chinese art and mythology.
Zentangle Drawing
Promote concentration in the classroom with Zentangle drawing activities for kids! Created by a monk named Rick Roberts and an artist named Maria Thomas, Zentangle art is focused on drawing structured patterns, but there's plenty of freedom — making it the perfect art activity for kids.
Download any of our funky art templates — many of which are free — for your zentangle creations.
Straw Painting
Although our teacher team created this art activity for kids with New Year's celebrations in mind, there's no reason you can't pull out the straws and "paint" fireworks with your students any time of the year! Get the art template here. Not only is this a great way to practice their creativity, working with the straw also helps strengthen verbal and motor skills.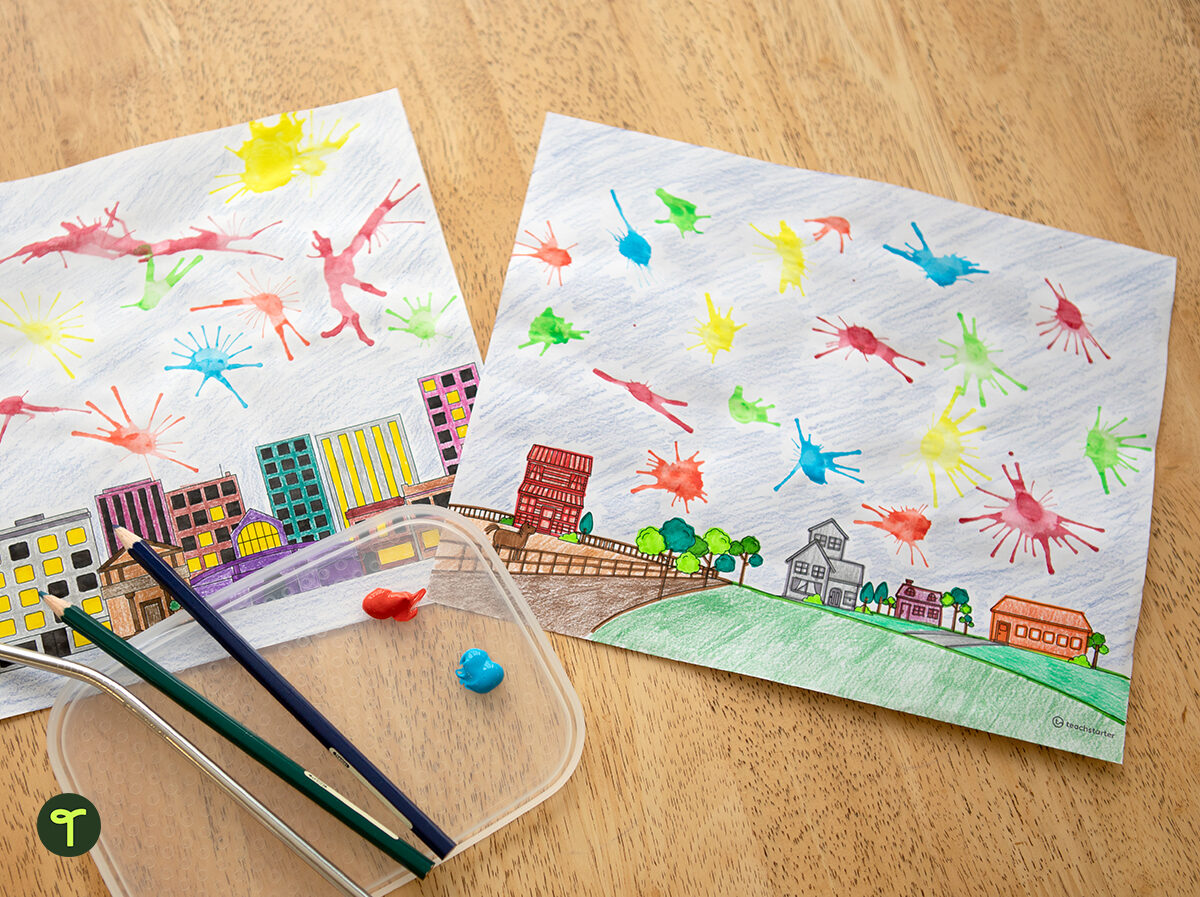 Diversity Heart
Created by art teacher Cassie Stephens, the diversity heart activity is a perfect complement to lessons on equality and inclusion, and the result is a beautiful display for the classroom too.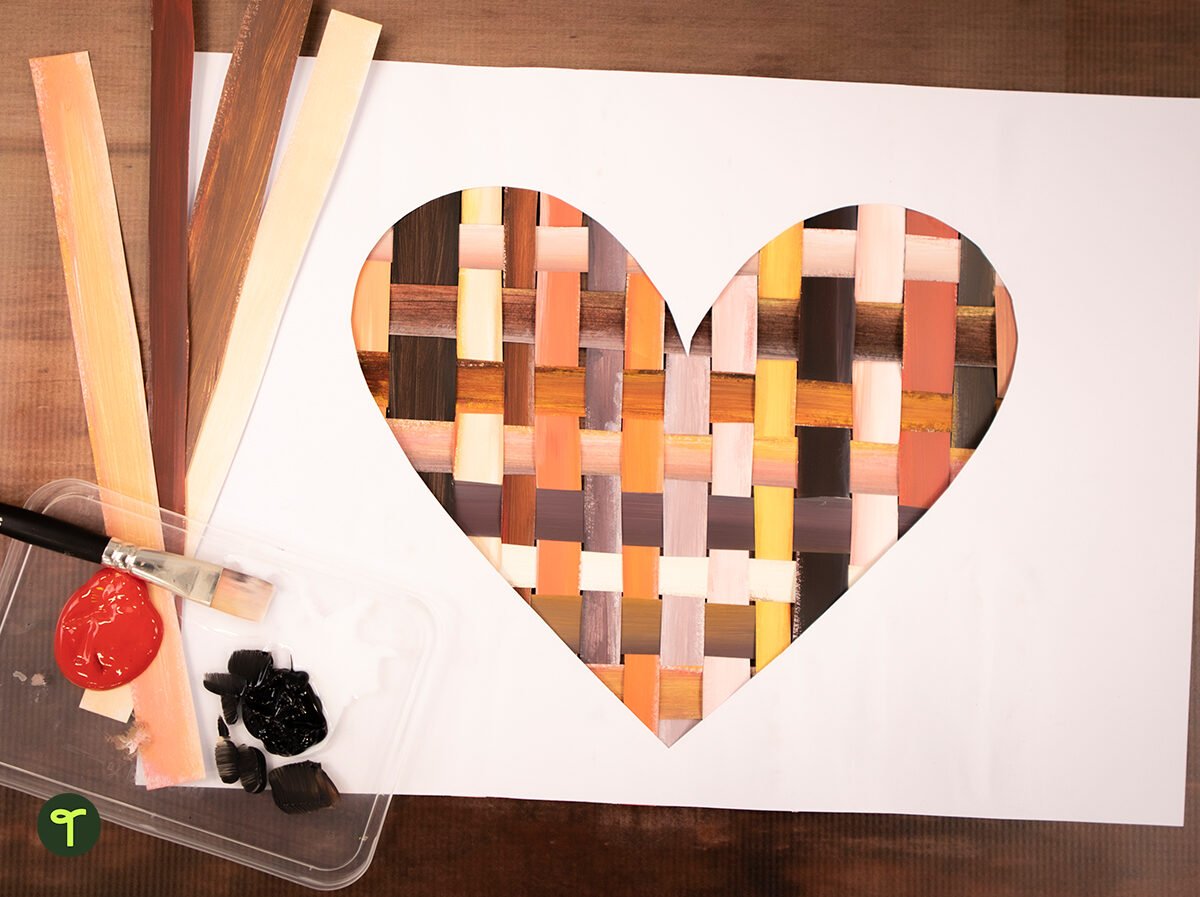 Silly Hair Line Drawing Art Activity
In this art activity, students create a portrait of someone with silly hair by experimenting with different types of lines. All that is needed is a pencil, white paper, a black marker, and crayons.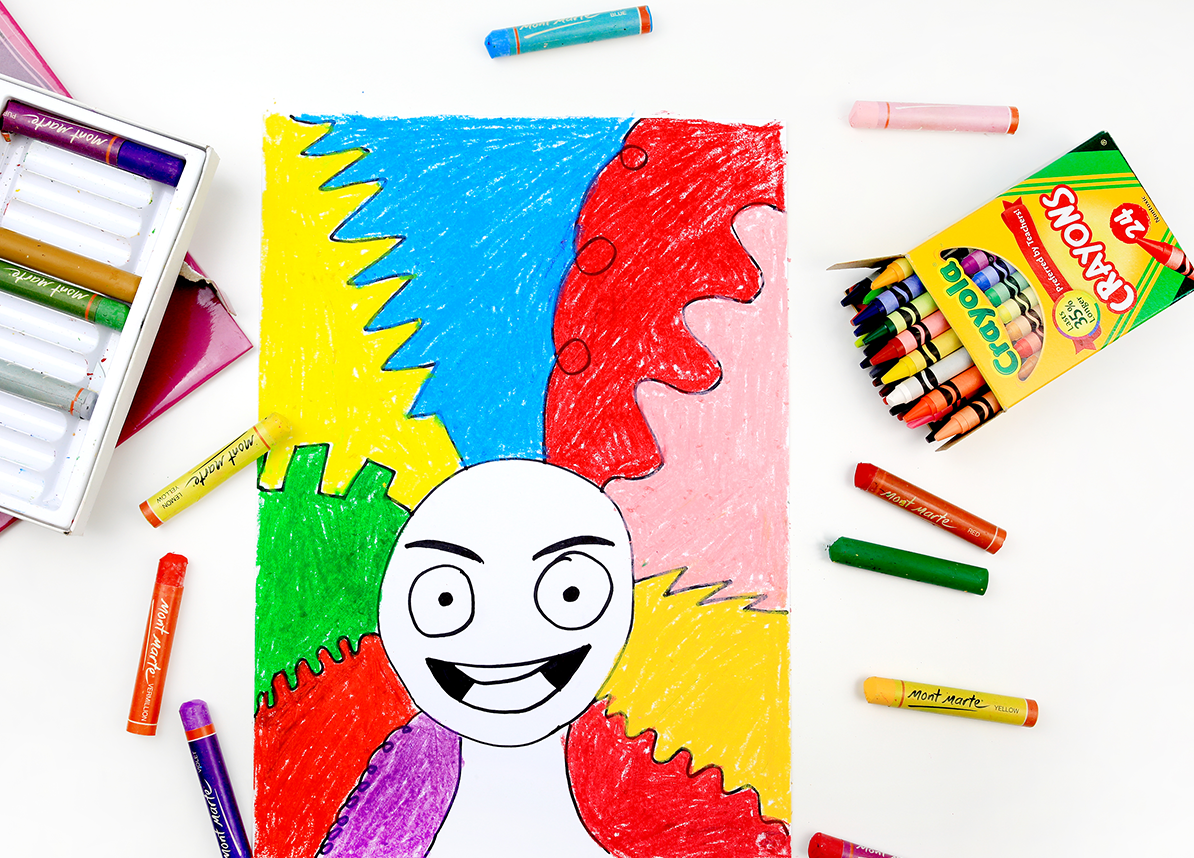 Neverending City Art Activity
In this art activity for kids, students create the illusion of a city that goes on and on by using different shades of one color.
Again, very few materials are needed, yet students will love creating this art piece. A pencil, white paper, paints, and paintbrushes are all they need to practice creating things to scale.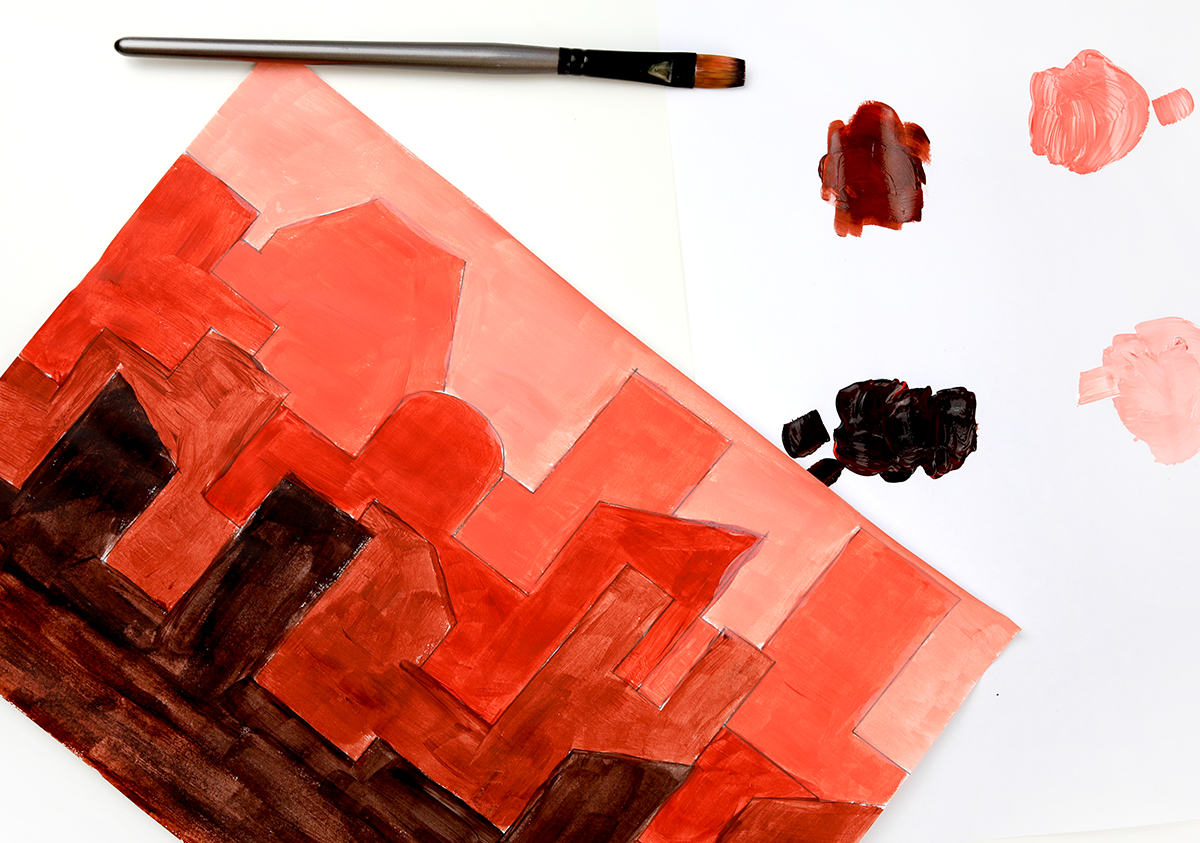 Profile Art
Upcycle old magazines for this art activity kids love — a self-portrait of their profile! These profile art instructions are easy for elementary schoolers, and the result is a keepsake their parents will actually want to keep on the fridge.
How to make them:
Option 1 – If you have access to a projector, ask students to stand side on and get a buddy to outline their face.
Option 2 – If you don't have a projector, take a photo of each student's profile, print it out, and turn the page over. Students put their page against a window and draw around their face.
Students cut strips of paper from a magazine, ensuring they find different colors, textures, and patterns, and glue to their face. They must cut their strip to size to fit their face, eg. around their nose.
Once all strips have been stuck on, turn over your page, cut around the outline of the face, and stick the face onto a piece of black paper or cardstock.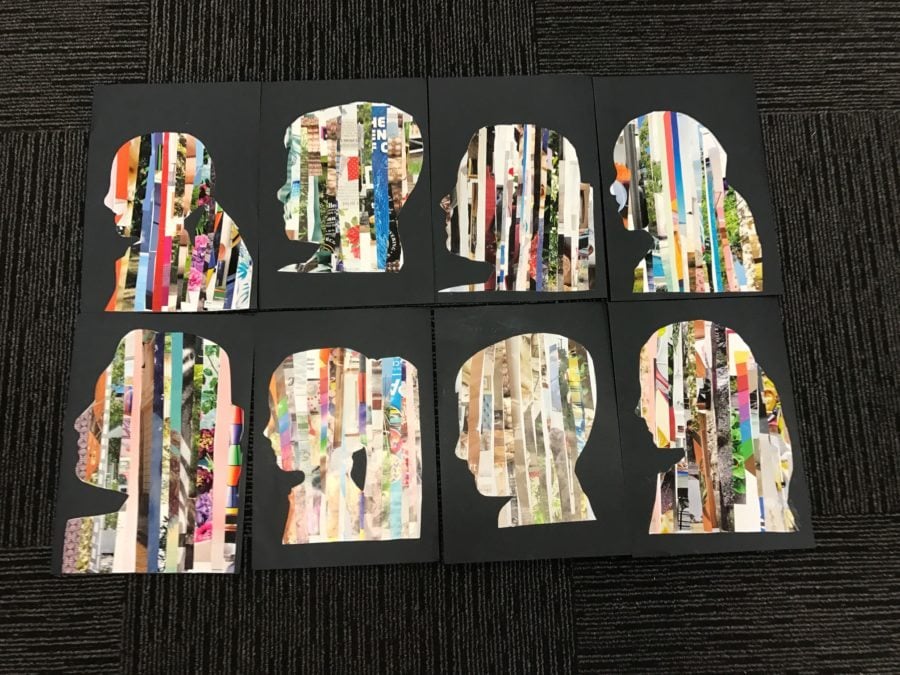 Making Mosaics
Use mosaics as an art activity to teach kids about shapes and how things fit together! Choose from Easter templates like this egg and bunny, a lucky shamrock-shaped mosaic project for St. Patrick's Day, or a mosaic poppy for Memorial Day.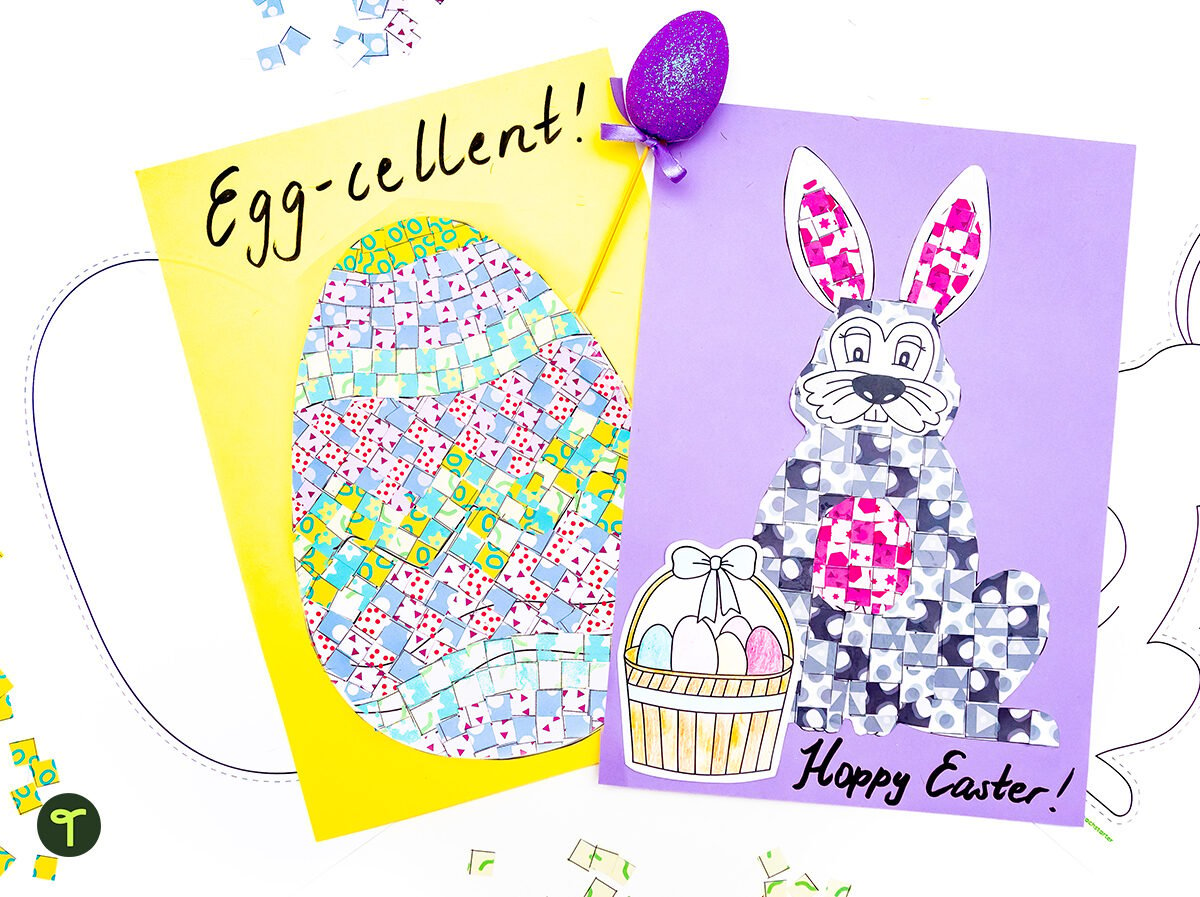 Caterpillar Painting
The perfect art activity for younger students to practice fine motor skills and to teach about color theory, this cute caterpillar can be tied into spring butterfly and caterpillar activities! Get the printable template and instructions here.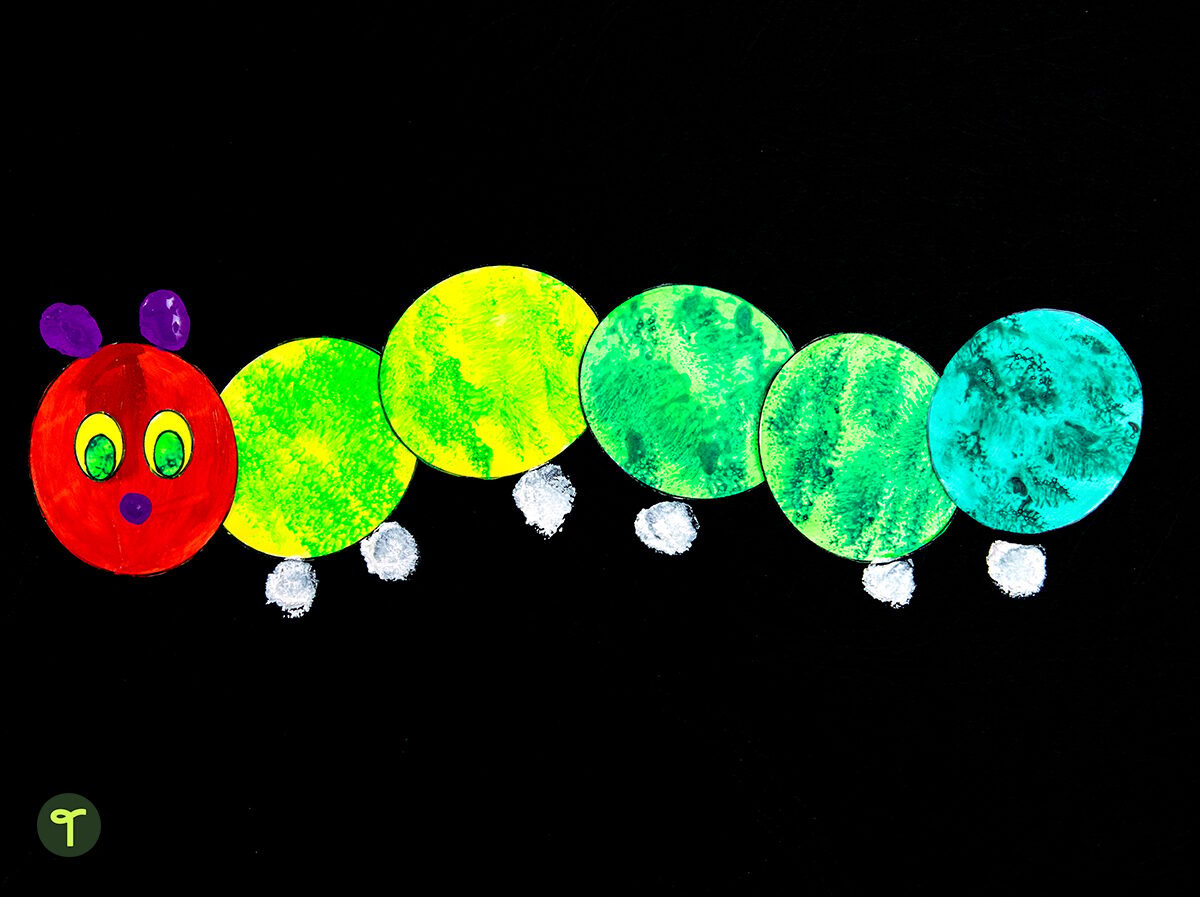 Famous Artist Activities
Teach your students about Picasso, Warhol, Mondrian, and more famous artists with these seven art activities for kids inspired by some of the world's most accomplished artists.
Silhouettes
Teach your students about light and shadow with these fun silhouette art activities that double as perfect Mother's Day presents.
Pattern to Picture Art
This art activity lets kids practice patterns and using lines to create a fun picture of a kitty cat.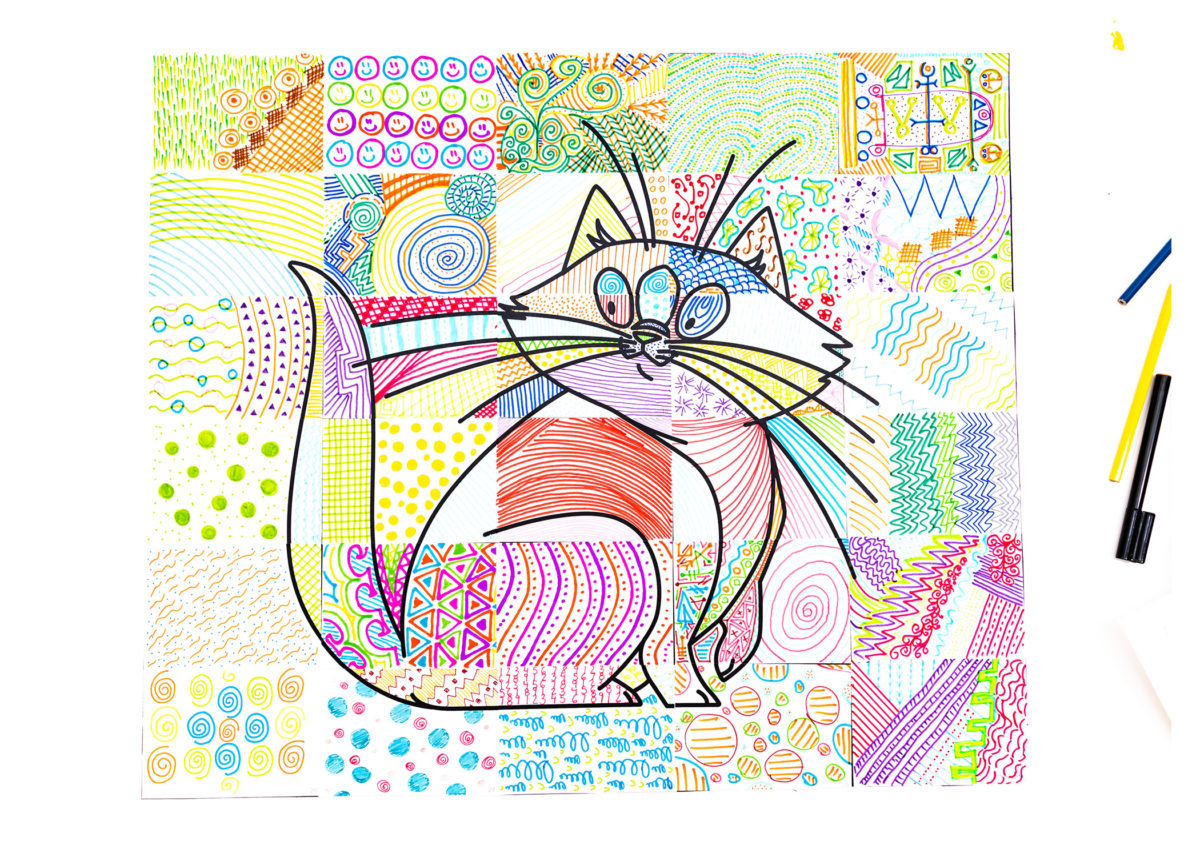 Directed Drawing
Practice listening to directions with fun how to draw videos that you can play while students follow along! Learn to draw a monster, boy, ninja, and more.
---
Art Activity Task Cards
Once you have discussed and even investigated and analyzed famous paintings focusing on the different art elements, pick between 28 different art activities in our Art Elements Activity Task Cards.
This pack is available in both British English and American English, and includes four different activities for each of the art elements:
color
line
shape
texture
space
form
value.
These task cards were created with the busy classroom teacher in mind. All materials and directions are explained in a kid-friendly way.
The materials have been kept to a minimum and use the kind of supplies that most classroom teachers will have in their art cupboard/shelf.
---
Art Work Display for the Classroom
Displaying students' artwork is a critical component of Visual Arts within the classroom. Here's an idea we love, plus it will save you time at the end of the year.
Dedicate a wall in your classroom to display your students' artwork. Create a banner using our selection of display banners for the classroom. Using our editable tray labels you can create a special section of the artboard for each student.
Hot tip: use manilla folders as the backdrop for each students' artwork. and use manilla folder clip fasteners, each week add your students' artwork to the folder.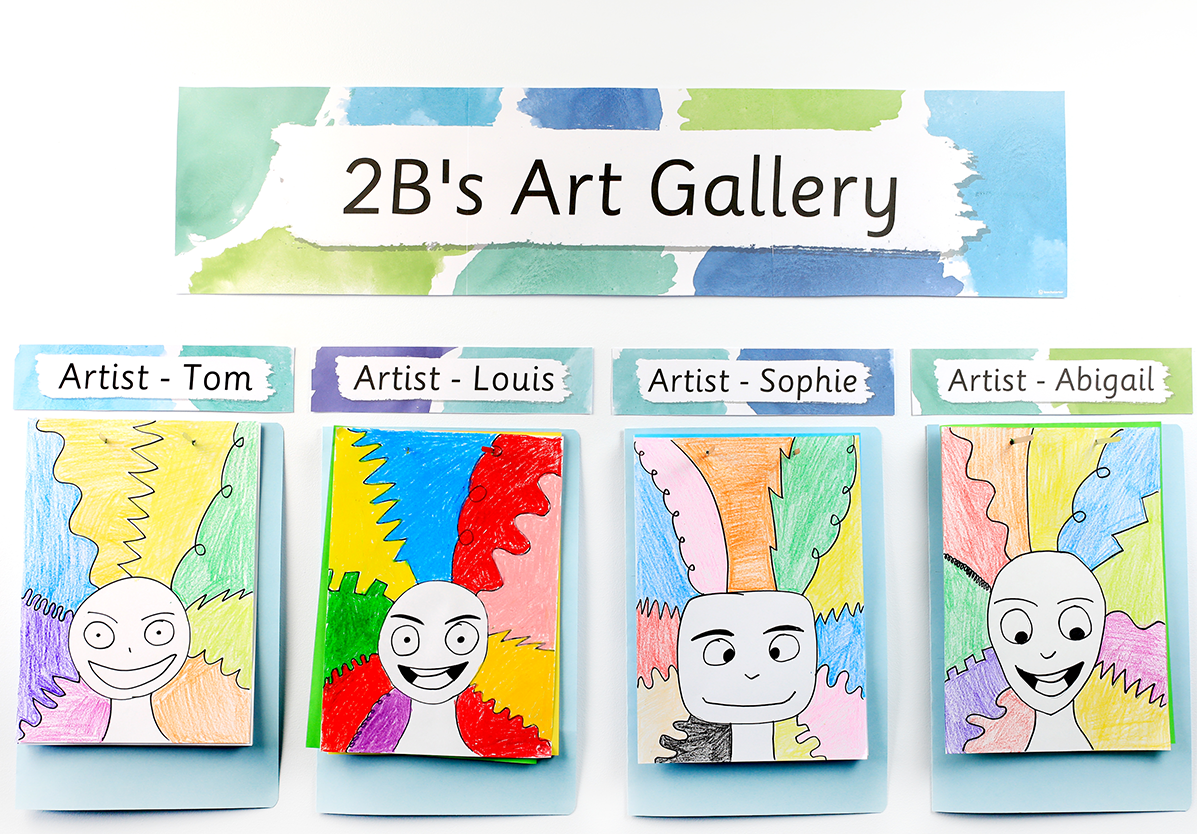 At the end of a marking period, you can simply take the folder down off the wall and send it home as their art portfolio.
Art Elements Posters
OK, OK, it's not an art activity per see, but our Art Elements Poster Pack helps teachers visually explain the different art elements of Visual Arts to students with these beautifully designed posters for the classroom.
See more visual art resources for teachers plus fine arts resources too!
Share your art activity ideas in the comments of this blog… we'd love to hear from you!
Banner image via Shutterstock/Kolpakova Daria