Who doesn't love teacher Dollar Tree hacks? More and more teachers are embracing the affordability of Dollar Tree products and using them for classroom decoration and organization.
I've been finding out about the most popular Dollar Tree classroom hacks and who is using them right now. Read on for affordable, easy, and practical Dollar Tree classroom hacks.
---
Face Washers
What do you use to wipe your whiteboard? We have fallen head over heels in love with the idea of using the Dollar Tree Microfiber Spa Facial Scrubbers as board erasers.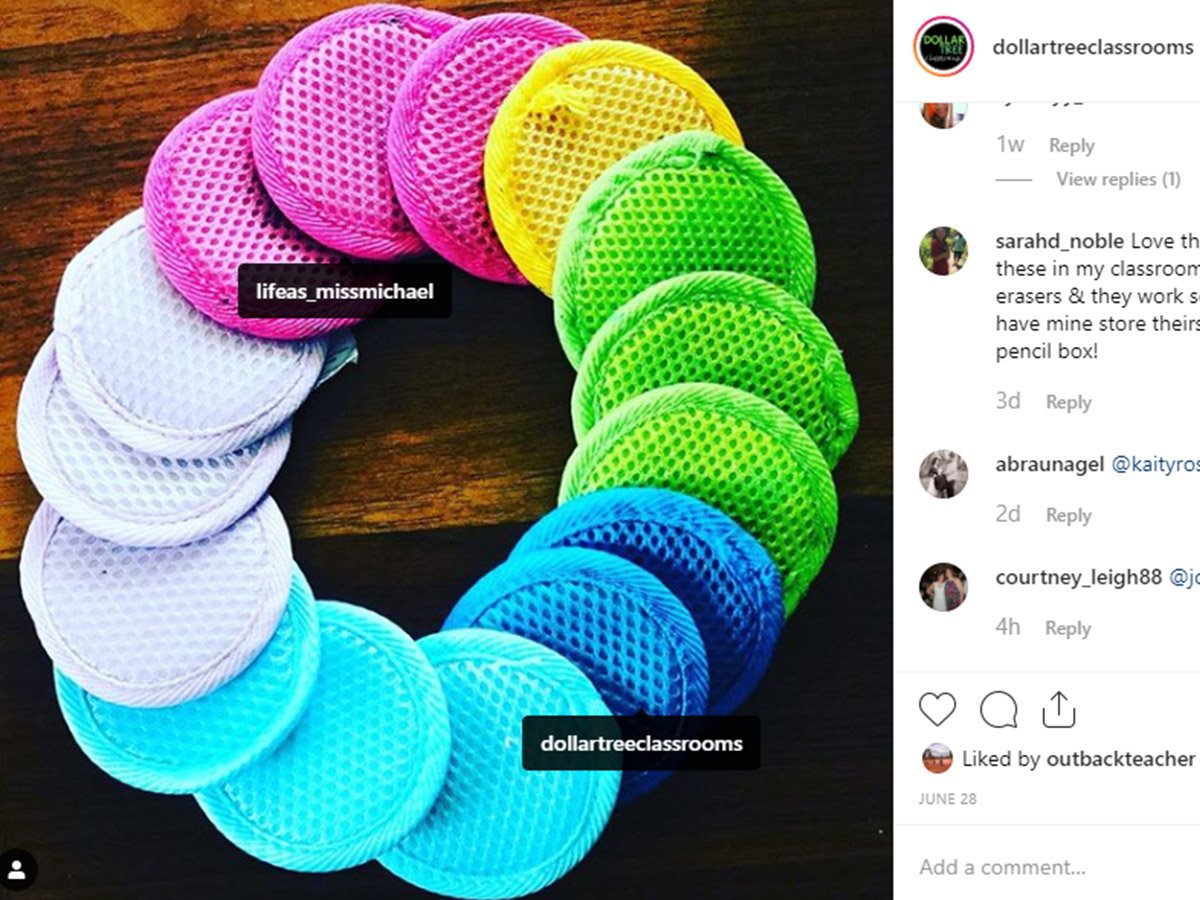 Thanks to Jamie and Kelly @dollartreeclassrooms and Ashley @lifeas_missmichael for sharing this Instagram photo. We love the perfect size, color, and shape of these face scrubbing beauties. You and your students will love the vibrant purple, pink, green, and blue colors. More importantly, at such a great price, you may even like to give each student a board wiper to add to their pencil case.
If there's any leftover, have a girl's night in and pamper yourself.
---
Easy No Sew Teaching Apron
Strike a pose. It's time to update your teacher wardrobe and to accessorize with your very own teaching apron. Make losing expo markers a thing of the past and watch this craze spread around your school.
Head down to your nearest Dollar Tree store and head to the kitchen and linen aisle. Our top pick dish towel is the Home Collection Buffalo Check Sentiment Kitchen Towels, 15×25 in. We love the on-trend black and white buffalo check.
Materials & Equipment:
colorful dish towel
double-sided sewing tape
hot glue gun
ribbon (avoid slippery satin ribbons)
cute buttons or accessories.
For more information about how to make and use this cute apron, read Holly's blog An Easy No Sew Teaching Apron.
---
Lock-Top Lid Containers
It looks like Brooklynn @theycallmemissbear has had a successful shop at Dollar Tree. Her cart is packed to the brim with Translucent Plastic Storage Boxes with Clip-Lock Lids.  These colorful and versatile friends are a must-have for any organized classroom.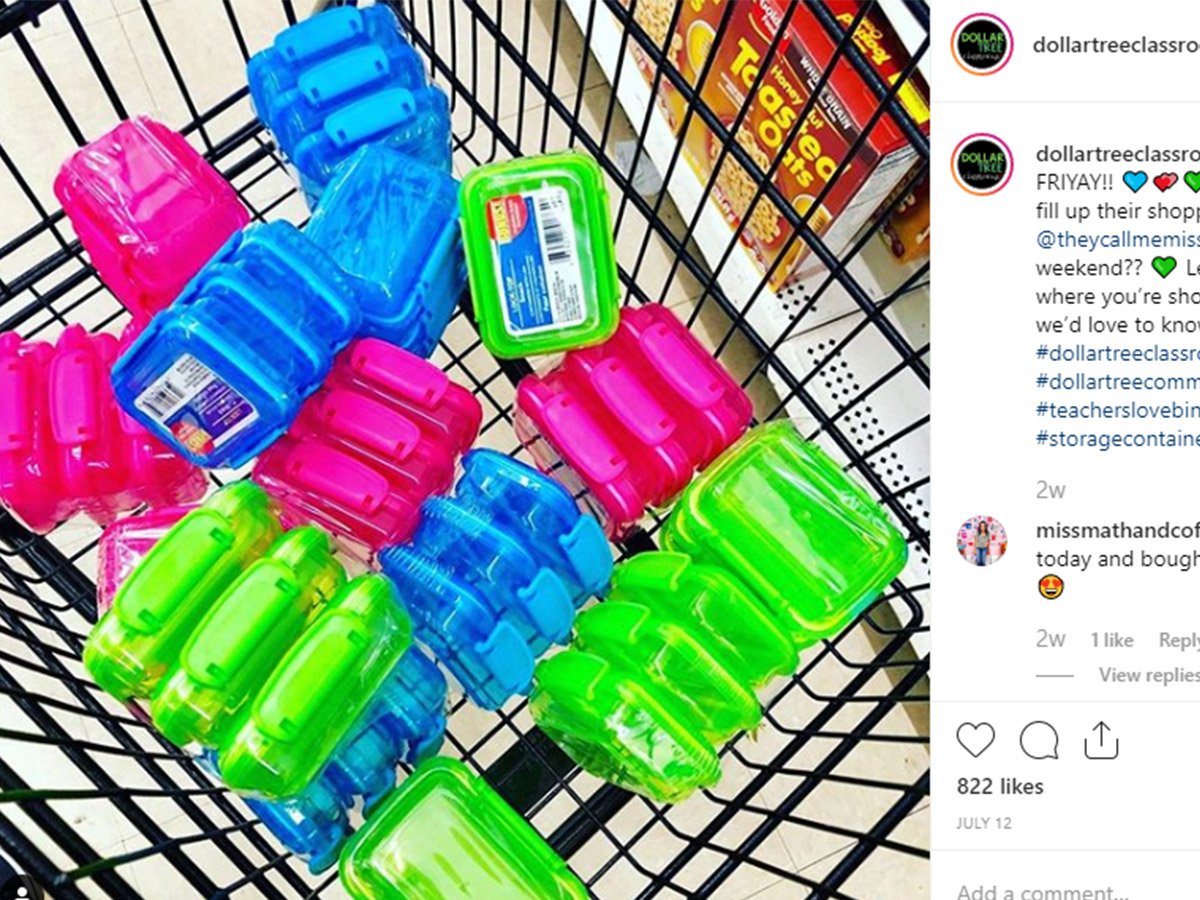 There are so many different uses for Translucent Plastic Storage Boxes with Clip-Lock Lids. The small size of these containers makes them perfect to keep on students desks or to store bits and bobs needed for small group activities. They are the perfect size for storing:
---
Pencil Cups
We are swooning over this classroom set up created by Michaela @especiallyeducation. Similar mesh cups can be found at Dollar Tree. Choose from our huge collection of Classroom Theme Packs and label pots and drawers to your heart's content.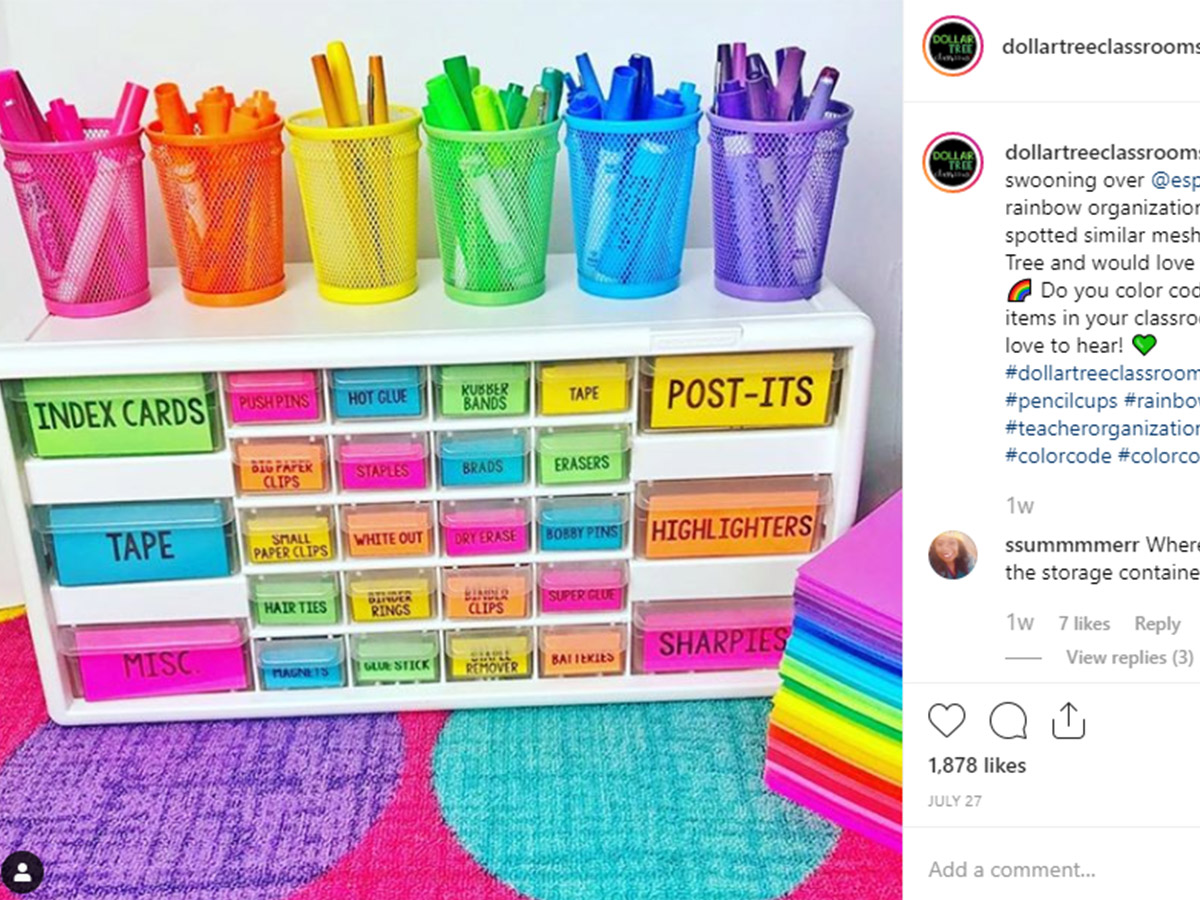 Don't forget to check out our Back to School Must-Haves to get your year off to a flying start.
---
Plants
There are so many benefits to having plants in the classroom. Not only will plants freshen the air, but it's also been proved that plants improve student wellbeing as well as your own! Whether you chose to go real or fake, there's no denying that plants brighten up every room. We love this classroom organization idea from @hollyjollyteacher.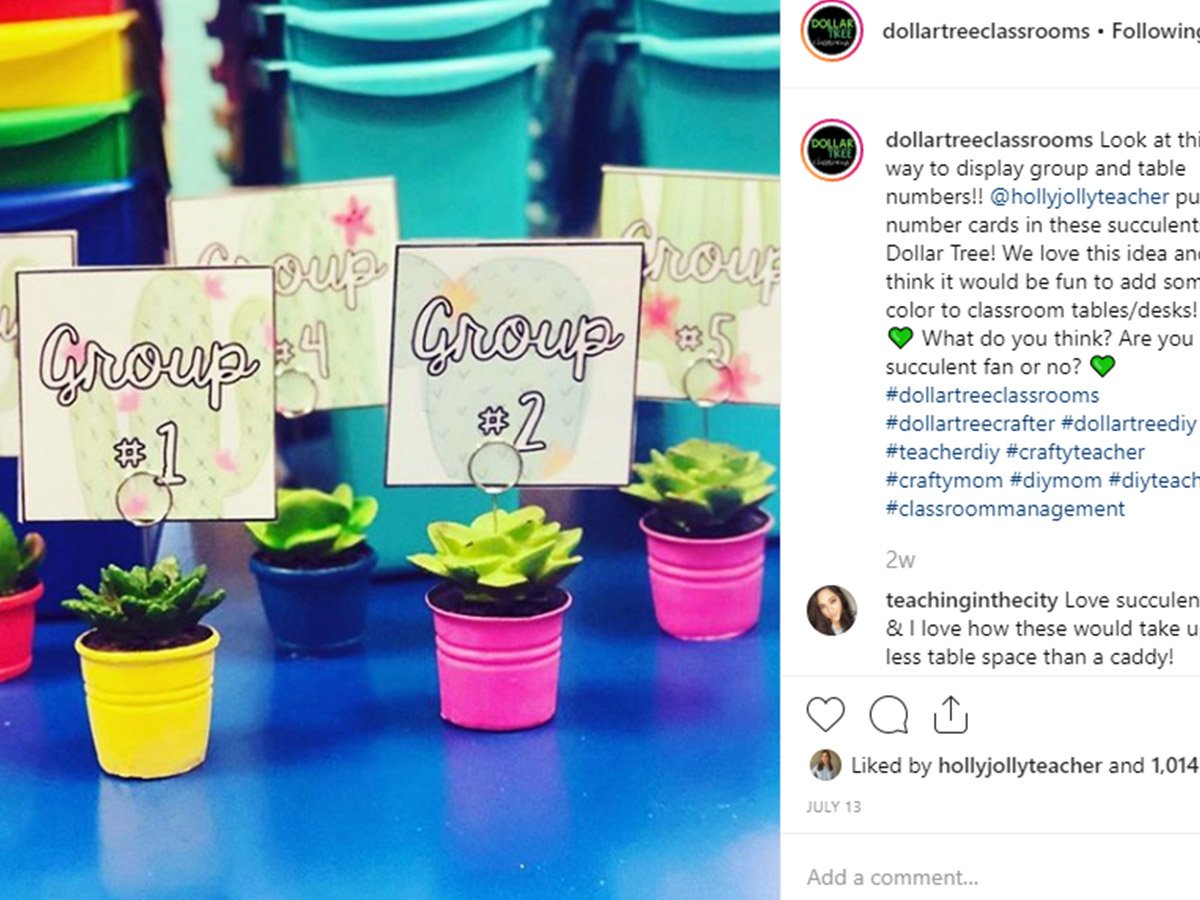 As well as being bright and cheerful, these succulents in plant pots are a perfect size. They take up less space than other table accessories. We found Artificial Potted Succulent Plants in the Dollar Tree website. You could brighten up any plant pot with a bit of paint or transfer them into pots of your choice.
For more information on the benefit of using plants read our blog Plant Power | 5 Benefits of Plants in the Classroom.
---
Display Borders
It's time to add a splash of color and fun to your classroom. Look what @themittenteacher and @dollartreeclassrooms found at Dollar Tree!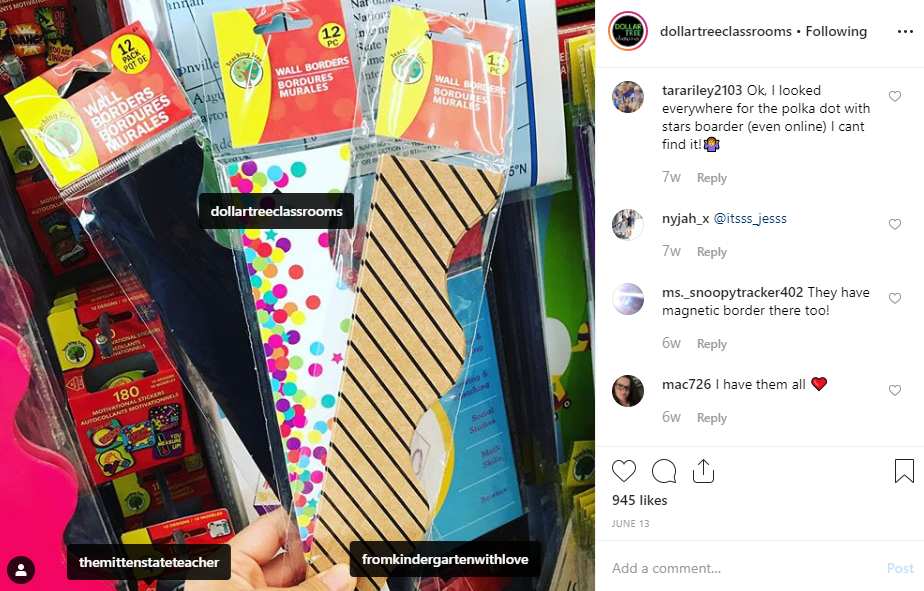 We love these Dollar Tree Teaching Tree Classroom Wall Borders, 14-ct. Packs.  With 6 different designs to choose from, these wall borders are perfect for placing around the border of the walls, whiteboards, or bulletin boards. Each package contains 14 strips measuring 18-in. each, and can be combined to create 21-ft. of wall border.
Word has it that Dollar Tree even stocks magnetic display borders.
---
Storage Heaven
You can never have enough storage. These Teaching Tree Colorful Plastic Book Bins are a real hit with teachers.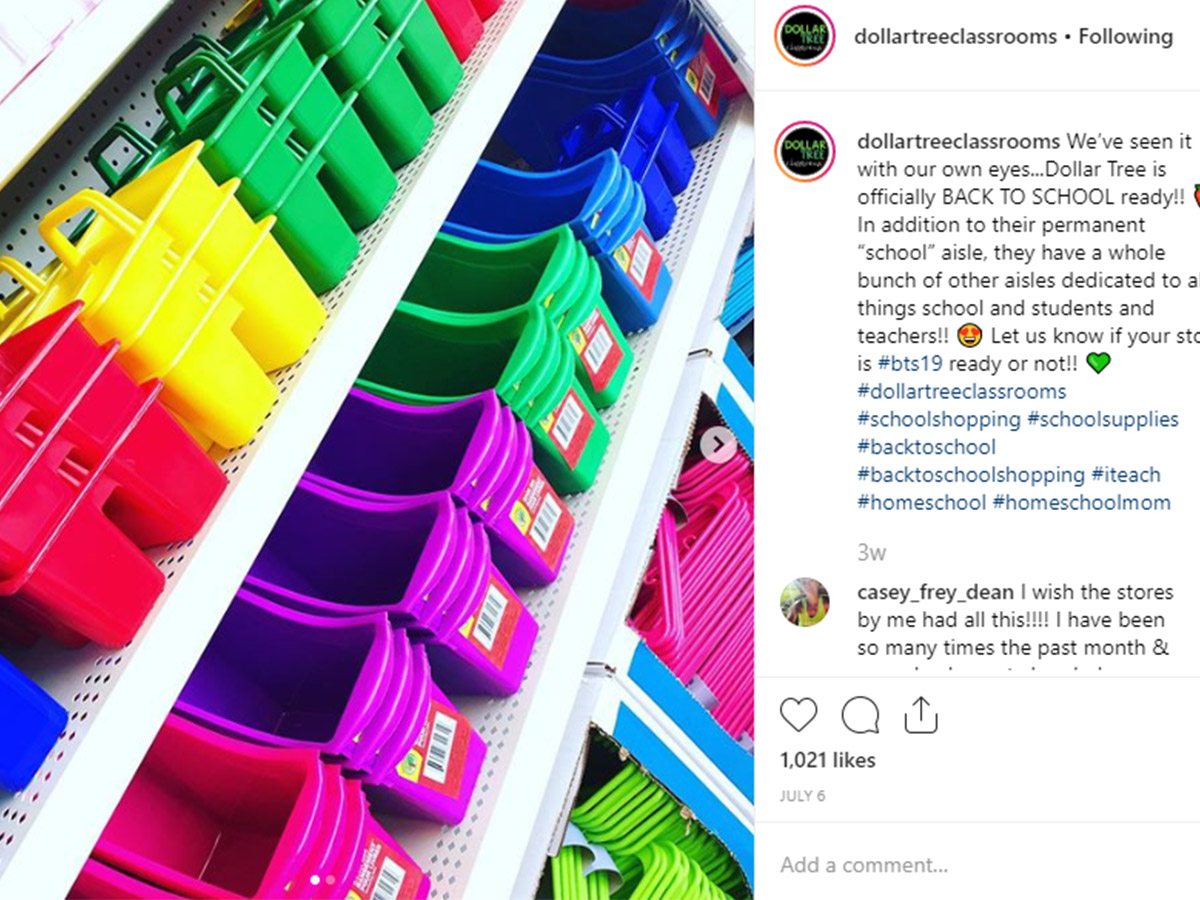 There are so many ways that you can use these multi-purpose storage bins:
For more guidance on how to facilitate Literacy Groups read our blog 40 Activities and Ideas to Set up Literacy Groups in Your Classroom.
---
Which Dollar Tree classroom hack are you going to try this year? With so many affordable products to be found when you explore Shop Teaching Tree Classroom Supplies, it's hard to choose.
For more brilliant ideas for classroom organization hacks read my blog 8 IKEA Hacks for the Classroom.
Finding your teacher tribe is everything. Together, we can move mountains.
Share your creative ideas on Instagram and tag us @teachstarter_us. We would love to see it!